Bucs prospect Rodriguez named AFL Pitcher of Week
Left-hander goes 2-0 with 1.13 ERA in two starts for Scottsdale Scorpions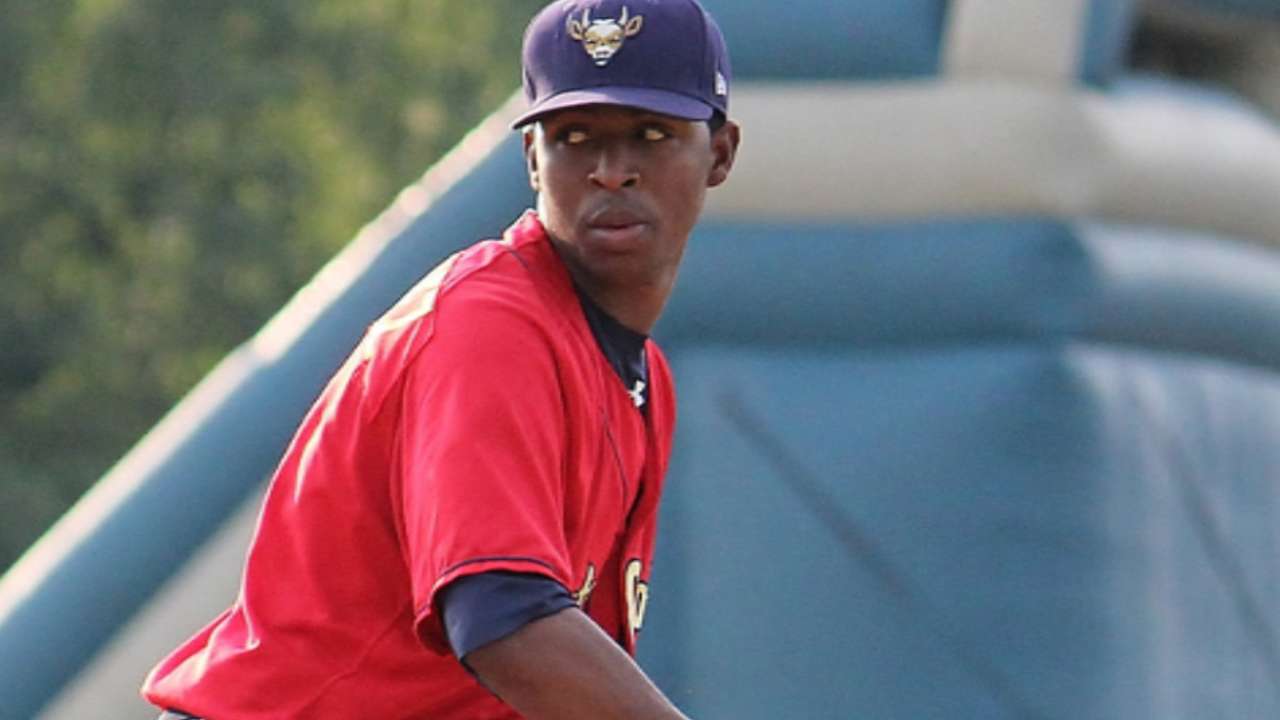 SCOTTSDALE, Ariz. -- Pitchers often have to have a selective memory over the course of a season, trying to block out the negative elements but remembering the good outings and what made them so.
That's where left-hander Joely Rodriguez is right now.
He was 6-11 for the Pittsburgh Pirates' Double-A Altoona affiliate, posting a 4.84 ERA while starting 21 of 30 games.
Now he wants to remember his hot start with the Scottsdale Scorpions of the Arizona Fall League and try to carry that over to Spring Training, with whichever club that might be.
The 22-year-old Rodriguez was named the Fall League's Pitcher of the Week for week No. 3.
He had a 2-0 record, the only pitcher in the league with two wins, and pitched eight innings in two starts. For the week, he had a 1.13 ERA, gave up one run on six hits, walked one, struck out eight, had a 0.88 WHIP and a .222 opponents' batting average.
Entering Monday's play, he was 3-0 overall with a 1.35 ERA in four starts, having given up four hits and two earned runs while walking three and striking out 13 in 13 1/3 innings.
"I want to forget this year [at Altoona] and focus on next year,'' said Rodriguez, a native of the Dominican Republic. "I want to attack the zone, middle down low, no matter what I do. I want to pitch to contact, get ground balls and let the defense work for me.
"If I get hit, I will try to forget about that and worry about the next hitter. You know that nobody is perfect. So you just try to learn each time you go out there, and put your past mistakes behind you.''
Rodriguez was born in Santo Domingo and started playing baseball at age 12.
"First time, they [coaches] put me in as a pitcher and that's where I stayed. No other positions. Pitching is what I do. I like it, and I do well at it.''
He was not drafted but signed with the Pirates as a free agent at 17 in 2009. He is thankful that the organization gave him a chance and that it thought enough of him to place him in the Fall League.
"I have learned a lot so far,'' he said. "Every day I go out and I learn something, about my delivery, mechanics.
"The coach and pitchers for my team, if I don't know something, they help me out and I work on things. This league has a lot of good players. When I am on the mound, I try not to worry about what the hitters do so much. I am more concerned about what I do well, pitch to early contact.''
Rodriguez has good velocity, but he isn't really considered to be a power pitcher. He is working on refining his other pitches -- sinker, slider and changeup.
Some pitchers go back and forth between starting and relieving, trying to find their niche, but Rodriguez would just as soon remain a starter.
"Before the game as a starter, you can think about what you are going to throw to the hitters,'' he said. "As a reliever, you are not as sure about things. You haven't seen a lot of their hitters.''
He has closely followed the careers of a pair of pretty good left-handers, the Los Angeles Dodgers' Clayton Kershaw and the Detroit Tigers' David Price.
"They are constantly in the zone, they are consistent with their pitches and they might even throw a surprise in there sometime," Rodriguez said. "That's the kind of pitcher I want to be."
Don Ketchum is a contributor to MLB.com. This story was not subject to the approval of Major League Baseball or its clubs.