Six sluggers can alter fantasy fate in free agency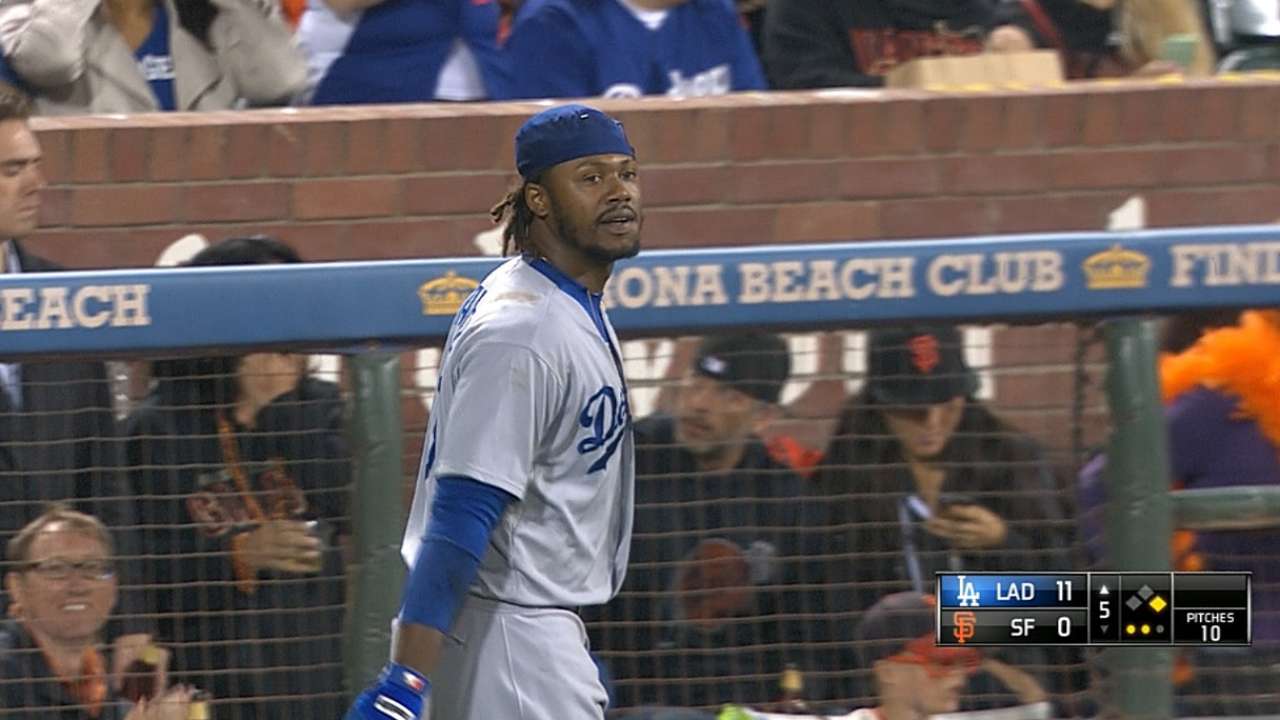 The Hot Stove is about to heat up, and smart fantasy owners will be paying close attention to the daily news this winter, as the landing spots for talented players will have a great effect on their future fantasy value. Here are some of this winter's top free-agent sluggers and some perspective on how their fantasy value could change with the stroke of a pen.
Hanley Ramirez (Dodgers): Ramirez was not a complete bust this past season, but fantasy owners were hoping for more than 13 homers and 14 steals in 128 games. Injuries have become the norm for the 30-year-old, as he has topped 500 plate appearances just once in the past three seasons. If Ramirez stays in the National League, fantasy owners will need to be cautious with their 2015 projections. The rigors of playing shortstop every day seem to be wearing him down, and the right-handed slugger should not be counted on for more than 130 games. But if Ramirez signs with an American League club, his outlook could change drastically. Periodic breaks in the designated hitter spot could help him work through his bumps and bruises without taking time off. And Ramirez has never called a hitter-friendly park his home. He could reach the 25-homer mark for the first time since 2008 if he chooses the right destination.
Nelson Cruz (Orioles): It turns out that Cruz knew exactly what he was doing when he took a one-year deal last winter. He was the only 40-homer player in the Majors in 2014, and he will be a hot commodity on the free-agent market. The 34-year-old is likely wise enough to know that his long-term future is best protected by signing with an AL club and serving as its regular designated hitter. He can still play some games in the outfield, but full-time work with his glove could lead to more injuries for a player who was not especially durable during his time in Texas. A return to Baltimore would make Cruz an early-round pick next season, as he is one of few hitters who seems nearly certain to surpass 30 dingers.
Victor Martinez (Tigers): There are times when change is good. But in the case of Martinez, change is something that can hopefully be avoided. The 35-year-old took his game to new heights last season, which is unusual for a player of his age. Hitting in the heart of the Tigers' lineup seems to suit him, as he has hit over .300 in all three seasons with the club. No matter where he signs, Martinez will be the regular designated hitter for an AL squad, and he will have plenty of fantasy value. But it may be best for his production if he stays put and continues to rake behind Miguel Cabrera.
Melky Cabrera (Blue Jays): Cabrera was one of the best value picks in 2014, as he would have finished the season with roughly 20 homers, 85 RBIs and 95 runs scored if he had not suffered a fractured pinkie finger in early September. The 30-year-old has never earned a massive payday, and he will likely be looking for such a deal this winter. Staying in Toronto would be great for Cabrera's fantasy value. Rogers Centre maximizes his power production, and hitting in front of Jose Bautista and Edwin Encarnacion allows Cabrera to score plenty of runs. The Blue Jays are expected to take a run at keeping him, but if Cabrera chases the money to a team with a worse offense or more spacious home park, his fantasy value could quickly deteriorate.
Pablo Sandoval (Giants): Because of his stellar stats in 2009 and 2011 and his postseason heroics in 2012, Sandoval has more clout than he deserves with many fantasy owners. The 28-year-old has averaged 14 homers and a .280 batting average over the past three seasons, and those numbers do not move the needle in mixed leagues. AT&T Park is a pitcher-friendly venue, so there is a chance that Sandoval could post better numbers if he leaves for cozier confines. But the real issue fantasy owners should be worried about is his weight. Sandoval has battled weight issues throughout his career, and he could be less motivated to stay in shape this offseason after he inks a lucrative, long-term contract.
Chase Headley (Yankees): Outside of his sensational 2012 season, Headley was not much of a fantasy asset during six-plus campaigns with the Padres. The pitcher-friendly park in San Diego was blamed for much of Headley's failures, and he fared marginally better after being acquired by the Yankees last summer. The 30-year-old's 2015 value will be heavily influenced by his free-agency choice. If he can occupy a premium lineup spot on a team that calls home to a hitter-friendly park, Headley could hit .275 with 20 homers and 10 steals next season. Those numbers would make him a mixed-league asset, but if he ends up in a less-desirable offensive setting and hits .260 with 15 homers, he will likely be waiver-wire fodder.
Fred Zinkie is a fantasy baseball writer for MLB.com. This story was not subject to the approval of Major League Baseball or its clubs.