A's prospect Robertson is AFL Player of Week
Shortstop hit .556 with eight RBIs in four-game stretch for Solar Sox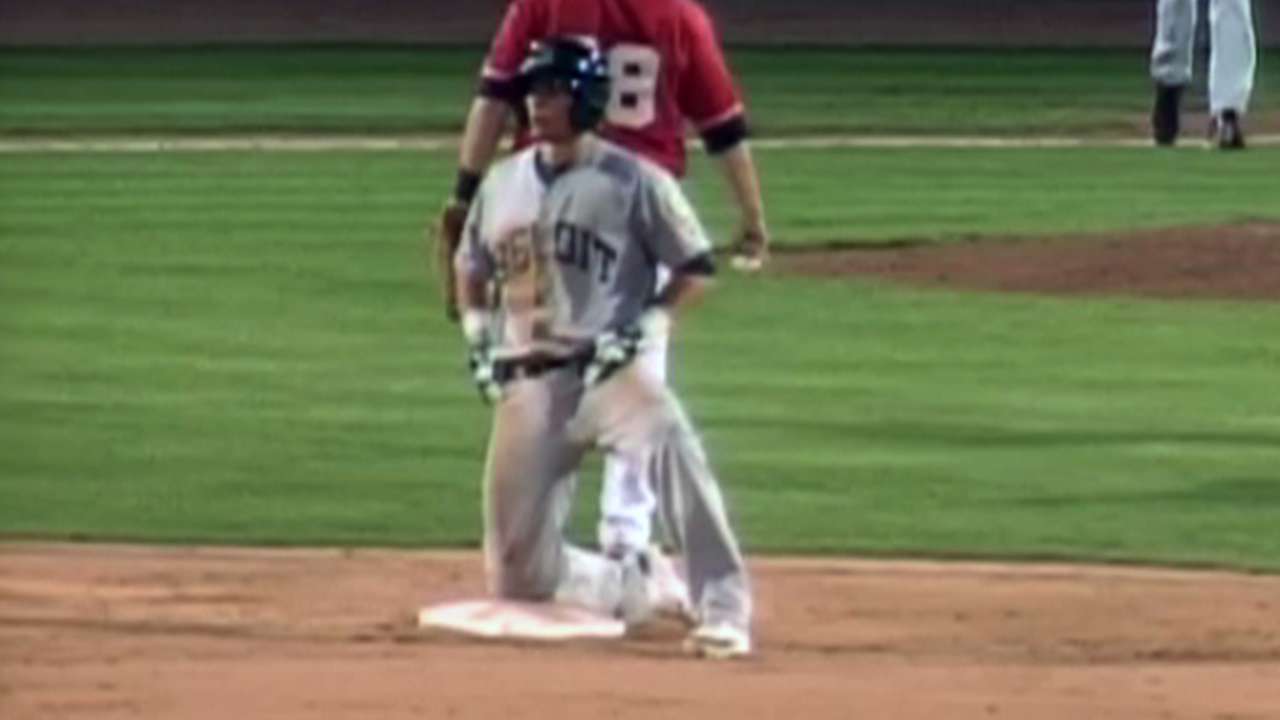 MESA, Ariz. -- Daniel Robertson looked across the clubhouse at the Chicago Cubs' year-old Spring Training palace and saw Addison Russell.
"It's kind of strange, seeing him in a Cubs uniform," Robertson said.
Russell and Robertson were both selected by the Oakland Athletics in the 2012 First-Year Player Draft, Russell at No. 11 overall in the first round and Robertson at No. 34 (Compensation A round). They played together in the Minors briefly (Russell at shortstop and Robertson at third base) and then Russell, a can't-miss prospect, went to the Cubs in July as part of a trade that enabled the Athletics to land pitchers Jason Hammel and Jeff Samardzija.
The 20-year-old Robertson is a pretty good player in his own right. His progress at shortstop and other parts of the infield likely is one of the reasons why Oakland felt comfortable letting Russell go.
So here is Robertson, playing on the same Arizona Fall League team (Mesa Solar Sox) with Russell.
Robertson is playing shortstop again, and is looking every bit the No. 1 prospect for the Athletics, as rated by MLB.com.
In Week 3, Robertson lived up to his billing, earning the Fall League's Player of the Week honors.
In four games, the right-handed hitter compiled a .556 average with 10 hits, a home run, five runs scored, eight RBIs and no strikeouts. He had a five-hit game against the Surprise Saguaros, the first AFL player to do that since Colorado's Tim Wheeler on Oct. 31, 2013.
Entering Monday's game against the Salt River Rafters in Scottsdale, Robertson led the league in hitting (.444, with 16 hits) and on-base percentage (.556). He also had nine walks.
"Last week, everything kind of went my way," Robertson said. "I'm just trying to stay with my [hitting] approach, and I'm seeing the ball really well out here. I am enjoying myself. There are a lot of good guys, a lot of good players, out here."
Robertson also has been on the down side of the numbers.
"I had a week like this, but I've had 1-for-20s or 0-for-15s, too. With something like this, what I'm going through now, you want to try and ride it for as long as you can," he said. "But every day is a new day, whether you've had five hits for five straight days or no hits."
In 2014, the 6-foot, 195-pound Robertson hit .310 at Class A Stockton and then was promoted to Double-A Midland for its playoff run. He played primarily at shortstop, with a few games at second and a few games at third for Stockton, then at second base for Midland.
In high school at Upland, Calif., Robertson played third base his first three years and shortstop as a senior, but the Athletics picked him as a third baseman.
Robertson, who grew up as an Angels fan and attended the 2002 World Series, was surprised that the Athletics drafted him because there had not been a lot of contact with them.
"But you know what? I wouldn't change a thing," Robertson said. "I love the Athletics organization. It's great from top to bottom."
Robertson would prefer to play shortstop, but he is not opposed to playing elsewhere.
"I'll even learn to play the outfield if it gets me in the lineup," he said.
"It's been a blessing to play pro ball. I am having a lot of fun and have met some life-long friends. My goal, my dream is to play in the big leagues, not just to be drafted. But I'm not necessarily in a rush to get there. Time will tell."
Don Ketchum is a contributor to MLB.com. This story was not subject to the approval of Major League Baseball or its clubs.