Giants know the emotions of a potential clincher well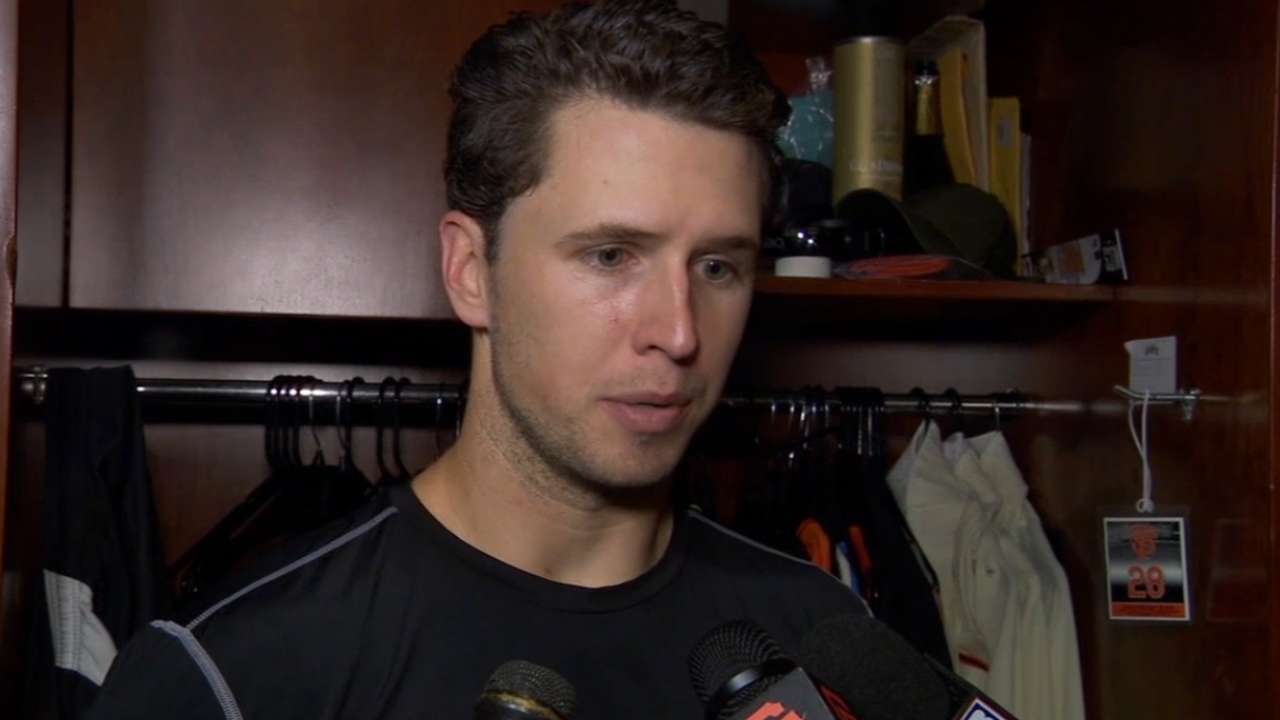 KANSAS CITY -- It's a day for feeling alive. It's a morning when one awakens fully alert before the alarm sounds. You feel sharp enough to catch a housefly barehanded or take the bar exam. Coffee is redundant.
It's the day of a potential World Series-clinching game, and the Giants know the sensations that this occasion prompts.
They experienced them in 2010, when they bested the Rangers in five games and in 2012, as they swept the Tigers. This special time is again upon the Giants as they approach Game 6 of the World Series tonight. They'll rise from their hotel beds, stirred by the inescapable fact that they lead the Royals in the Series, 3-2, and need one more victory to secure baseball's ultimate title for the third time in five years. St. Louis (1942, '44 and '46) is the only other National League team to accomplish this feat.
Catcher Buster Posey was a rookie in 2010 and an NL Most Valuable Player-to-be in 2012. Regardless of his perspective, he greets the possibility of a clinching with the same enthusiasm.
"Without a question, there's definitely a different feeling," Posey said. "The moment you wake up, you have a different feeling. It's a special feeling. Hopefully, we can all embrace and enjoy that."
He described that feeling as one of heightened concentration, saying, "You realize what type of opportunity you have, and there's a strong focus from the get-go."
Left-hander Javier Lopez, another two-time Series winner with the Giants, recalled that every moment seemed magnified when the club was poised to clinch.
"You end up sleeping light. You wake up at every little noise. You're just anxious to get the game started," Lopez said on Monday after the Giants held a brief workout at Kauffman Stadium. "You're anxiously anticipating what's to come, and once the game starts, you can finally sit back and relax for a second. I feel like during that day, you're constantly looking at the clock -- 'When's the first bus? When should I get going?' It's managing your emotions, because you don't want to be burning them out all day long."
Right-hander Tim Lincecum, whose strong eight-inning performance paced the Giants to the 3-1 Game 5 victory in Texas that ended the 2010 Series, recalled maintaining his usual routine before that outing.
"It was a regular day," Lincecum said. "Going around the clubhouse, listening to music, talking to everybody, trying not to treat it like it was a big day, trying to treat it like it was a regular day."
There will be nothing regular about the Game 6 atmosphere this time. The scene is predictable: A full house of blue-clad Kauffman Stadium patrons bellowing their loyalty to the Royals as the Giants attempt to go 3-for-3 in winning Series clinchers on the road.
"We had to do it in Texas and Detroit. It's not easy," left-hander Jeremy Affeldt said. "[The Royals] are going to give everything they've got. Their fan base will do everything they can to back them. We're aware of that. We have to go in and keep a level head. That's why [winning] the World Series isn't easy. You're not going to have a home-field advantage the entire Series."
The Giants' respect for the Royals inoculates them from overconfidence. So do their successes. Many of San Francisco's current players contributed to the surges two years ago that wiped out a 2-0 deficit against Cincinnati in the NL Division Series, as well as a 3-1 deficit against St. Louis in the NL Championship Series.
"I don't think anybody here is already thinking we have it locked up. That would be kind of naive," Lincecum said.
True enough. But consider how the Royals feel. They're the ones trailing, not the Giants. Should San Francisco scratch out an early Game 6 lead, don't be surprised if Kansas City begins to press.
"It's going to be a tough challenge, no doubt," Posey said. "But we would much rather be in this situation than having to go win two there."
Chris Haft is a reporter for MLB.com. Read his blog, Haft-Baked Ideas, and follow him on Twitter at @sfgiantsbeat. This story was not subject to the approval of Major League Baseball or its clubs.