Shift to AL park opens door for Morse to contribute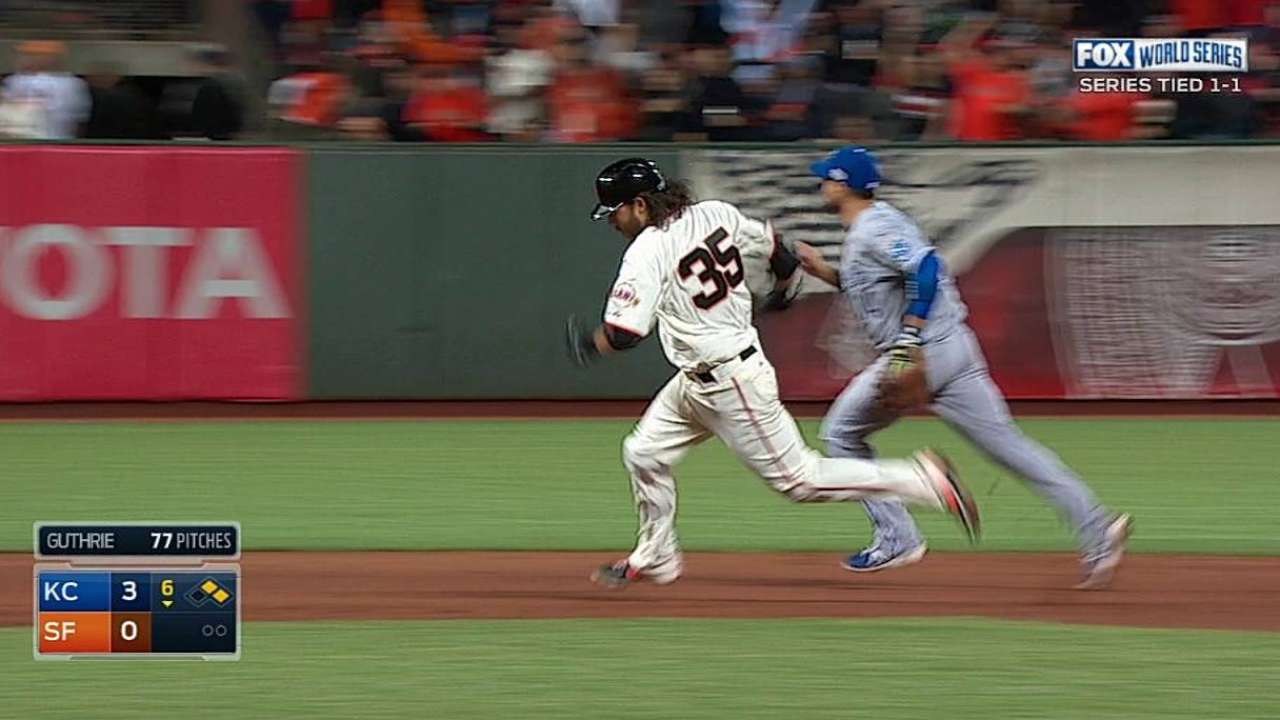 KANSAS CITY -- Among those Giants with double-digit postseason plate appearances, Michael Morse boasts the highest batting average, the highest on-base mark and the highest slugging percentage. He blasted a pinch-hit, game-tying home run in the eighth inning of National League Championship Series Game 5. He added a key pinch-hit RBI double in World Series Game 3, moments after smashing a would-be upper-deck home run just foul.
Due to the combined effects of an oblique injury, an illness and a rusty outfield glove, Morse has come to the plate just 14 times in October. But with the Giants' season whittled down to a maximum of two more games against the Royals at their American League park, beginning Tuesday in Game 6 (4:30 p.m. PT airtime on FOX, 5:07 p.m. first pitch), With the Giants one win from their third World Series title in five years, Morse should have a chance to make the type of impact they envisioned when signing him to a $6 million deal last winter.
"I've had a lot of at-bats this year," said Morse, who hit .279 with 16 homers in 131 regular-season games, during Monday's off-day workout. "It doesn't bother me at all, pinch-hitting or DHing. To me, it's going to be fun contributing in Game 6. I'll hopefully help the team win."
Though Morse has already done so plenty this October, his opportunities have been scarce. After Morse missed most of September with a strained left oblique muscle, the Giants left him off their NL Division Series roster. They added him for the NLCS, but never started him in the outfield or at first base. The same has been true so far in the World Series, though Morse did start Games 1 and 2 at designated hitter.
Heading into Game 4 of the Series, the popular sentiment around AT&T Park was that manager Bruce Bochy would start Morse in the outfield against Royals left-hander Jason Vargas, or at least begin keeping him in games after pinch-hit appearances. But Morse fell ill in San Francisco and, as Bochy cautioned, even using a healthy Morse in the field for the first time since August would be risky. This is late October. Better to keep him on the bench, allowing Bochy to dictate how and when to deploy him. In that manner, the Giants have been saving Morse for the highest-leverage situations possible.
"He's done a pretty good job coming off the bench in key situations," Bochy said of Morse, a career .313 hitter with two home runs in 13 postseason games.
Now, however, Morse has an opportunity to do so much more, potentially receiving four or five plate appearances each in Games 6 and 7, if necessary. Not only will he be facing starting pitchers he has seen before, beginning with Yordano Ventura in Game 6, but he will be facing them multiple times per game. Though Bochy has not announced his Game 6 lineup, hinting at a possible expanded role for fellow outfielder Juan Perez, there is a strong chance that Morse's opportunities will increase to some extent.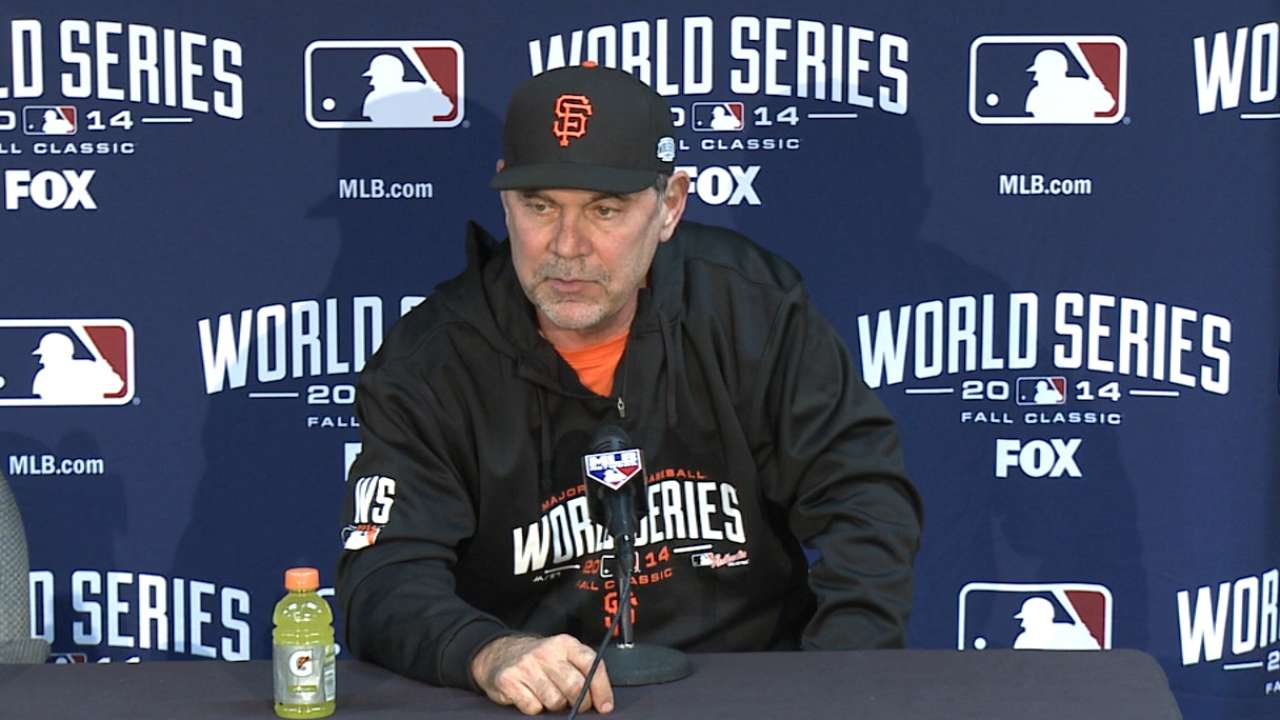 Consider that Morse hit .225 with a .307 OBP and a .450 slugging mark in his first at-bats against pitchers in a given game. The second time he faced those pitchers within the same game, his slash line jumped to .393/.430/.643.
Morse's career numbers tell a similar story, with his slugging percentage rising from .490 the first time he sees a starter to .509 the second time, .513 the third time and .760 the fourth. That may not be terribly unique, as pitchers tend to tire deep in games, while hitters gain the advantage of familiarity. But it is still telling.
"Anytime you get more than one at-bat -- usually, pinch-hitting is tough," Morse said. "With this mindset, DHing, I can get a little bit more comfortable and see the starter more than once."
For a Giants team that has quietly struggled to hit with consistency all month, averaging a total of two extra-base hits per playoff game, Morse's presence could make the difference. Though the Giants are an NL club, Morse gives them a DH capable of matching Billy Butler's performance, negating any advantage the Royals may have hoped to have at that position.
In Game 2, Morse was one of the few Giants hitters to touch Ventura, delivering a two-out single in his first at-bat to finish 1-for-2 against him.
He doesn't figure to change much of anything heading into the rematch.
"Just keep doing the same thing I've been doing," Morse said. "I'm getting ready to face Ventura again."
Anthony DiComo is a reporter for MLB.com. Follow him on Twitter @AnthonyDicomo. This story was not subject to the approval of Major League Baseball or its clubs.