After long road back, Belt key to Giants' success
Season full of ups and downs has led to brink of another Series title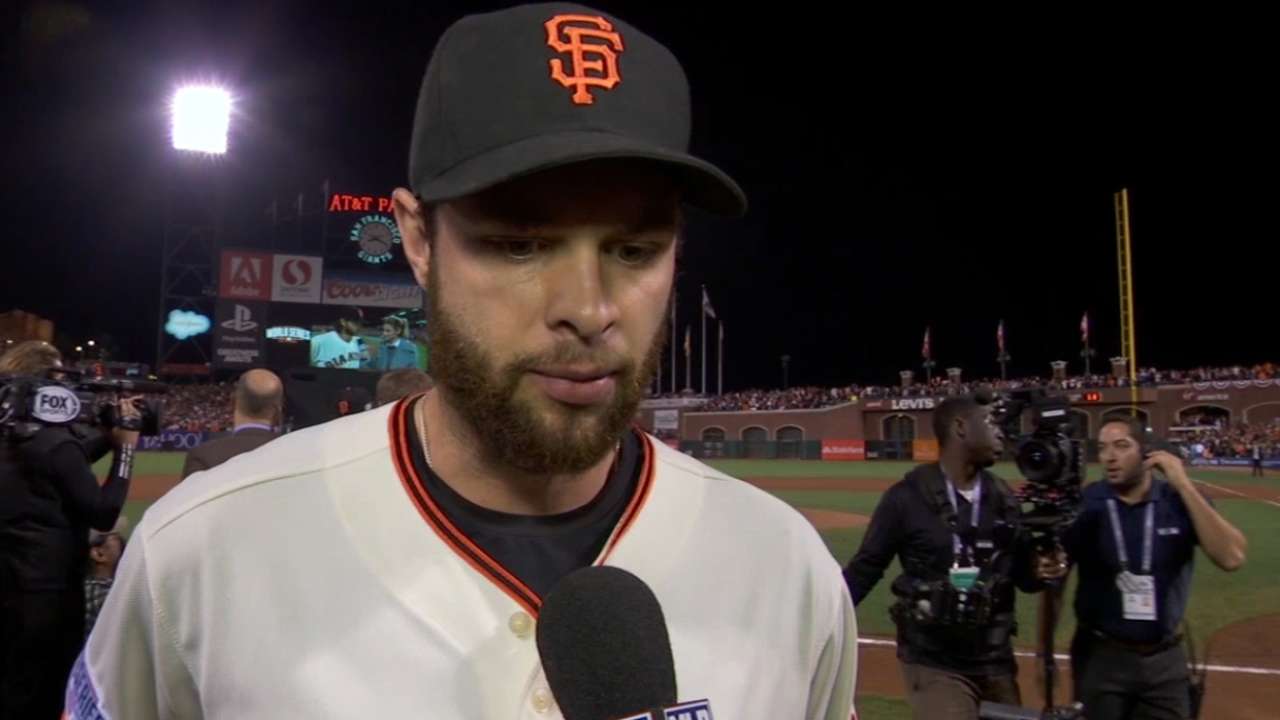 KANSAS CITY -- The road to the World Series has been a unique experience for every single player involved in this year's edition, but perhaps no man competing for baseball's greatest prize had as many twists and turns and highs and lows on that journey as Giants first baseman Brandon Belt.
The best start to his career. A devastating injury that put him on the disabled list for two months. A return to health quickly followed by a concussion that simply would not go away. The birth of his first child. A return to form just in time for the postseason. And now another World Series ring within his grasp.
Unscripted and unpredictable, Belt's trek to within a win of a second World Series title in his four seasons in the Majors has been something the smooth-swinging Texan never could have imagined. But all that matters to him now is that it has him alongside his Giants teammates on the precipice of another piece of baseball history.
"I worked really hard to get to play baseball again, and I really wanted to play with these guys again," Belt said in the glow of the Game 5 clubhouse Sunday night after the Giants took a 3-2 lead over the Royals in the Series. "I was able to finally put the past behind and look forward to the future. Right now, we're one win away, so I'm focused on that."
That he's there and that he looks like the Brandon Belt who broke out to such a powerful start to the season is one of the keys to the Giants' success so far this postseason. From his heroic homer in the 18-inning marathon in Washington in Game 2 of the National League Division Series to his defensive skills on display throughout the run through October, Belt's presence has been a welcome addition to the balanced attack the Giants have brought to the postseason table once again.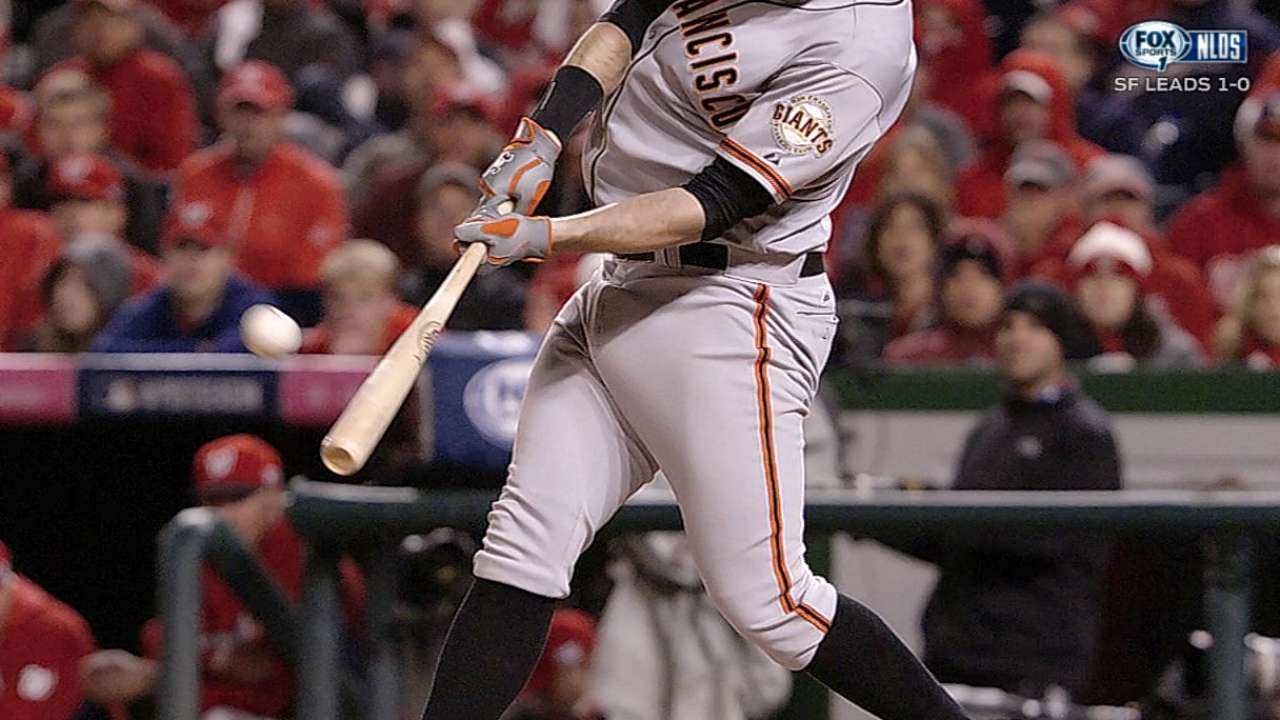 But it was touch and go for a while there, that's for sure. A broken left thumb suffered when Belt was hit by a pitch on May 9 brought an abrupt halt to a start to the season that saw him hit nine homers in his first 35 games, including four the first week. He was able to go through a normal rehabilitation process and returned to the lineup on July 4. His next health issue became much more complex.
Belt sustained his concussion in a freak accident just two weeks after his return from the DL, when a throw from Marco Scutaro during batting practice struck Belt in the face on July 19. He returned Aug. 2, but that stint back on the roster lasted just five days, as concussion symptoms persisted. It wound up being another two months chopped out of Belt's 2014 season before he could get back on the field, on Sept. 16 -- with the clock to get fully back to form ticking loudly.
"I was concerned, because that concussion came back a second time," Giants manager Bruce Bochy said. "We didn't know how he would have the time to get ready for postseason. He was a little rusty at first, but he got three or four games under him. You could see him getting more and more comfortable. The speed of the game started slowing down for him. The concussion became a non-issue with him."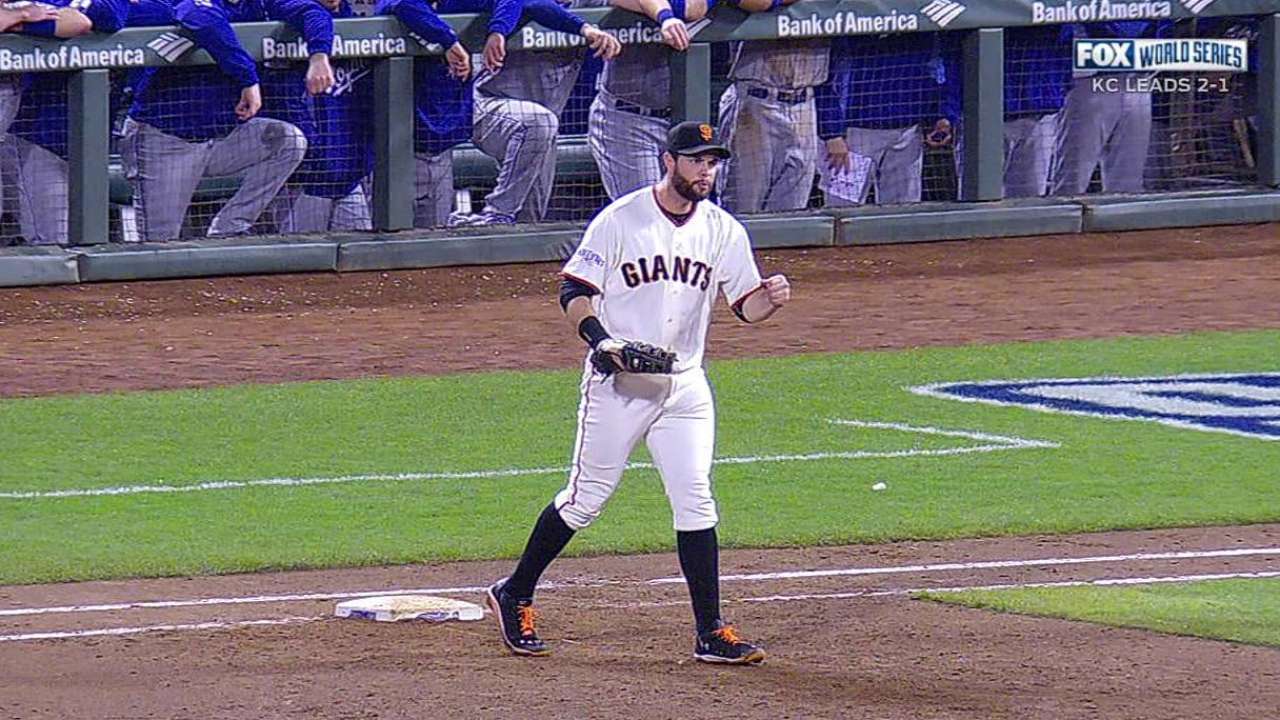 Brandon Crawford, the Giants' shortstop and a clubhouse neighbor who broke in with the Giants in 2011 along with Belt, could see that this was not your normal injury situation, and knew it had to be frustrating for his infield pal.
"It was tough to watch, because you can't really do anything about that, and you can't really tell what's going on unless you're in his head," Crawford said. "It was tough, but he got through it, and fortunately, we have him now."
Along the way back to health, Belt's amazingly eventful year as a 26-year-old had its greatest highlight when his wife, Haylee, gave birth to the couple's first child, Greyson Ellis Belt, on Aug. 27. Around the same time, Belt was being seen by Dr. Micky Collins, a Pittsburgh-based expert on sports-related concussions, after complaining of blurry vision and headaches. Whereas the concussion disabled list is just a seven-day stint, Belt's issues with the injury lasted more than seven weeks.
"It is kind of like, 'Is this ever going to get better?' ... It freaks you out a little bit," Belt said recently.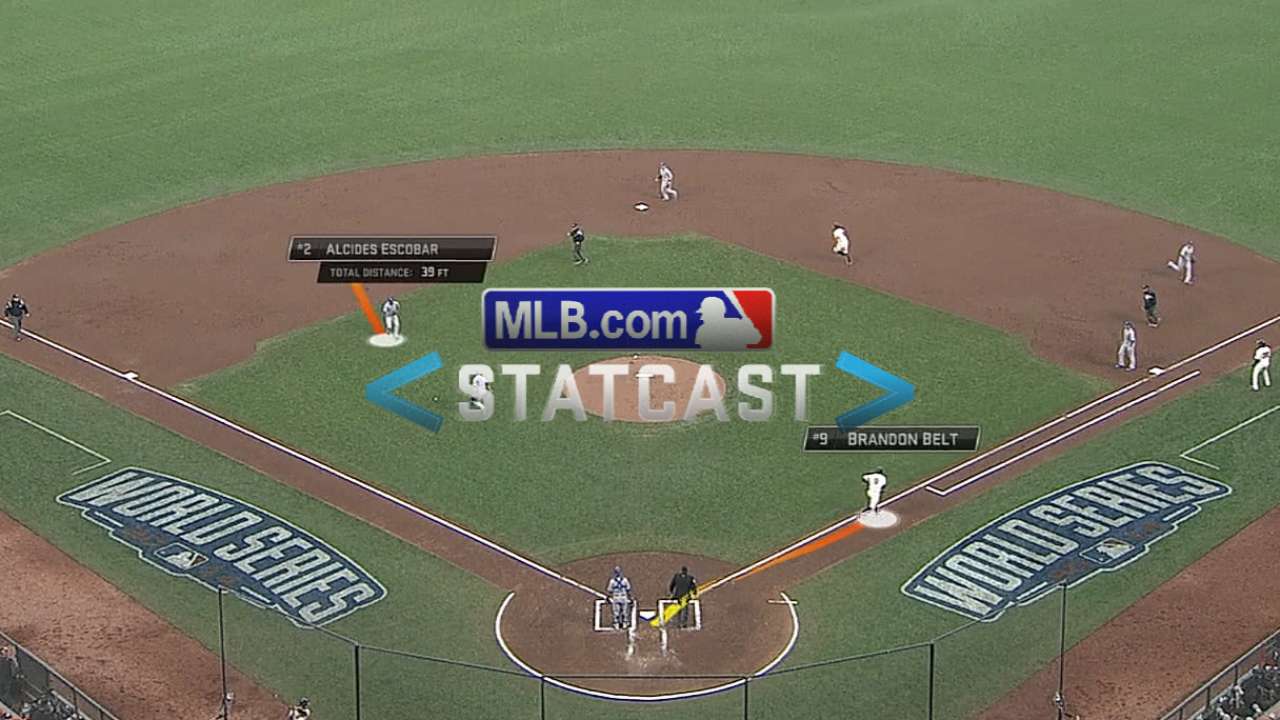 It did get better, and just in time. After returning with a walk in a pinch-hit performance on Sept. 17, Belt found his hitting stroke the last couple of weeks and finished the regular season strong, going 6-for-12 with two doubles in the season-ending four-game set with the Padres.
"Really, he came around at the right time, the time when we really needed him, and he started finding his swing," Bochy said. "He started getting comfortable. His energy level really picked up. I'm really thankful for the fact that he did come around, and for Brandon, I'm sure he had some doubts, because when that concussion came back the second time, I'm sure things were going through his head, 'Am I going to have to deal with this all year, maybe the winter?' But it worked out great."
John Schlegel is a national reporter for MLB.com. You can follow him on Twitter @JohnSchlegelMLB. This story was not subject to the approval of Major League Baseball or its clubs.