Fleck hopes to be a part of D-backs' turnaround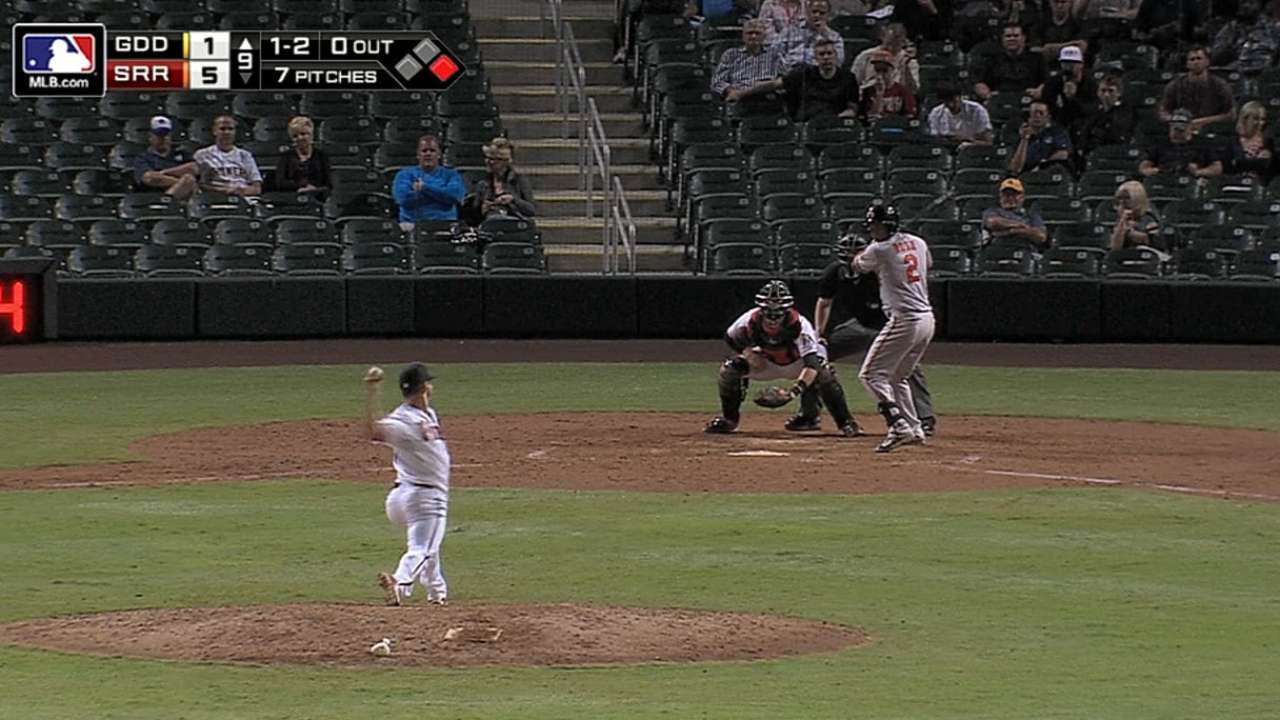 SCOTTSDALE, Ariz. -- The D-backs' struggles over the last few seasons and the recent changes in leadership have been well-documented.
It's time for a fresh start for chief baseball officer Tony La Russa, general manager Dave Stewart, senior vice president of baseball operations De Jon Watson and manager Chip Hale, all new to their jobs.
Arizona pitching prospect Kaleb Fleck recently watched the group walk through the D-backs' Spring Training facility at Salt River Fields at Talking Stick, which also serves as the home of the Arizona Fall League's Salt River Rafters.
Fleck, a 25-year-old right-hander for the Rafters, said he met the men briefly on their tour and is aware of their pedigree.
"With all of their knowledge and ability, there should be no reason why they can't turn things around," Fleck said.
And, of course, Fleck would like to be a significant piece of that turnaround.
In the Fall League, he certainly has been pitching like it.
In his first six games, Fleck tallied two saves and struck out 10 over 6 2/3 scoreless innings.
All of that after a strong summer when he served as the closer for the Double-A Mobile Bay Bears. He had 17 saves, a 7-3 record, a 2.56 ERA, 28 walks and 79 strikeouts in 56 games (63 1/3 innings).
"Pitching in the Fall League has been a great experience. Things have been pretty smooth. They have gone well," Fleck said.
In 2013, he was used as the setup man at Class A Visalia, but managed to come up with nine saves.
In his third pro season, Fleck says he has been used "anywhere from the fifth up through the ninth inning. I've always had to be ready, and that's a good thing. It's an old saying, but it's true -- the more things you can do, the more chances you have to reach your goal."
The 6-foot-2, 190-pound Fleck always has had a goal to pitch in the Major Leagues, but in 2010, late in his junior season at Pittsburgh-Johnstown, his world came crashing down.
He had hoped to be selected in the top 10 rounds in Major League Baseball's First-Year Player Draft, but injured his elbow and was forced to undergo Tommy John surgery.
There was no Draft for him, "and I was out for 10 1/2 months. There were very few offers. The next year, I was throwing in the Cape Cod League, and I had thrown for some scouts. I think I showed them that I was healthy, because the Diamondbacks made me an offer and I took it.
"I haven't regretted it. It got my foot in the door. I threw in the instructional league [in 2011] and got used to it. It was the best route for me."
He says he "feels great, and there have been no setbacks."
During the rehabilitation process, there were times when he wondered if he would make it back.
"There were some definite low points. Rehab got kind of monotonous, but you have to look at the situation from a long-range perspective. I started to see results, and that helped carry me. If you stay positive, you can get through the grind."
He is eager to see what happens in 2015. He enjoys the closer's role.
"When the game's on the line, you just feed off the energy," he said. "But at this point, I just want to keep making progress. Whatever the team needs."
Don Ketchum is a contributor to MLB.com. This story was not subject to the approval of Major League Baseball or its clubs.