After pair of rough games, 'pen confident it'll rebound
Yost says Big Three could be used for multiple innings in Game 6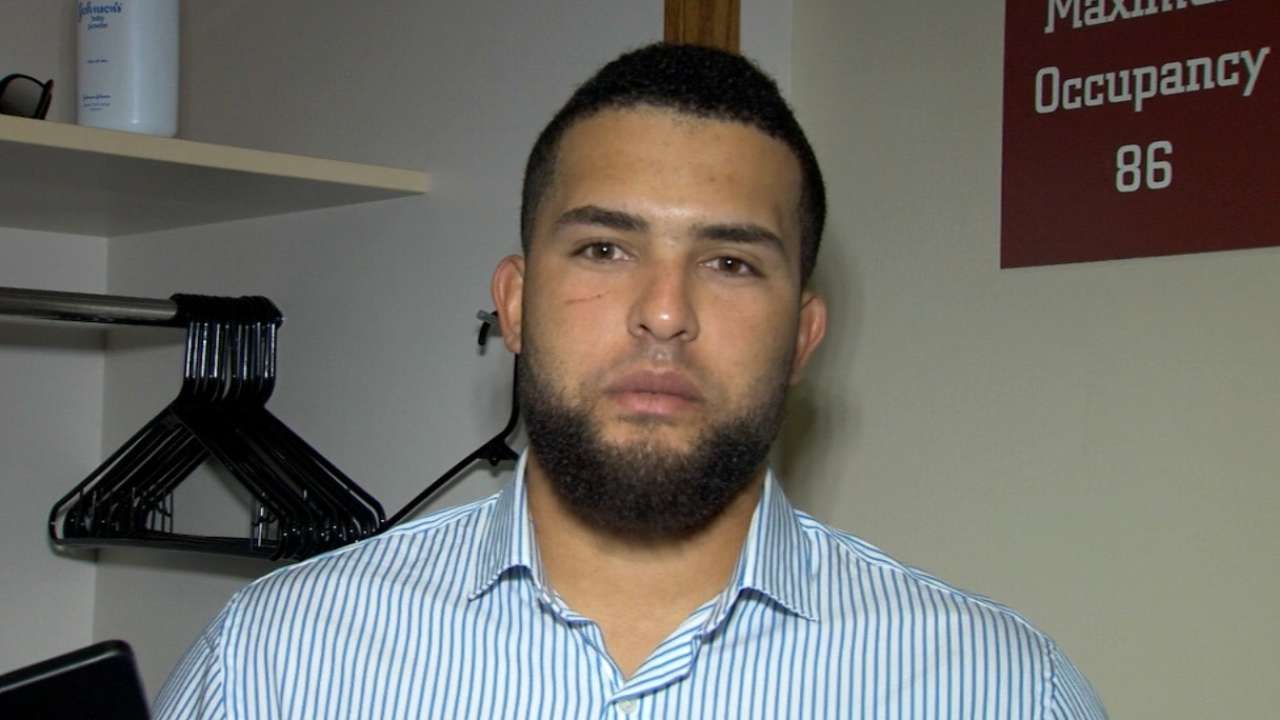 KANSAS CITY -- Now the Royals' bullpen is going to have to do something it hasn't had much practice at this season: Bounce back.
Kansas City's relievers combined to give up just two runs in the first three games of the World Series, beating the Giants twice. That included an 0.00 ERA for the end-of-game triumvirate of Kelvin Herrera, Wade Davis and Greg Holland. In fact, the three had a streak of 16 2/3 scoreless innings dating back to the American League Championship Series.
That ended in Game 5 when Herrera and Davis were unable to keep the game close in the late innings, giving up a combined three runs (two earned) in the eighth. Which followed Game 4, when Brandon Finnegan, Jason Frasor and Tim Collins were touched for a total of eight runs.
Going into a must-win Game 6 tonight (6:37 p.m. CT pregame show, 7:07 first pitch on FOX) at Kauffman Stadium, Kansas City's relievers are confident they can regain their form.
"No, no, no," Herrera said when asked if he was worried about the recent struggles. "We know sometime we're going to give up runs. So it's not weird. We're just not doing our job. I gave up a couple runs, but I don't change my mind. Tuesday I'm going to go in with full confidence if they bring me in."
He has not been feeling well, but is not using that as an excuse.
"Just got a couple stomach problems, but that's mental. My arm is OK," Herrera said. "It's like a kind of flu. I wasn't feeling good."
Herrera had pitched four hitless innings in the World Series before giving up singles to Pablo Sandoval and Hunter Pence to open the eighth, his second inning of work. Manager Ned Yost then turned to Davis. With one out, he had Juan Perez, a .170 hitter during the regular season, down 0-2.
But Perez eventually worked a 3-2 count and then hit a line drive off the top of the fence in center that missed being a home run by about a foot. A 2-0 deficit ultimately became a 5-0 loss.
Yost said each of his Big Three could be used for multiple innings Tuesday or, if the Royals force Game 7, Wednesday.
"Herrera bounces back better than Wade and Holly, but Wade and Holly both are capable of going multiple innings if they need it, especially in a situation where you've got your back against the wall. Those guys know that we've got two games left," he said.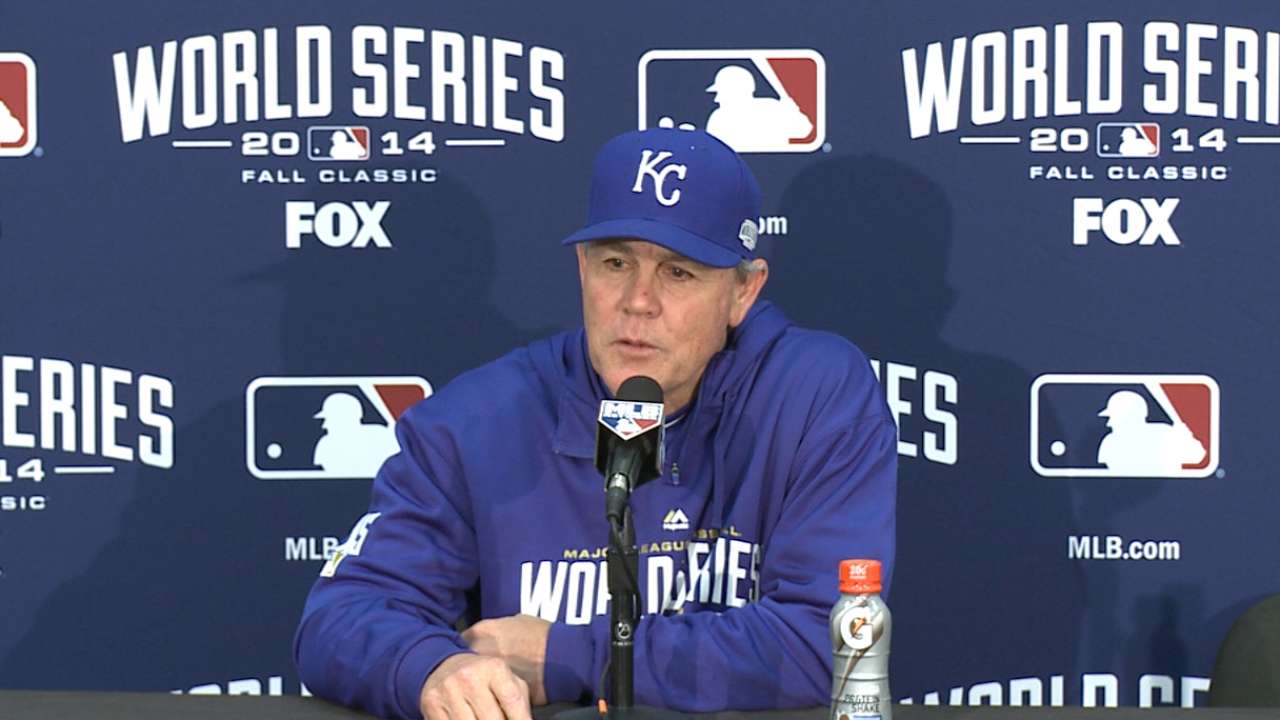 "We came in to the locker room [Sunday] and Herrera and Holly came right into the weight room and said, 'Look, all three of us are ready to give two innings apiece today. We'll do whatever we need to do to go get this thing.' They're all more than willing and able to do it."
Giants manager Bruce Bochy was asked before Game 4 whether his hitters felt pressured to win the game in the first five innings because of how good the Royals' bullpen has been.
"We don't think like that," Bochy said. "I mean, it's a nine-inning game, and we know what a great bullpen they have. But you can't think like that. Now you're defeated if you don't have the lead going into six, seven. So granted, you got your work cut out against that bullpen, but I think history shows if you score early, odds are in your favor anyway. I don't care who you play. But we don't think like that."
Coincidentally, the Giants have done most of their damage against the Kansas City 'pen since Bochy made those remarks.
"They're tough adjustments against the pitching we're seeing," San Francisco's manager said. "But at the same time, as a player, you look forward to competing against the best, and that's what we are doing. We're playing the best team in the American League and competing against the best bullpen, also. So if you're down a run, you've got to look forward to trying to find a way to get a run there. I don't know if 'looking forward' is the term. But thinking, 'Hey, we've got to compete here and find a way to get on base.'"
Yost, of course, knows how important it is for his bullpen to pitch the way it has most of the year. And he strongly believes they will.
"It doesn't work every night, you know. Most nights we do a pretty good job doing it," he said. "I have a lot of confidence in all those guys down there."
Paul Hagen is a reporter for MLB.com. This story was not subject to the approval of Major League Baseball or its clubs.