Sweeney's clutch hit in extras breaks Fall League tie
Dodgers No. 13 prospect drives in go-ahead run with single in 11th, powers Glendale to win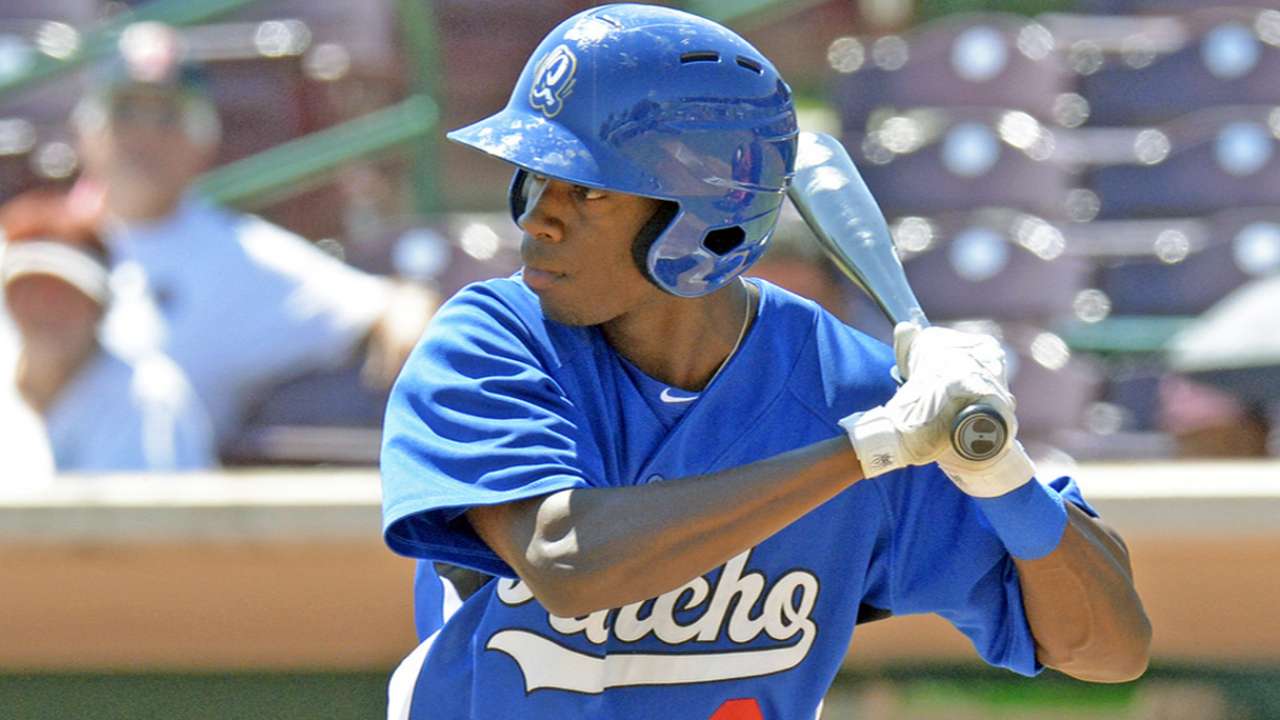 Waiting on-deck with a runner on second and one in the 11th inning of a tie game Monday, Darnell Sweeney knew an intentional walk was coming. He knew he would get a chance to hit with a chance to play hero.
The scenario played out just how Sweeney envisioned it. Right-hander Ben Klimesh intentionally walked Nick Ramirez and Sweeney lined a single to left field to drive in the go-ahead run. Glendale hung on to defeat Surprise, 6-5, in 11 innings.
Sweeney, the Dodgers' No. 13 prospect, said he wasn't bothered by the intentional walk because he knew it set up a double play opportunity. He just wanted to get a pitch he could do something with to bring Jason Esposito home from second.
"I wanted to get a ball I could drive," Sweeney said. "He threw a good sinker on the first pitch. The next one he left up where I could barrel it up."
The intentional walk was both the first in the AFL this season and the first to not require the pitcher to throw four pitchouts. Instead, as prescribed by the experimental rules designed to speed up the pace of play that are being used this fall, Ramirez took first base after Surprise manager Delino DeShields signaled the intentional pass.
Sweeney said it was an odd process to watch.
"It reminded me of back in high school where you don't have to throw any pitches, the coach just calls it and you run to first base," Sweeney said. "It's kind of different, but that's how the game is so we have to play it."
Sweeney's go-ahead hit came at the end of a back-and-forth game. Thanks to two home runs from Steven Moya, Glendale took a 4-2 lead into the bottom of the eighth. But Surprise scored once in the eighth and then forced extra innings when Jesse Winker homered in the bottom of the ninth to tie the game.
The Desert Dogs edged back ahead in the 10th thanks to a solo homer from Scott Schebler. The Saguaros tied the game again in the bottom of the inning on a two-out error by Esposito at third base, but shortstop Corey Seager was backing the play up and threw out Sean Coyle trying to score, extending the game again.
After Sweeney gave Glendale the lead in the 11th, right-hander Blake Smith threw a perfect inning to end the game and earn his second save of the fall. Sweeney said Monday was simply a good baseball game between two determined teams.
"Two good teams playing against each other," he said. "We kept showing we're not going to give up and they showed they're not going to give up."
Sweeney finished the game 3-for-5 with a run, a walk and a stolen base. He is hitting .395/.469/.535 and has scored 10 runs in 10 games this fall. Seager, the Dodgers' top prospect, added a triple and an RBI.
Moya, the Tigers' No. 7 prospect , went 3-for-4 with two runs and three RBIs. He is hitting .321/.362/.585 with three home runs this fall.
Mallex Smith led the Saguaros with three hits and two runs. Winker, the Reds' No. 2 prospect , finished the game 2-for-5 with a run and an RBI.
After Monday's victory, Glendale is 8-8-1 and holds a two-game lead over Surprise in the West Division as the AFL season passes its halfway point.
Sweeney is also faring well among the elite competition of the AFL and ranks fourth in the league in hitting. He said he has been working on staying consistent in all facets of his game and, so far, is pleased with his progress.
"I feel like I'm holding my own," Sweeney said. "That's one of biggest things coming out here in the fall league is to hold your own as a hitter, playing defense and as a baserunner. I'm happy to have the opportunity to do this."
Teddy Cahill is a reporter for MLB.com. Follow him on Twitter at @tedcahill. This story was not subject to the approval of Major League Baseball or its clubs.