MLB.com Columnist
Phil Rogers
In tough spot, KC can draw from playoff titles in Minors
Hosmer among Royals who have thrived under pressure on the farm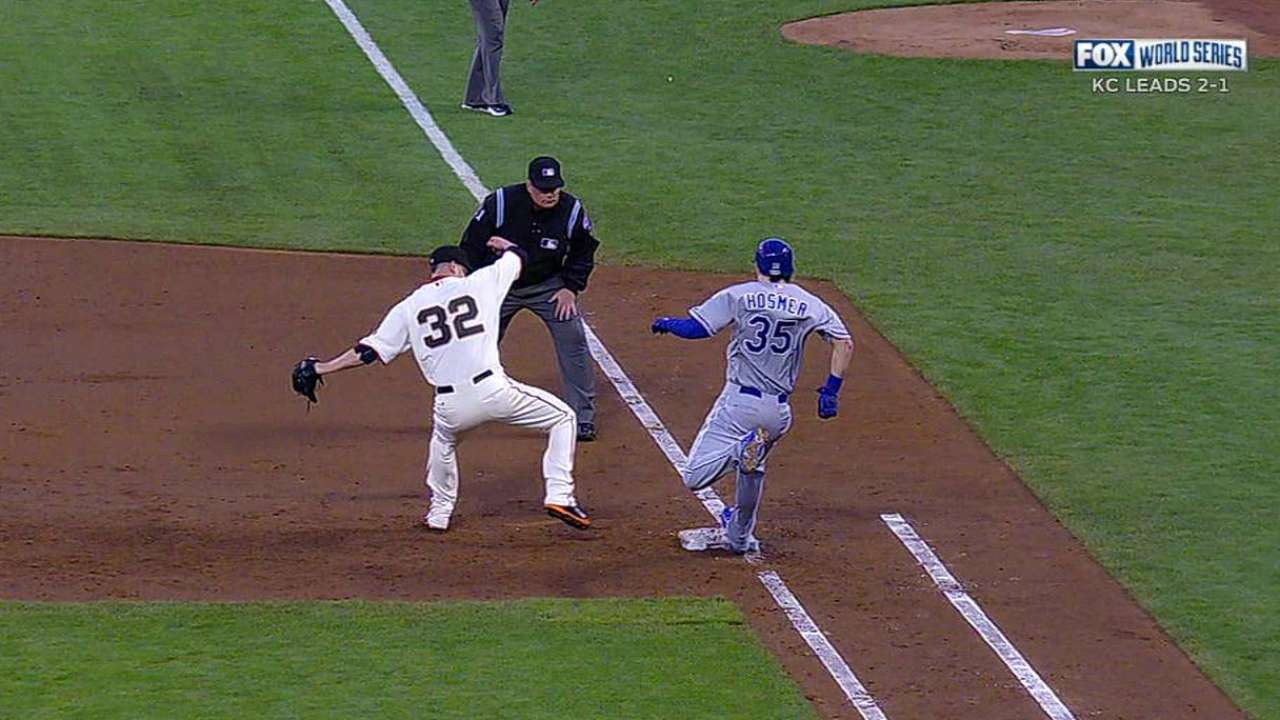 KANSAS CITY -- Matt Carpenter has some advice for the Giants.
Don't start celebrating just yet. Specifically, don't throw Eric Hosmer a strike when he has a chance to keep the cork on a champagne bottle.
"I've known for a long time he was going to be an absolute superstar, exactly the kind of player he's been this postseason," said Carpenter, the Cardinals' All-Star third baseman. "He's been a good player for them for a while, a Gold Glove first baseman and all that, but now everything is coming together for him. I got to see a glimpse of that in the Minor Leagues."
Carpenter played for the Springfield Cardinals in 2010. They took a 2-1 lead over the Northwest Arkansas Naturals in a best-of-five Texas League semifinal series, but couldn't finish the job. Hosmer was the biggest reason why.
Needing a victory to extend the series, Hosmer hit two home runs to carry the Naturals in Game 4, then scored two runs to help them win the final game. Hosmer finished that series 7-for-21 with five homers, a triple and nine RBIs.
Carpenter says he can remember those games "extremely vividly," including the instructions that manager Ron Warner gave to reliever Scott Gorgen when Hosmer came to bat in the eighth inning with the Cardinals protecting a 5-4 lead. Hosmer had homered once in every game of the series, including a two-run homer in the first inning, and this time was batting with teammate Johnny Giavotella on first base.
"He was just killing us," Carpenter said. "Absolutely wearing us out. We had said before the game that we can't let him beat us, so when he came up that time the manager went to the mound and said it's OK to walk him, just don't let him beat us. The pitch was supposed to be a changeup in the dirt. It wasn't as far out of the zone as we wanted, but it was a tough pitch to hit and he drove it. He absolutely carried that team on his shoulders, and they beat us."
Giavotella is still with the Royals, but not on the World Series roster. He worked out with his teammates Monday at Kauffman Stadium, then offered an almost pitch-by-pitch recap of that 6-5 victory, which paved the road to a Texas League title.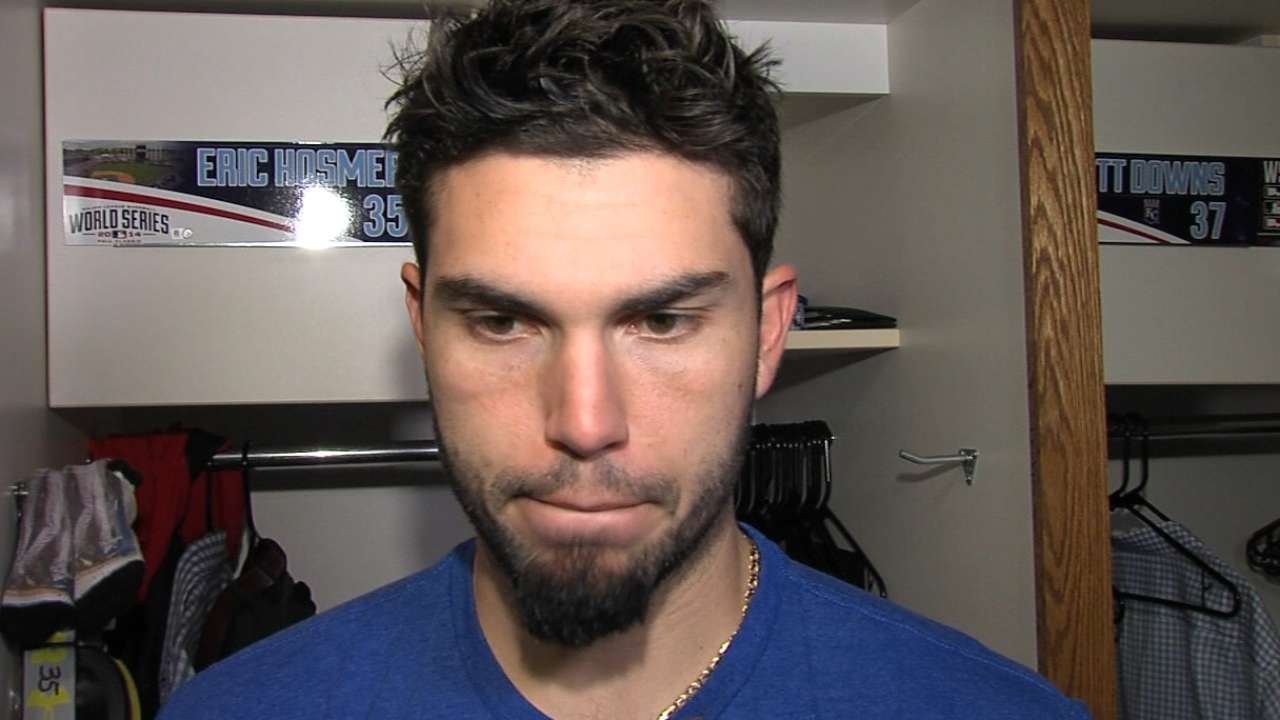 He remembers both of Hosmer's home runs sailing out to left-center field, the one in the first inning into a bullpen and the game-changing homer in the eighth clearing the bullpen.
"Being left-handed, hitting a ball that far to the opposite field, just made your jaw drop," Giavoltella said. "You could tell he was going to be unbelievable player. I'm so glad to see him succeed now. … If you threw anything close to Eric back then, well,he was just a man amongst boys. If he barreled you up, it was going to go."
While the Royals have never experienced as much urgency to win a game as they will tonight, when a win over the Giants gets them to the deciding game of the World Series and a loss sends them home, they can draw on a wealth of experience from playoff series in the Minor Leagues.
Hosmer was on playoff teams at Wilmington in the Carolina League in 2009 and then Northwest Arkansas the next year. The Triple-A Omaha Storm Chasers won the Pacific Coast League title in 2011 and '13 while going to the championship series in '12. Those teams included outfielders Lorenzo Cain and Jarrod Dyson, among others.
Mike Moustakas believes the Royals are in position to cash in on some of the experience they gained along the way.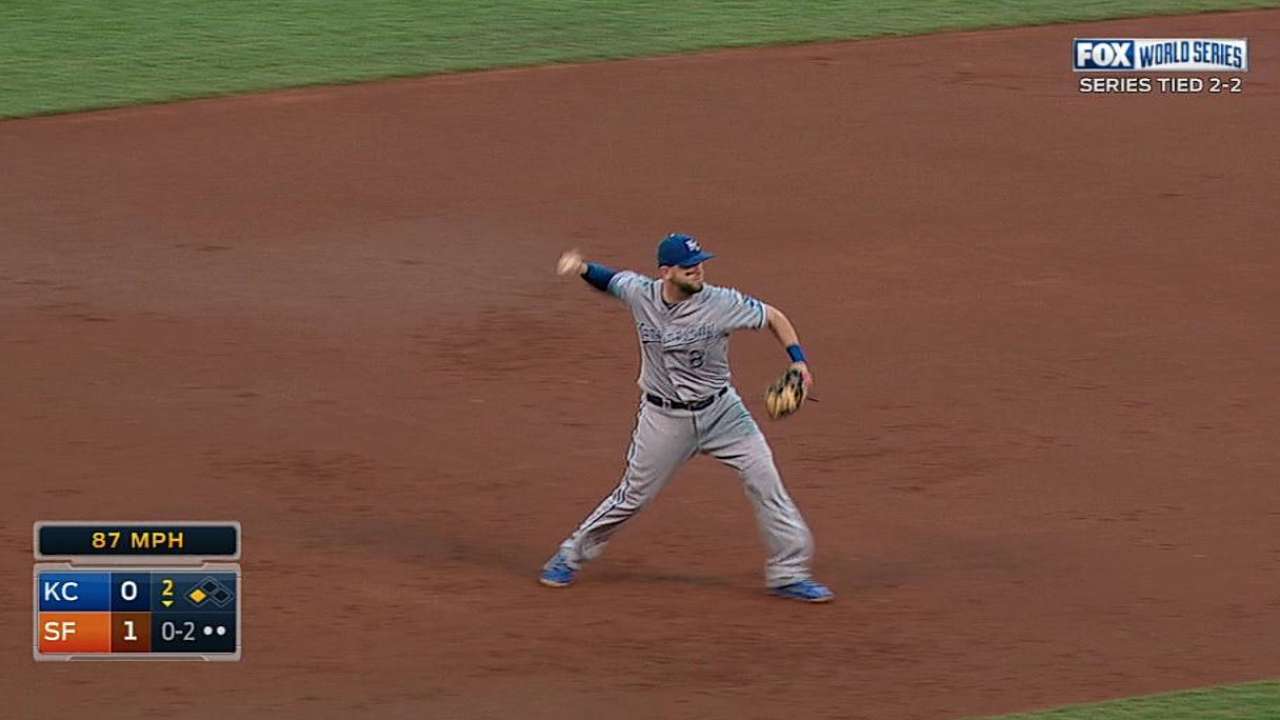 "It helps a lot," he said. "We're not panicking. A lot of people might say we're out there playing tight but we're having a good time. We're in the World Series. Go out there and play the game the way you know how to play and we'll be all right. Those series show what we're capable of doing. Everyone in here is confident."
While the Royals didn't always win those Minor League series, the guys who form the core of Ned Yost's lineup showed they could be counted on.
With current Marlin Bryan Morris on the mound, Lynchburg won a deciding Game 5 over Wilmington in 2009. But Moustakas and Hosmer combined to go 5-for-8, with Moustakas hitting a homer and Hosmer contributing two doubles. Cain went 15-for-36 with six runs scored and six RBIs in seven came when the Storm Chasers rolled to their title in 2011.
Hosmer has made his experience in the Minor League playoffs translate to a .375 average with two home runs, 10 RBIs and a 1.057 OPS in 13 postseason games. Moustakas is hitting only .222 this October, but he leads the Royals with four homers, including game-winners against the Angels and the Orioles.
This is a bigger stage, sure. But it's postseason baseball, so don't be surprised if Hosmer, Moustakas or one of their teammates do something dramatic to turn the World Series back toward them. They know what they're doing with a season on the line.
Phil Rogers is a columnist for MLB.com. This story was not subject to the approval of Major League Baseball or its clubs.