Like his young players, Yost 'having a blast'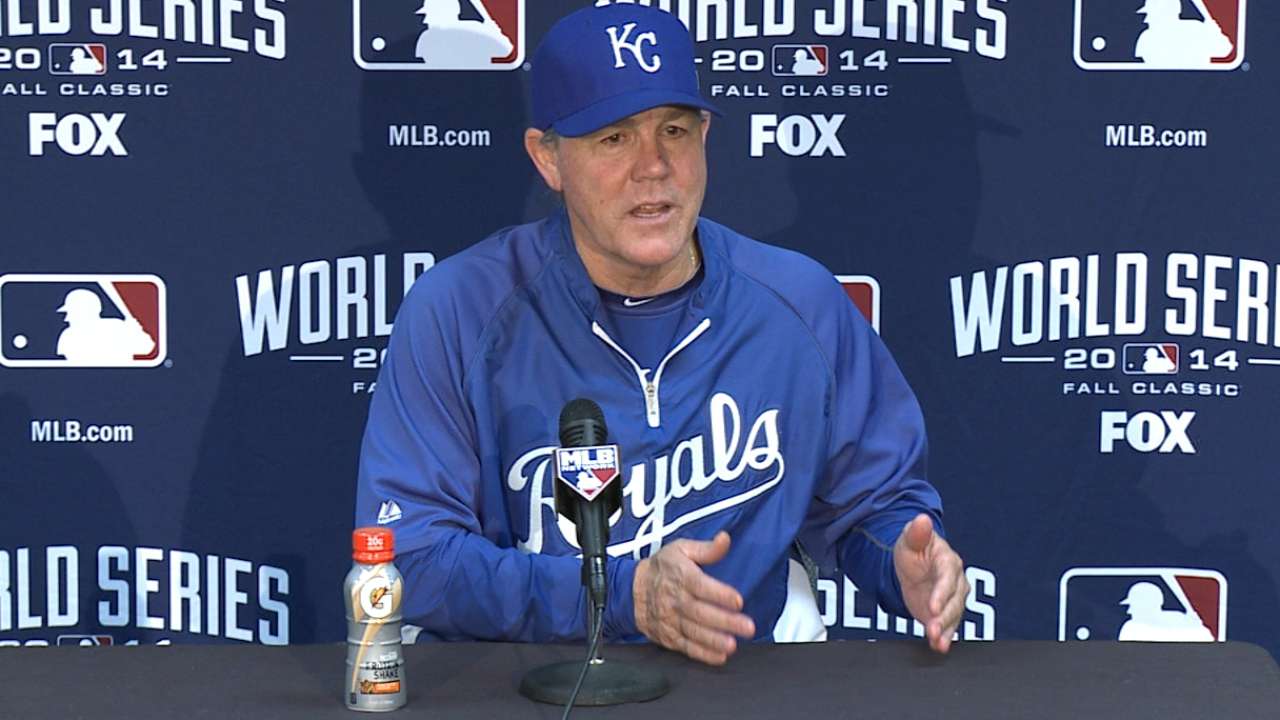 KANSAS CITY -- Crusty Ned Yost, the "old school" baseball guy with the grim visage in the dugout, is one happy fellow in these World Series days.
Not even being down to the Giants, 3-2, seems to have done much to temper his upbeat humor. After all, his Royals are back home, where the inhabitants of the Blue Zoo just might howl them toward something Kansas City hasn't seen since 1985.
Yost has been kicking up his heels, at least symbolically, since his Royals got past their thrilling American League Wild Card victory over the Athletics and surged into the meat of the postseason.
"Well, you know, I've just been having a blast," Yost said the other day. "We're in the World Series. My team is confident. My team is loose. That gives me confidence. It's an exciting time. ... It's an exciting time for Kansas City."
Yost is often portrayed as a curmudgeon, but behind the scenes he often displays a good sense of humor, and he has noticeably changed his relationship with his players, according to one of his coaches, Pedro Grifol.
"Part of being a good leader is knowing your personnel, and I think he's realized that this is a fun group," Grifol said. "It's a group that doesn't really put pressure on themselves, it's the same every day, regardless. And he's not going to change their personality, he's got to change his. ... You can't hammer these guys on a daily basis and expect them to perform."
Yost, once a hard-nosed catcher and then a steel-edged manager, has softened at age 60 and made an effort to understand what makes his young charges tick.
"He's taken the route [of], 'I'll adjust to you guys' personality, you guys go out and play the game the right way,'" Grifol said. "And I think he's enjoying it more. He's just letting these guys be who they are and, in turn, they're playing loose and relaxed, and here we are."
Yost also decided that he, especially, was going to have fun in the postseason, and why not? He'd been here a dozen times with the Braves, but as a coach. This time he's the manager and center stage during his sport's biggest show.
"It was a little more difficult to have fun against the Angels, as tough as they were, then that series went three [games]. And then Baltimore [was a four-game sweep]," Yost said. "I just made an effort that I'm going to slow down and I'm going to enjoy this to the max.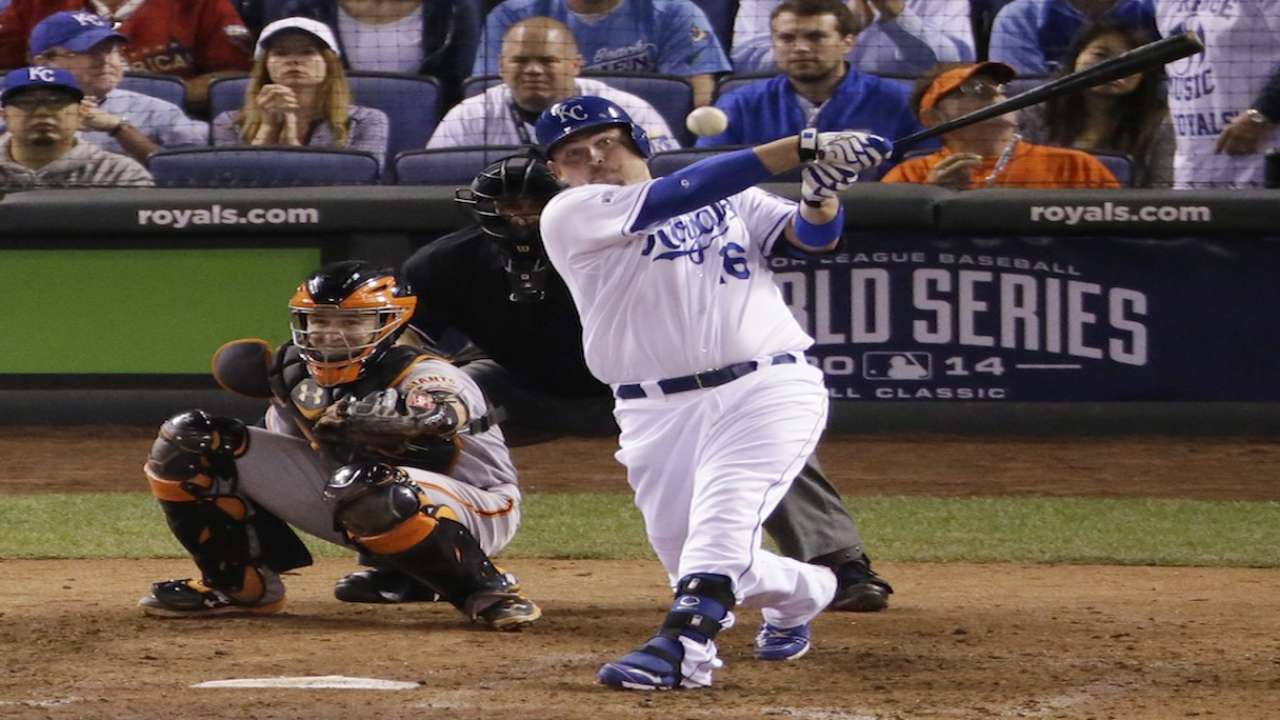 "All of my boys in that locker room have a deep feeling in their heart that they're going to win the World Series, and if you have that feeling, a loss doesn't matter."
There were times, though, during the regular season when the losses really did matter, and his fifth season at Kansas City seemed like another one as an also-ran. Yost didn't have much fun at those times. Now, though, he's guided his team to the highest level of competition.
"It's what you live for, man," he said. "I've been waiting my whole life for this, and I'm not going to sit back and be uptight and not enjoy every moment of it."
First baseman Eric Hosmer believes that Yost's ability to ease back a bit developed as he and other younger players learned more, gained experience and began to come together as a team.
"He just kind of took his foot off the gas and let us be ourselves," Hosmer said.
"He's a funny guy, he's always joking around, he's always having a good time. That's our motto as a team: We're getting our work done and we're having fun while we're doing it."
There's an old saying that a ballclub takes on the characteristics of its manager. Yost, though, might be reversing that as he assumes the characteristics of his players.
"I would agree with that 100 percent. He's definitely laid-back. He likes to have fun with us," said center fielder Lorenzo Cain. "That's definitely one thing I've seen change since the time I've been here. He's allowed us to go out and be ourselves and allow us to play ball. He's a lot of fun to play for.
"There's a lot of personalities in this clubhouse. He allows us to be ourselves, not hold back. It's an adjustment for everybody. We're trying to adjust to his style of managing, and he's trying to adjust to us. It's a team effort, and we've all found a happy medium."
Yost certainly has been happy in October.
Regrets? Not even a few. Well, he did think of one thing that he might have done differently in this postseason. Maybe he wouldn't have brought rookie starter Yordano Ventura into that ill-fated relief appearance against the A's in sixth inning of the Wild Card Game, as Brandon Moss hammered Ventura for a three-run homer.
"It really helped me, I think, from that point on, because it really opened my mind about using [Kelvin] Herrera more in the sixth inning to get us out of some of those situations," Yost said. "That was the one thing that happened that really helped me get better as a manager."
Yost was asked if he's saved any memorabilia from this postseason. The answer? Not much.
"I haven't even gotten a World Series ball," he said. "I've kept the cork from one of the champagne bottles -- [that's] the only thing I've kept to this point, but it's been fun, a lot of fun."
Dick Kaegel is a reporter for MLB.com. This story was not subject to the approval of Major League Baseball or its clubs.