Edwards continues strong AFL play with hitless outing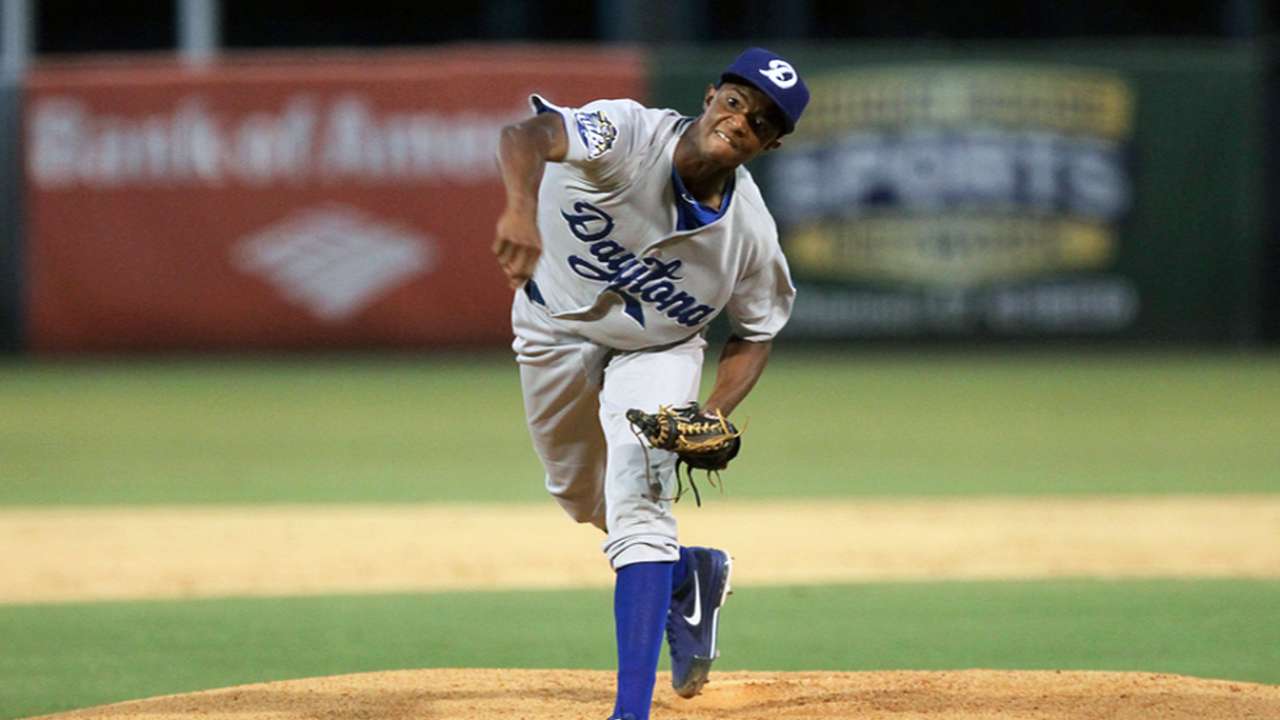 SCOTTSDALE, Ariz. -- C.J. Edwards is working on a three-inning, 55-pitch limit in the Arizona Fall League, but so far he's making the most of his limited time on the mound.
Edwards threw three hitless innings with one strikeout Monday as the Mesa Solar Sox and the Salt River Rafters were tied at three when the game was suspended after 11 innings.
"I started off real good," Edwards said. "I came to the game focused on the things I needed to be focused on and went out there and competed."
Monday's game at Salt River Fields was also the seventh game in which the 20-second pitch clock, which Major League Baseball's Pace of Game Committee is testing -- along with other time-saving measures -- in the AFL.
Including the extra innings, Monday's game lasted three hours and 19 minutes, bringing the average up to two hours and 36 minutes.
While the clocks and increased tempo have impacted some, Edwards is naturally a fast worker and barely noticed the clocks.
"I work fast, so I don't really think about the pitch clocks," Edwards said.
Edwards, the Cubs fifth ranked prospect and baseball's No. 53 prospect according to MLBpipeline.com, now has a 1.80 ERA in 10 innings across four AFL starts.
Not only was Monday a good day for Edwards' stat line, but he was also named to the Fall Stars Game as the Cubs' lone representative.
"I'm excited to play out here with a bunch of guys," Edwards said. "It's going to be fun and I'm looking forward to working with those guys."
While Edwards got off to a strong start on the mound, his teammate Spencer Kieboom got off to an equally impressive start at the plate.
Kieboom, a Nationals prospect, drove in the first run of the game with an RBI double to left in the second inning.
Two innings later, Kieboom, a fifth-round selection in the 2012 Draft, collected another RBI via a sacrifice fly.
The Solar Sox would score their third run of the game in the top of the ninth when Nationals prospect Tony Renda hit a two-out single that tied the game.
However, Mesa's three runs were not enough as the Rafters rallied for three of their own in the seventh.
William Boor is a reporter for MLB.com. Follow him on Twitter at @boor. This story was not subject to the approval of Major League Baseball or its clubs.