Phils' Quinn displays developing power, bat control in AFL
Speedster leads Fall League in steals, goes yard for Scottsdale in win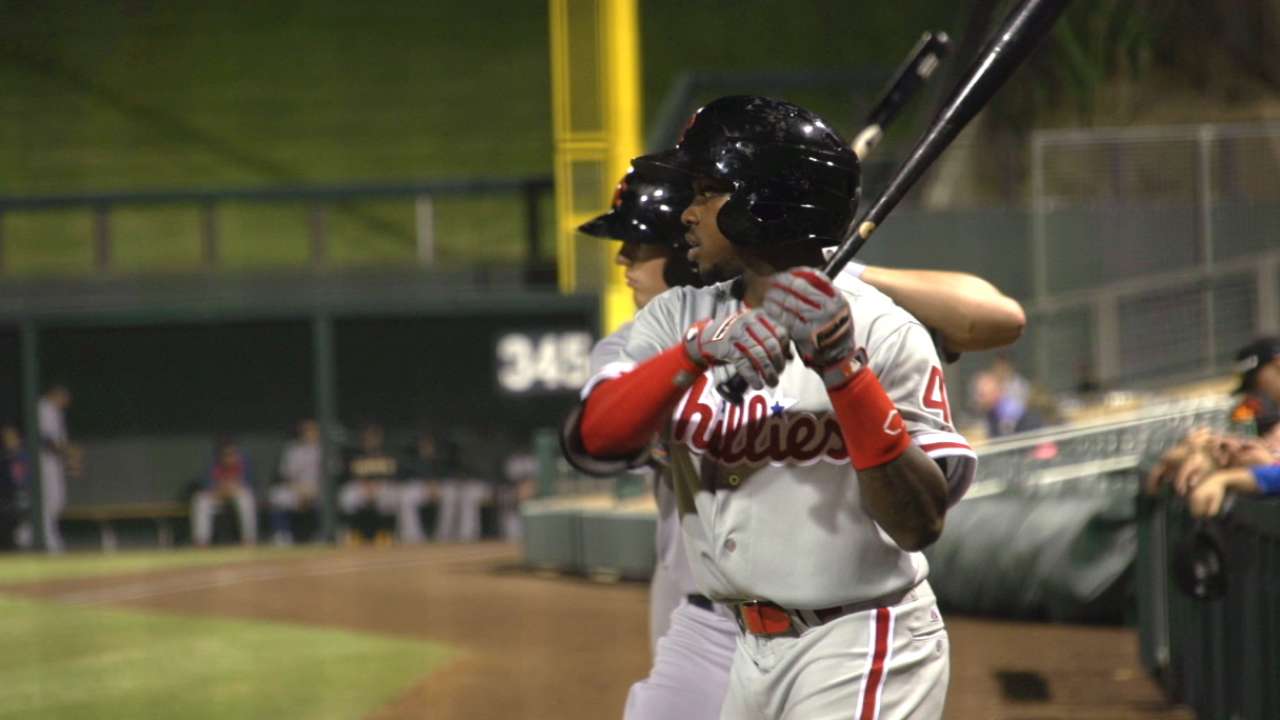 Roman Quinn is known more for his blazing speed that grades out at the top of the scouting scale than his power. But he showed Monday in the Arizona Fall League that he has some pop too.
Quinn hit his first home run of the fall, easily clearing the right field wall, to help Scottsdale defeat Peoria, 6-2.
Quinn, the Phillies' No. 5 prospect, finished the game 2-for-4 with a run. The center fielder hit seven home runs in 88 games this season in the pitcher-friendly parks of the Florida State League for Class A Advanced Clearwater. His home run totals have increased every year during his professional career, an improvement he credited to his maturation as a player.
"I think I'm getting more mature and stronger from both sides of the plate," Quinn said. "I'm recognizing the ball a lot better than when I was younger."
As a team, Scottsdale has hit 18 home runs, the most in the AFL. Their power has primarily come from Greg Bird, who homered again Monday and leads the league with six blasts.
Quinn said he thinks some of Bird's power has rubbed off on him.
"I tell him I want to be just like him one day," Quinn said. "He has a sweet swing and he's very consistent."
Bird's home run, a three-run shot in the eighth inning, extended his hitting streak to 16 games. The Scorpions designated hitter went 1-for-4 with a run and has a hit in every game he has played this fall. The Yankees' No. 11 prospect is hitting .343/.375/.672 with 17 RBIs and 14 runs.
FALL LEAGUE HIT STREAKS
The longest hitting streaks in the Arizona Fall League since 2008
G
PLAYER
YEAR
TEAM
18
Casper Wells
2008
Tigers
18
Mike McDade
2010
Blue Jays
17
Nevin Ashley
2009
Rays
17
Adam Eaton
2011
D-backs
17
Mike Olt
2011
Rangers
16
Greg Bird
2014
Yankees
16
Brandon Crawford
2011
Giants
16
Bryce Harper
2011
Nationals
15
Kevin Mattison
2011
Marlins
15
Christian Yelich
2012
Marlins
15
Brent Keys
2013
Marlins
Before Scottsdale's offense powered it to victory, Peoria grabbed the early lead with a run in the top of the first. Francisco Lindor led off the game with a double and scored when Raul Mondesi grounded into a fielder's choice.
The Javelinas added another run in the fourth, but it wasn't enough to keep up with the Scorpions. Lindor, the Indians' No. 1 prospect, finished the game 1-for-3 with a run. First baseman Patrick Leonard went 1-for-2 with a double, a run and two walks.
Left-hander Adam Morgan picked up the victory, his first of the fall, for Scottsdale. He struck out three batters and held Peoria to two runs (one earned) on three hits and a walk in four innings.
Morgan is pitching in the AFL after missing all of this season and much of last season due to a shoulder injury that ultimately required surgery in January. Quinn said Morgan, his teammate in the Phillies organization, pitched well Monday.
"He kept the ball down and he commanded all three of pitches," Quinn said. "He went out there and competed."
Like Morgan, Quinn missed part of this season as he recovered from surgery. But he was able to get back on the field in May for Clearwater after completing his rehab from a ruptured Achilles tendon.
Now fully healthy, Quinn has played well this fall. He is hitting .263/.354/.351 with 10 stolen bases in 14 games. He said he thinks he has learned and improved so far this fall. He is especially happy that he has as many walks as strikeouts (eight).
"That's one thing I want to do, is cut down on my strikeouts," he said.
Quinn's hard work hasn't gone unnoticed. On Monday, it was announced he would represent the East Division and the Phillies in Saturday's Fall Stars Game.
Quinn said he is looking forward to the opportunity to play in the game.
"It's definitely a blessing," Quinn said. "It's going to be a very fun time playing against some of the best players in the Minor Leagues."
Teddy Cahill is a reporter for MLB.com. Follow him on Twitter at @tedcahill. This story was not subject to the approval of Major League Baseball or its clubs.