M-V-Pence: Veteran's play, example leading Giants
SF outfielder doing it all as club one win from 2014 World Series title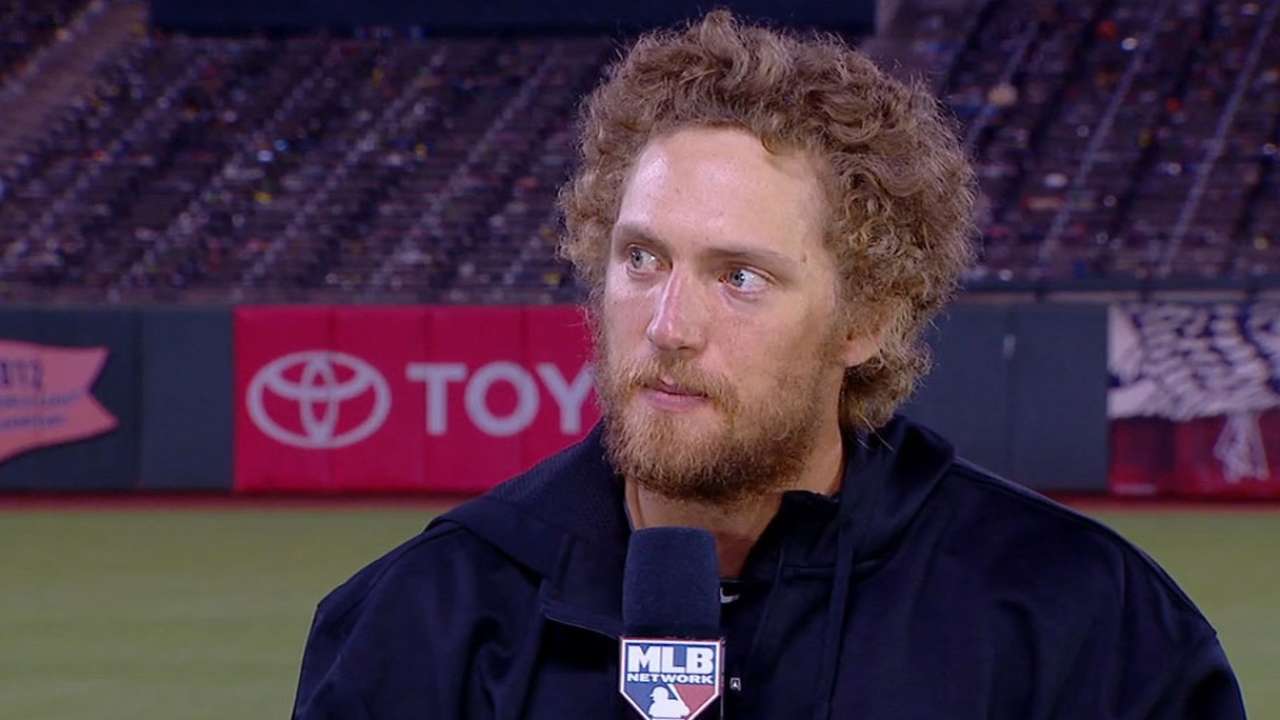 SAN FRANCISCO -- The play was as nondescript as it was telling.
Facing a 1-1 count against James Shields in the fourth inning of Game 5 of the World Series on Sunday night, Hunter Pence chopped a cutter foul, a few feet down the third-base line. The ball, clearly foul, caromed off the lip of the grass and bounced toward the Giants' dugout.
Pence ended up in shallow right field, having run out the clearly foul ball anyway. Who does that?
Hunter Pence, that's who.
"He goes all out," rookie Joe Panik said. "He's one of the leaders on this team, and when you see him grinding out at-bats, and how he's always hustling to first and taking an extra bag when he can, that just goes to show it doesn't matter how big of a name he is or how good he is, he still plays the game hard."
Pence's unconventional swing and throwing motion, and his off-the-field quirkiness, have made him perhaps the most interesting -- and unique -- man in baseball. His production this postseason has separated him from his peers on the field, too.
Pence is hitting .474 (9-for-19) with a home run and five RBIs in the World Series, and has a .328 average this postseason, which trails only Pablo Sandoval among the team's regulars. Pence's on-field impact goes beyond just the numbers, though.
Take Game 4, for example.
With one out and runners on the corners in the first inning, Pence hit a grounder to third. He beat the throw to first, preventing the Royals from turning a double play and allowing the Giants to score the game's first run.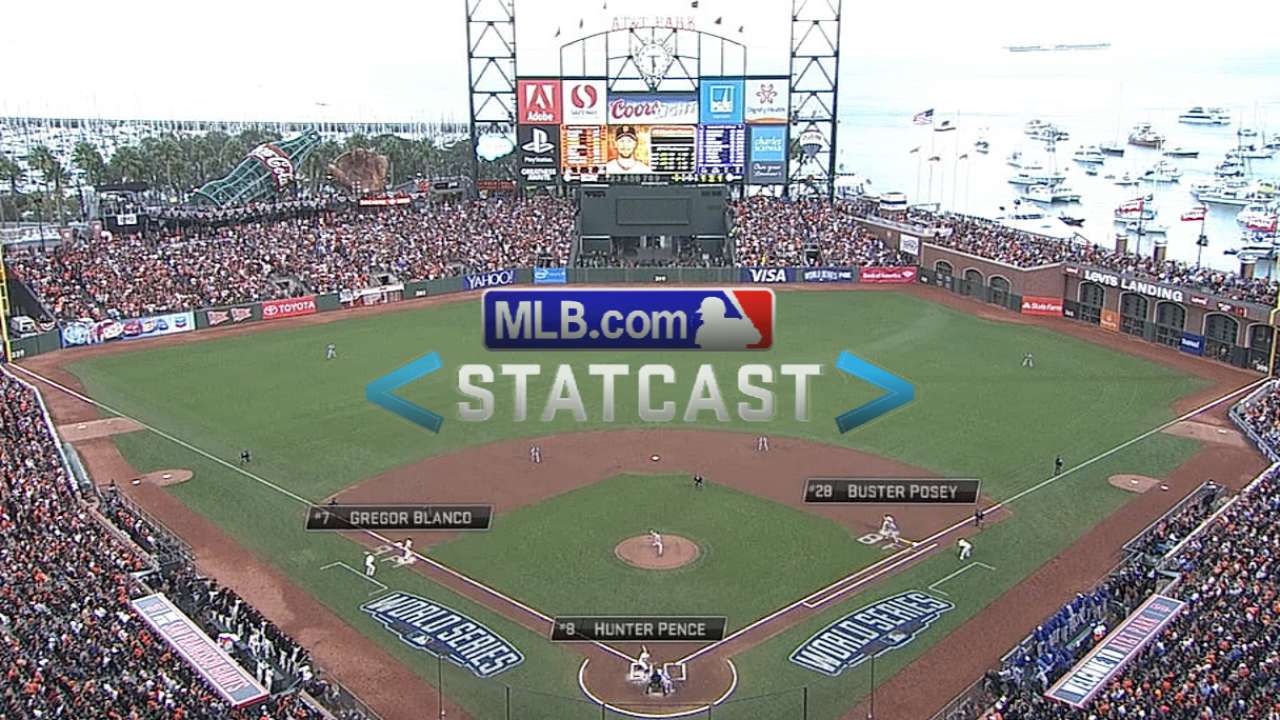 Later that game, in the sixth inning, having already been unable to retire Pence in the first, Kansas City shortstop Alcides Escobar opted to throw home for a forceout on another Pence grounder rather than try to turn what could have been an inning-ending double play. Instead, the inning continued, and the Giants added three more runs in the frame.
"I thought he might be going home, because, I don't know, I'm confident in my speed to first base. I know I get there pretty quick," Pence said. "And a grounder to third, so I didn't know what was going on with the throw. I just knew to run as hard as I could to first base. That was all I was thinking."
Max effort on the field? Check. Tremendous results on the field? Check. And as the world found out when he made the YouTube Hall of Fame with his National League Wild Card-spot-clinching clubhouse speech, "clubhouse presence" can also be checked.
Only one player has been more impactful for the Giants this postseason, and that player just so happens to hold the record for lowest career ERA (0.29) in the World Series among pitchers with at least 30 innings pitched. That man, Madison Bumgarner, has four wins and a 1.13 ERA in six starts this postseason.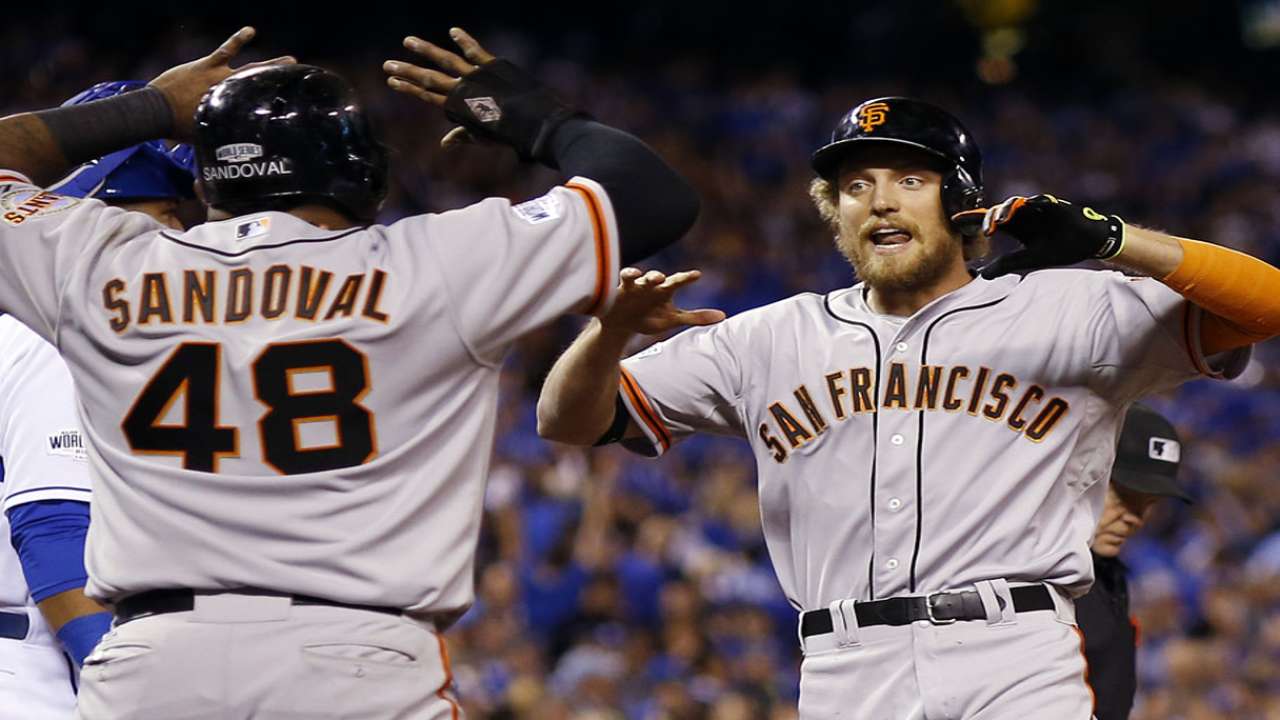 "Madison has a strong case to be [the World Series] MVP, but Hunter, in terms of everyday guys, Hunter is MVP," utility man Matt Duffy said. "Not even with what he does on the field. He's the guy you want in the clubhouse, regardless of how he's performing, because he's so good at getting the team pulled together.
"Everyone knows about his speeches, and he's very intense, but he plays the game because he loves it. He could probably do it for free. I don't know if his agent would let him do that, but you can tell he really enjoys the game of baseball."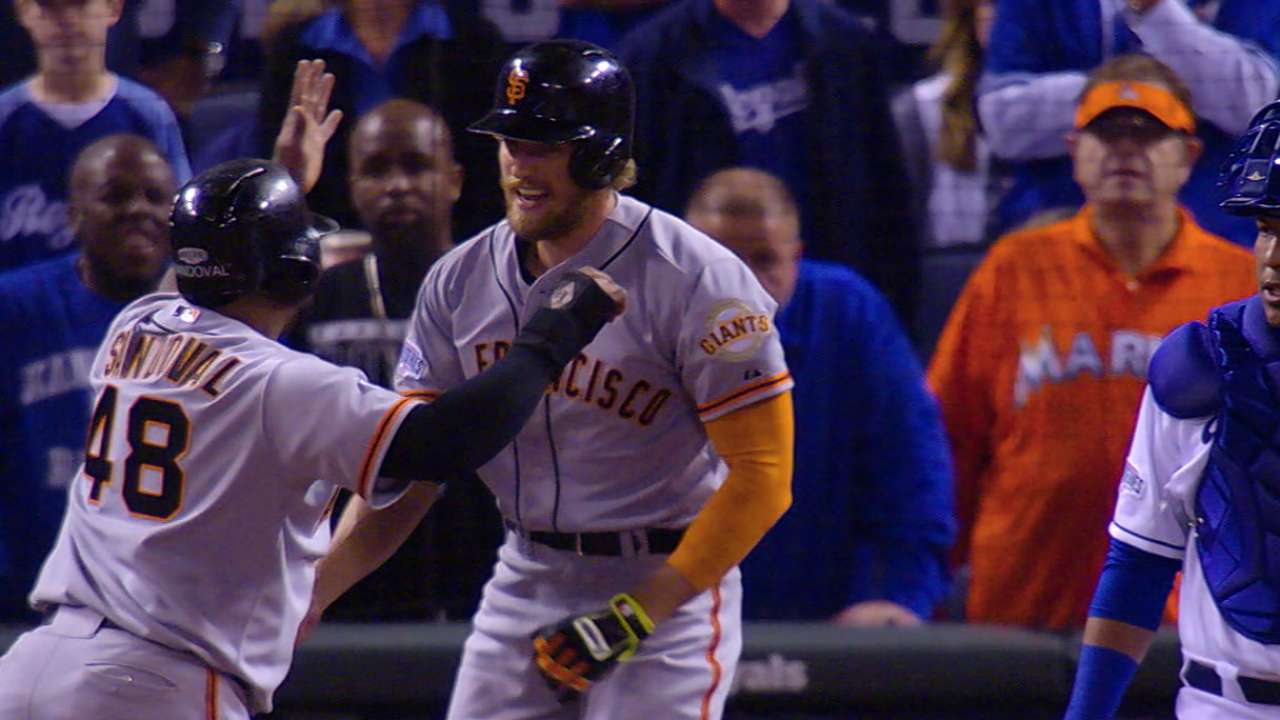 "Giants baseball" may not be sexy, and its success is often hard to explain, but it almost always takes care of the little things, and that has the team 27 outs away from its third World Series title in five seasons. Nobody embodies "Giants baseball" more than Pence, the unconventional-playing, scooter-riding, free spirit who plays harder than anyone else on the field.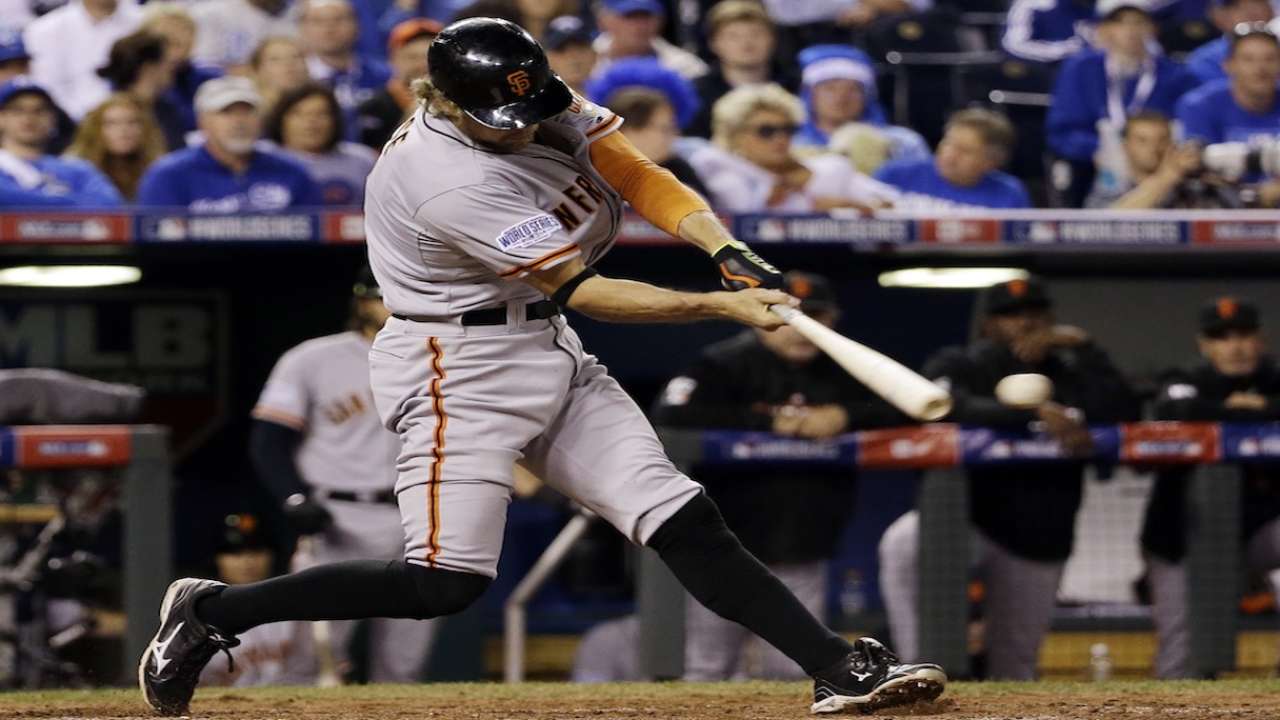 "He just never gives up," reliever Jeremy Affeldt said. "Even when he hits a ground ball, he's going to run as hard as he can, and look what happens. He beats them out. He beats double plays out. He sometimes gets hits. He manufactures runs that way, if he has to. He runs balls down in the outfield. Even if he hits the ball on the ground, his immediate thought is not, 'Oh, I just grounded out.' His immediate thought is, 'Maybe I can outrun it to first.'
"That's the kind of guy he is, and for me, if you don't have a guy like that on the team, I don't think we're in the position we're in."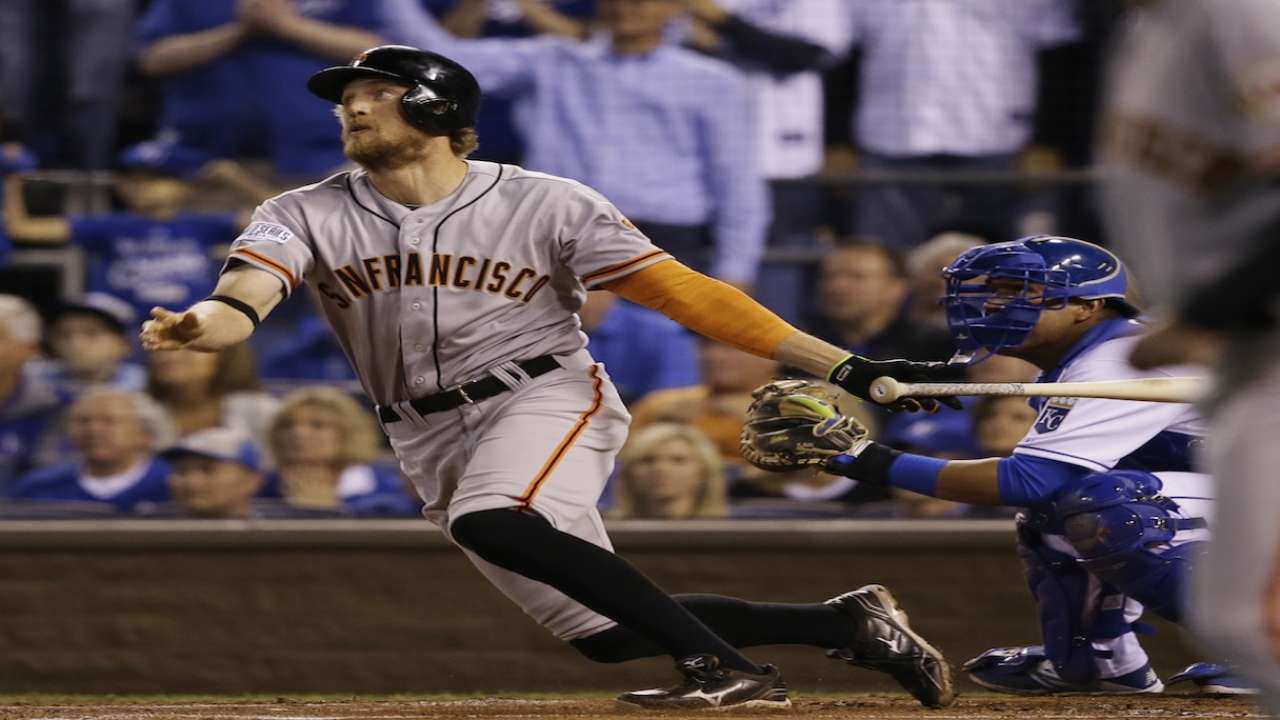 San Francisco and Hunter Pence, a perfect match.
"I think that looking around the locker room on a daily basis," Pence said, "there are guys that are willing to give everything they have for that game for each other, and that's kind of how I try to play each game.
"It just feels like a good fit to me."
Ryan Hood is an associate reporter for MLB.com. Follow him on Twitter @ryanhood19. This story was not subject to the approval of Major League Baseball or its clubs.