Oct. 27 Yordano Ventura workout day interview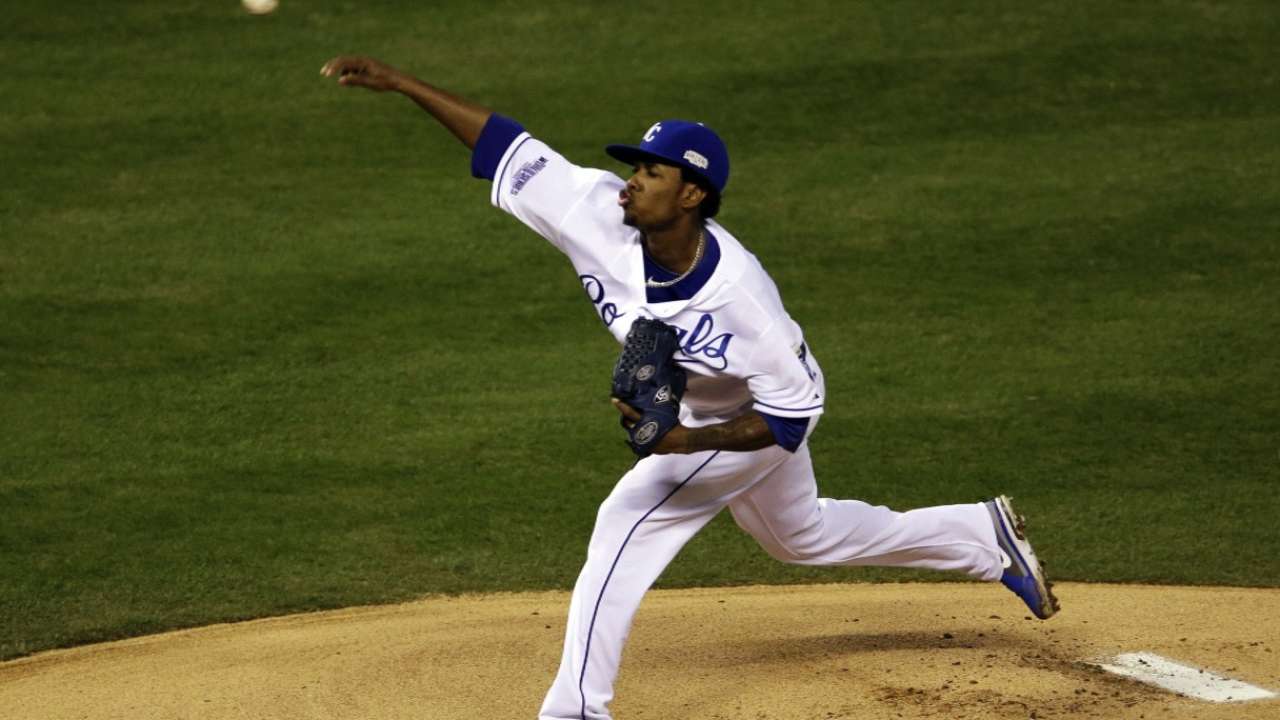 Q. Going back to your childhood a little bit, Yordano, but I believe you got a lot of strength through working construction and swimming in the ocean. I just wonder if you could tell us about that a little bit, if it's true that that was partly how you developed?
YORDANO VENTURA: I worked in the shop with my stepfather, and I also drove a truck, like a delivery truck in the shop, and then I worked driving a truck as well. God works in different ways to help you get to your destiny or what you're made to be, so that was an important part of it.
In terms of swimming, I spent a lot of time by the water, fishing and swimming, which attributed to the strength and physical growth.
Q. A lot of young pitchers tend to wear down in a long season, especially a rookie. Why do you think you're still as strong as you've been all year this late in the year?
YORDANO VENTURA: It all starts with my work and preparation in the off‑season back home. In addition though I've had the help of veterans, who I've been able to talk to and help me understand the ups and downs of the season, and when things may be getting a little more difficult physically for me. So those two things have helped me to be where I'm at at this point.
Q. You ask your older teammates how they feel about Game 6, and they say they feel really good about it because you're pitching. What does it mean to you to have the trust of your older teammates already at this point in your career?
YORDANO VENTURA: A big thing is I speak with my teammates and I respect them. I try to show them that respect, and I feel like by doing that and by working hard and speaking with them that they have grown that same trust and respect towards me. So I feel like it's something that's a mutual respect that they've developed with me, and for that reason I go out there and I'm confident, and I can go out there and pitch and work to do the best I can, and know that my teammates around me are doing same. With that, there is a confidence that's grown between teammates when I pitch every fifth day.
Q. How well did you know Oscar Taveras? What emotions have you had since learning of his death?
YORDANO VENTURA: I know him very well. I played against him in the Minor Leagues. When we would play against each other, we'd go over to each other's houses and hang out during the Minor League season. I consider myself a friend of his, and my thoughts are with the family and of all of those who know him. It's a very difficult time. And such is life, things like this happen.
Q. When Ned was in here, he said, "In my mind there is going to be a Game 7." Can you just talk about what kind of confidence is in the clubhouse right now down 3‑2 coming back to Kansas City?
YORDANO VENTURA: You never know what's going to happen tomorrow, but everybody is going to give everything they have, go out there and fight, knowing that we're a good team with confidence. The biggest goal is to not leave anything behind. To give everything you have, knowing that that could be the last game. We have all the confidence that we can go out there and win.