After MLB debut, Bergman earns AFL honors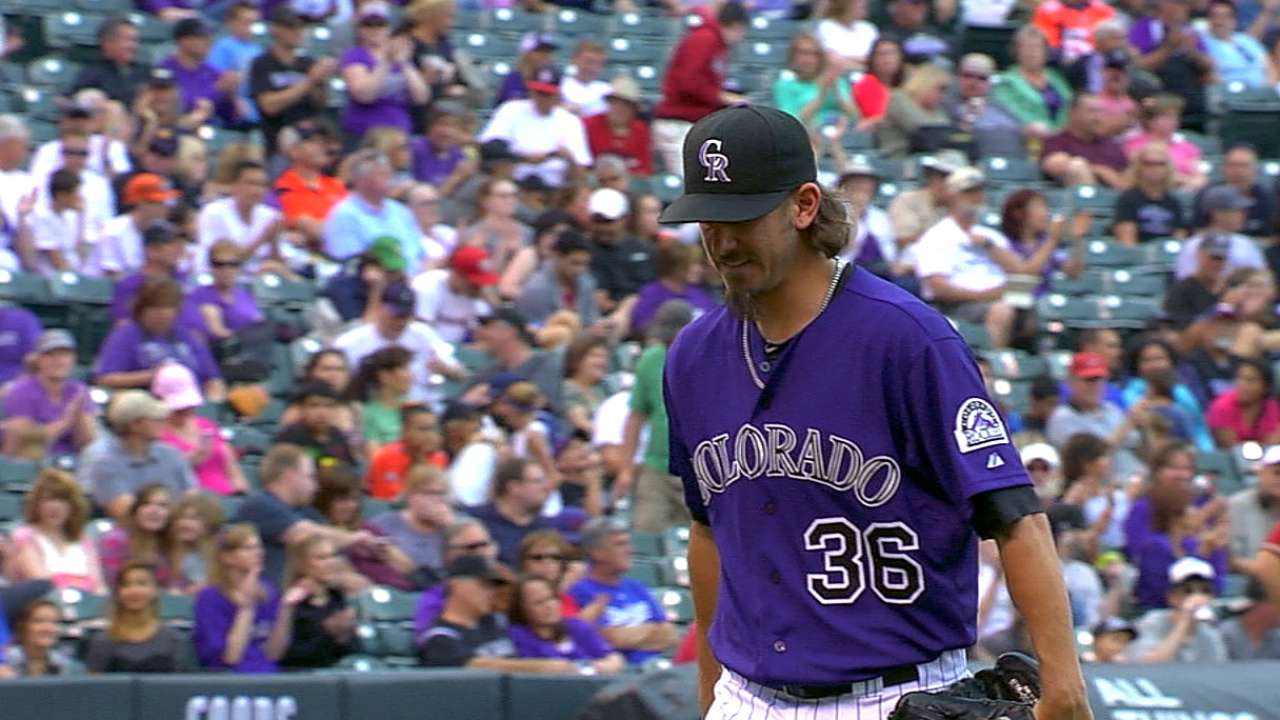 DENVER -- Rockies right-handed pitcher Christian Bergman's nowhere-to-the-cusp-of-somewhere story keeps getting better, even if he believes it's dangerous to enjoy it too much.
A 24th-round pick in 2010 and Spring Training afterthought this year, Bergman pitched his way to the Majors in 2014, and his good fortune continues in the Arizona Fall League, which on Monday named him as a member of the East Division squad for Sunday evening's Fall Stars Game (6:08 p.m. MT on MLB.com and MLB Network).
"This isn't enough -- I have very high expectations for myself," Bergman said before the end of the Rockies' regular season. "A lot of people would be pretty happy with the way this year has gone if they were me. It went well, I'll give myself that. But I know I'm capable of much more.
"I look at this year as a chance to make all those mistakes that I can learn from, so I don't make them again next year."
Bergman, 26, out of the University of California, Irvine, put himself on the radar with consistently strong Minor League performances. This was his first year of Major League Spring Training, and strong home numbers at Triple-A Colorado Springs earned him a promotion to the Rockies in June. His season was interrupted by a two-month absence with a broken left hand, but he made 10 Major League starts and finished 3-5 with a 5.93 ERA.
Injuries to the rotation gave Bergman a chance. While he outpitched some of the others who were forced into duty, Bergman knows that he's going to have to add to his pitch mix to be a part of the future of the Rockies, who will have to add impact and depth to their rotation to have hopes of contending.
Bergman's fastball velocity is not eye-popping -- 88-91 mph -- and he throws an 85-mph cutter and an 81-83-mph changeup that is considered his best pitch. He believes he'll have to develop his curveball as a sub-80-mph pitch to keep hitters off his other offerings.
The left hand, broken when struck by a line drive from the Brewers' Aramis Ramirez on June 20, didn't prevent Bergman from throwing and keeping his arm in shape, and he reported a slight gain in velocity by season's end.
But missing the Major League time cost him experience, so he was happy to go to the Arizona Fall League to make up for the innings and test his curve against the Majors' top prospects. Pitching for the Salt River Rafters, Bergman is 1-0 with a 2.00 ERA, with seven strikeouts, seven hits against and one walk in nine innings.
"As of right now, the curveball is my fourth pitch, and I'd like to bring it up to the level that my other off-speed is," Bergman said.
Bergman was a postseason All-Star at the short-season Class A and Class A-Advanced levels and in Double-A, but never let that change his workmanlike attitude. He won't change just because he battled at the Major League level and the Arizona Fall League has declared him a star.
"It went well, but I'm very far from satisfied," Bergman said. "If I just kind of coast through the offseason and think that I've got it nailed down next year, that's a big mistake. That's a good way to find myself in Triple-A again."
Thomas Harding is a reporter for MLB.com. Read his blog, Hardball in the Rockies, follow him on Twitter @harding_at_mlb, and like his Facebook page, Thomas Harding and Friends at www.Rockies.com. This story was not subject to the approval of Major League Baseball or its clubs.