Moya can use AFL as springboard to Tigers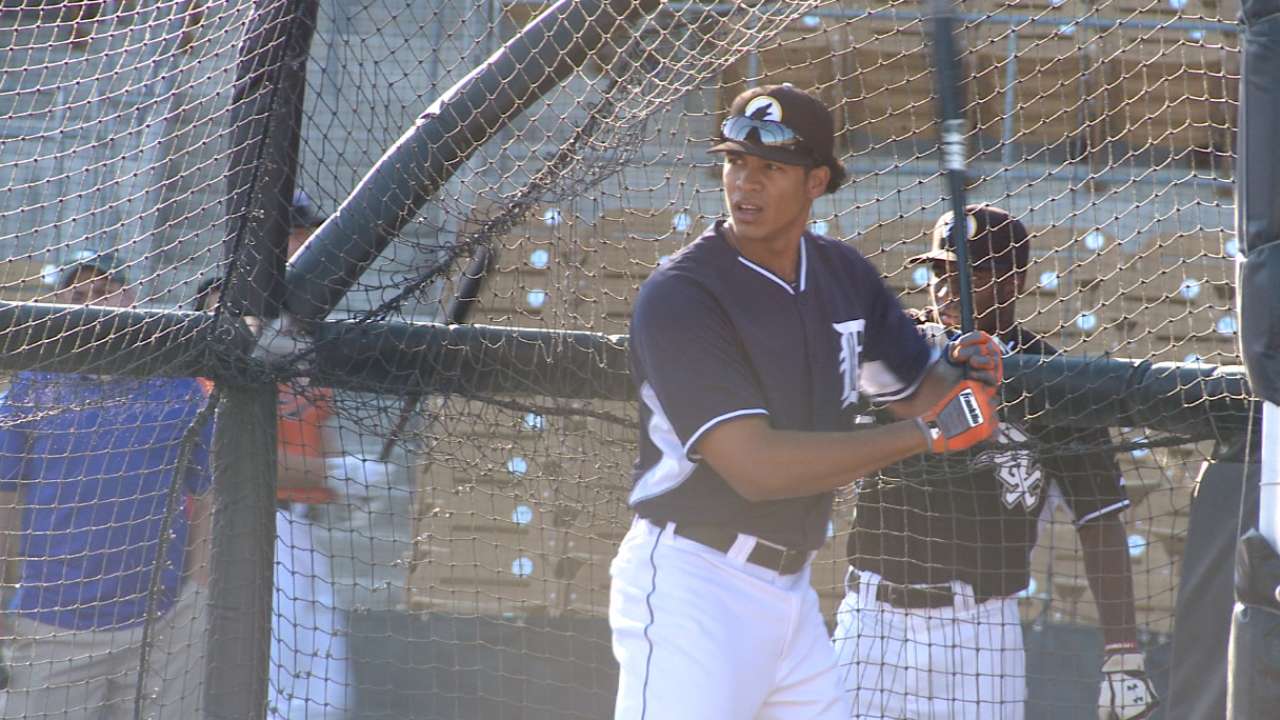 DETROIT -- Steven Moya is not looking likely to have much of an offseason this winter. If it gives him a better shot at getting to the big leagues next season, it's a push that might pay off.
For a sweet-swinging slugger and standout athlete who had a history of injury-shortened seasons before breaking through this year, it's a makeup for lost time. So far, he has shown little sign of slowing down in the Arizona Fall League.
"I know he had some injury problems in the past, but I think he's turned the corner," said former Tigers great Lance Parrish, who managed Moya at Double-A Erie this summer and is doing so again now in the Arizona Fall League. "You couldn't ask for a better attitude day in and day out. He wants to play every day. I think he was really looking forward to coming here and seeing how he measured up to all the other talent in baseball."
Moya is more than holding his own. On Monday, the 23-year-old was selected to the AFL's Fall Stars Game, the league's All-Star equivalent. He then had a two-homer game for the Glendale Desert Dogs in their win over Surprise on Monday afternoon.
Moya's 3-for-4 performance, his third three-hit game of the campaign, gave him a .321 (17-for-53) average with three homers, three doubles, a triple and 11 RBIs on the season. He has had a high strikeout rate for much of his pro career -- his 16 strikeouts haven't changed that -- but he has tempered it with four walks.
That's what Parrish wants to see more often from him. In a top prospect league with more talent up and down the lineup than a regular Minor League team, Parrish believes this is an opportunity for Moya to see the benefits of making pitchers attack him in the strike zone.
"For me, as manager, it would be a huge advantage for him to learn to work the strike zone," Parrish said earlier this month. "I think he has to come to the realization that as a big man and as a guy with a big swing, pitchers aren't always going to want to pitch to him. …
"The one great thing about being in a lineup like this is they can't really pitch around one guy to get to another guy. Mo's got that going for him now that he's got some pretty good hitters around him. But still, just seeing him in the few games he's been in, I think he's making an effort to stay in a little longer. For me, this is really where it's going to help him a lot. I think it'll be a huge advantage."
That's one advantage the Tigers, an organization that sometimes opted for winter ball for prospects in past years, saw in sending Moya to the AFL. It was important enough, assistant general manager Al Avila said, that they negotiated with Moya's Dominican League team, Estrellas, to delay his arrival there.
"They had planned for him to play, but knowing how the situations there can be, if he had a bad week or two he may not [play]," Avila said. "We got permission for him to go to Arizona, where we know he's a priority player and he's going to play every day. And then from there, he will go to the winter ball club, and then if there's an opportunity, obviously he'll play."
The Arizona Fall League wraps up shortly before Thanksgiving, which should give Moya a chance to take a short break and join Estrellas for December. Once the Dominican League playoffs begin after the holidays, younger players like Moya usually give way to experienced hitters, though hot hitters sometimes will stay on.
Between Erie, Detroit and Arizona, Moya has played in 156 games this year, though his 11 big league games were all late-game appearances. Depending on Dominican League play, he could well approach 175-180 games played, a major jump for someone whose career high before this year was 93 games at Class A Lakeland in 2013.
That jump in workload is usually more of a concern with pitchers than position players. With Moya, whose body now fills out his 6-foot-6 frame, it's less of a worry. Getting him past an injury history that included Tommy John surgery in 2012 and various aches and pains as a lanky youngster, was the key for them.
Now, as they head into an offseason with an opportunity in right field in Detroit, they have to figure out how much further Moya has to go before he's ready for the big leagues. If Moya can use the extra games as a head start the way Andy Dirks did a few years ago, that jump won't look as big.
"You can hope and he may be ready, but I'm not really sure," team president/general manager Dave Dombrowski said two weeks ago. "His performance in the Arizona Fall League, then going to winter ball will be important for him.
"He has so much ability that you are kind of waiting for it to happen, for it to keep progressing so it can happen. But I'm not sitting here ready to tell you that for sure he's going to be one of our corner outfielders next year."
Jason Beck is a reporter for MLB.com. Read Beck's Blog and follow him on Twitter @beckjason. This story was not subject to the approval of Major League Baseball or its clubs.