Inbox: Will Carrasco maintain momentum?
Beat reporter Jordan Bastian answers Indians fans' questions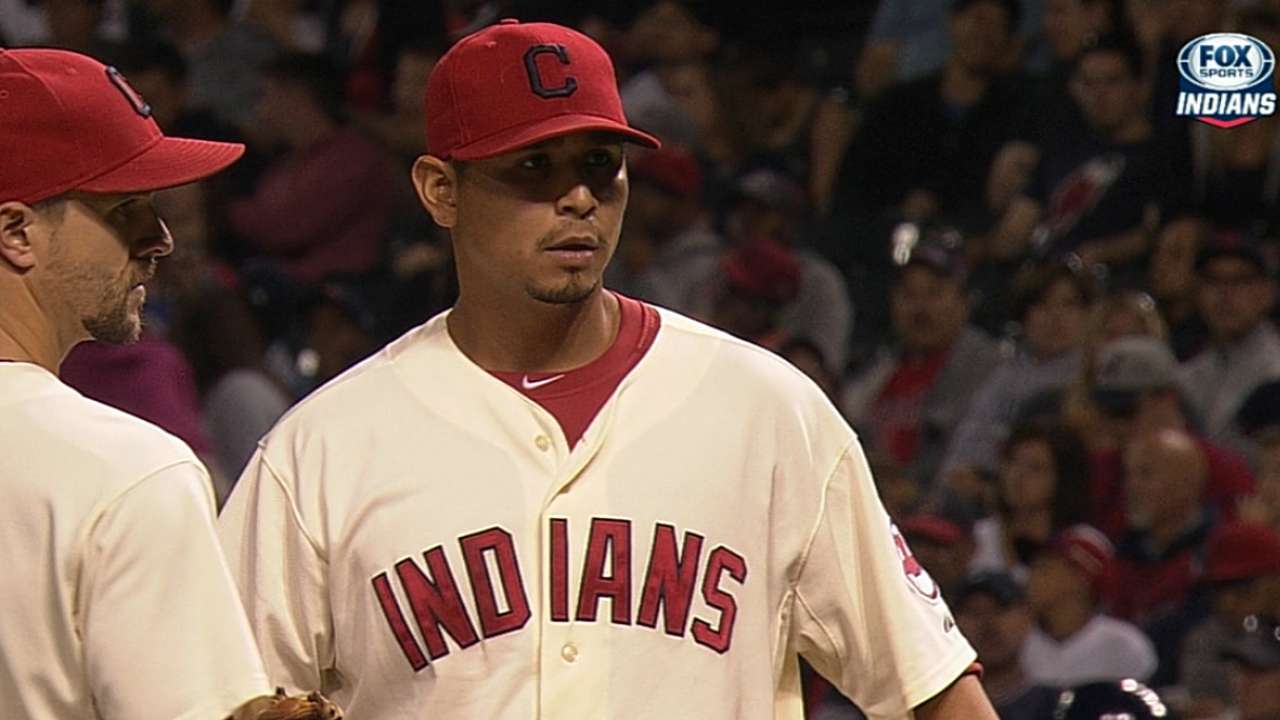 Carrasco headed into the offseason a year ago in a similar position. The big right-hander was preparing for a role in the starting rotation, hoping he could win a job. The difference now is Carrasco can train this winter knowing he has a job and can be an effective starting pitcher for Cleveland.
It should also help Carrasco that he has established a strong routine, which is something he struggled with in previous stints as a starter. During his time in the bullpen this year, the righty retooled his approach both behind the scenes and on the mound, and he'll look to carry that over this offseason and into next year.
In terms of his approach on the mound, Carrasco increased the use of his sinker and slider during his return to the rotation in the second half. The right-hander cut down the volume of four-seam fastballs and turned his curveball into a third weapon rather than his primary breaking pitch. He also saw a spike in fastball velocity as the season progressed.
Over his final 10 starts of the season, Carrasco posted a 1.30 ERA with a .179 opponents' average and 78 strikeouts against 11 walks in 69 innings. He and right-hander Corey Kluber formed one of baseball's elite one-two punches over the final two months of the season. That foundation has Cleveland excited about its pitching for 2015.
You never know when things might click for a pitcher, but Cleveland's continued faith in Carrasco certainly paid off this past season. After his final start, Carrasco made a point to say that the Indians always believed in him, but now he believes in himself. That statement is not something you can quantify, but it could go a long way in helping him build on this year's success.
Last year, Carrasco was out of options, giving him a leg up on the competition for a rotation job during Spring Training. Are any pitchers out of options this year, perhaps throwing a wrinkle into the rotation or bullpen competitions?
-- Keith S., Cleveland
Carrasco (as you noted) and Trevor Bauer are out of Minor League options, but both right-handers project to be in the Opening Day rotation. Two interesting out-of-options pitchers for the coming spring will be right-hander Zach McAllister and lefty Nick Hagadone.
McAllister is probably sixth on the rotation depth chart at the moment, considering his struggles (3-7, 5.67 ERA in 15 starts) as a starter last year. The big righty did have some late success as a reliever (2.77 ERA, 14 strikeouts, two walks in 13 innings), presenting a potential opportunity for him to stay on the big league staff. McAllister will prepare for a starting role, but the Indians could carry him as a reliever.
As for Hagadone, his struggles have been well-documented over the past few seasons. In 2014, though, the lefty turned in a 2.70 ERA in 35 games, striking out 27, walking six and posting a 1.03 WHIP in 23 1/3 innings. Hagadone was also stingy to both righties (.211 average) and lefties (.217). He projects to open next season in the bullpen.
Three other players who are out of options on the roster are righty Scott Atchison, lefty Scott Barnes and catcher Chris Gimenez. Atchison is a valuable member of the bullpen, so there are no issues there. As things currently stand, Gimenez (eligible for arbitration) and Barnes would seem to be long shots to make the Major League roster out of camp this spring.
Do you see the Indians picking up the $3.5 million option on Mike Aviles? Isn't he a valuable enough player off the bench? And how do you see Ryan Raburn bouncing back and/or fitting into the picture in 2015?
-- Daniel Z., Cuyahoga Falls, Ohio
As we sit here today, it seems likely that the Indians will exercise Aviles' option for 2015. Cleveland knows what it has in Aviles, who can handle multiple infield and outfield positions and is a valuable presence in the clubhouse. As for Raburn, it is hard to evaluate his season in light of the injury issues he dealt with all year. What we know is he is under contract for '15 and does have a good career track record of hitting left-handed pitching. If Raburn remains in the plans for next year, Cleveland needs production similar to what he provided in 2014.
Do you think the Indians will try to sign Kluber to a long-term contract this offseason? Since he's still in his pre-arbitration years, it seems like there could be some incentives on both sides.
-- John R., Fremont, Ohio
General manager Chris Antonetti has a history of approaching players early on about contract extensions. He did so with Carlos Santana, Michael Brantley, Yan Gomes and Jason Kipnis. Cleveland has been aggressive in that regard, so I'd wager that the club will discuss it with Kluber this winter. Then again, there is no rush to get a deal done. The righty is under control for the next four years. Arbitration can get pricey, though, so getting an extension done this winter or next winter would certainly be in Cleveland's best interest.
With the emergence of Jose Ramirez at shortstop, could you see the Indians possibly shopping Francisco Lindor for the right piece in an offseason trade this winter?
-- Mitch K., Parma, Ohio
The Indians will probably need to be active in trade talks this winter if the club wants to bring in an impact bat or starting pitcher. You can bet that the first player other teams will ask about will be Lindor. I don't see Cleveland "shopping" the highly touted shortstop, but the club has never shied away from hearing out proposals. The Indians' farm system has some depth in the outfield and middle infield, so that gives the Tribe some potential chips for trade talks. That said, I still think we see Lindor in an Indians uniform at some point next season.
If the Tribe picked up a proven right fielder in the offseason, how would they deal with David Murphy and his contract?
--Chris F., Youngstown, Ohio
If Cleveland decides to go in a different direction for right field, my guess is that the club would also seek a trading partner for Murphy. He is under contract for $6 million for '15 and has a team option for $7 million for '16 (or a $500,000 buyout). Given Murphy's track record and experience, that contract could be moved. As of now, though, Murphy figures to be Cleveland's starting right fielder next year.
I love Terry Francona and I hope he stays around for a long time, but with our homegrown Sandy Alomar Jr. waiting for his first non-interim managerial job, is Francona just the stopgap until the front office thinks Sandy is ready to take the reins?
-- Pete L., Yankton, S.D.
Francona has a pair of World Series rings, won the American League Manager of the Year Award in 2013 and has led the Indians to their first consecutive winning seasons in more than a decade. He is hardly a stopgap at manager for Cleveland. Alomar wants to manage and has interviewed for multiple jobs over the past several years. Hopefully, Alomar will get his chance, but I don't see Francona going anywhere any time soon, barring a change in Cleveland's front-office structure.
Jordan Bastian is a reporter for MLB.com. Read his blog, Major League Bastian, and follow him on Twitter @MLBastian. This story was not subject to the approval of Major League Baseball or its clubs.