Clincher in '04 a culmination of magical run
Red Sox end 86-year championship drought in commanding fashion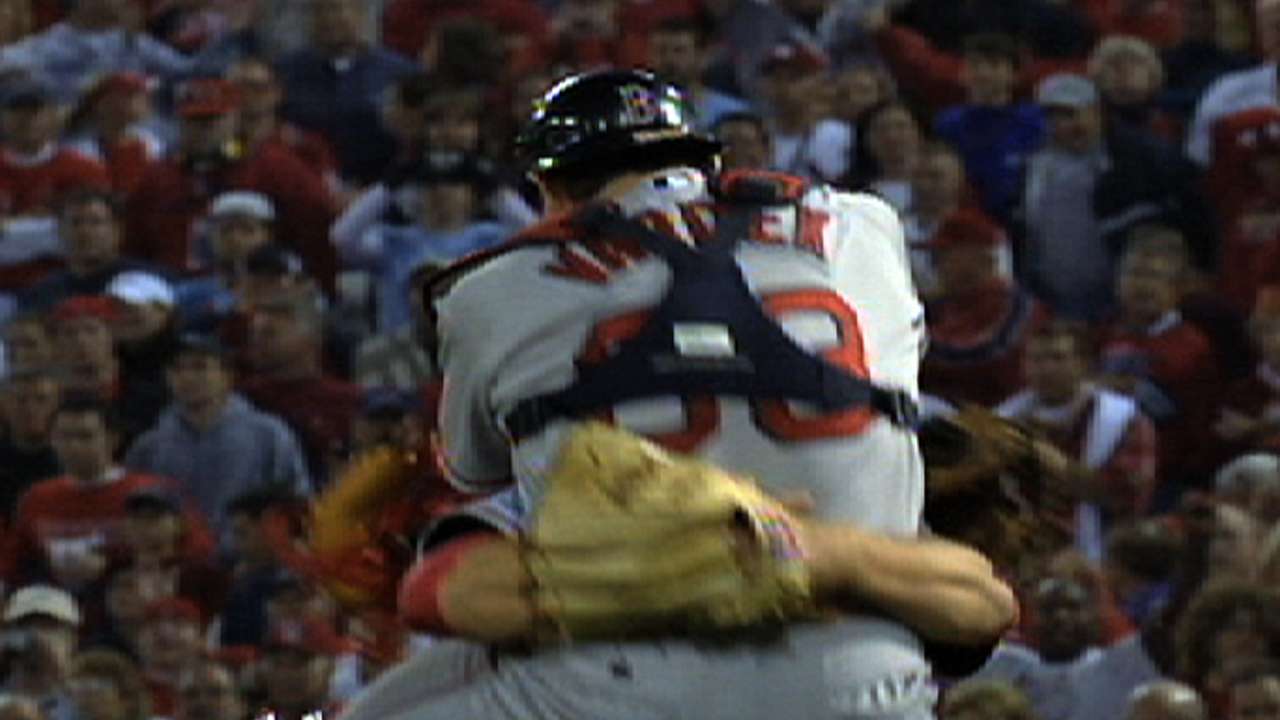 Ten years ago, the Red Sox and their fans were in the midst of an 86-year wait for a World Series championship. And after falling in the deepest of holes -- 3-0 against the Yankees in the American League Championship Series -- everything changed.
Boston would become the first -- and still only -- team in history to win a postseason series after trailing 3-0. And manager Terry Francona's team went on to win the final eight games of that postseason. MLB.com is doing retrospective pieces on the anniversary date of all eight of those wins with remembrances from key voices, concluding today with the 3-0 victory in the clinching Game 4 of the World Series.
There had to be a total lunar eclipse for Game 4 of the 2004 World Series, right? With a blood-red moon serving as the perfect backdrop to a night that would become historic for baseball reasons, the Red Sox set about getting those final 27 outs they needed to at last become champions.
Before the game started that night at Busch Stadium, the players scurried around for mementos.
The 2004 Red Sox knew that if they won Game 4, it would be the last time they all played together.
"It seemed like everybody in the clubhouse before the game, they were trying to get things signed and everything," said Johnny Damon. "I'm like, 'We have to win one more, and then we can do whatever the heck we want.' I just couldn't believe everyone going around, getting things signed and I was like, 'Oh no, let's not count on the series before we win another game.'"
October 27, 2004 #RedSoxNation pic.twitter.com/NUsbbOiLjV

- David Ortiz (@davidortiz) October 27, 2014
Perhaps, then, it was only fitting that Damon had a chance to be the very first person to impact Game 4.
Serving as the leadoff hitter against Jason Marquis in the top of the first, Damon belted the third pitch of the game over the wall in right, and the Red Sox wound up leading the game from start to finish.
The 104-win Cardinals had never generated any kind of momentum in that World Series, and Damon made sure it stayed that way.
Damon was still buzzing with confidence after his monster effort (two homers, seven RBIs) that finished off the Yankees in Game 7 of the ALCS.
"I felt good," said Damon. "I had the count in my favor and I was like, 'I'm going to hit it hard.' It was a rope. I busted out of the box trying to get a double. I knew I hit it hard, but it was close and I knew [Jim] Edmonds could barehand and throw me out at second."
There was no play for Edmonds though, as the baseball cleared the wall.
Derek Lowe took the mound with a lead in the bottom of the first, and he wasn't about to give it up. The sinkerballer was the quintessential example of a player who had gotten hot at the right time to make a subpar regular season a distant memory.
It no longer mattered that Lowe had a 5.42 ERA in the regular season, or that he was bounced from the rotation when the postseason started.
Lowe was now right in the middle of what the Red Sox were about to accomplish, and like Damon, he had also had a huge Game 7 of the ALCS, pitching six innings of one-hit ball on two days of rest.
"'This is my last start ever [with the Red Sox],'" Lowe remembered thinking before Game 4. "This is literally my last start. This is it. There's no Game 8 of the World Series. I just said, 'This is my last start ever and just try to enjoy the moment.' As it turned out, I was never in a World Series again."
But the sinkerballer made the most of the one he was in, baffling the Cardinals with his sinker.
Lowe pitched beautifully, giving up three hits over seven scoreless innings. He completed the performance by striking out John Mabry.
"I remember running off the field," said Lowe. "And I remember telling myself, as I was running off the field, 'Why am I running?' I remember vividly saying, 'Slow down.', and I just ran all the way in, instead of taking it all and enjoying it."
After Lowe left with a 3-0 lead, Bronson Arroyo and Alan Embree guided Boston through a scoreless bottom of the eighth. And the game was in Keith Foulke's hands, and he had been marvelous throughout October.
"I can still see Foulke leaving the bullpen, going to myself, 'This is going to be it. I know this is going to be it.' When he left, I had a sense of calm in my heart," said reliever Mike Timlin. "It was over. I knew it was over."
Albert Pujols did hit a single through Foulke's legs to start the ninth. But the closer went to work from there.
Scott Rolen flew out to Gabe Kapler in right for the first out, and Edmonds struck out.
The Red Sox were about to win the World Series. Edgar Renteria tapped a 1-0 pitch back to Foulke, and the closer flipped to Doug Mientkiewicz at first base to end an 86-year championship drought for the Red Sox.
"It was like an out-of-body experience, running in from the outfield," said Kapler. "Almost like a mantra playing in your head. 'Is this really happening?' Almost like a dream state where you want to pinch yourself. And then as the days and the weeks passed, I remember feeling as if it was a movie instead of something where we were there. It started to unfold like somebody else's story."
In truth, it was the story of an entire community reveling in what felt like the most elusive accomplishment imaginable.
Ian Browne is a reporter for MLB.com. Read his blog, Brownie Points, and follow him on Twitter @IanMBrowne. This story was not subject to the approval of Major League Baseball or its clubs.