White leaves Dodgers for senior position with Padres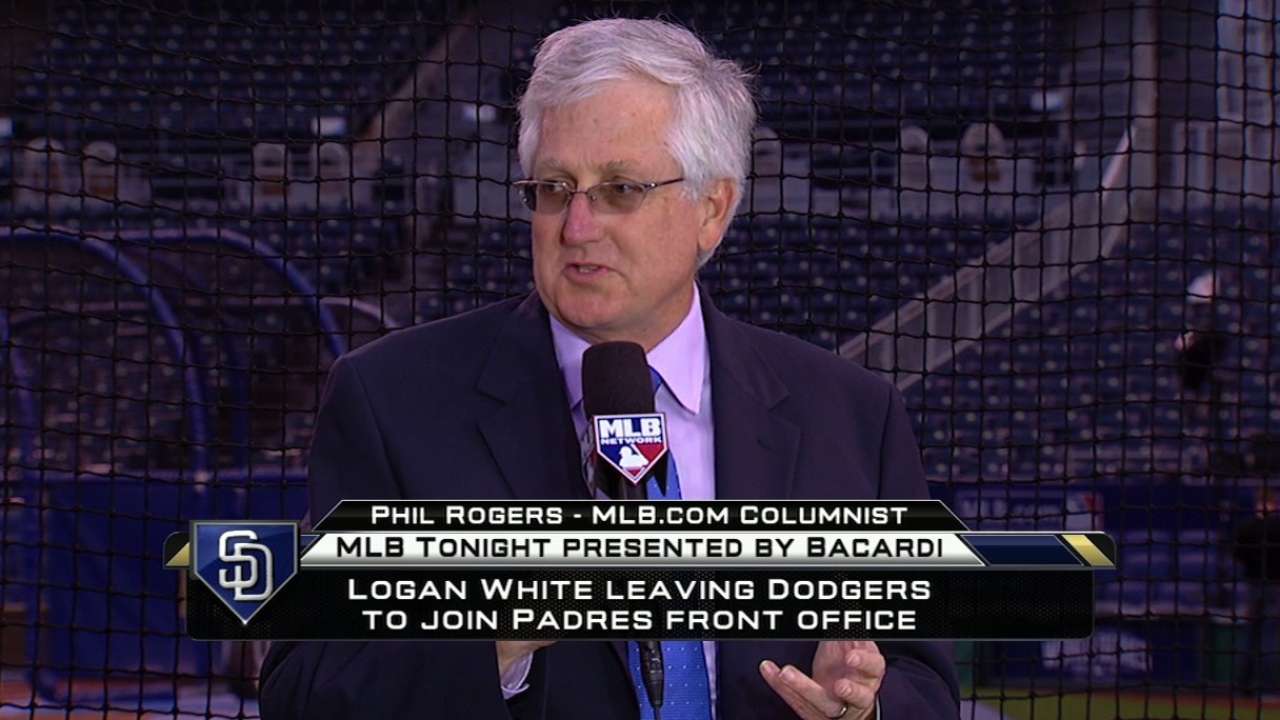 LOS ANGELES -- Dodgers vice president of amateur scouting Logan White was named senior adviser to the general manager/pro scouting director for the Padres on Monday.
That gives new president of baseball operations Andrew Friedman a clean slate to overhaul the three key areas of the Dodgers' baseball-operations department -- the Major League roster, scouting and the farm system.
White's departure to a division rival follows the hiring of Friedman, the reassignment of general manager Ned Colletti to senior advisor and VP of Minor Leagues De Jon Watson's move to another division rival, the D-backs. Friedman has given no indication of who will replace them or how the front office will be structured, other than to say he probably will hire a GM.
"I like Andrew a lot," White wrote in a text. "It was a tough decision."
White worked with new Padres GM A.J. Preller when the latter was an assistant in the Dodgers' baseball-operations department from 2002-04.
White ends a 13-year run with the Dodgers that was highlighted by the drafting of superstars Clayton Kershaw and Matt Kemp, as well as All-Stars Chad Billingsley, Russell Martin, Jonathan Broxton and Dee Gordon. White also selected two of the club's current top prospects, Corey Seager and Joc Pederson.
White's eye for talent was further illustrated by his instrumental role in the scouting and signing of several international players who had significant impact, such as Yasiel Puig, Hiroki Kuroda, Hyun-Jin Ryu and Julio Urias.
And like Colletti and Watson, he did all that despite the restrictions imposed on his department during the bankrupt ownership of Frank McCourt.
The Draft philosophy of White, a former pitcher, was to take pitching, and then more pitching. Of his 13 Drafts, he took pitchers first in 11 of them. That left White sometimes fending off criticism for the organization's shortage of impact position prospects, necessitating the acquisition of high-priced veterans through trades and free-agent signings.
It was never clear, however, whether the lack of position players was as much about the Draft as the development system.
More than 50 of White's Draft selections have reached the Major Leagues. In 2010, the Dodgers were named Topps Organization of the Year and in 2006 Baseball America's Organization of the Year.
White joined the Dodgers from the Baltimore Orioles, but this isn't his first stint in San Diego, where he was West Coast supervisor from 1993-95.
Ken Gurnick is a reporter for MLB.com. This story was not subject to the approval of Major League Baseball or its clubs.