Inbox: Is Robertson in Yankees' plans for 2015?
Beat reporter Bryan Hoch answers questions from fans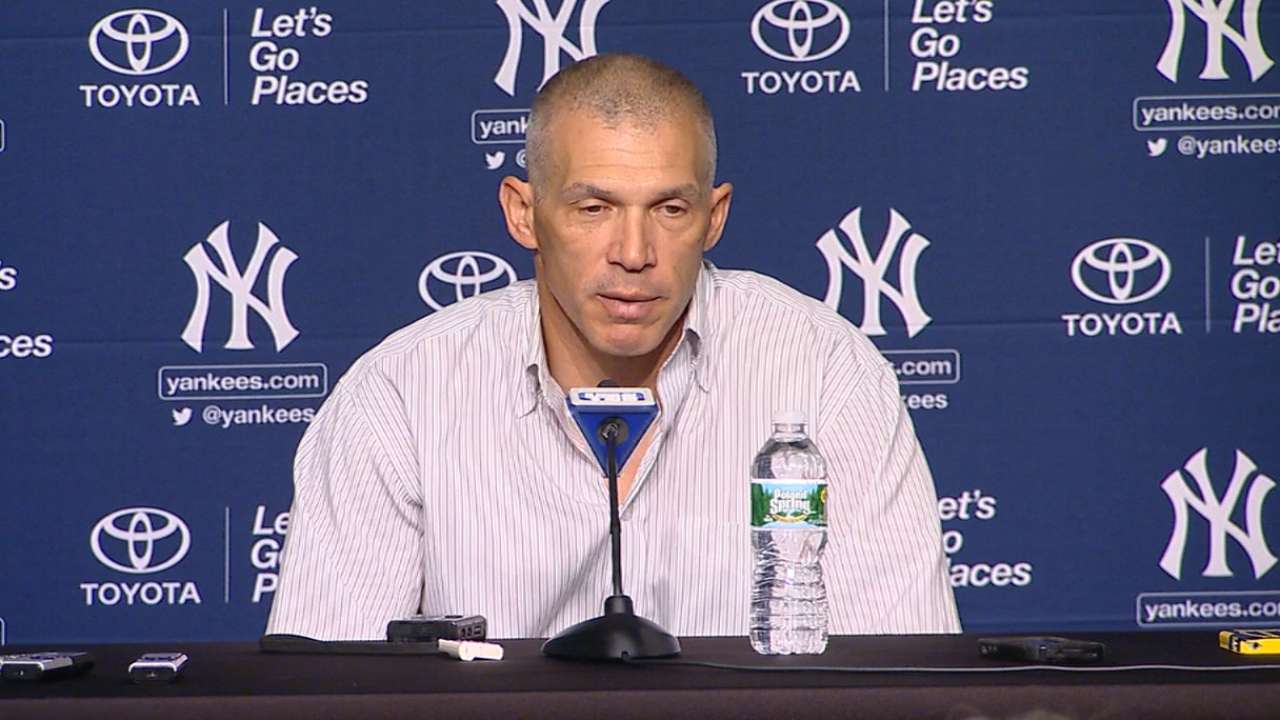 Click here to submit an Inbox question.
As the Giants and Royals wrap up their battle to see who will be crowned as the new World Series champs, the Yankees have their wheels in motion toward the 2015 season. It's time to make our second dip of the offseason into the Yankees Inbox:
What are the Yankees thinking with regards to David Robertson? Will they bring him back or are they leaning toward giving the closer's job to Dellin Betances?
-- Mark N., New York
The first step with Robertson will revolve around the decision of issuing him a qualifying offer, which is valued at $15.3 million this year. No player has accepted one to date, but a case can be made for Robertson becoming the first; it would nearly triple his $5.215 million salary from 2014 for just one more year of service in pinstripes.
This will be Robertson's first crack at free agency, and there is understandable temptation to see what the market may provide on a multiyear basis -- especially after the Yankees did not engage him about an extension at any point this year. Given how many clubs had closer issues this past season, Robertson should draw interest out there. For reference, only one closer has received a qualifying offer: Rafael Soriano, who got one from the Yankees and instead signed a two-year, $28 million deal with the Nationals before the 2013 season.
Robertson, 29, converted 39 of 44 save opportunities in his first year as a full-time closer, posting a 3.08 ERA and 13.4 strikeouts per nine innings. In taking over Mariano Rivera's old job, general manager Brian Cashman recently said that Robertson "graduated with honors -- he mastered that and he is a bona fide closer without question," while acknowledging that the ninth inning is always a greater challenge than setup work.
Betances offers a fail-safe in the event that Robertson should exit, much the way that Rivera was thrust into the closer's role after John Wetteland left the Yankees as a free agent after the 1996 season. Given that the bullpen was a season-long strength, the Yankees' preference would likely be to keep Robertson for one more year in the closer's role and allow Betances more time to develop and flourish.
Do you think the departure of hitting coach Kevin Long is going to help or hurt the offense, especially guys like Carlos Beltran and Brian McCann?
-- Chad R., Nampa, Idaho
It was not a huge surprise that the Yankees decided to make changes on the coaching staff after missing the playoffs for the second consecutive season. Long took the fall because the team ranked 13th in the American League in runs scored (and 10th the year before). That dictated that a change of some sort was inevitable.
Whatever the issue was, it cannot be traced to Long's work ethic and preparation, both of which were judged to be exemplary by the organization. The fact that Long was snapped up so quickly by the Mets speaks to his reputation around the game. Still, a new voice and approach may create the difference that the Yankees are looking for -- though in the case of Beltran, better health should be the biggest factor.
Outside of a few weeks in April, Beltran was never able to be the player that the Yankees expected; the bone spur was an obvious issue, and that tumble over the right-field wall on April 17 at Tropicana Field may have had more of a cumulative effect than anyone let on. As for McCann, if the Yankees can get a full year that is more like what he produced from July 1 on (14 homers, .749 OPS), the back of his baseball card would look a lot more respectable.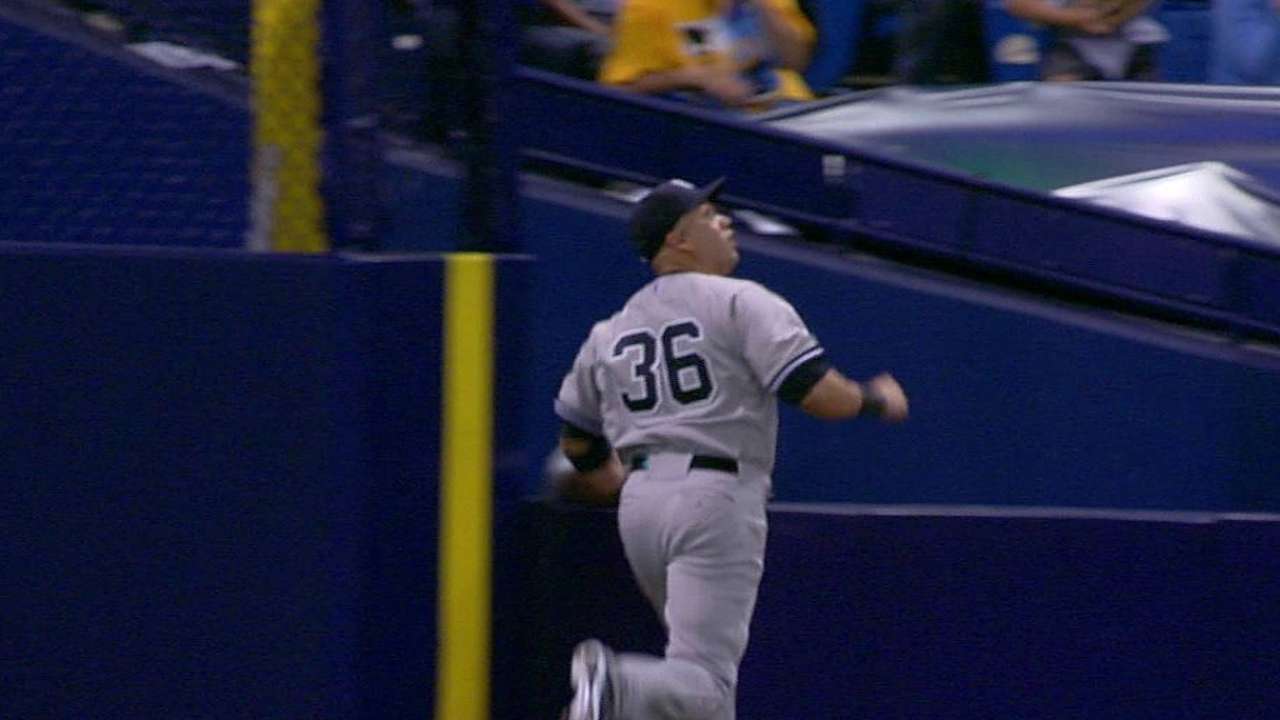 If they re-sign Brandon McCarthy, do the Yanks still need to sign another pitcher?
-- Steve P., Burlington, Vt.
Not necessarily. McCarthy would be a solid fit for the middle of a Yankees rotation that has injury-related question marks in CC Sabathia, Masahiro Tanaka and Ivan Nova, plus the possible retirement of Hiroki Kuroda. It's likely that the Yankees will flirt with the market for big-name talent like Max Scherzer, Jon Lester and James Shields, but the urgency to land a huge fish would be reduced by bringing back McCarthy at a more reasonable price.
Tanaka and Michael Pineda could be a dominant 1-2 punch at the top, even with the danger of losing one or both to the disabled list. The Yankees had four of their five Opening Day starters on the shelf this past year, and even though most people say you can't prepare for that kind of impact, Cashman's staff did a remarkable job patching the ship. They'll also have depth options like Shane Greene and David Phelps on board.
Should the Yankees consider using a six-man rotation to help the health issues that come later in the season?
-- Greg G., White City, Fla.
This was a topic that pitching coach Larry Rothschild floated in August, looking at the possibility on a limited basis in September to accommodate Tanaka's return, and it's something that organizations will talk about given the rash of pitching injuries -- particularly Tommy John surgeries -- that have plagued the game in recent years. It would cut the bullpen short and force some extra creativity, but we've already seen teams move the norm from four starters to five. This could be an inevitable next step.
Will the Yankees try to re-sign Ichiro Suzuki and see him to 3,000 hits?
-- Brink M., Alpharetta, Ga.
Ichiro is 156 hits shy of 3,000 in the Majors and intends to keep playing, but it's doubtful that he will be back in the Bronx. He is looking for at-bats that the Yankees don't figure to be able to provide, not after he started 2014 as a fifth outfielder without a clear role. And Ichiro's cryptic comments after the season's final game hinted he might be ready for a change of scenery:
"Obviously, a lot of things go on that the fans and the media don't see, but what I can say is that the experiences I've had this year will help me in the future," Ichiro said on Sept. 28. "It will be somewhat of a support for me because of the experiences I had this year. It will help me in the future."
Though his skills have been in decline from his All-Star days and there's a solid argument that the Yankees played him too much out of necessity in 2014, it's easy to picture Ichiro bouncing back in a complementary role elsewhere -- especially for a National League club, where he could come off the bench to pinch-run, pinch-hit and play the outfield in the late innings.
Bryan Hoch is a reporter for MLB.com. Follow him on Twitter @bryanhoch and read his MLBlog, Bombers Beat. This story was not subject to the approval of Major League Baseball or its clubs.