Parra focusing on durability in offseason
Lefty played through spate of injuries in '14, saw numbers fall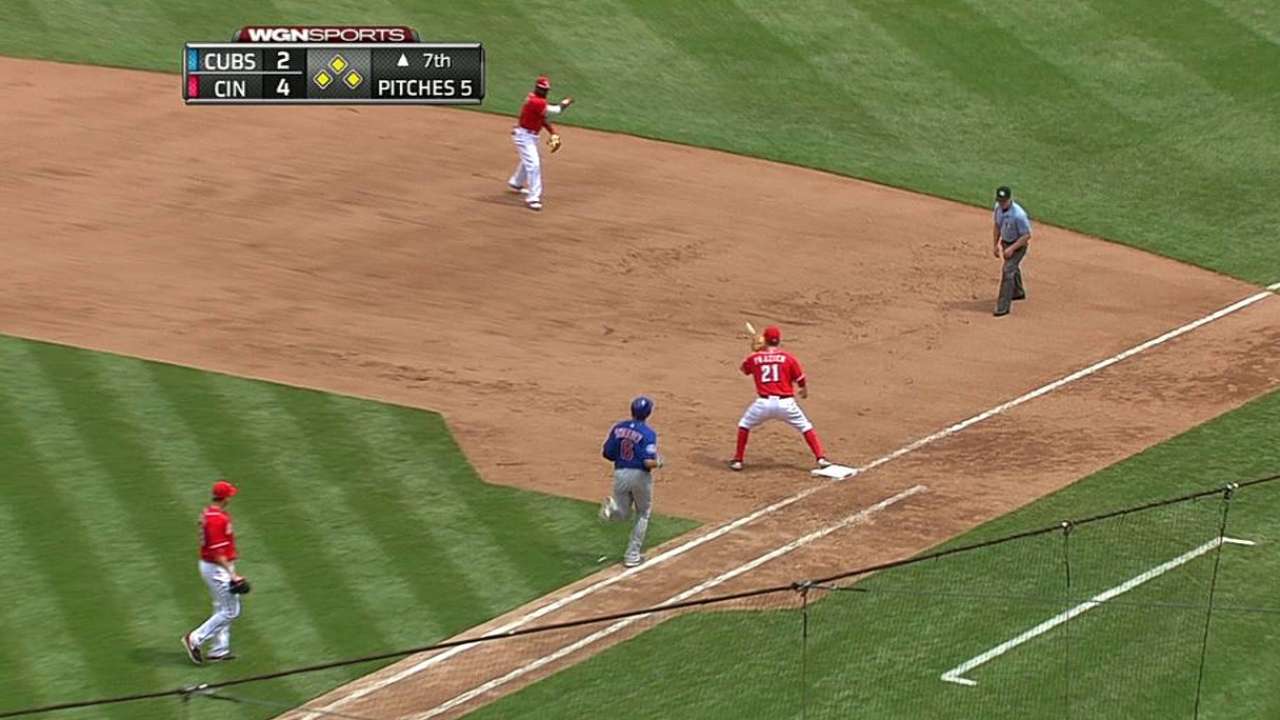 CINCINNATI -- Reds lefty reliever Manny Parra is determined to not repeat the setbacks he endured throughout the 2014 season. Parra's efforts to get ready for 2015 this offseason at home in Arizona will have him focused on durability and improving his pitches.
"I want to get into better shape," Parra said near the end of the regular season. "I want to make sure my arm is in better shape. I've had a lot of pains this year. I haven't really been healthy at any point. I want to just get better at executing more. I'm always continuing to work on evolving as a pitcher, building mental strength and trust in my stuff."
Parra was 0-3 with a 4.66 ERA in 53 appearances that were fourth-most on the Reds in 2014. Of his 36 inherited runners, six scored, while he walked 18 and struck out 34 in 36 2/3 innings. But it was a step back from his impressive first season in Cincinnati when he had a 3.33 ERA in 57 games in 2013.
That performance earned Parra a two-year, $5.5 million contract, signed on Nov. 27. He will earn $3.5 million next season.
Parra had a strong start to 2014, but was also used heavily out of necessity. During April, late-inning relievers Aroldis Chapman, Jonathan Broxton and lefty Sean Marshall were all on the disabled list.
In April, Parra appeared in 12 games and he had 12 more in May. From April 4-15, he retired a season-high 16-straight batters-- including six batters on April 6 vs. the Mets that earned him his first professional save.
Parra never spent time on the disabled list this season, but that didn't mean he wasn't dealing with injuries. He was idle for 10 days at the end of June because of a sore shoulder. He missed 12 more days at the end of July because of a stiff back. From Sept. 17 through the end of the season, Parra didn't pitch because of a sore elbow.
Parra, who turns 32 on Oct. 30, didn't regret pitching so much early in the season.
"I enjoyed it. It was a time when I was put in a lot of good situations," Parra said. "I took a lot of pride in it. I looked forward to it. Unfortunately, my body hasn't held up as much as I wanted to this year. There have been bouts of ineffectiveness. Some hitters made adjustments to where they got some [hits] -- albeit weak hits -- but hits that cost me. A broken-bat single or not, it doesn't matter.
"I got used a lot early, and I'd like to get that back next year."
In his final 15 games, Parra posted a 6.17 ERA with eight earned runs, 16 hits and six walks over 11 2/3 innings.
Following the requisite time off, Parra hoped to begin his offseason workouts earlier than normal.
"I want my shoulder to feel really strong. I want my elbow to be really strong," Parra said. "It's almost like going to the offseason ready to rehab after the season. You break it down during the offseason and really spend the time building up and strengthening. I do that every offseason, but I'm about to be 32, and it just seems like it's a little more difficult than it was in the past."
Mark Sheldon is a reporter for MLB.com. Read his blog, Mark My Word, and follow him on Twitter @m_sheldon. This story was not subject to the approval of Major League Baseball or its clubs.