Inbox: Will Phillies attempt to sign Tomas?
Beat reporter Todd Zolecki answers Phils fans' questions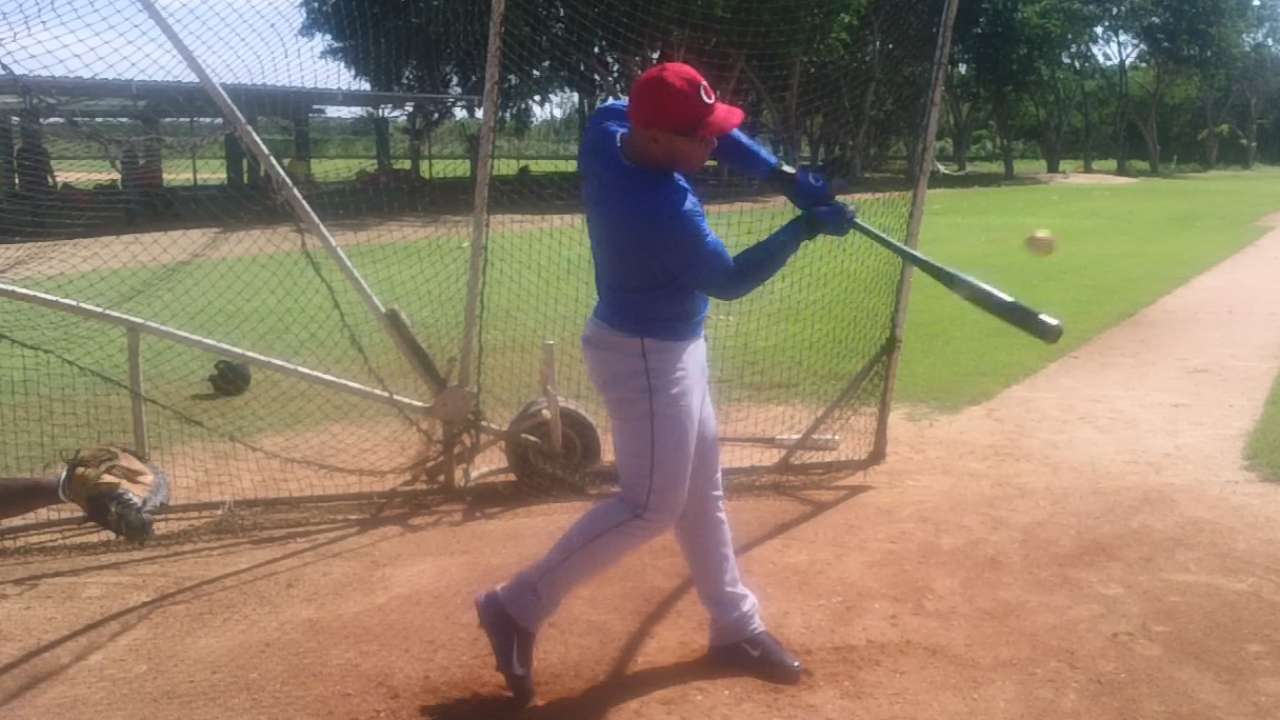 Several sources said the Phillies are making a serious run at Tomas, who is a power-hitting corner outfielder from Cuba. Tomas makes sense for a few reasons. First, the Phillies desperately need power and help in the middle of the lineup. Second, he turns 24 on Nov. 14, so if they can sign him to a long-term contract (which is what it would take) and he hits like scouts think he can hit, they would be getting him in the prime of his career. Third, they have nobody comparable in the system, so they can fill a void they cannot fill internally. Do the Phillies have the money? Yes, they do. And say Tomas signs a seven-year, $100 million contract and he is as good as advertised. In the end the deal would be a bargain.
Is general manager Ruben Amaro Jr. on the hot seat going into the 2015 season?
-- Chris B., Glenside, Pa.
Amaro has been on the hot seat for some time, but one wonders if interim president Pat Gillick's recent comments about the Phillies not contending again until 2017 or '18 might help him. The Phillies will not enter next season under the pretense of competing for a championship, so simple signs of improvement at the Major League and Minor League levels might be enough to keep Amaro in the GM seat beyond next season, when his contract expires. Of course, if the team continues to spiral downward, the heat will only intensify.
Do you think the Phillies are interested in manager Joe Maddon?
-- Ted D., New York
Asked Friday about their interest in Maddon, Amaro said Ryne Sandberg is their manager. Asked if he planned to speak with Maddon, Amaro repeated himself. He never said no. He never said they are not interested. But it is unlikely Maddon joins the organization this year. The Phillies want to give Sandberg another shot because they want to see if he can improve, and because they know he had little chance to succeed in 2014. But everybody is being evaluated next season: Amaro, Sandberg, etc. If the team is unable to show signs of improvement, changes are expected. Whether Maddon will be available at that time is an entirely different matter.
What do the Phillies need to do to return to the postseason next season?
-- Michael W., Lansdale, Pa.
Based on Gillick's comments last week, the Phillies realize they are far away from postseason contention. Expect moves this offseason to be geared toward a rebuilding effort.
If the Phillies can trade Ryan Howard (while absorbing much of his salary), could they receive any truly valuable prospects in return?
-- Ephraim G., Beitar Illit, Israel
If the Phillies trade Howard it will be to change personnel. It will be difficult to get anything of much value in return, even with the Phillies eating most of the remaining $60 million on his deal.
Why trade your ace (Cole Hamels) when the other ace (Cliff Lee) might never be the same upon his return?
-- Barry W., Lorton,Va.
Because you can get more for Hamels than anybody else on the team. And if the front office does not believe it can win for at least a couple seasons, then it makes sense to try to move him today rather than a few years down the road. Like I wrote in a recent Inbox, former Dallas Cowboys coach Jimmy Johnson once traded his best player on the roster -- Herschel Walker -- because, he said, "My attitude was, we were 53 players away from the Super Bowl." The trade catapulted the Cowboys to an NFL dynasty because they used their best player to attain multiple players and Draft picks. If the Phillies can accomplish the same with Hamels, it would make sense.
Todd Zolecki is a reporter for MLB.com. This story was not subject to the approval of Major League Baseball or its clubs.