Nimmo headlines talented Mets AFL class
New York's No. 3 prospect looking to improve consistency with Scottsdale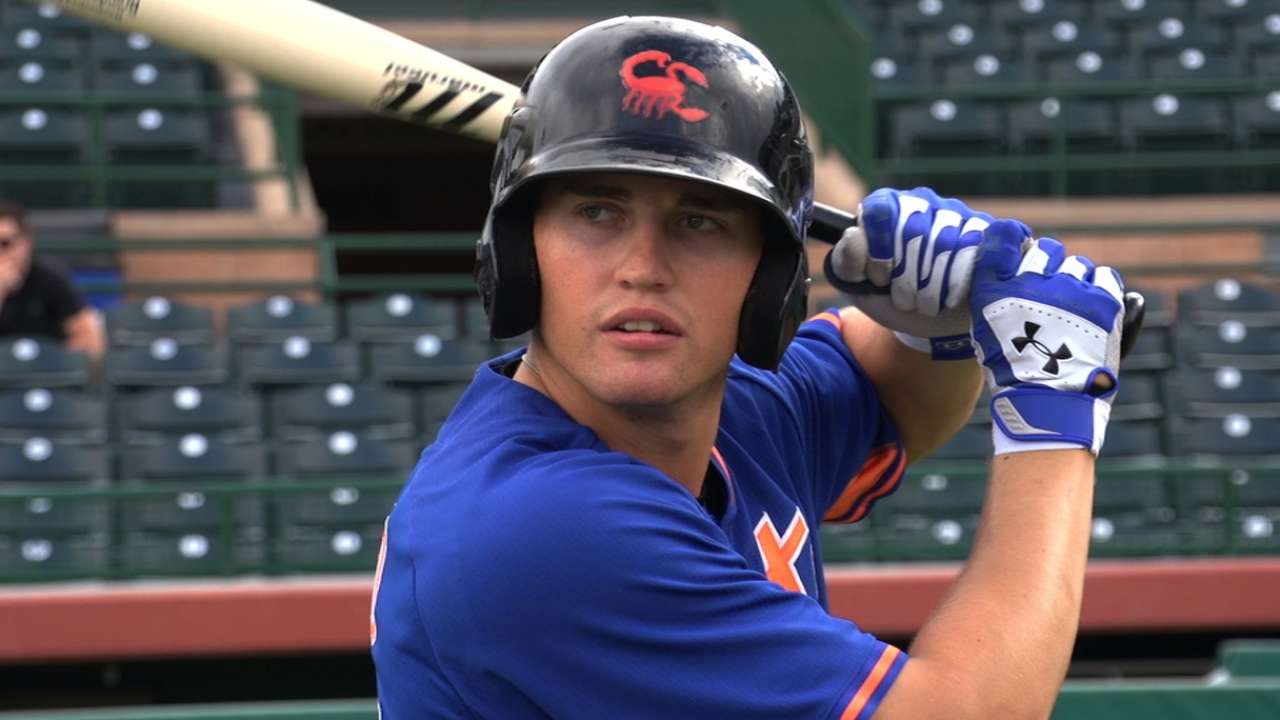 A raw talent coming out of high school in Wyoming, outfielder Brandon Nimmo has worked hard to refine his game since the Mets made him the 13th overall pick of the 2011 First-Year Player Draft. That effort was rewarded this season, as his potential was transformed into results and he reached Double-A Binghamton in the second half.
Nimmo, the Mets' No. 3 prospect, is continuing that work in the Arizona Fall League, where he is one of seven Mets playing for Scottsdale. The 21-year-old said he is enjoying the opportunity to play in the elite developmental league and is eager to build on the progress he made this year.
"There's always just little things that you're working on," Nimmo said. "For me, I'm always going to try to include every aspect of the game -- the fielding, the first steps when I'm trying to steal bags, obviously the hitting, being a little more consistent."
Nimmo, ranked No. 60 on MLBPipeline.com's Top 100 Prospects list, got off to an exceptional start to the season for Class A Advanced St. Lucie, hitting .384/.508/.515 in 26 games in April. Though he eventually cooled off, he earned a trip to the Florida State All-Star Game and then a promotion to Binghamton.
Making the adjustment to Double-A proved to be difficult for Nimmo, and it took him two weeks to record his first multihit game at the level. He overcame his initial struggles to help Binghamton win its first Eastern League championship since 1994. During the playoffs, he hit .324/.378/.412 with three doubles in eight games.
Nimmo said he knows ups and downs are an inevitable part of baseball. But he hopes he can learn to even out his performance and avoid prolonged slumps.
"You're going to have the peaks and the valleys, it's just minimizing that and keeping it a little more constant and consistent," he said. "I think I did better at that this year. I think there is still a lot of room to improve, especially from that jump from high A to Double-A."
Nimmo said he was pleased with the way he finished the season and believes the lessons he learned from his transition to Binghamton will help him as he continues his ascent to the Major Leagues.
"I really did learn pretty quickly in Double-A and finished it off pretty well," Nimmo said. "I'm happy with where I'm at right now, but I'm not content. There is more that I need to work on and definitely took those lessons from last year and applied them this year, and I'll do the same from this year to the next year."
Mets hitters in the AFL
• The son of former Mets outfielder Lee Mazzilli, L.J. Mazzilli, was the club's fourth-round pick in the 2013 First-Year Player Draft. The second baseman hit .301/.361/.440 with 11 home runs in 131 games in his first full professional season. His solid approach at the plate and steady defense have helped him move quickly in the Minor Leagues.
• The Mets' second-round pick in 2012, Matt Reynolds was resurgent this season, reaching Triple-A Las Vegas for the second half. After struggling in his first full professional season, Reynolds got back to the short, line-drive swing he utilized so well in college. Scouts have long wondered if his range is good enough to play shortstop, but Reynolds has worked hard on his defense, and the Mets have been encouraged by his progress.
Mets pitchers in the AFL
• Left-hander Dario Alvarez pitched at four levels in 2014, starting the year in Class A Savannah's rotation and ending it in the bullpen in Queens. Originally signed by the Phillies in 2007, Alvarez never advanced past the Dominican Summer League before he was released and spent three years out of affiliated baseball. The Mets signed him in 2013 and saw him take off this season after he moved to the bullpen. His fastball has good cutting action and he pairs it with a sweeping slider.
• Right-hander Julian Hilario began his professional career as a starter before moving to the bullpen last year. He has a strong arm and throws his fastball in the mid-90s with some late life. His slider is his best secondary pitch, and he also mixes in a changeup. While Hilaro's stuff is good, he'll need to tighten up his command as he advances in the Minor Leagues. He walked 6.84 batters per nine innings in 33 appearances for St. Lucie this year.
• Right-hander Paul Sewald doesn't overpower hitters, succeeding instead thanks to his deception and feel for pitching. His fastball sits around 90 mph, and he mixes it with a slider and fading changeup. He fills up the strike zone and misses a lot of bats, averaging 10.91 strikeouts per nine innings in his career. He's pitched in high-leverage innings in the low levels of the Minor Leagues, but is more likely to fill a middle-relief role in the Major Leagues.
• Right-hander Rob Whalen won his first four starts at Savannah this year. But he was then sidelined for two months by a right hand infection that required him to undergo surgery. He pitched well when he returned to the mound in July, though he did lose his perfect record. Whalen's low-90s fastball has good life and his curveball and changeup give him a pair of quality offspeed offerings. At just 20 years old, Whalen is the youngest starting pitcher in the AFL.
Teddy Cahill is a reporter for MLB.com. Follow him on Twitter at @tedcahill. This story was not subject to the approval of Major League Baseball or its clubs.