MLB.com Columnist
Lindsay Berra
Love for Howser still resonates strongly in KC
Skipper of 1985 champion Royals left lasting impression with his personality, results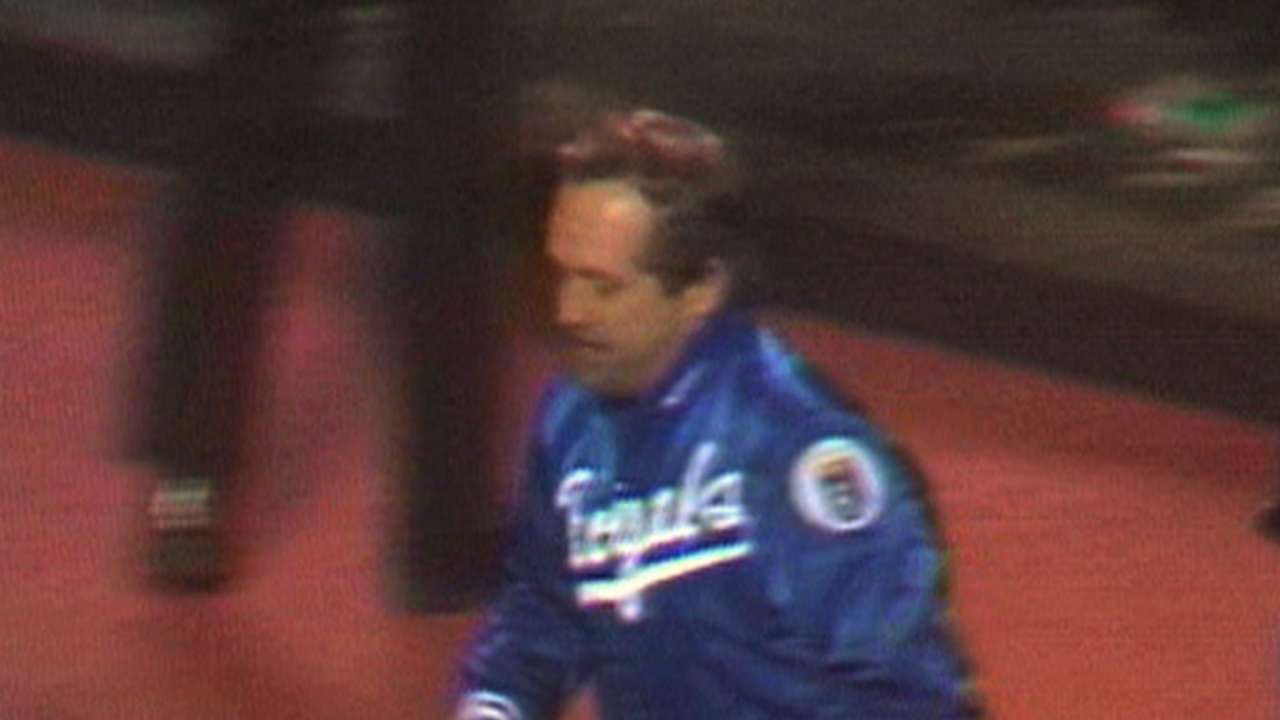 On the outfield concourse at Kauffman Stadium, beyond the right-field fountains and the golden crown that make the ballpark Royal, Dick Howser stands in bronze, his right foot atop the dugout step, leaning forward and watching intently with that serene look that was all his own. The statue is positioned such that Howser's back is to the actual field, but no matter. He's seen it all before.
The soft-spoken, gentlemanly Howser is the only manager so far to lead the Royals to a World Series title. Glance quickly around Kansas City these days and you don't have to wonder when that was. Blue T-shirts that read "Party Like It's 1985" have become the apparel of choice, and Howser is the folk hero at the center of it all.
History has a way of repeating itself, and baseball history is no different. Think about it, 1985 and 2014 are a lot alike. Lightning-quick center fielder Willie Wilson seems somewhat reincarnated in Lorenzo Cain, and both sport No. 6. Both 1985 and 2014 saw three Royals pitchers come into their own. In 1985, it was Bret Saberhagen, Danny Jackson and Mark Gubicza. This year, it was Yordano Ventura, Danny Duffy and Kelvin Herrera. Each team sported three Gold Glove Award winners. And in both postseasons, a Royals pitcher left his team briefly while his wife gave birth to their first child. In 1985, it was Saberhagen, during the World Series. This year, it was Greg Holland, at the start of the American League Division Series.
Royals manager Ned Yost and Howser, though, are not so much alike. Yost has said when he wakes up in the morning, he has to remind himself to have fun. Howser, though, was always relaxed.
"In 1985, we were seven or eight games out at the All-Star break, and there was no panic in him," said Hall of Famer George Brett of his former manager. "If there's no panic in your leader, the players aren't going to panic. That's what Dick did best, he didn't try to over-analyze anything, he tried to have as much fun as possible and be as relaxed as possible and I think it showed because we played very relaxed that whole year."
Howser's approach was helpful when the Royals went down 3-1 in the AL Championship Series against Toronto. They won three straight to claim their second pennant in five years and reach the World Series against their cross-state rivals, the St. Louis Cardinals. They played from behind in that series, too, again falling behind 3-1, including dropping the first two games at home.
"I remember driving with dad across Missouri to St. Louis before Game 3 in an extended van he had," said Howser's daughter Jana. "I remember he wasn't shaken at all. He was very calm. He knew the Royals' pitching was such that we would be just fine."
Kansas City had faith in Howser, and the fans loved him as much as his players did. In the small-market town, Howser was just a regular member of the community.
"Dick was a very personable guy," Brett said. "He wasn't one of those managers who just went straight home; he was out. He went to Stroud's, he'd go to restaurants, he'd visit with fans, he played golf and would just be about town. That was his personality. The more people you get out and meet and interact with, the better you're going to be perceived."
Howser, though, had begun endearing himself to Kansas City fans nearly two decades before becoming the Royals' manager. In 1961, as a 22-year-old rookie out of Florida State University, where he was a two-time All-America shortstop, Howser hit .280, stole 37 bases and scored 108 runs for the Kansas City Athletics and made the AL All-Star team. He finished second to Red Sox right-hander Don Schwall in AL Rookie of the Year Award voting.
Howser played eight total seasons in the big leagues, but none was better than that first year. He went directly into coaching, serving as the Yankees' third-base coach for 10 seasons and their manager for one, 1980. That season, New York won 103 games but Howser was fired by George Steinbrenner after the team lost the pennant to none other than the Royals in a three-game sweep.
Late in 1981, the Royals hired Howser to manage the '82 season. He fought and won for them, and would continue fighting for himself. At the 1986 All-Star Game in Houston, where he was managing the AL squad by virtue of his World Series win, Howser became disoriented and confused. Later that week, he was diagnosed with brain cancer. Despite Howser's courageous battle, his decline was rapid and tragic. He passed away on June 17, 1987. He was just 51 years old.
"I cried when Dick Howser died," said Royals fan Troy Tremblay, who was 24 years old the last time the Royals won the World Series. "He was a king in '85. He was just so cool, the glue that held it all together."
Tremblay's farm in Penokee, Kan., is a six-hour drive from Kauffman Stadium, so he doesn't get to games much. But before Game 1 of this year's World Series, he was misty eyed while paying his respects at Howser's statue with his daughter, Lindsey, who is now the same age as he was when the Royals last won. Tremblay recalls listening to those playoff games on his tractor radio, and he credits Howser with giving him the thrill of his life.
Howser's twin daughters, Jana and Jill, were 21 years old at the time he passed away. Now, Jill has two daughters of her own, Melody and Michelle. Jana was in Kansas City for Games 1 and 2 of the World Series, and Jill and her girls will be returning from a vacation in England and Scotland in time for Game 6. The entire family is staunchly behind the Royals, embracing the city and the team that so embraced their father.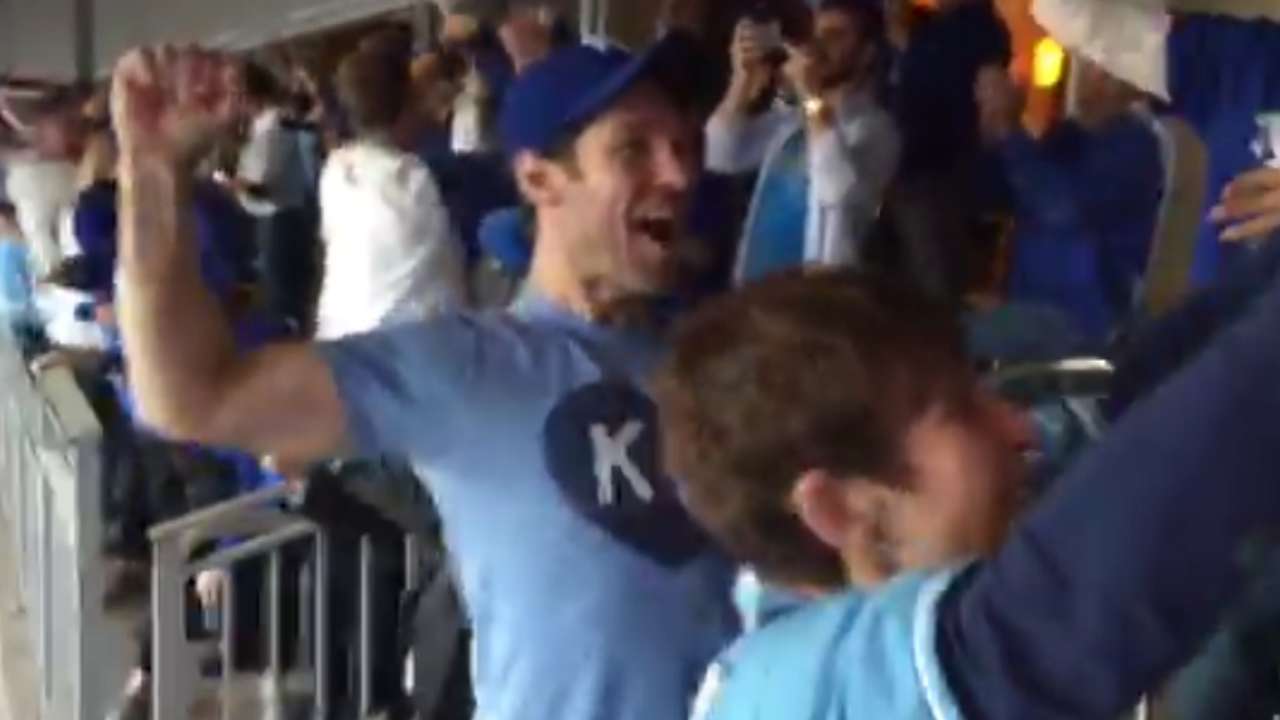 "People always stop me and express their thanks and tell me where they were when the Royals won the '85 Series, and about what that meant to them and what dad meant to this city," Jana said. "Jill and I are a couple girls who lost their parents young, and when people remember the people you love, that's the highest honor."
The Royals bestowed their highest honor upon Howser, when they made his No. 10 the first number to be retired by the franchise. It hangs in the Royals Hall of Fame in left field at Kauffman Stadium between Brett's No. 5 and Frank White's No. 20.
Around the outfield bend, Howser's statue stands. And while he may not be facing the field, Kansas City knows he's watching.
Lindsay Berra is a columnist for MLB.com. This story was not subject to the approval of Major League Baseball or its clubs.