Cain pads highlight reel with great running grab
Defensive whiz tracks down Pence's deep drive to right-center in Game 5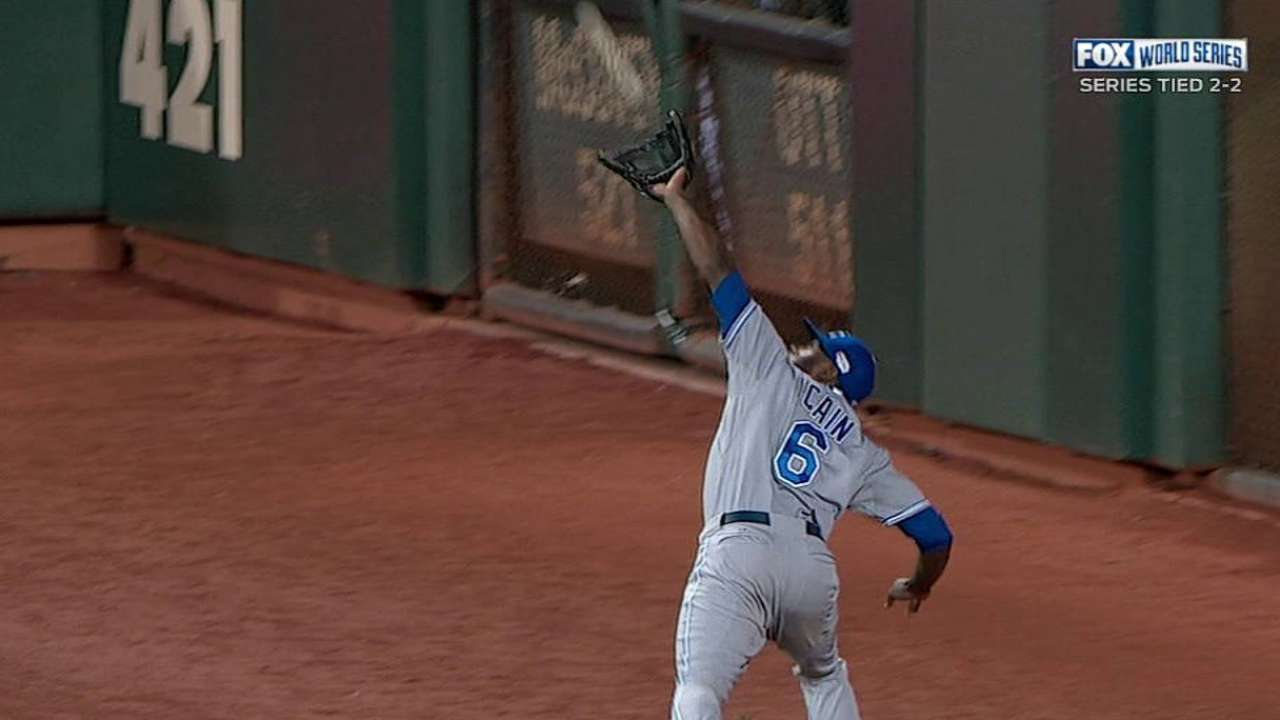 SAN FRANCISCO -- Through much of Game 4 of the World Series at AT&T Park on Saturday, Royals outfielder Lorenzo Cain was sporting a conspicuous limp. Cain admitted afterward he'd been banged up for several weeks, but he also guaranteed that the adrenaline would help push him through Game 5 on Sunday.
The Royals lost Sunday's game, 5-0, against untouchable Giants lefty Madison Bumgarner, falling behind 3-2 in the Series. The outcome might have been more lopsided if not for a brilliant fifth-inning play by Cain, who ranged way into the right-center-field gap to rob Hunter Pence of extra bases and likely two RBIs.
It was poetry in motion: Cain got a perfect read off the bat, ran like the wind and snagged the ball in stride, looking smooth as ever and showing nary a hint of discomfort. That's a good sign for the Royals, who will need Cain's speed at Kauffman Stadium in a must-win Game 6 on Tuesday (6:30 p.m. CT air time on FOX, 7:07 first pitch) and a potential Game 7 on Wednesday.
"Oh, man, that was a great play," said Royals manager Ned Yost. "That was a phenomenal play. That ball kept going. The ball was really carrying tonight. Cain just kept getting after it and made another phenomenal play."
Kansas City trailed 2-0 at the time. With any other man patrolling right field, that deficit might have increased two-fold on Pence's drive.
"Easily, [that's a hit] on any other player but Cain," Royals left fielder Alex Gordon said. "His outfield ability and his speed, he makes those plays look pretty easy."
"He's an amazing athlete," said starter James Shields, who witnessed Cain's catch from the mound. "He's been doing that all season long. Nothing's surprising to me, because I've seen him do that on a daily basis. But it's always impressive to watch him."
Yost's decision to move Cain from his natural position in center over to right field at spacious AT&T Park paid dividends, even though the Royals managed to win just one of three games there. In Game 3, Cain made a pair of slick grabs in the early innings to set the tone in a 3-2 victory.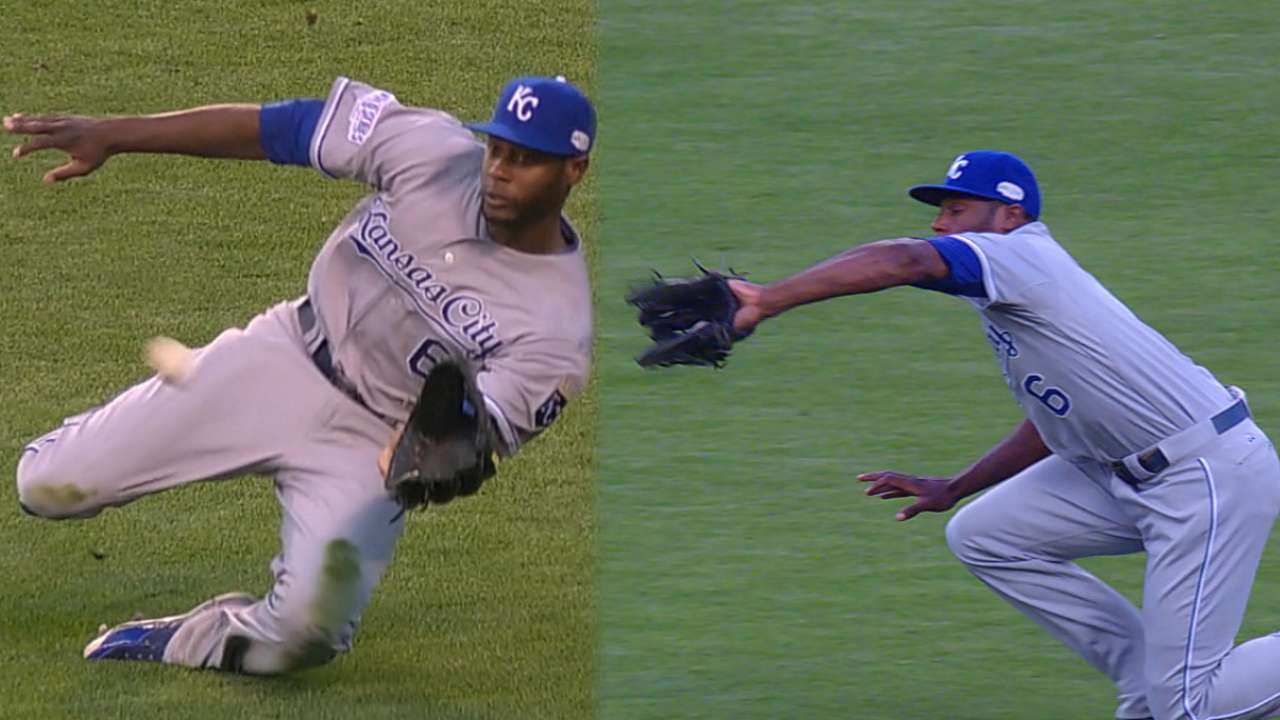 Cain has been doing it all October, perhaps most notably making back-to-back diving catches against the Angels in Game 3 of the American League Division Series.
"I don't really doubt that Cain could ever catch a ball, just because you've seen the plays he makes," said third baseman Mike Moustakas. "That was a phenomenal catch [Sunday]. At that time, it was huge for us and kept us in that game."
That's high praise for a guy who wasn't even nominated for a Gold Glove Award -- but the Royals know better than to question Cain's fly-ball-tracking abilities. He gave Kansas City hope on Sunday, but even a 2-0 hole proved too much to overcome against Bumgarner.
"Just weren't able to score enough runs," Moustakas said. "Or any runs."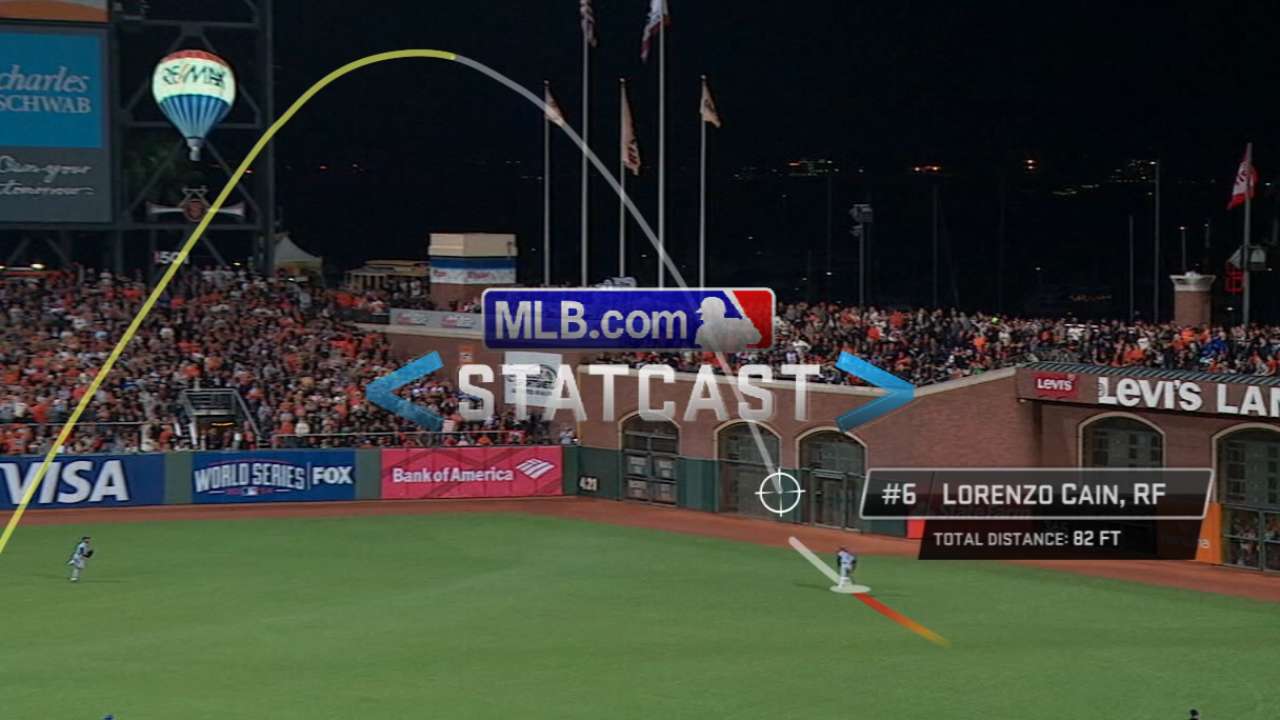 Aaron Leibowitz is an associate reporter for MLB.com. This story was not subject to the approval of Major League Baseball or its clubs.