Belt beats Royals' shift with first bunt hit of career
Infield single, hustle to tag up on flyout spark Giants' offense in Game 5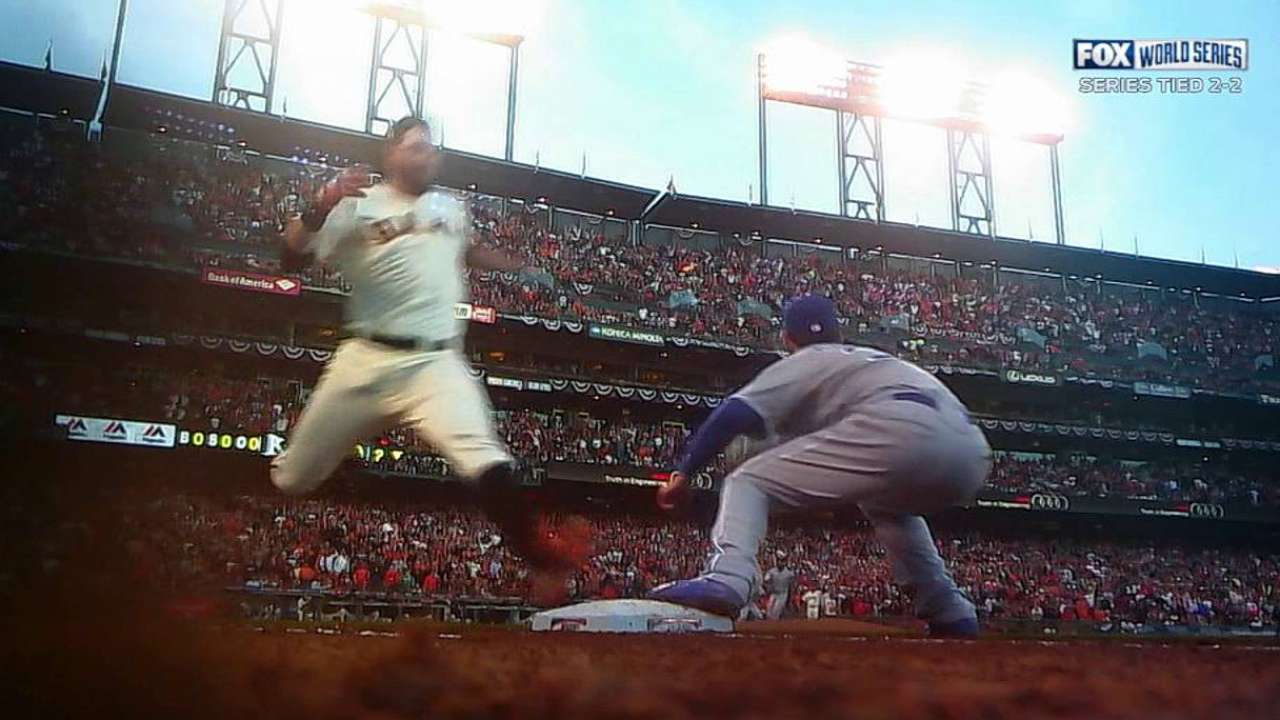 SAN FRANCISCO -- All of that open space has to look tempting.
Shortstops and third basemen shifted way to the right, leaving enough open space to the left of the pitching mound to drive a monster truck through. And yet, hardly anyone ever tries to take advantage by dropping a bunt down the line. Those moves are typically more reserved for video games, not actual ones.
Brandon Belt went all Backyard Baseball Mode anyway in the second inning of the Giants' 5-0 victory in Game 5 of the World Series on Sunday night.
Hunter Pence led off with a single, which brought Belt to the plate. As they have been doing throughout the Series, the Royals put on the shift. According to MLB.com's Statcast, Mike Moustakas was 93 feet to the left of his usual spot alongside third base, which left shortstop Alcides Escobar as the lone Royal between second and third base.
"They were giving me that whole area over there," Belt said. "They've been shifting on me, so I wanted to open the field back up for myself. I figured that was a good opportunity."
Good opportunity, even better execution.
Belt bunted the first pitch from James Shields past the Royals pitcher, to his right. Caught off guard, Escobar had to run in 51 feet to barehand the ball, according to Statcast. His throw across the infield was not in time, and the Giants had runners on first and second with nobody out.
"It did give me a little bit of heartburn since I'm not the best bunter in the world, but fortunately I looked back to my college days and I got it done," said Belt, who had never bunted for a Major League hit and who has just one sacrifice bunt on the back of his trading card.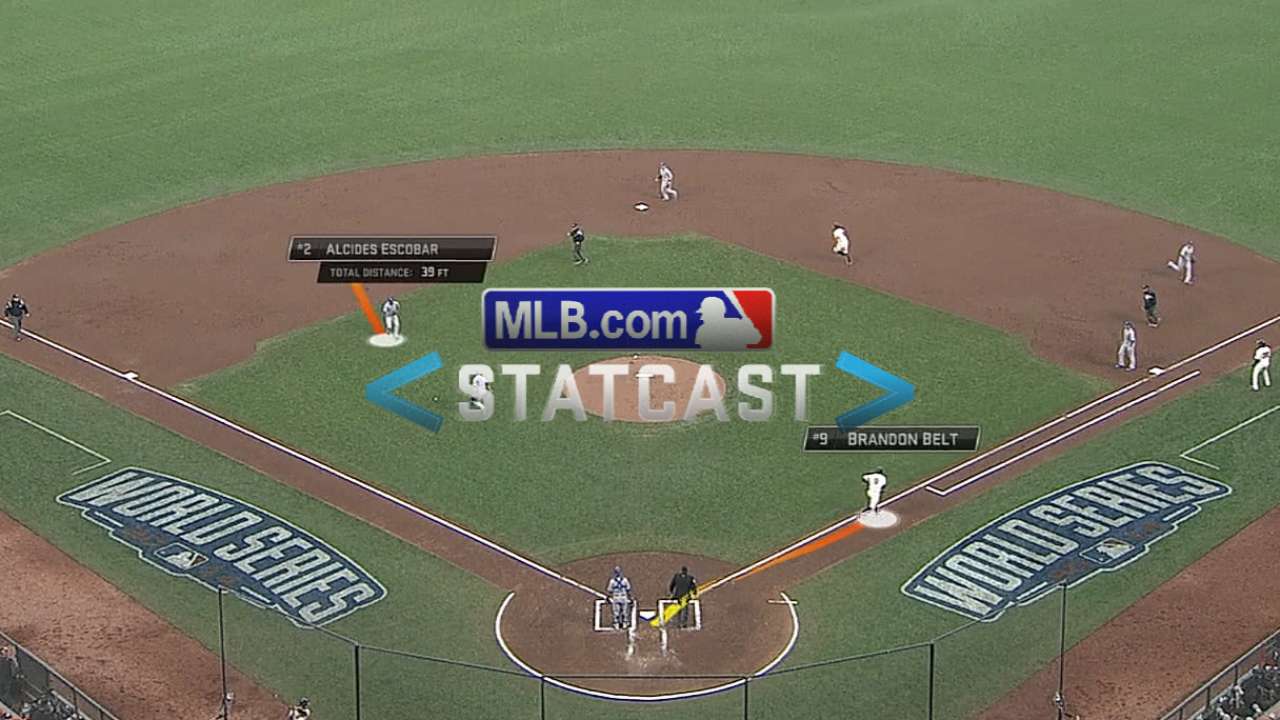 "It's something we talked about," manager Bruce Bochy said. "They put a shift on you, and they're going to give you the bunt, take it. He was working on it. It's the first one he's gotten down. He laid a beauty down there.
"So he's a guy they shift on. The best way to beat that is lay a bunt down occasionally, and he did it tonight."
What proved to be the game's winning run wouldn't have been possible if not for the Giants' slick maneuvers on the basepaths in the game's next at-bat.
Travis Ishikawa flied out to Jarrod Dyson in center, and instead of just Pence tagging up, as would usually have been the case, Belt also advanced a base. One out, runners on second and third. Brandon Crawford then grounded out to Omar Infante at second, which likely would've been an inning-ending double play if not for the previous advancement.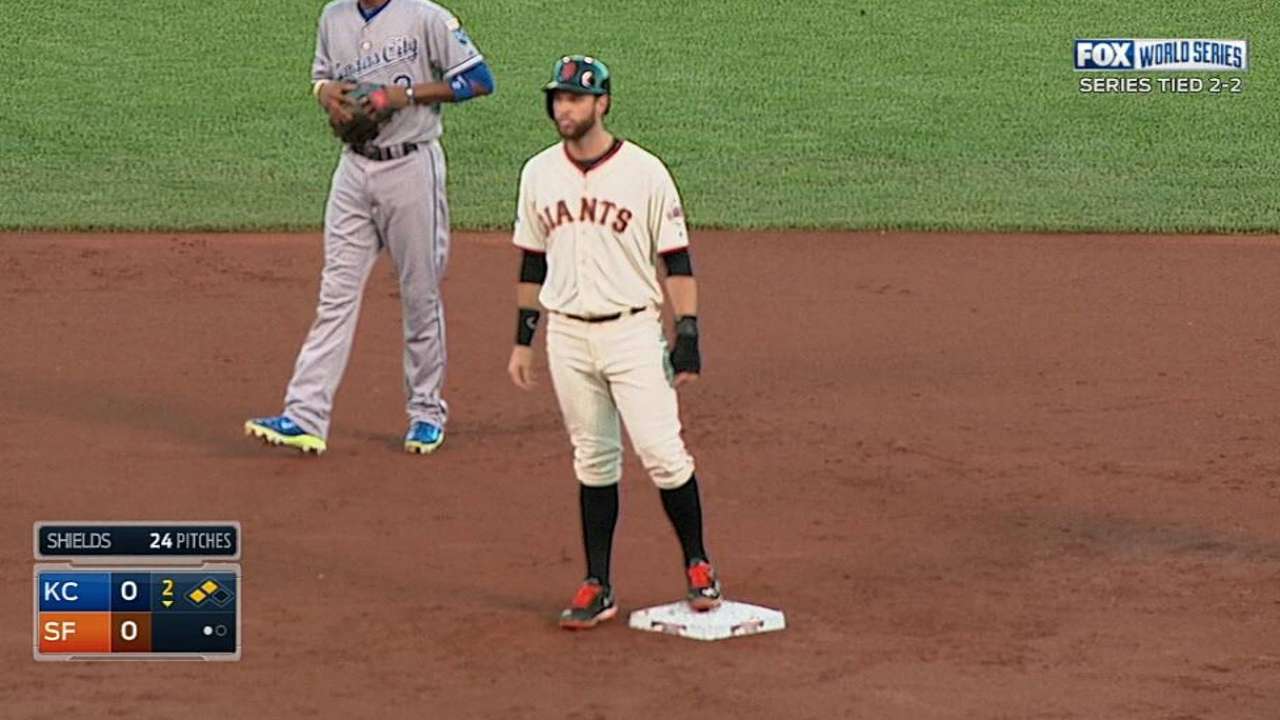 Instead, the Giants were on the board, and with Madison Bumgarner on the mound, well on their way to a 3-2 Series lead.
"That's what's gotten us here, just getting people on base and putting pressure on the other team," Belt said. "When you put the ball in play, stuff happens."
Doing those little things right has had a big hand in the Giants being one win away from yet another rather large party outside City Hall.
Ryan Hood is an associate reporter for MLB.com. This story was not subject to the approval of Major League Baseball or its clubs.