World Series shaken by Taveras' passing
Giants' Perez mourns loss of friend, Dominican teammate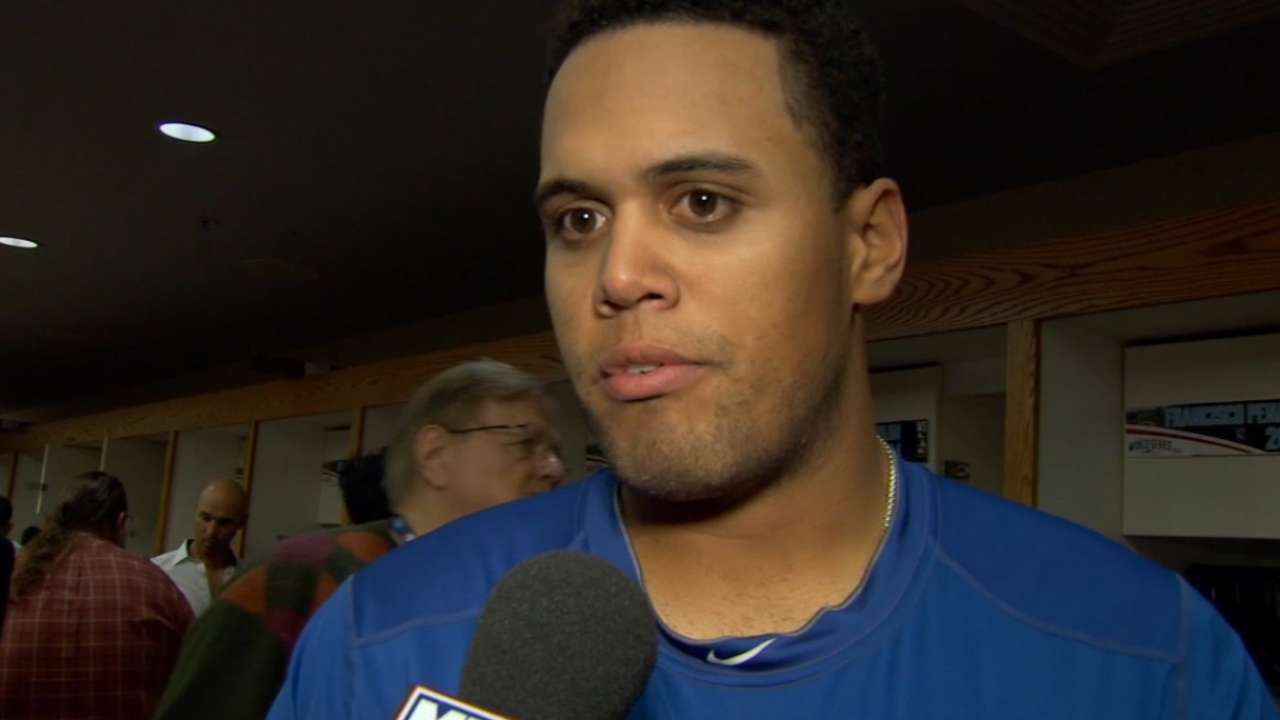 SAN FRANCISCO -- The Giants had just won a World Series game, but there was very little celebrating going on in their clubhouse.
There was no music played. No raised voices or raucous laughter, either. Sure, there was some feeling of euphoria, which is to be expected, considering the Giants had just shut out the Royals, 5-0, to take a 3-2 lead in the World Series.
But the news of the death of Cardinals rookie Oscar Taveras wasn't even a few hours old, and Giants players, many of whom learned of it in the middle of the game, were affected.
"I heard about it in the fourth and just had a sinking feeling in my gut," catcher Buster Posey said. "My first thought was, 'This game is not that important.' I mean, we make so much about the World Series and it's fun, it's a fun game that we get to play, but life is much more important. Something like that will bring you back down to earth really quickly."
Taveras, 22, and his girlfriend, who was identified as 18-year-old Edilia Arvelo by ESPNDeportes.com, were killed in a Sunday afternoon car accident near Taveras' home in the Dominican Republic. News of the death traveled quickly through the baseball industry, with reports beginning to trickle out just as the Giants and Royals were underway for Game 5 at AT&T Park.
Giants outfielder Juan Perez, a close friend of Taveras and a Dominican Winter League teammate, found out about the death during the game. Afterward, he spoke at length with reporters -- at least 30 minutes -- as he answered questions from wave after wave of reporters.
Perez first met Taveras in 2009 in the Dominican. They later played together for the Aguilas club.
"It's tough," Perez said. "He was a really close friend of mine. I know his family pretty good. I know his mom, his dad, his brothers, we were really close. We played together in winter ball. It's a huge loss, not only for all his family, for all his teammates and the people that care about him."
Perez said he heard about the accident by overhearing an MLB representative say something while he was in the trainer's room by the dugout.
FOX sideline reporter Erin Andrews tweeted, "Several Giants players have come over to my TV in dugout when heard news abt Taveras..Juan Perez in tears in dugout.."
Several Giants players have come over to my TV in dugout when heard news abt Taveras..Juan Perez in tears in dugout..

- Erin Andrews (@ErinAndrews) October 27, 2014
Focusing on the game wasn't easy, but Perez managed.
"During the game when I found out the news, it was a little hard because I was thinking too much about it," he said. "[Joaquin] Arias came over and said, 'Stay strong' and 'We've got to win this game.'"
After the game, Perez tweeted: "That Double was 4 U Oscar! I'll remember the Good Times. God Bless U Bro. I'll miss U man. My condolences!"
That Double was 4 U Oscar! I'll remember the Good Times. God Bless U Bro. I'll miss U man. My condolences! pic.twitter.com/vjQaZiymaF

- Juan Carlos Perez (@juan_perez24) October 27, 2014
The Giants were familiar with Taveras, having just faced his Cardinals during the National League Championship Series. Taveras was on the postseason roster and hit a pinch-hit homer off Jean Machi in Game 2.
"I came in to pitch that inning and threw him a breaking ball," Machi said. "He was able to get to it, and I knew he was going to be a tremendous player."
"Man, just breaks your heart," Giants manager Bruce Bochy said, adding that he didn't hear about the accident until after the game. "Young kid, 22 years old, a great talent. You know, it's a shame that this has happened. This kid had a great future ahead of him. He hit a big home run against us, and it's a loss for his family, the Cardinals, baseball. Because this kid looked like he was a special talent and was going to have a great career. My thoughts go out to his family and everybody that knew him."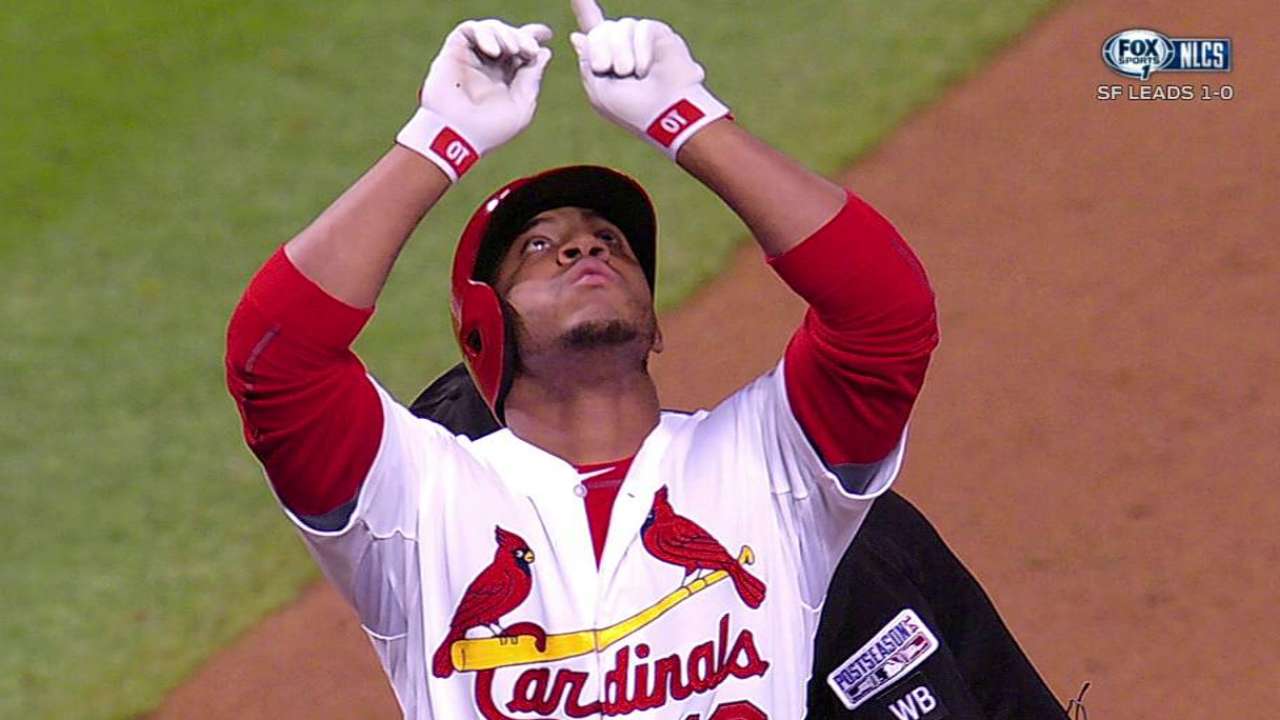 Added reliever Jeremy Affeldt: "He might be a person we compete against, but any kind of death in the baseball family affects everybody in baseball. He was young, just starting his career. He had a big career ahead of him and a long life ahead of him. To see it end the way it did is a very sad thing."
In the visitors clubhouse, the Royals also expressed their sadness.
"I lost a good friend, I lost a good teammate," catcher Francisco Pena said. "We played together back home in the Dominican Republic in winter ball. He played for Aguilas. He was a good brother, I can say that. He had a future in front of him."
Said starting pitcher James Shields: "That's sad to hear. You never want to see anybody in your baseball family pass away. That's a terrible tragedy."
Another Dominican countryman, Royals pitcher Yordano Ventura, faced Taveras in the Minor Leagues and considered Taveras a good friend.
"It's a sad case for his family and for us," he said. "It's a really lamentable case for us right now for all of us, and his family that is suffering."
Alyson Footer is a national correspondent for MLB.com. Follow her on Twitter @alysonfooter. This story was not subject to the approval of Major League Baseball or its clubs.