Royals' shift backfires on Belt's bunt single
Lefty-hitting first baseman takes advantage, which leads to Giants scoring first run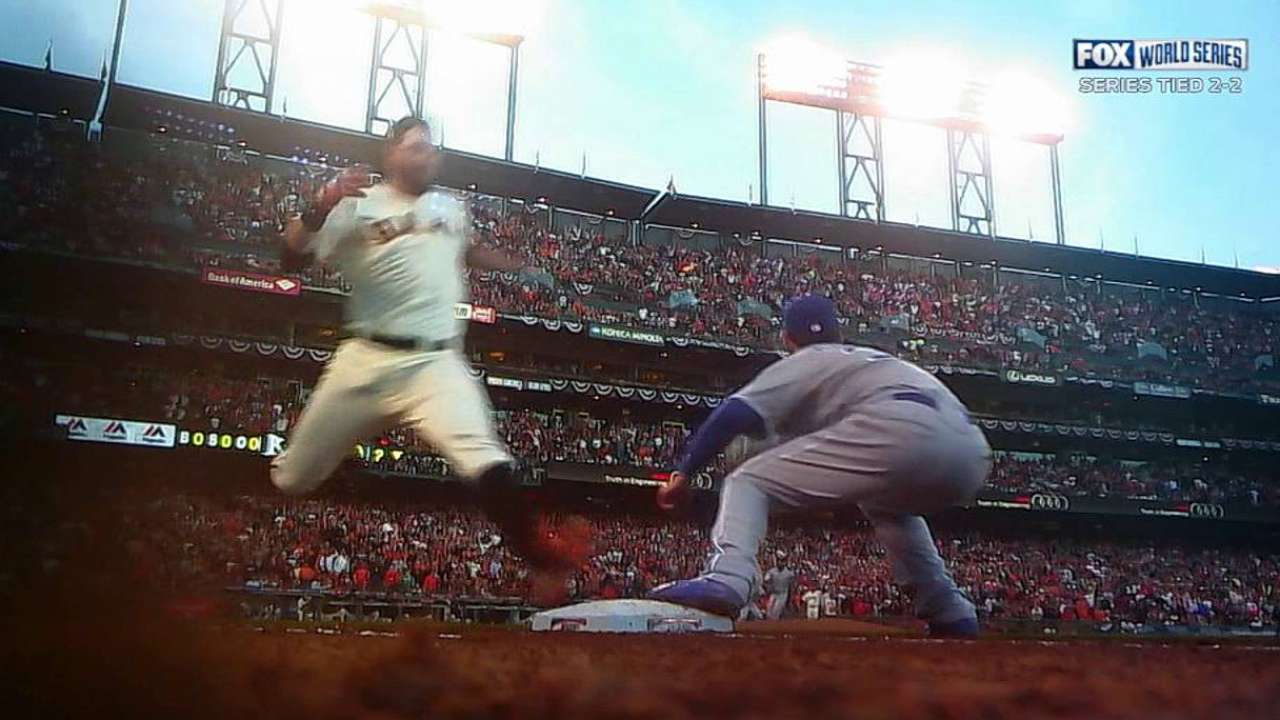 SAN FRANCISCO -- Baseball is a sport most often remembered for its singular moments of brilliance or for its dazzling individual performances, and by that standard, Sunday's Game 5 of the World Series will likely be defined in the annals by Madison Bumgarner's gem and Juan Perez's backbreaking two-run double.
But to chalk baseball up to such simplicity would be to overlook the not-so-poetic sequences that, however simple, swing the result of a ballgame -- sequences like a pivotal three-batter stretch in the bottom of the second inning of the Royals' 5-0 loss.
The Royals, who aren't exactly the free-wheeling Rays when it comes to displacing infielders, were beaten by their own shift when Brandon Belt laid down the first bunt single of his career with a runner on first base and no outs. With only one defender on the left side, as soon as the ball scooted past starting pitcher James Shields, Belt was in the clear.
"That guy, he never bunts," said shortstop Alcides Escobar, who fielded the ball when it got by Shields. "... But if we give you any opportunity you can make, you make [it]."
Escobar actually almost made the play at first base, and his throw was close enough to prompt the Royals' defense to pause a second in case the play mandated a review.
It didn't, and the damage was done, with runners on first and second and nobody out.
"That was a close [play]," Escobar said. "I thought for a moment that [Shields] got the ball, but it got past the pitcher and I threw the ball and [Belt] has his base hit."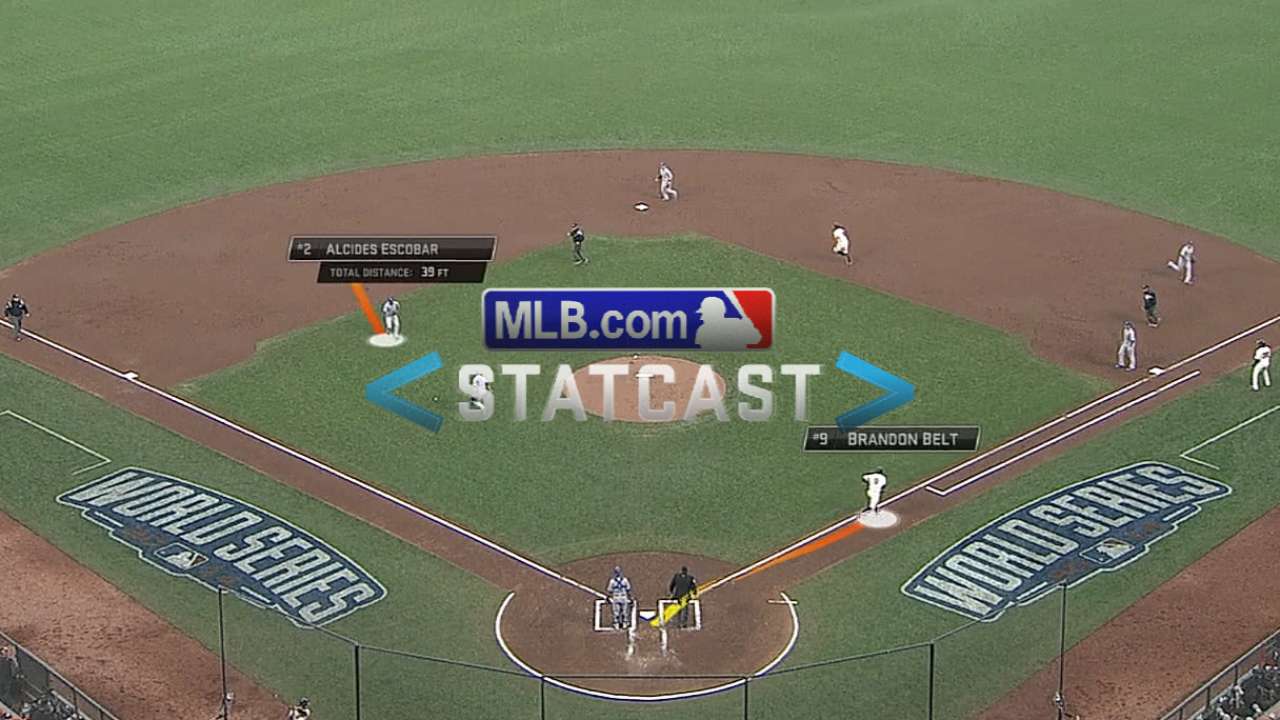 Live by the shift, die by the shift.
In Game 3, Belt had hit a sharp liner right at Royals second baseman Omar Infante, who was playing in short right field. This time, Belt got crafty.
"He's a guy they shift on," said Giants manager Bruce Bochy. "The best way to beat that is to lay a bunt down occasionally, and he did it tonight."
Belt, however, wasn't yet done displaying his savvy in the inning. He tagged up and took second base on a fly ball to deep center field off the bat of Travis Ishikawa. Jarrod Dyson, roaming toward the track in a spacious AT&T Park outfield, couldn't quite get behind the ball, signaling for Belt to take second when it landed in Dyson's glove.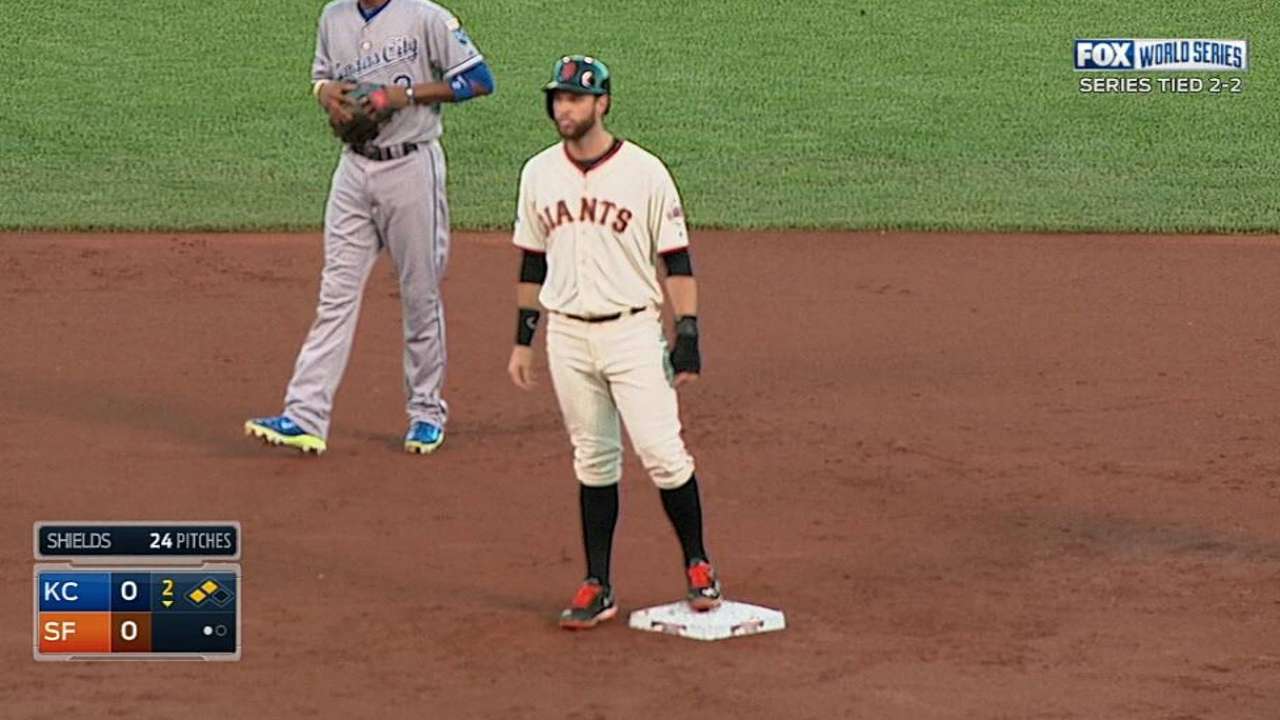 "That throw kind of got away from me," Dyson said. "It kind of two-seamed away from me. He was tagging up no matter what, because I was going back. I didn't really have too much momentum to come through the ball. It was just heads-up baserunning by them. If I could have had my throw on the line, it probably would have been a closer play."
Dyson succinctly summed up the Giants' offensive night by saying, "Any contact those guys made, it went in the right spot."
Sure enough, Giants shortstop Brandon Crawford followed Ishikawa by hitting what would have been a surefire inning-ending double play had Belt remained at first. Instead, Kansas City was forced to concede an RBI groundout.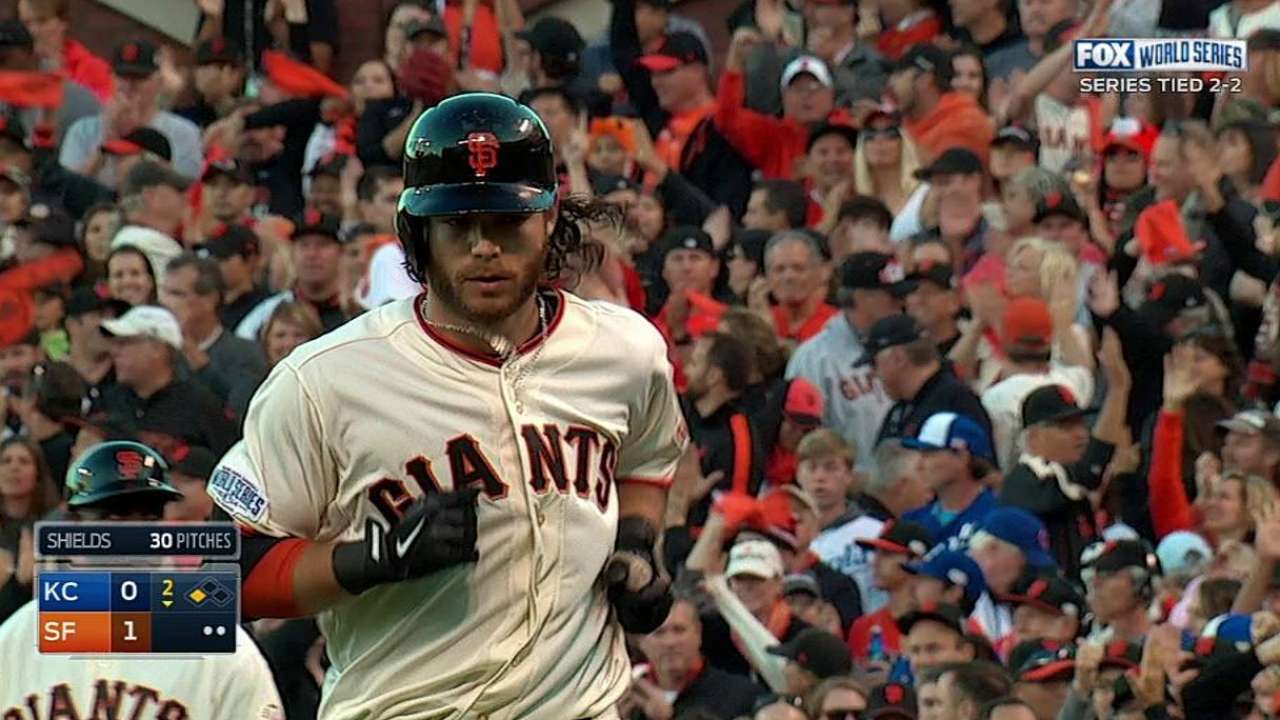 It wasn't flashy, but the Royals had blinked first, allowing the Giants to grab an early lead. With Bumgarner on the hill, that was all they'd need.
AJ Cassavell is a reporter for MLB.com. Follow him on Twitter @ajcassavell. This story was not subject to the approval of Major League Baseball or its clubs.