Royals' bats tied in knots by Bumgarner
KC offense shut down by Giants' ace lefty for second time in World Series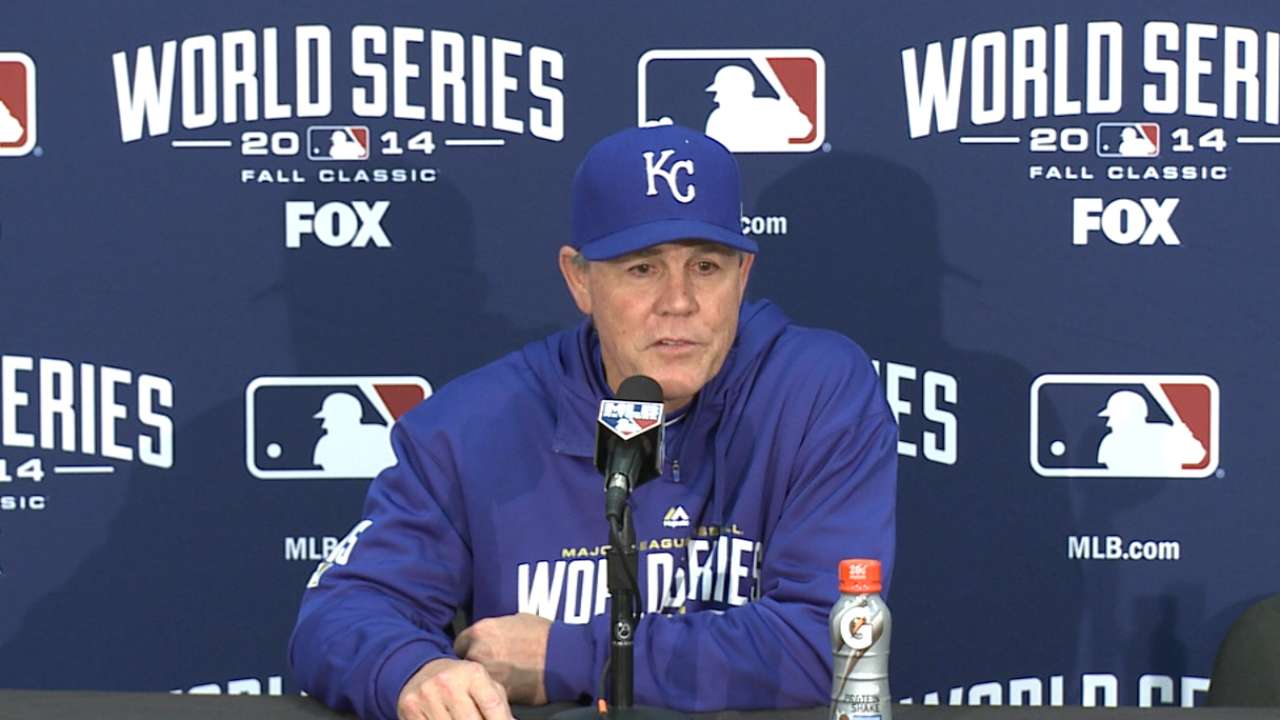 SAN FRANCISCO -- Ahead in the count with a man on first base and two outs in the top of the first inning Sunday night, Royals cleanup man Eric Hosmer got a hittable fastball from Giants ace Madison Bumgarner. He took a healthy cut from his powerful left-handed stance and fouled it away.
By Hosmer's estimation, that was the last hittable pitch he saw all night.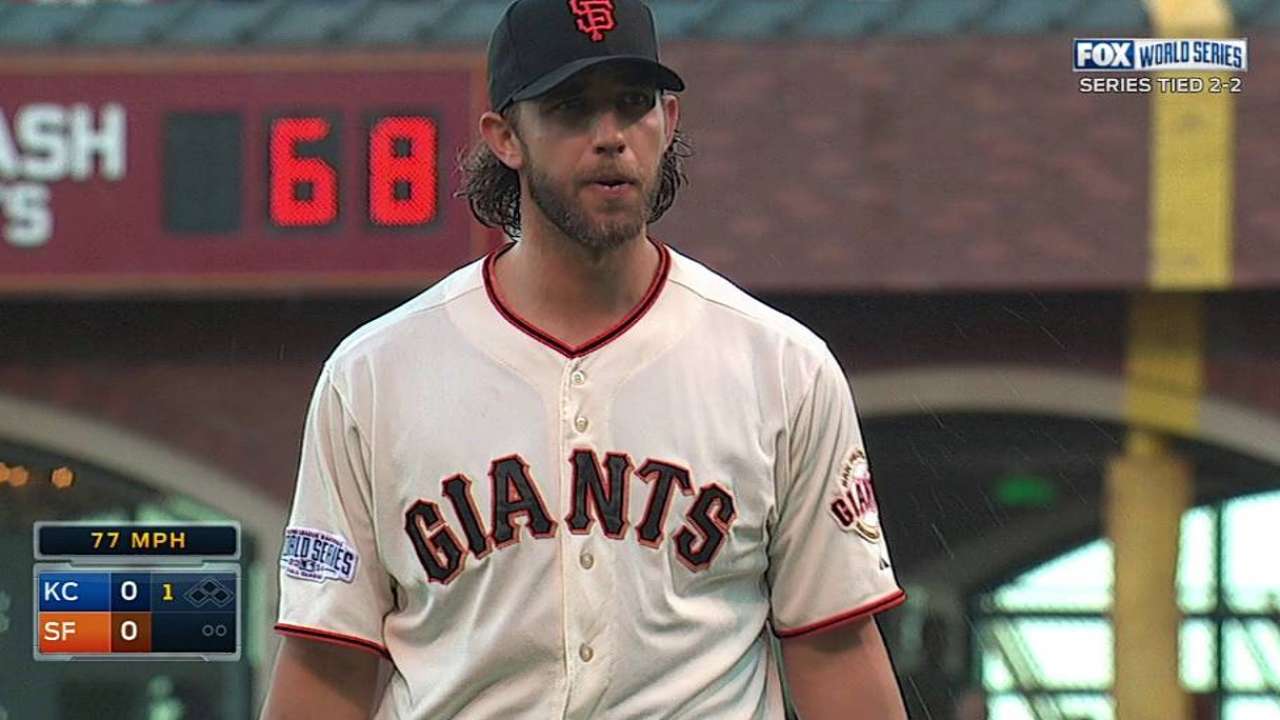 Such is life these days for the Royals and just about everyone else who has faced Bumgarner in October. His mistakes are few and far between, and he often leaves a box score littered with 0-fers in his wake.
For the second time in a week, the Royals got an emphatic reminder of Bumgarner's postseason dominance, their offense falling flat in a 5-0 defeat in Game 5 of the World Series at AT&T Park. The Royals, who now face a 3-2 deficit heading back to Kansas City, mustered just four hits and have just seven this series in 16 innings against the southpaw known fondly around here as "MadBum."
"You really can't get into a hitter's count against him," said Hosmer after the Royals fell to the brink of elimination for the first time since their American League Wild Card Game against Oakland. "He just has that cutter that bails him out. He mixes speeds very well. He's a tough guy to really get comfortable at-bats in. It just seems like a constant battle every time you face him."
The Kansas City offense recorded just one extra-base hit against Bumgarner -- an Omar Infante double in the fifth inning -- and even that was only made possible thanks to an ill-advised dive by Travis Ishikawa in left field. Infante was the only runner the Royals put in scoring position all night.
After the game, the Royals' hitters weren't ready to chalk Sunday's performance up to a sign of a struggling offense or a big-picture problem that might find its way back to Kansas City for Game 6. It was, they said, simply a masterful effort by an ace who they aren't scheduled to face for the remainder of the series -- at least not in a starting role.
"We're not hanging our heads," said third baseman Mike Moustakas, who was hitless in three at-bats with a strikeout. "They went out and they beat us tonight. We played decent baseball and ran into a guy that's throwing the ball fantastic. That's a tough guy to beat."
Baseball theory leans toward the belief that familiarity in a matchup gives the hitter an advantage over the pitcher. But Bumgarner, who made three trips through the Royals' lineup in Game 1, was arguably at his most dominant in his final time through the order Sunday, retiring the last nine hitters he faced.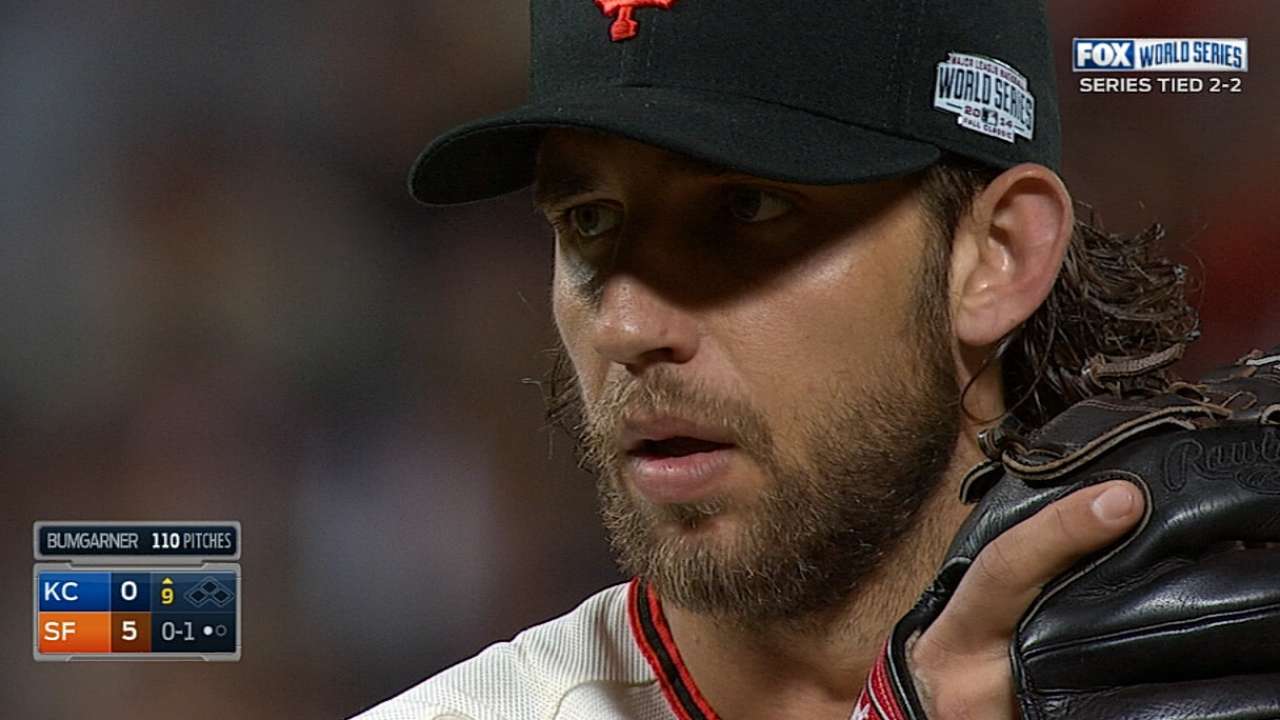 So what exactly has made Bumgarner so tough on the Royals' bats this series?
"His cutter, his slider," Moustakas said. "The way he throws those pitches across his body, you don't know which one it is."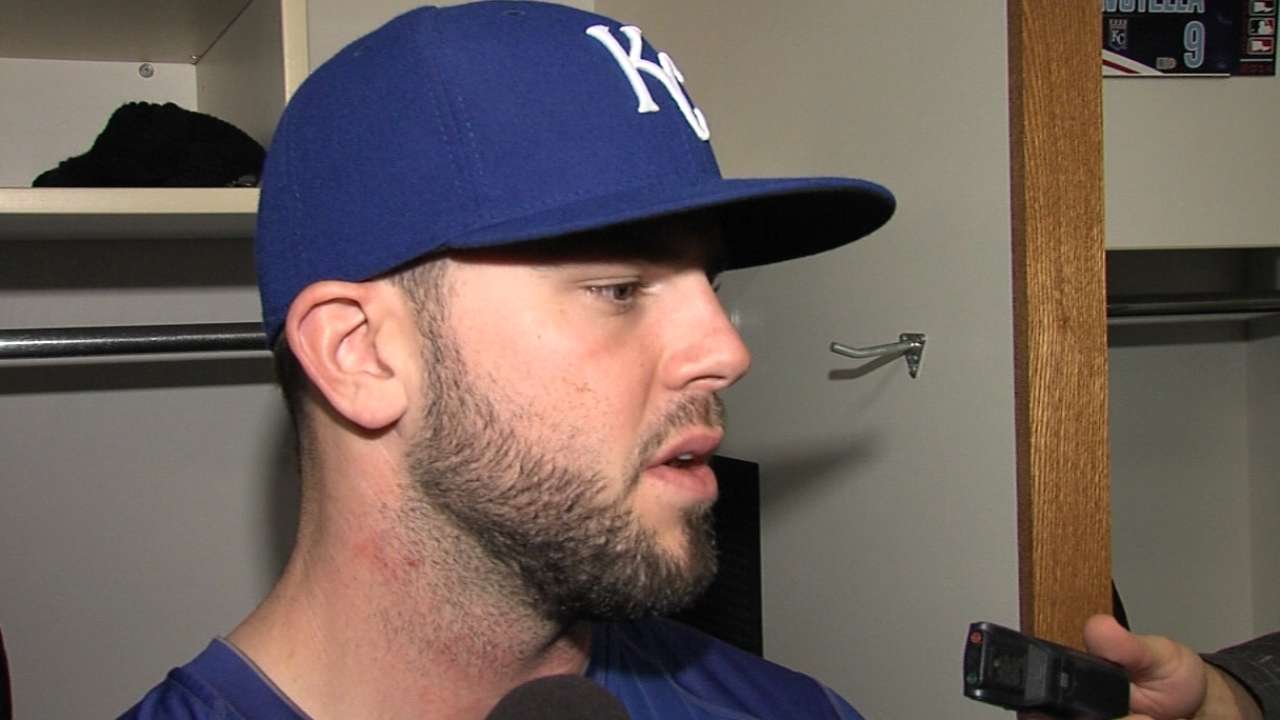 The Royals' offense dearly missed the bat of designated hitter Billy Butler playing in a National League park this weekend. And perhaps that was never more evident than Sunday night. Against one of the game's premier lefties, manager Ned Yost was forced to trot out four left-handed bats and a pitcher, while Butler, typically an important middle-of-the-order right-handed presence, was relegated to the bench.
But even Butler, who had a hit against Bumgarner in his first at-bat in Game 1, struck out looking on three pitches in a pinch-hit appearance. Frankly, Bumgarner was just as tough on right-handed hitters as he was on lefties.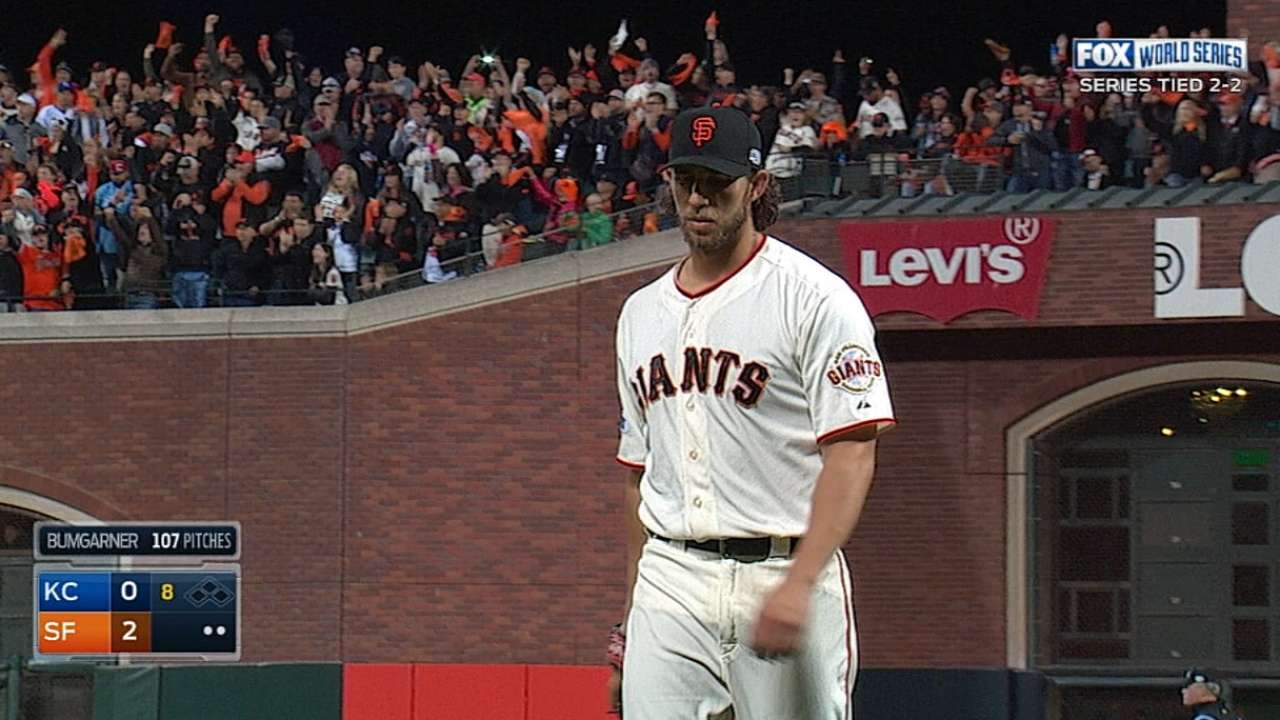 "He's incredible, man," shortstop Alcides Escobar said. "That's a complete game. That was tough tonight."
Said center fielder Jarrod Dyson: "That's a tough cookie to crack. He just battles, man. It's just an up-hill battle with that guy. He's hittable, but he was just locating his pitches just right. Straight fastball, then he'll throw you the cutter to try to keep you off-balance a little bit. Curveball -- I mean, he threw the kitchen sink at us."
There is, however, some solace the Royals' offense -- which is hitting a dismal .127 against Bumgarner this series and a solid .269 against everyone else -- can take from Sunday night:
"I guess," said Dyson, pointing out the obvious consolation prize, "we don't have to face Bumgarner anymore."
AJ Cassavell is a reporter for MLB.com. Follow him on Twitter @ajcassavell. This story was not subject to the approval of Major League Baseball or its clubs.