MLB.com Columnist
Anthony Castrovince
Singles weekend: Giants party without power
No HRs in three straight Series games for first time since '48, but SF beats KC at its own game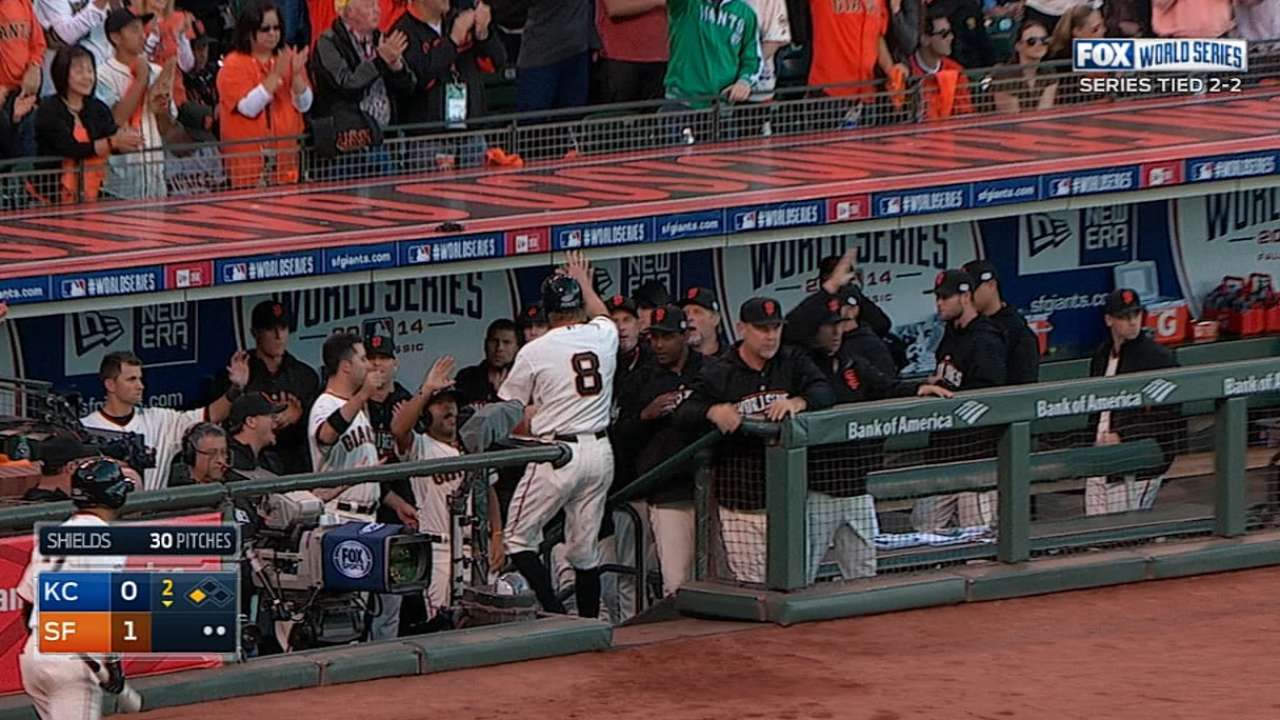 SAN FRANCISCO -- The lack of boom-boom of late in this World Series was mentioned to "Bam Bam," aka Giants hitting coach Hensley Meulens, in the aftermath of Sunday night's 5-0 victory behind Madison Bumgarner. It was pointed out that not one home run was hit in the three games here at AT&T Park -- a World Series rarity that hadn't happened in three consecutive games since way back in 1948.
But ask Meulens, whose Giants nonetheless scored 16 runs in Games 4 and 5 to put themselves on the brink of their third title in five seasons, if that power outage was some sort of problem.
"How many singles?" Meulens asked with a big smile.
How about 24? In other words, 85.7 percent of the 28 hits the Giants provided in Games 4 and 5 were one-baggers.
What is this? The Fall Classic or the Ichiro Invitational?
"Our plan was to make contact," Meulens explained. "[The Royals] have great pitching. They have high-octane guys, high-velocity pitches with a lot of movement. [James] Shields pitched very good [Sunday]. [He has a] good changeup, good curveball. His cutter was effective, and he showed his fastball enough to make us think about it. When you face guys like this, your priority is to put the ball in play instead of trying to drive the ball, because they've got late movement. The only way to create something is to put up quality at-bats, keep the line moving. That's what we did."
That's what the Royals usually do. Bumgarner wasn't allowing anything but weak contact, frustrated faces and a memorable blank, frozen stare from Billy Butler after a 76-mph curveball for a called strike three in the eighth.
Bumgarner clearly was the story on the night the Giants went up 3-2 in the Series. But the manner in which they beat the Royals at their own game at the plate was also striking. Think small to win big. Put the ball in play. Not over the wall, mind you. That's crazy talk. In play is enough, and sometimes your opponent will gift you a run here or there, if you're fortunate.
Who could have imagined the Royals would be so benevolent? Defense pairs with the three-headed closer as Kansas City's biggest calling card. But on this night, the Giants were able to strike first (and with Bumgarner on the hill, striking first was plenty) and then add on because of uncharacteristic mistakes from shortstop Alcides Escobar and center fielder Jarrod Dyson.
The Giants' first run came in the second inning, and it was born out of the ball Hunter Pence skipped past the outstretched glove of Escobar to lead off the inning. That led to possibly the night's biggest surprise -- Brandon Belt putting down a shift-beating bunt and then beating out the throw to first to put two on with none out. It was the first bunt for a hit of Belt's career.
"He laid a beauty down there," Giants manager Bruce Bochy said.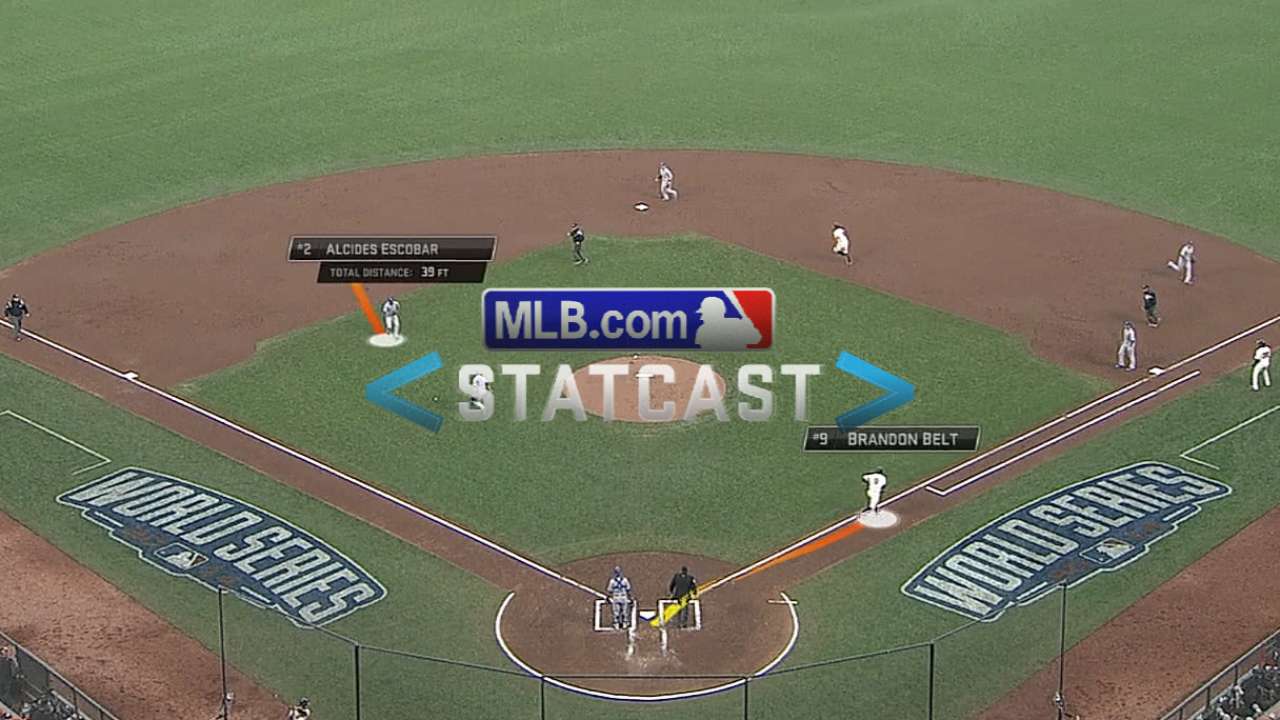 And after both runners advanced on a Travis Ishikawa flyout, Brandon Crawford took note of the Royals playing their infield back, shortened up and did what he had to do, grounding to second to bring Pence home from third to make it 1-0.
Amazingly, as ESPN's Jayson Stark pointed out, that was the Giants' 18th run scored this postseason on something other than a hit.
So again, who needs home runs?
"Our guys are aware of the situations," Meulens said. "We work very hard at this in Spring Training and all through the year to have situational rounds for these guys. We did it a lot during the season. We scored a bunch of runs with two outs, had a bunch of sacrifice flies. We scored a lot of runs a lot of ways."
The Giants would score another in the fourth, and again because of the Royals' unexpected benevolence. With Pablo Sandoval aboard and two out, Ishikawa hit a grounder that snuck under Escobar's glove for a single.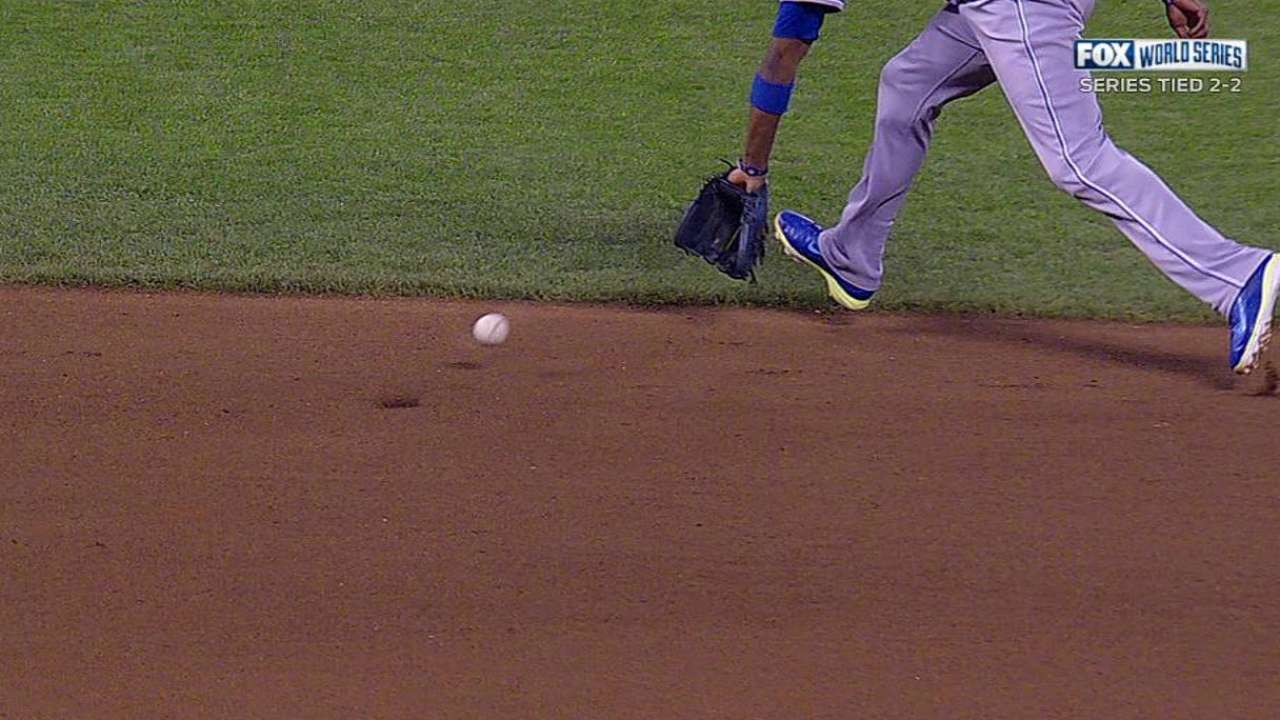 Crawford would have another great at-bat in the eighth, getting a hold of a two-strike curveball and dumping it in front of a somewhat lax Alex Gordon in left to bring home the third run of the inning.
Because baseball is strange, that inning very nearly did feature a homer -- by Juan Perez, of all people. His double was just inches shy of clearing the center-field wall.
Alas, because it stayed in fair territory, this three-game stretch is now associated with some trivia. This is the first World Series to feature three homerless games since the 1996 matchup of the Yankees and Braves, and as mentioned, it's the first to have three consecutive homerless games since the 1948 Series between the Indians and Boston Braves.
As it stands, with potentially just one game left and only four homers hit, the Giants and Royals have combined for the fewest homers hit in a World Series since -- appropriately enough -- the Royals' last appearance, in 1985 vs. the Cardinals, when only four guys went deep.
None of this qualifies as a shock, given the matchup and the location. The Royals hit the fewest home runs in baseball this season, and the Giants finished in the bottom third in the second half after a surprisingly homer-happy attack in the first. AT&T Park and Kauffman Stadium are both known to suppress power.
Once again Sunday night, though, the Giants showed how little power matters when you avoid K's, put the ball in play and see if the opposing defense can help you out a little. In Game 5, they did the little things to grab a huge win.
Anthony Castrovince is a reporter for MLB.com. Read his columns and follow him on Twitter at @Castrovince. This story was not subject to the approval of Major League Baseball or its clubs.