Giants lend the leather to Bumgarner's gem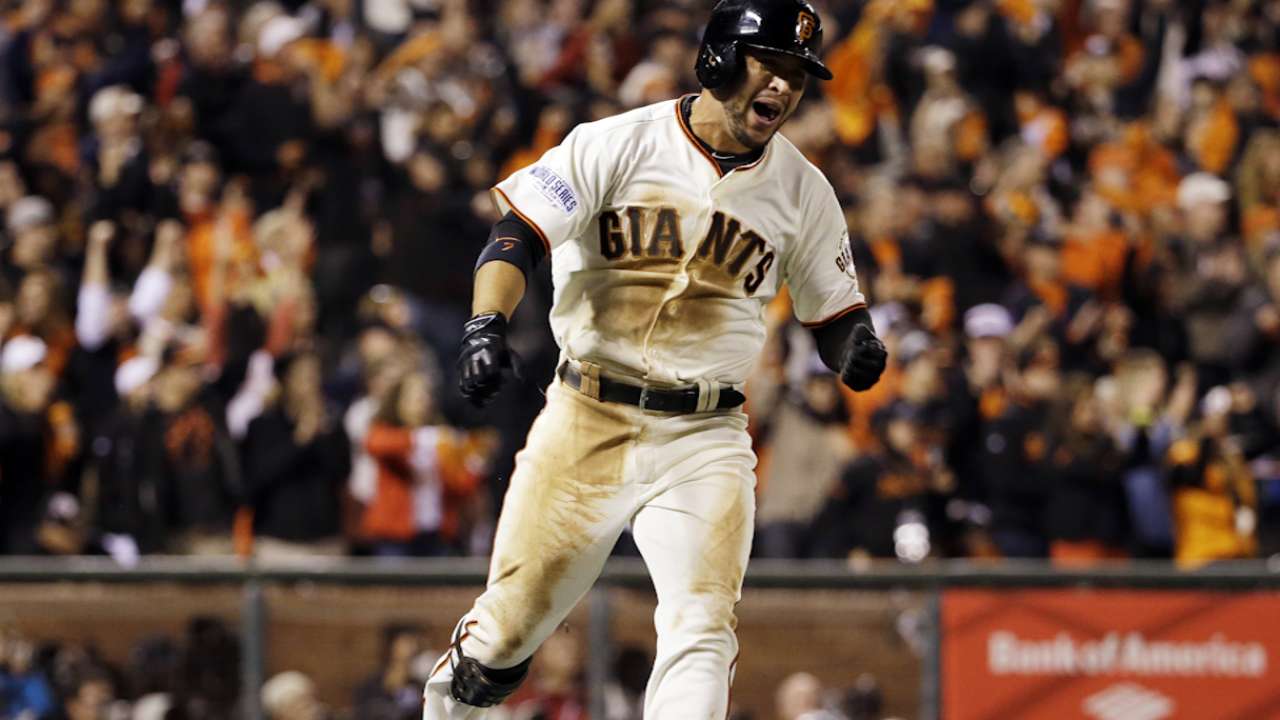 SAN FRANCISCO -- When the Giants have their bats in their hands, they've shown time and time again that they will find a way. Turns out, same goes for when they have gloves on their hands.
The Giants take pride in their defense across the board, and when a pitcher is dealing like Madison Bumgarner was in his shutout of the Royals in Game 5 of the World Series on Sunday night at AT&T Park, making sure plays are made to ensure the ace gets to do his thing is key.
A ball off the lip of the infield? No problem. A little miscommunication over whether Bumgarner should cover first? Got it. A fly ball deep to left late in the game? Hey, look, the speed guy's in there now.
Without making the types of diving, spectacular plays that have become almost common in this World Series from both sides, the Giants used their defensive acumen to help secure a 5-0 victory over the Royals that puts them one win away from a third World Series title in five years.
From a sharp play by third baseman Pablo Sandoval on a tough hop to a sliding unassisted play by first baseman Brandon Belt and then a nicely tracked ball to the warning track by defensive replacement Juan Perez in left field, the Giants had the right stuff with the gloves.
"Everybody on this team has been just outstanding when it comes to defense," Belt said. "That's part of doing the little things right. That's the coaching staff going out there with us day in and day out and teaching us how to do stuff right, and it's paid off."
The fourth inning proved to be a good example of the Giants' ability to improvise on defense to make sure the job gets done. What could have been the first hiccup of the night for Bumgarner turned into a 1-2-3 inning.
First, left-handed-hitting Eric Hosmer hit one to the left side toward Sandoval at third, and even many in the crowd could see that the ball hit the lip of the infield -- a groan coming up as soon as it did. But Sandoval was able to stay down on the ball as it skidded toward him, and he threw to first for the second out of the inning.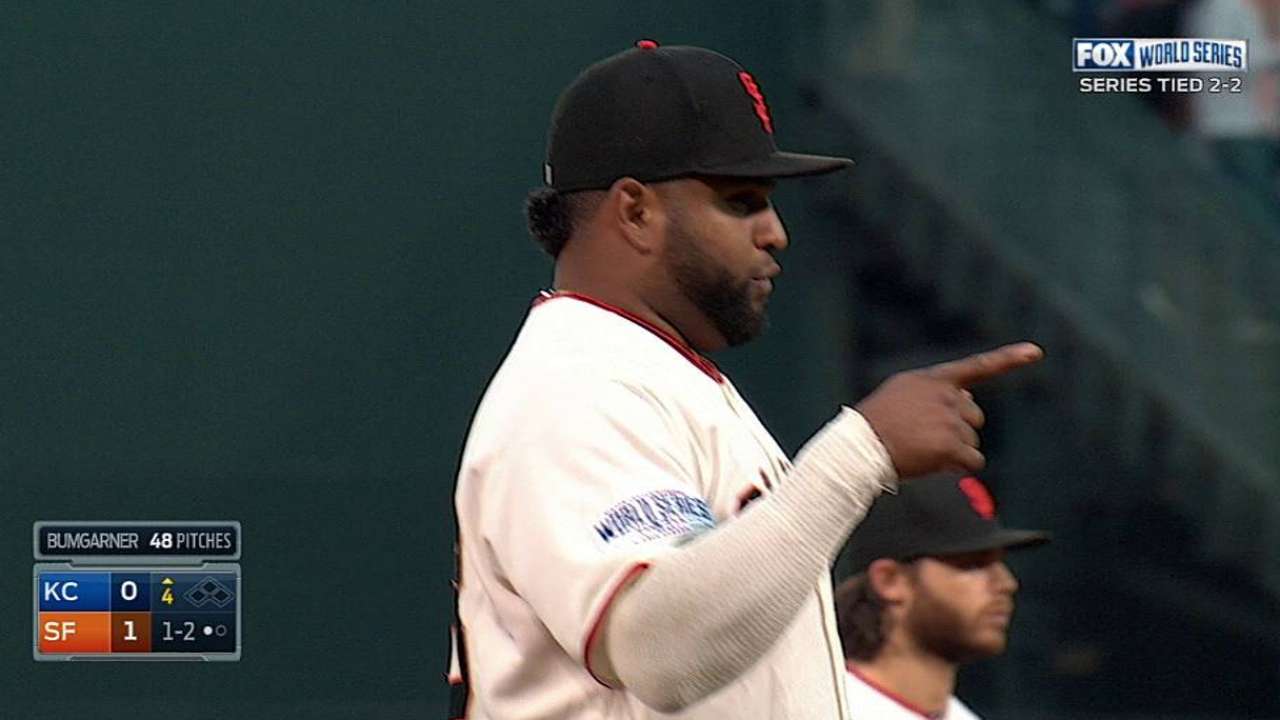 Then, it was Belt's turn to ad-lib a little bit. With Salvador Perez at the plate, Belt was shading toward second base, and he was pretty much right where the ball went. But from Bumgarner's perspective, he wasn't needed on the play, so he didn't cover, sending Belt zooming to first and sliding feet first, just getting his spike on the bag before Perez reached the base.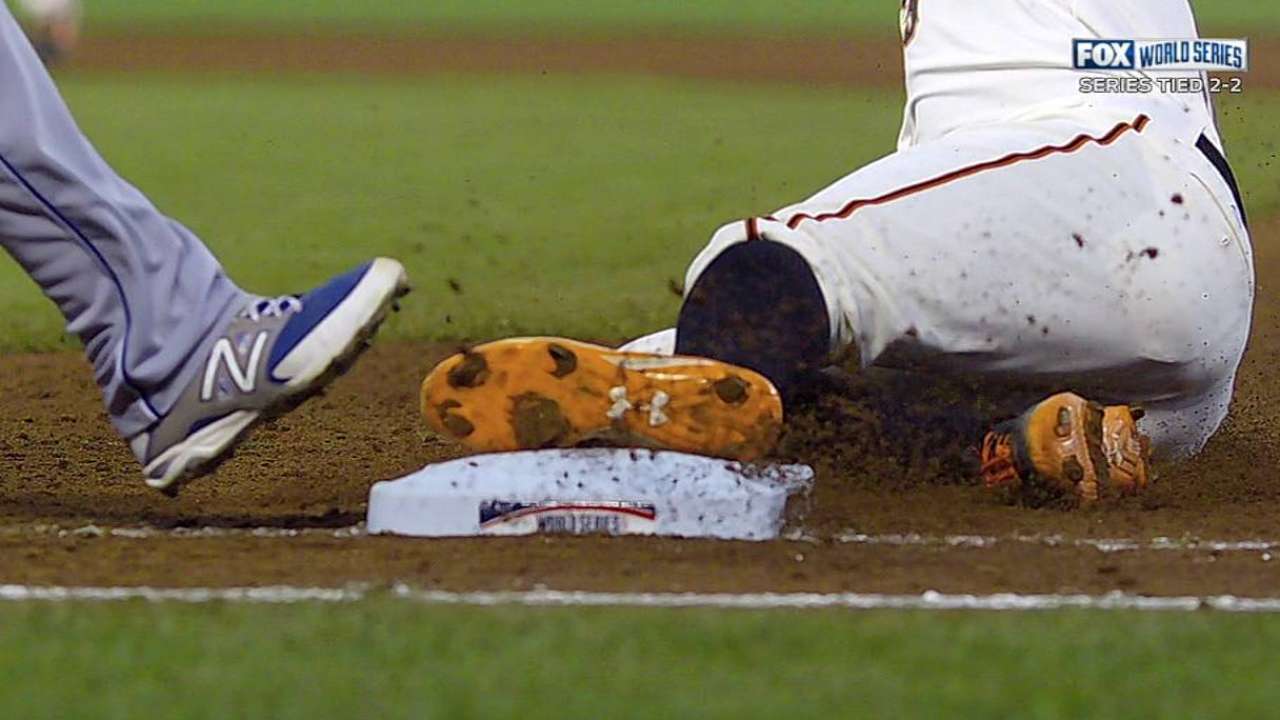 "Right there, if I'm playing pretty far off I'll usually let the pitcher know I am, and I didn't do that," Belt said. "So Madison, I'm sure, thought it was going to the second baseman. When I saw he wasn't going over to the bag, I started sprinting as hard as I could. I knew it was going to be close, so I just put a little slide in there and tried to get my toe in there to get him out."
Pretty effective slide, but Belt's not planning on submitting it to any how-to videos.
"Actually, that's probably one of my worst slides," Belt said. "I barely got the bag with the bottom of my foot. Usually I'm pretty good about sneaking that toe in there with these size 15s, but I barely got it there."
In the seventh, Perez entered the game in place of Travis Ishikawa, as he has for most of the postseason as a late-innings replacement and a far better outfielder than the veteran whose outfield experience is very limited. The switch paid off when Perez grabbed a deep ball to left off the bat of Salvador Perez, one that might have given Ishikawa some trouble.
Maybe they weren't spectacular gems that make the defensive highlight reels, but they got the job done. The Giants' defense found a way to get it done behind its ace.
Really, Belt said it comes down to the guy on the mound in this one -- Bumgarner, who made everything happen for the Giants in Game 5, including put the defense in a position to succeed.
"Madison goes out there and sets the tone for everybody else," Belt said. "He just does a great job right off the bat. It makes us even more so want to go out there and do whatever we can to keep him in that game, especially when he's battling like that."
John Schlegel is a national reporter for MLB.com. You can follow him on Twitter @JohnSchlegelMLB. This story was not subject to the approval of Major League Baseball or its clubs.