MLB.com Columnist
Mike Bauman
MadBum mastery stacks up with October legends
Two shutouts in one postseason, 0.29 career World Series ERA puts lefty in elite company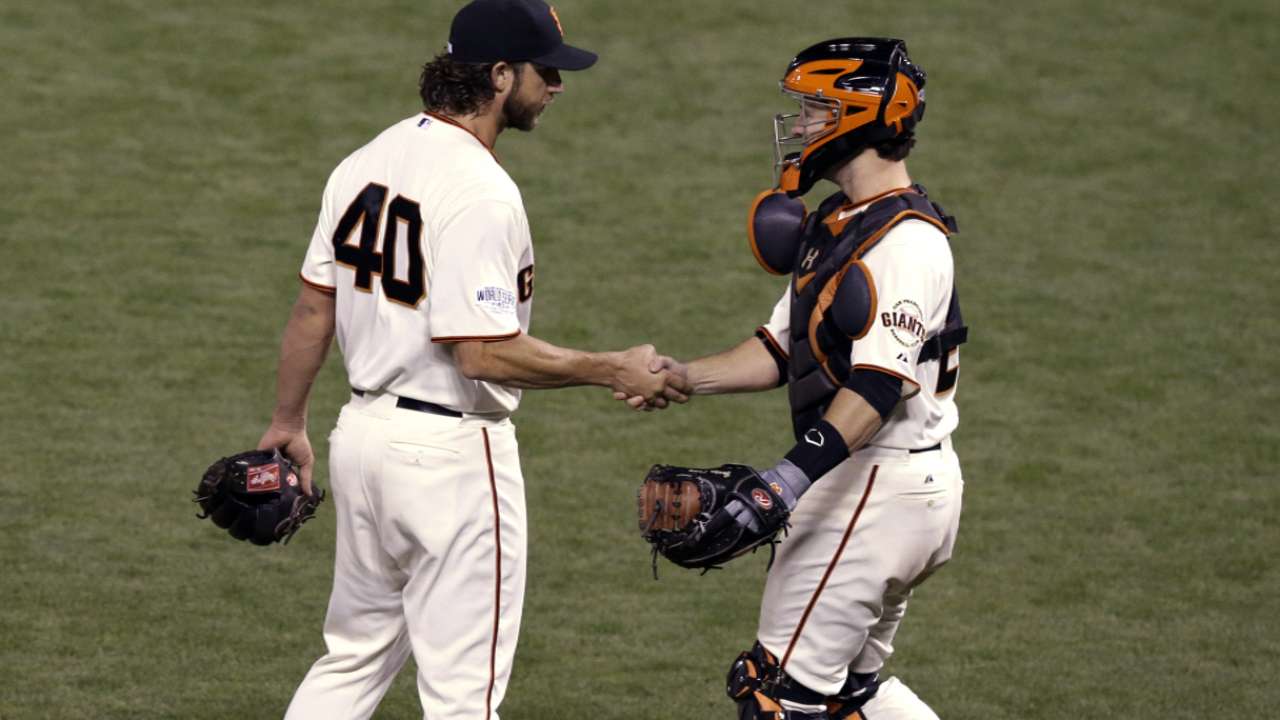 SAN FRANCISCO -- Madison Bumgarner has done all that could be expected of one pitcher in one postseason.
He has created a performance that can fairly be mentioned with some of the best October work in the history of baseball. And in the process, he has placed the San Francisco Giants on the brink of their third World Series championship in the past five seasons.
Bumgarner's shutout Sunday night was at the core of the Giants' 5-0 victory over the Kansas City Royals. The win gave the Giants a 3-2 lead in the Series. They will attempt to wrap up the championship when the Series resumes Tuesday night at Kauffman Stadium in Kansas City (7:30 p.m. ET airtime on FOX, 8:07 first pitch).
As for Bumgarner, a postseason that began with a shutout against Pittsburgh in the National League Wild Card Game came full circle with a shutout in the pivotal Game 5 of the Fall Classic.
In this postseason, he is 4-1 in six starts with an ERA of 1.13. And his 0.29 ERA over three World Series is the best all-time of any pitcher with more than 25 World Series innings pitched.
His work has been great on its own merits, but also meets the standard of greatness imposed by history.
"Am I surprised? No," said Giants manager Bruce Bochy. "I mean, this guy is a special kid, [special] talent. We saw this even in 2010. He's pitched so many big games for us. In fact, I would have to say one of the biggest games was in Pittsburgh [in the NL Wild Card Game]. He came through there for us. No, I'm not surprised at all what he does."
Bochy has considerable postseason experience. Is Bumgarner the best World Series pitcher he has seen?
"I think in my World Series he is," Bochy said. "In the history of the game, there have been some great efforts. Guys that have gone three games and things like that. But I haven't seen a better pitcher over the course of this postseason. It's been a pretty long one, and to do what he's done is pretty historic, I think."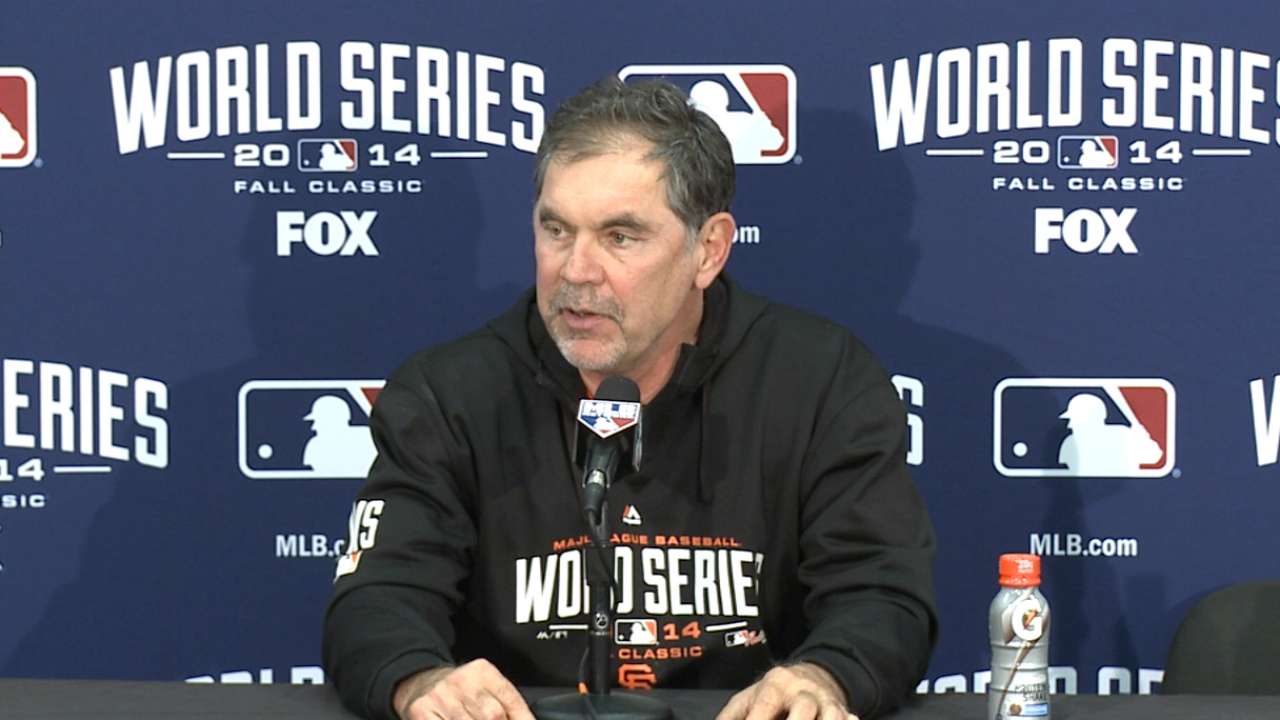 Bumgarner's 2014 work definitely stands up with the best postseason work of this century. Here's a sampling of that:
Curt Schilling, 2001: 4-0, 1.12 ERA in six starts.
Randy Johnson, 2001: 5-1, 1.52 ERA in six appearances, five starts.
Josh Beckett, 2007: 4-0, 1.20 ERA in four starts.
With two shutouts this October, Bumgarner becomes the fourth pitcher since the advent of division play to throw more than one shutout in one postseason. That exclusive group includes Beckett, Johnson and Orel Hershiser.
Bumgarner's importance cannot be overstated. He has already been named the Most Valuable Player of the 2014 NL Championship Series. In this vein, when he came to bat in the eighth inning Sunday night the AT&T crowd of 43,087, not only cheered him, but happily chanted "MVP! MVP!" at him.
"That was pretty cool, actually," Bumgarner said. "It was really neat to hear."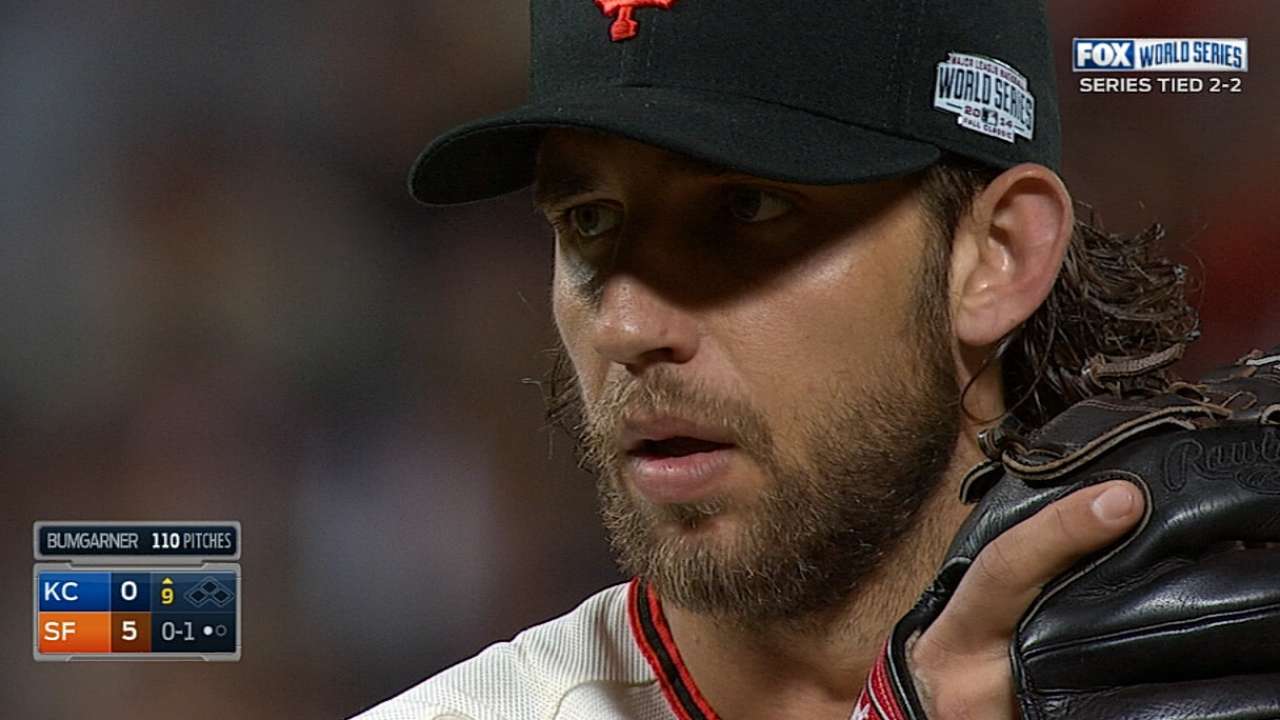 If Bumgarner has a shortcoming, it is that he really doesn't brag on himself very well. He is a man of the mound. When a pitcher is this good, the accolades become part of the territory, although Bumgarner does not seek those or receive them with any particular pleasure.
When he was informed Sunday night about how well his postseason performances stacked up against some of the greats of the game, he responded with genuine modesty.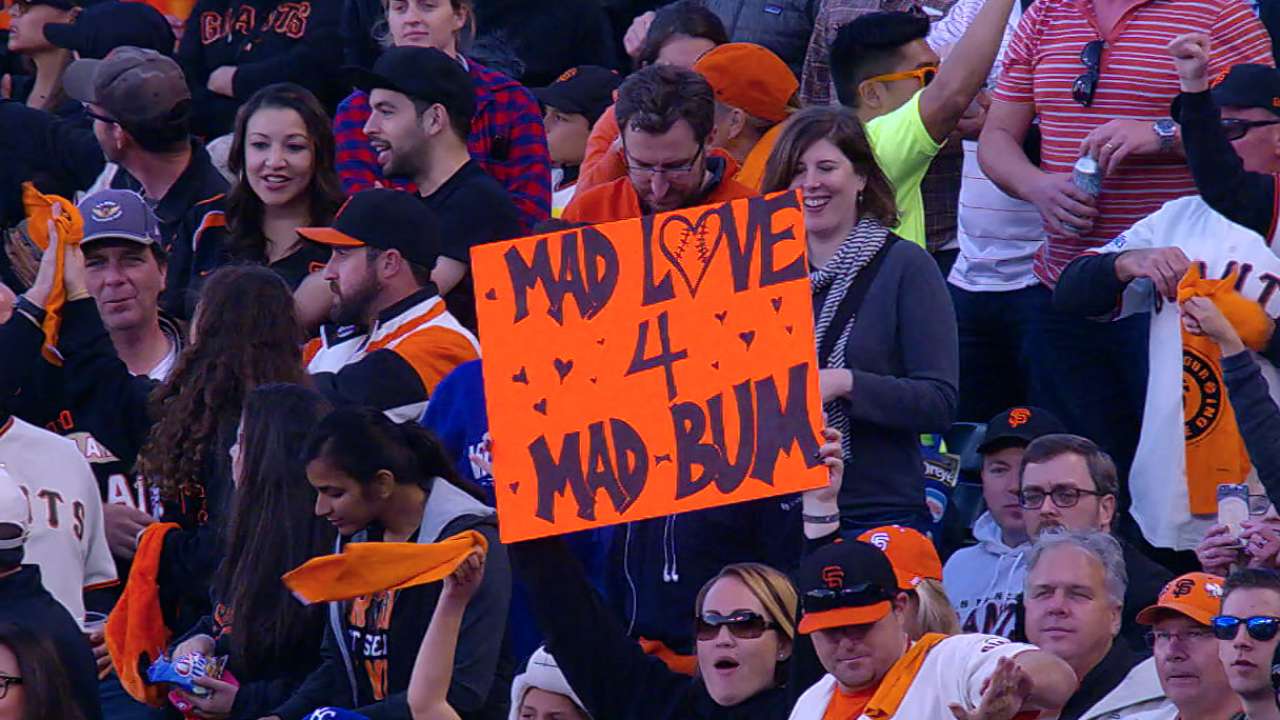 "Obviously, that's pretty special and it's very humbling," Bumgarner said. "Just blessed to have an opportunity to do that. But that's surprising. I wouldn't have thought that."
The opposition has a painfully realistic view of Bumgarner's work and his worth. In this case, the Royals managed one earned run in 16 innings against him, with seven hits and one walk against 13 strikeouts.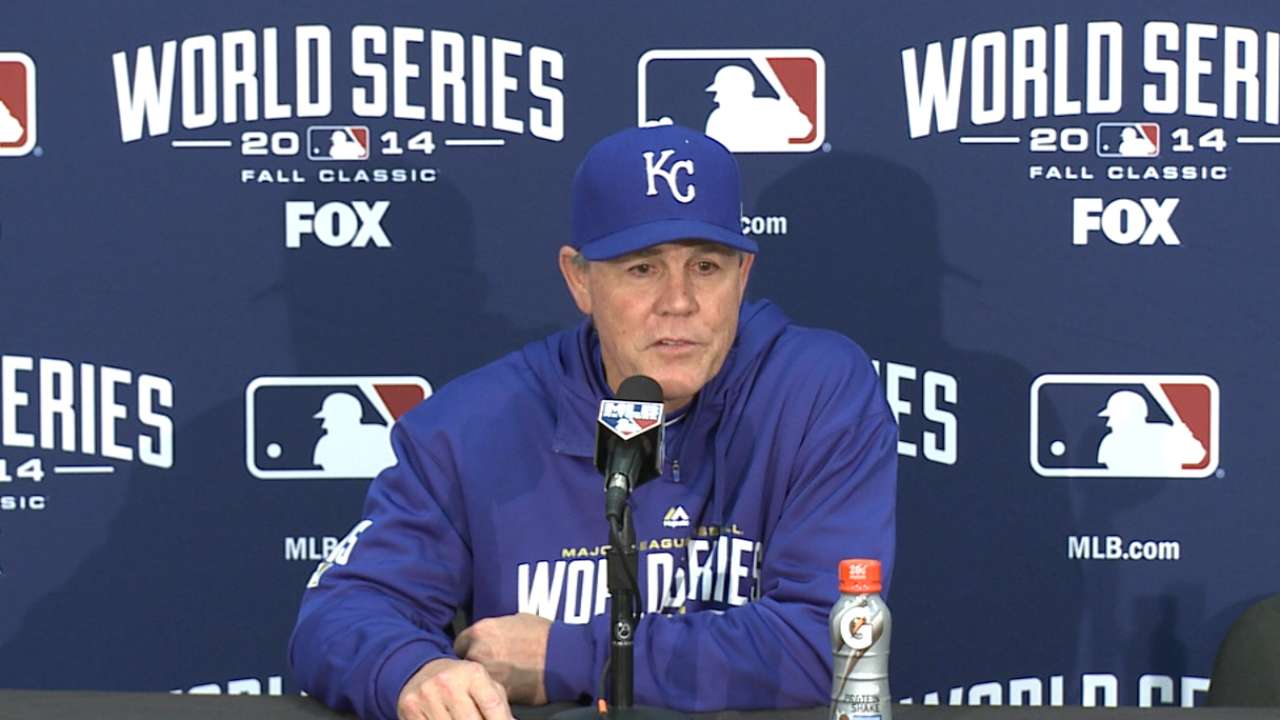 "He was fantastic, again," Royals manager Ned Yost said. "I mean, nine innings, you know what he does so well and what he's so impressive doing. He commands his fastball in and out, up and down. He commands his breaking ball in and out and really can command that pitch down and away in the dirt when he wants to get a strike. A lot of guys have trouble commanding that pitch; they'll hang it. A lot of guys have trouble just hitting that right spot where it just barely bounces where they can get that swing and miss. But boy, he sure had command of that tonight, too."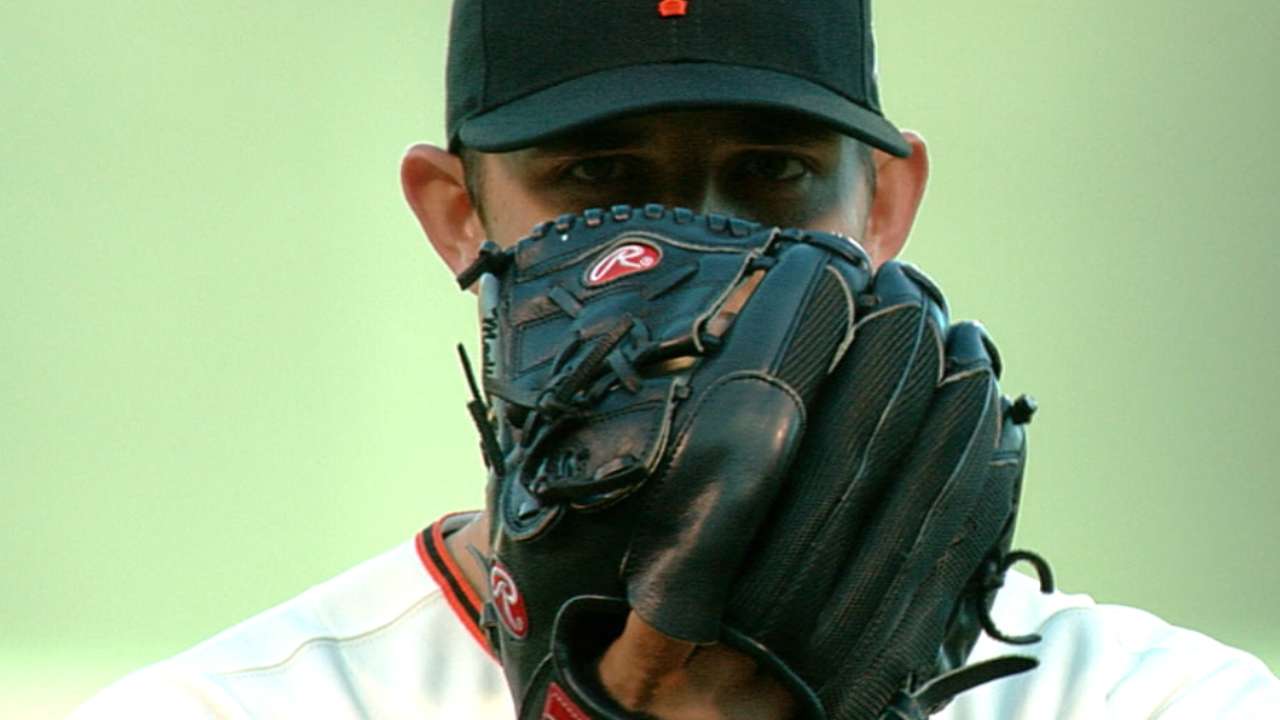 The Royals are 0-2 against Bumgarner and 2-1 against the rest of the Giants' staff. Bumgarner has made a huge difference in the postseason, in a performance of historical quality.
And yes, he'll make himself available for duty in Game 7 should the need arise. There were lots of questions about that Sunday night. Here's another one: Hasn't Bumgarner done enough for the Giants for one October?
Mike Bauman is a national columnist for MLB.com. This story was not subject to the approval of Major League Baseball or its clubs.