Devastated by Taveras' passing, Perez comes up big for Giants
San Francisco outfielder notches clutch double after learning of friend's death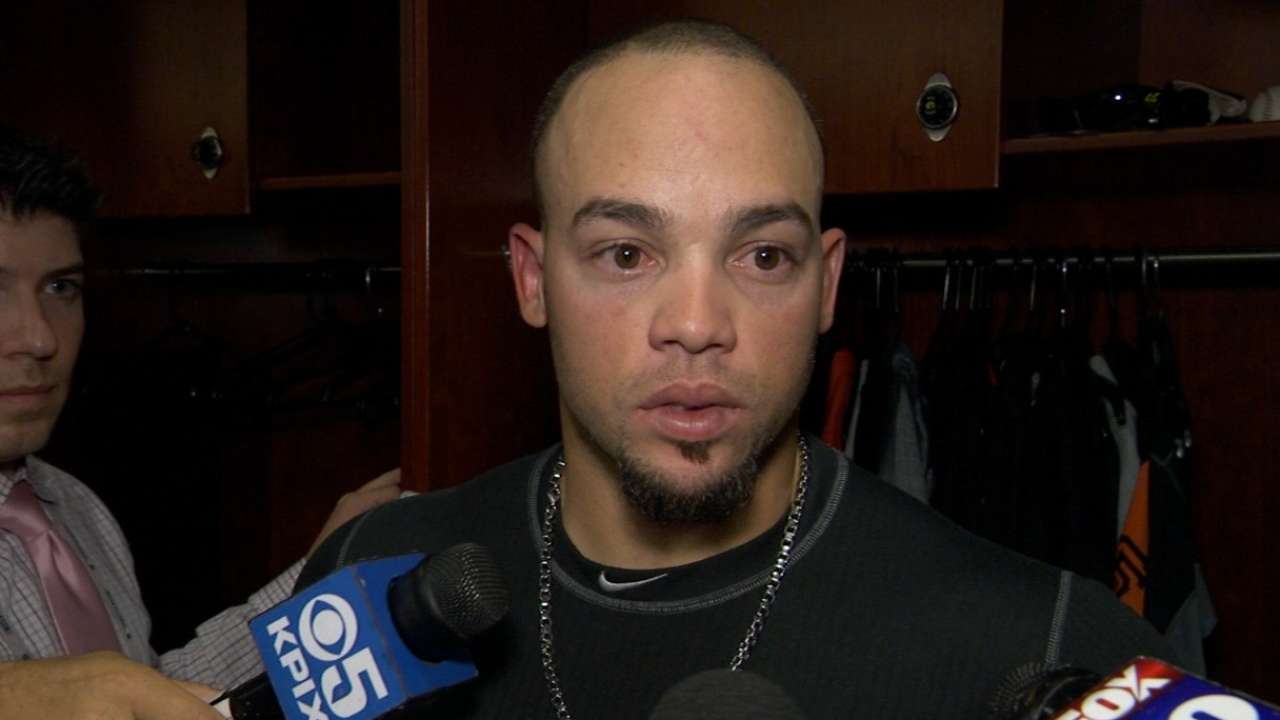 SAN FRANCISCO -- Between the clubhouse and the home dugout at AT&T Park, there is an auxiliary trainer's room where Juan Perez loitered early in World Series Game 5 on Sunday, preparing for a cameo that may or may not come. Just outside the door behind him, within earshot, two employees began talking about Cardinals outfielder Oscar Taveras' passing.
Perez was stunned. Unable to process it, unable to believe the death of his friend, he stumbled back to the clubhouse. He checked his phone, where the messages he did not want to see had already begun streaming in. One contained a picture of Taveras' car in the Dominican Republic, its metal twisted. Another showed Taveras' body at a morgue.
Then Perez began crying. He and Taveras had been close in the Dominican Republic, playing winter ball together. Perez knows Taveras' mother and father. He is extremely close with Taveras' older brother.
So he mourned and he cried, understanding that steps away, the Royals and Giants were playing Game 5 of the World Series. Perez hid his emotions to the point that even manager Bruce Bochy was unaware of what had happened. But not everyone was. At one point, teammate Joaquin Arias approached him, telling him to "stay strong."
"We've got to win this game," Arias told him.
What Perez could not have anticipated was that he would play such a critical role in doing so for the Giants. Entering in the sixth inning as a pinch-runner, Perez wound up contributing so much more, making a key defensive play and hitting the two-run double that broke open San Francisco's 5-0 victory. As he slid into third base after that hit, advancing on a throwing error, Perez allowed himself once more to think of his friend.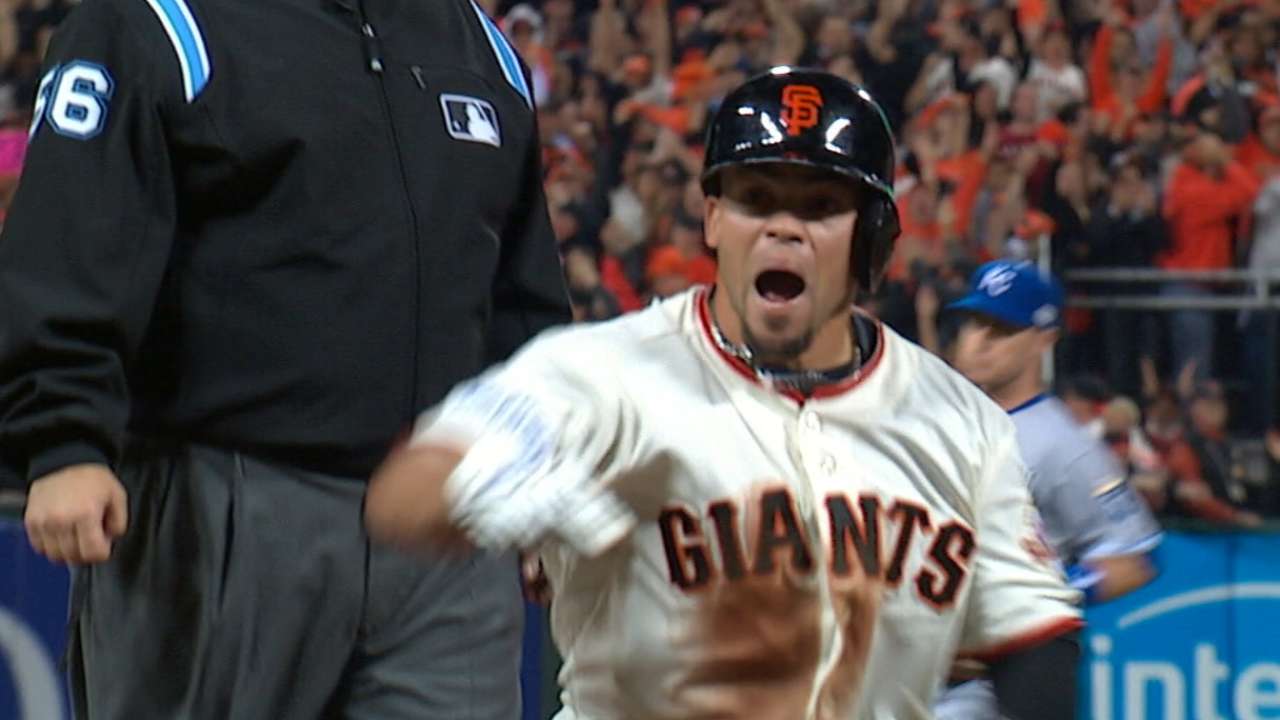 "My emotions, everything came back," he said.
Coming on as a substitute for Travis Ishikawa in the sixth, Perez made a fine catch one inning later on Salvador Perez's fly ball -- a play that Ishikawa, a natural first baseman who has periodically struggled in the outfield, might not have made. An inning after that, facing near-perfect Royals reliever Wade Davis, Perez smoked a two-run double off the top of the center-field wall, turning a 2-0 Giants lead into a 4-0 margin that seemed insurmountable with Madison Bumgarner pitching.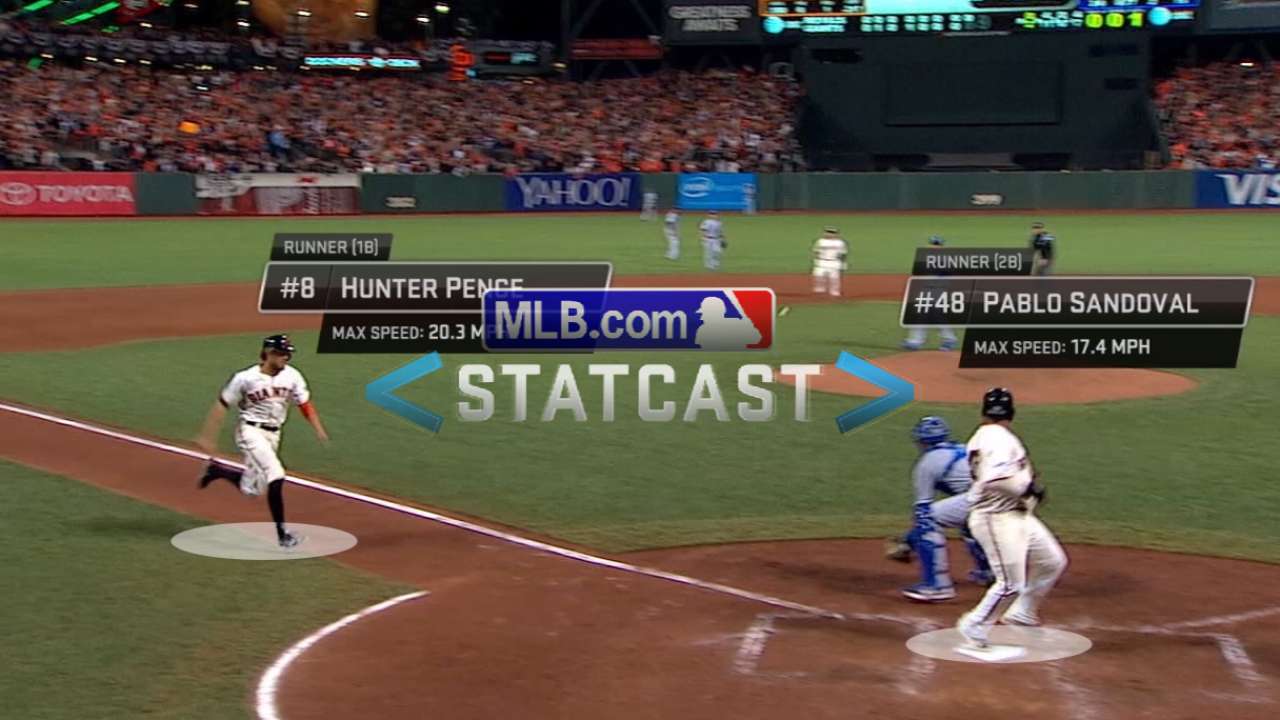 "What a game he gave us," Bochy said.
For Perez, it was one of happiness and sadness, of triumph and regret. His thoughts could not linger long on what he gained on Sunday, understanding the far heavier weight of what he lost. So instead of looking back on his contributions, Perez stood by his locker in a strangely silent postgame clubhouse, and talked about his friend.
Perez and Taveras first met in the Dominican in 2009, later playing together for Aguilas. Like most baseball fans in his home country, Perez paid close attention as Taveras' stock rose, transforming him into one of the game's top-rated prospects. When the Cardinals finally called him up in May, the Giants were in St. Louis, giving the two friends time to reconnect. They kept in touch throughout the summer, exchanging texts every two or three weeks. They spoke as recently as this month, when Taveras hit a game-tying homer in Game 2 of the National League Championship Series against the Giants.
"A lot of people were rooting for him," Perez said.
That Double was 4 U Oscar! I'll remember the Good Times. God Bless U Bro. I'll miss U man. My condolences! pic.twitter.com/vjQaZiymaF

- Juan Carlos Perez (@juan_perez24) October 27, 2014
As Perez and the Giants played on, advancing to the World Series, Taveras went home to the Dominican. In the aftermath of Sunday's win, Perez allowed himself to consider that if the Cardinals had beaten them, his friend would still be alive.
He stood for a half hour or so, dirt still caked on his uniform, answering those sorts of questions again and again. He talked about his relationship with Taveras. He discussed how the two met, how he heard the news, how he composed himself afterward. He talked about his own performance when prodded, but mostly, he talked about the soaring potential of his friend.
"Now," Perez said, "it's not going to happen."
Anthony DiComo is a reporter for MLB.com. Follow him on Twitter @AnthonyDicomo. This story was not subject to the approval of Major League Baseball or its clubs.