Bumgarner keeps remarkable October ride rolling
Giants ace throws shutout in Game 5, lowers his career World Series ERA to 0.29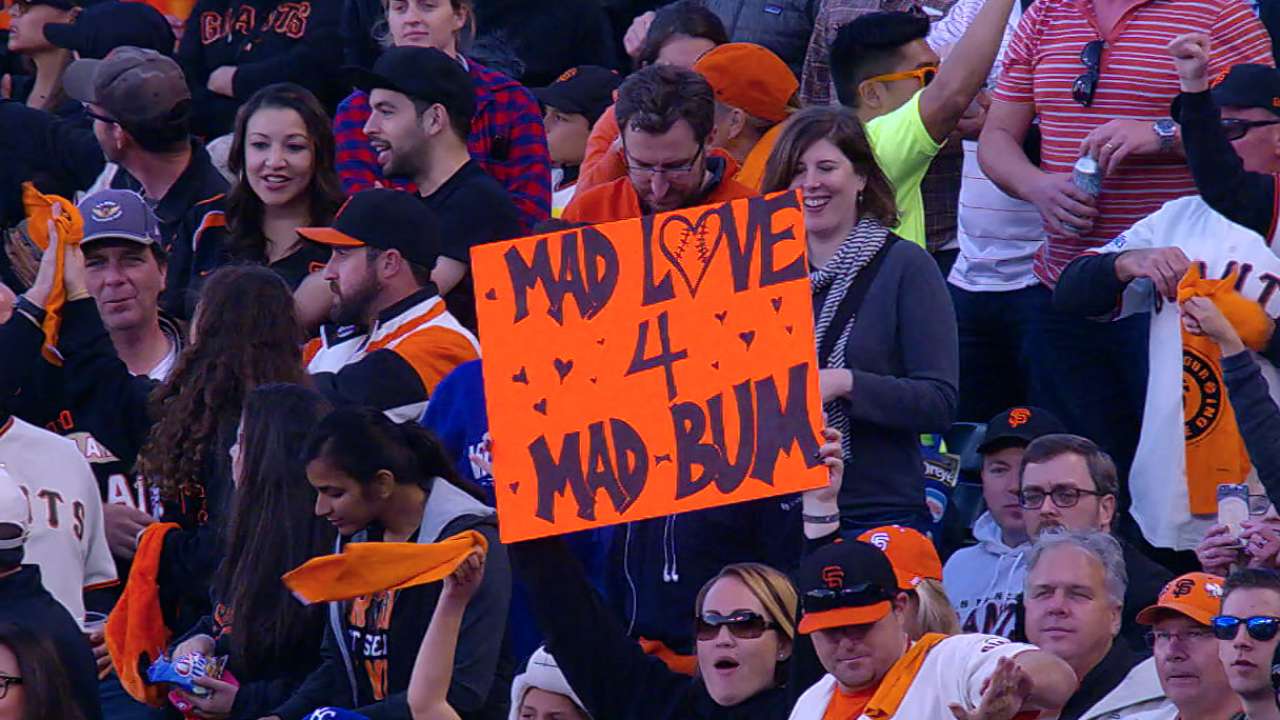 SAN FRANCISCO -- Billy Butler pursed his lips, crunched his face and stared at the sky. In the eighth inning of World Series Game 5 on Sunday, Madison Bumgarner had just dumped his 98th pitch of the night into the strike zone, a 76-mph cartoon of a curveball that spent most of its flight path apparently headed elsewhere. Composure, for the Royals, was becoming scarce.
This deep into October, rarely does any star live up to the outsized hype that surrounds him. In Game 5, Bumgarner did. Entering the night riding one of the finest postseason runs of any pitcher in history, San Francisco's 25-year-old ace tormented the Royals over nine innings in a 5-0 victory, lifting the Giants to within one win of their third title in five years.
This was no sheer force of will. This was no feel-good story. This was simply brute, rote dominance, for which the Royals had no answer.
"He was fantastic again," Royals manager Ned Yost said.
By the ninth, Bumgarner was still throwing 93 mph, still mixing in a cutter that sometimes masquerades as a slider, still dropping in slow curves at will. Those are fancy ways to say that he was still painting the scoreboard with zero after zero.
Bumgarner finished with nine of them in total, firing the first World Series shutout in 11 years and the first for the Giants in more than a half-century. Throw in the fact that he did not walk a batter, and Bumgarner became the 16th player to accomplish that feat. Tack on the qualification of eight or more strikeouts and his effort stood alone.
For all the things Bumgarner has accomplished throughout October -- the multiple shutouts, the outsized innings totals, the complete and utter absence of earned runs -- it was World Series Game 5 that in many ways defined him.
"When this guy is on, it's fun to watch," Giants manager Bruce Bochy said. "He was hitting spots, had great stuff. I just felt like that's his game."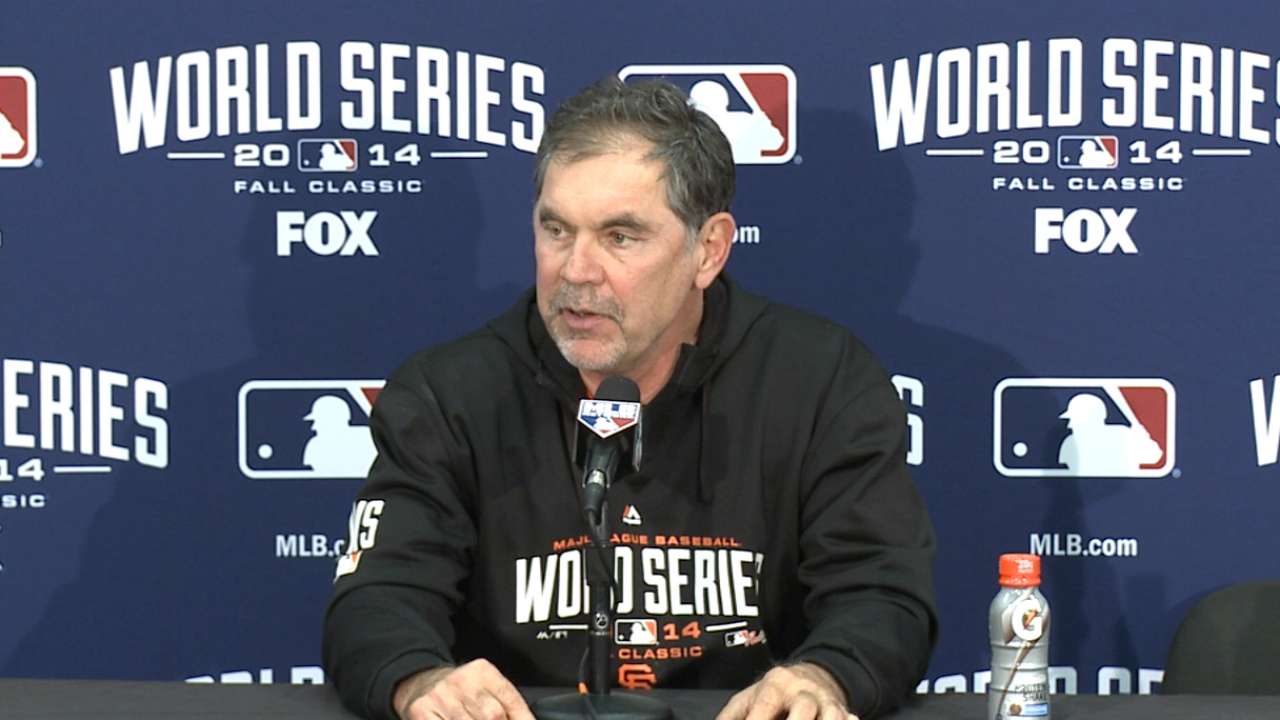 That is why, even after the Giants expanded their lead to five runs in the eighth inning, Bochy stuck with his ace. Bumgarner was at 107 pitches at that point -- not a terribly high total for him, but also not insignificant considering his potential for relief work in Game 7. Yet as catcher Buster Posey marveled afterward, Bumgarner looked "just as strong" in the ninth as he was in the first. His curveballs were crisp. His fastballs were fast. His cutters and sliders were devilish, barreling toward the strike zone from his unorthodox arm angle.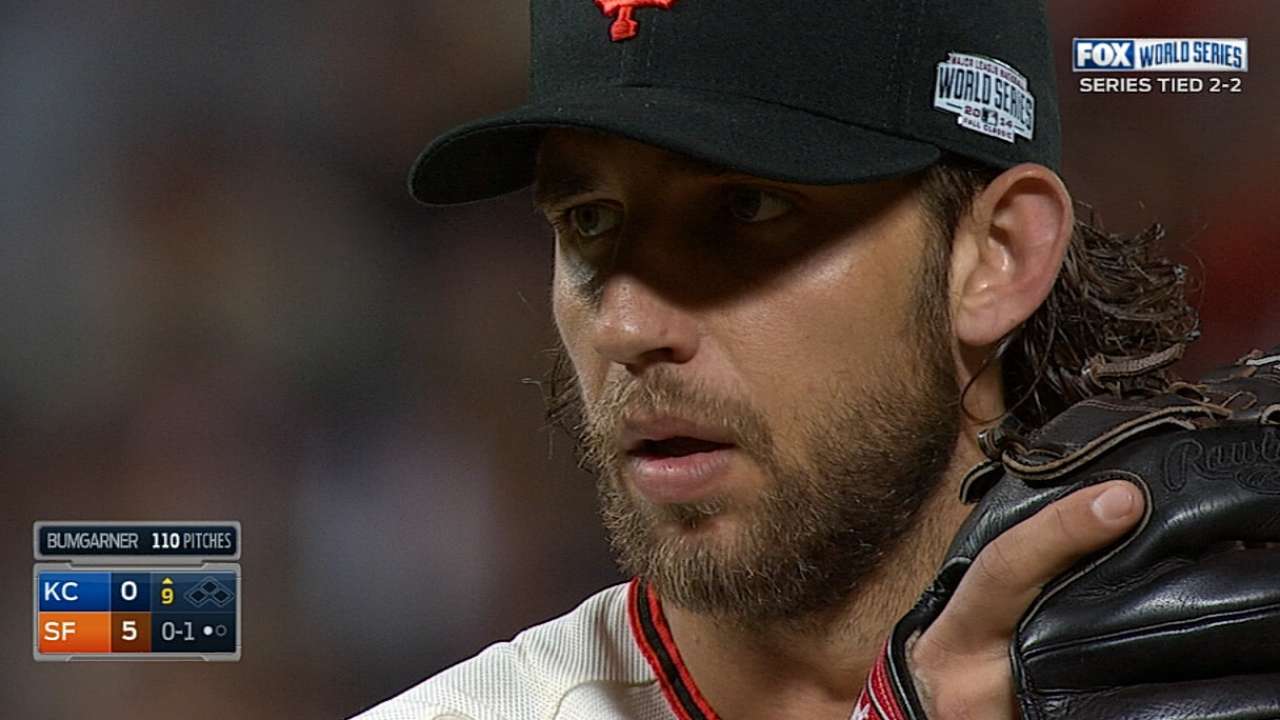 "I felt great," Bumgarner said. "I felt great all night. Really, this time of year it's not too hard to go out there and feel good."
By night's end, Bumgarner had allowed just four hits, walked none and struck out eight. He had lowered his 2014 postseason ERA to 1.13, his World Series ERA to 0.56 and his career Series mark to 0.29, lowest all time amongst pitchers with multiple starts. Bumgarner also threw 117 pitches, which Bochy insisted would not be a factor if the Giants need him in Game 7.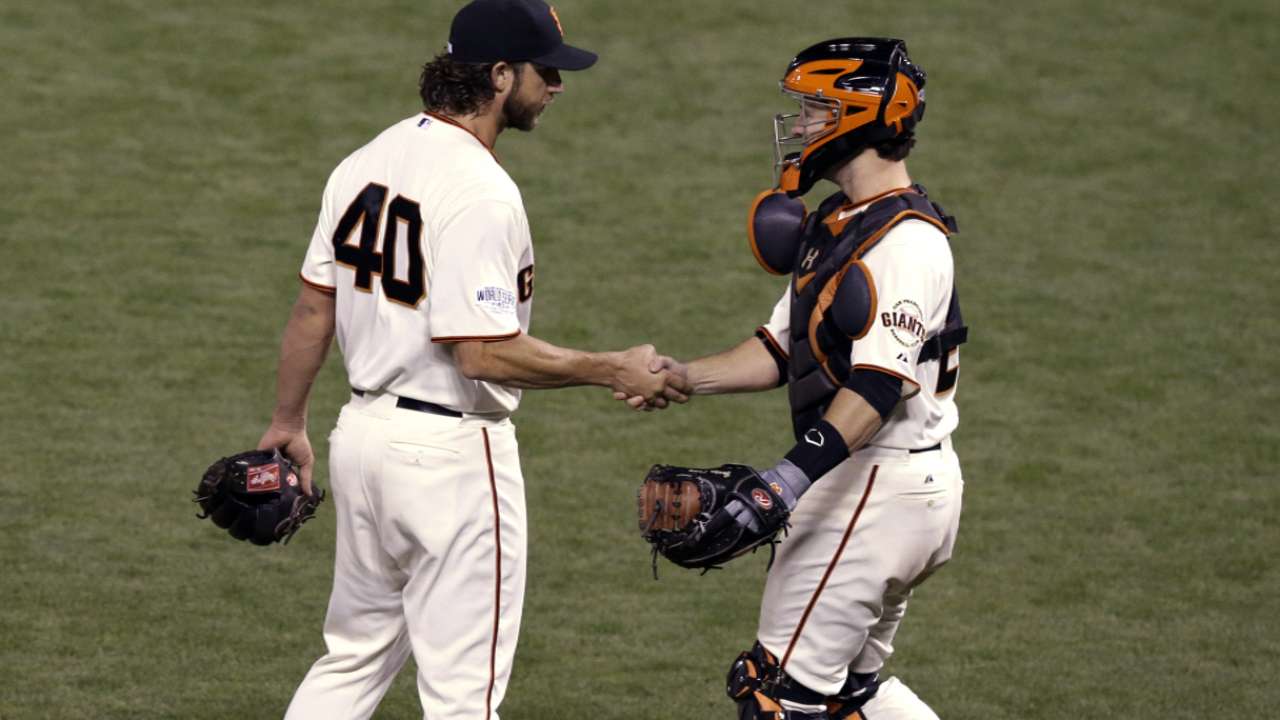 "He was just firing strikes," Royals first baseman Eric Hosmer said. "He's a tough guy to crack."
The Royals have not cracked him, and it may wind up costing them the Series. To win it, they'll have to pick a fight with someone less immortal.
"In the history of the game, there have been some great efforts," Bochy said. "But I haven't seen a better pitcher over the course of this postseason. It's been a pretty long one, and to do what he's done is pretty historic."
Anthony DiComo is a reporter for MLB.com. Follow him on Twitter @AnthonyDicomo. This story was not subject to the approval of Major League Baseball or its clubs.