Crawford exceeding his dreams with hometown Giants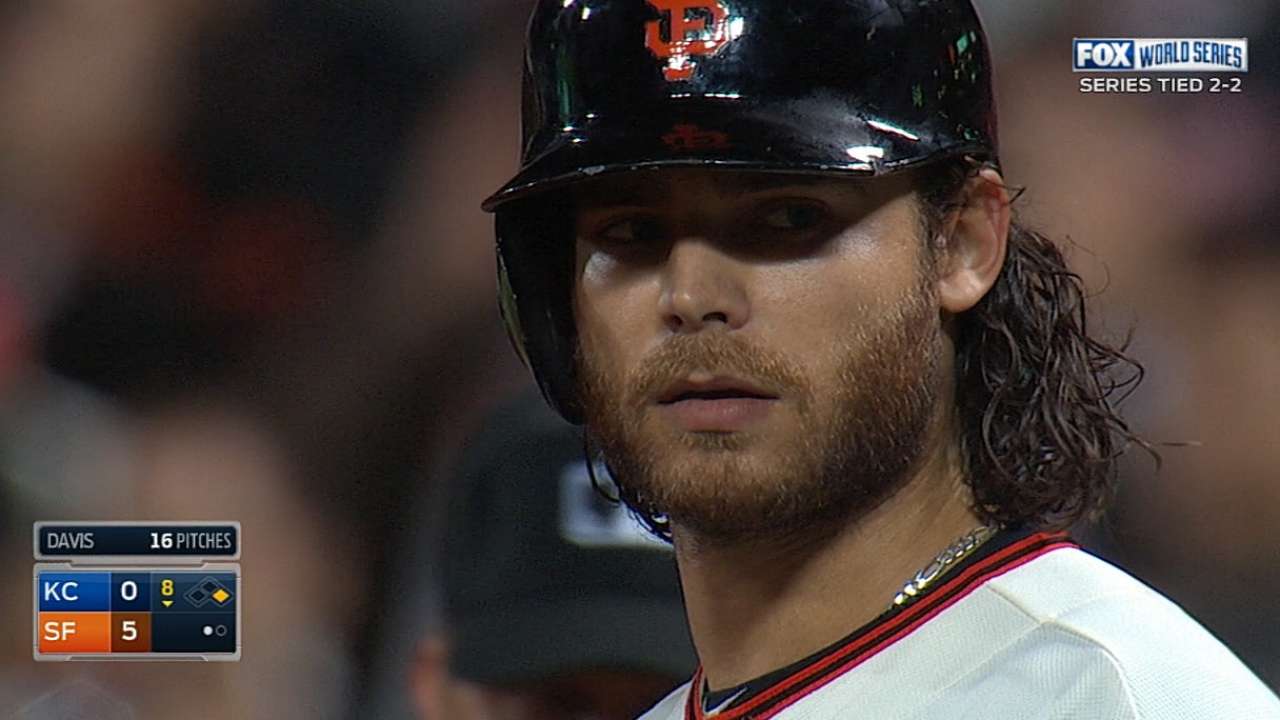 SAN FRANCISCO -- That adorable picture of Brandon Crawford as a 5-year-old taken at Candlestick Park in 1992 is just a distant memory now. As a kid, he grew up in the East Bay city of Pleasanton, closer to the Oakland Coliseum than to the defunct stadium where the Giants played until 1999.
Crawford, though, was a Giants fan through and through, and nowhere in his mind's eye did he ever conceive of driving home three runs in a World Series game. Crawford did just that in Game 5 on Sunday night at AT&T Park, with two dump singles and a grounder as the Giants defeated the Royals, 5-0, to take a 3-2 lead in the best-of-seven Series.
They can wrap up their third World Series title in five years with a win at Kauffman Stadium on either Tuesday or Wednesday night.
"It's something I probably didn't even imagine as a little kid," Crawford said. "I just wanted to get here and play on the Giants. But now being able to contribute to winning a World Series game is a dream come true."
As it turned out, Crawford's grounder to second with one out in the second inning was enough of a cushion for left-hander Madison Bumgarner, who pitched a four-hit shutout and struck out eight. Hunter Pence opened the inning with a single and went to second when Brandon Belt beat out a bunt.
Travis Ishikawa skied out to center, moving the runners each up a base. Evidently, Royals manager Ned Yost had so little concern about the .242-lifetime-hitting Crawford that he allowed starter James Shields to pitch to the Giants shortstop with first base open and Bumgarner on deck.
"I really wasn't thinking about it, I guess," Crawford said. "I was just trying to hit a ball up the middle because I saw the infielders back. You know, something that would get a run in."
Crawford promptly drove home Pence.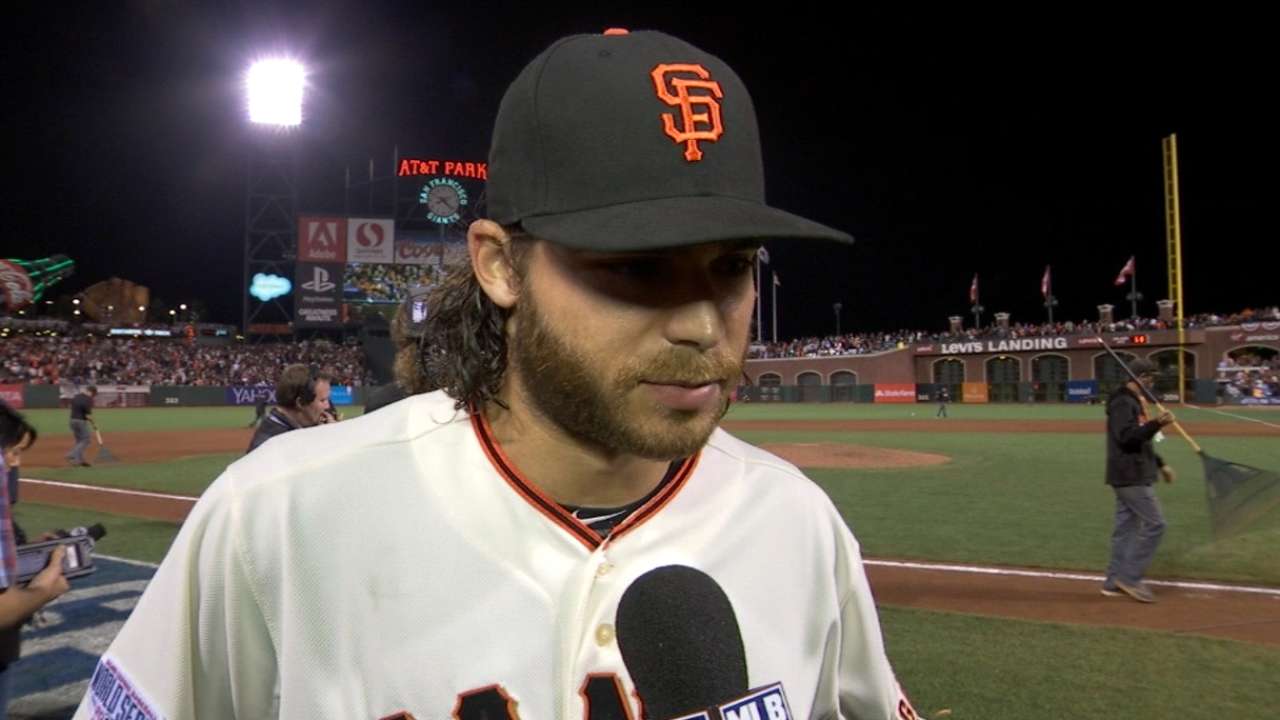 Crawford's singles weren't pretty, either, but they got the job done. One was a bloop into center with two out in the fourth that Jarrod Dyson bobbled, allowing Pablo Sandoval to score from second. Sandoval momentarily hesitated rounding third but scampered home when the ball bounced away from Dyson.
"It skipped up on me right there," Dyson said. "That's on me right there. I tried to get a read on it, but I wasn't able to make a play. It's a play I should make."
Finally, as the Giants added on three runs in the eighth, Crawford plated the final run when his flare dropped just short of left fielder Alex Gordon. Crawford is mostly known for his range and defense on the left side of the infield, but it all looked pretty in the box score: 2-for-4 with the three RBIs. He's hitting .333 in the Series.
"It doesn't matter to anybody, whether you're a defensive player or Buster [Posey]. Who cares?" Crawford said. "I don't think he would care if he got a few bloop singles and RBIs, either."
Crawford was born in Mountain View and spent his earliest years in Menlo Park, just about 10 miles south of Candlestick, before his family relocated to the East Bay. He says he's been going to Giants games since he was a year old, and there are pictures in the family archives to prove it. He's 27 now and was born in 1987, a year the Giants made the playoffs and held a 3-2 lead in the National League Championship Series after winning Game 5 at Candlestick. They dropped the last two games in St. Louis.
Crawford was 2 when the Giants were swept by the A's in the 1989 earthquake-delayed World Series and said he has no recollection of it. The next time the Giants went back to the Series was 2002. He was 15 and again the Giants led the Angels 3-2 after winning Game 5 at AT&T Park. The memories of how that ended are still vivid and painful.
"I think I went to a game, maybe a couple of them," Crawford recalled. "You're putting me on the spot here and I don't remember which one. I remember Game 6, though. We blew a 5-0 lead in the seventh inning and lost the World Series. That's why I know this is no given. We're one game closer, but it's going to be a battle. Hopefully this comes out better than it did back then. I'm not saying it just to say it. It's going to be a tough win to get."
Crawford was a Minor Leaguer in the Giants system when San Francisco defeated the Rangers in 2010 to win the World Series for the first time since 1954. He said he attended those home games. And he was the starting shortstop in 2012 when the Giants swept the Tigers, amassing three singles and one RBI in the entire Series.
Crawford said the backyard behind the house in Pleasanton was spacious and that's where some of his dreams were conjured.
"I imagined myself as all different sorts of players, usually Giants," Crawford said. "As a shortstop, Royce Clayton was my guy when I was a little kid."
The widely published picture at Candlestick was taken on Sept. 27, 1992. The Giants were ticketed for a possible move to Tampa Bay and fans thought it might be the team's last game in San Francisco. A sad little Brandon is pictured wearing his Giants cap in reverse and hanging on a rail above the lower-deck fence. Next to him is an orange placard that reads: "Mr. White, do what's right. Keep the Giants in SF." That referred to then-NL president Bill White.
The Giants, of course, stayed. And 22 years later, that child had a World Series game to dream of, playing for what's always been his favorite team.
Barry M. Bloom is a national reporter for MLB.com and writes an MLBlog, Boomskie on Baseball. This story was not subject to the approval of Major League Baseball or its clubs.