MadBum gives Giants' bullpen a much-needed rest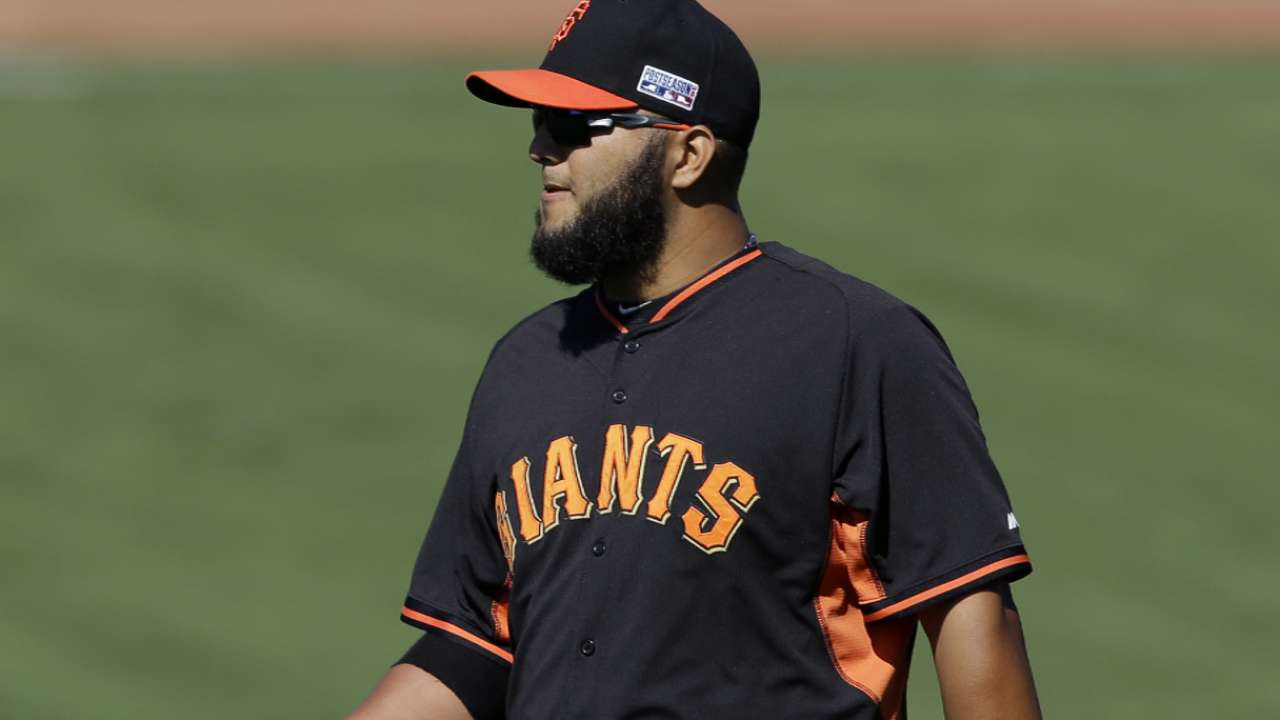 SAN FRANCISCO -- Madison Bumgarner handcuffed the Royals in Game 5 of the World Series on Sunday night at AT&T Park, tossing a shutout and putting his name at the top of the record books for lowest career ERA in the Fall Classic among qualifiers with a 0.29 mark in 31 innings.
Accomplishments like that are best appreciated in the future, and there will be plenty of time for that, but of more immediate benefit was what Bumgarner did for his team. Not only did he lead the Giants to a 5-0 win that put them one victory away from claiming their third World Series title in five years, he went the distance and provided some much-needed rest for a bullpen that has been worked hard this postseason.
Not only did San Francisco's relievers get Sunday off, but the Series now shifts to Kansas City and they'll have Monday off to travel before lacing up for Game 6 on Tuesday night.
"The guys are fine," Giants pitching coach Dave Righetti said of his bullpen during an in-game interview with the FOX booth. "But we're not rested. They're just ready to go."
This time of year, after the 162-game regular season and three rounds of the playoffs, no reliever is as fresh as he was months ago, but when asked by their manager they will almost always tell him they are good to go.
"I think he said it great," reliever Jeremy Affeldt said of Righetti's comments. "Because this time of year that's kind of where we're at. They're in the same position, so anytime you can have a starter go out and do what he did, that's just a bonus for us. Anytime you can rest a bullpen this time of year, it's a pretty cool deal. Bum, that was just a well-pitched game by him."
The Giants' bullpen has thrown 14 2/3 innings during the World Series, almost half of which came in Game 4 on Saturday when starter Ryan Vogelsong was lifted in the third.
Manager Bruce Bochy is aware that a full two days off could pay huge dividends for his relievers.
"We would have been ready if needed, but I think 'Boch' is going to use every advantage he can," Affeldt said. "If he can give us a couple days he's going to give us a couple of days. And what Bum afforded us is we can take today and tomorrow, so it's great."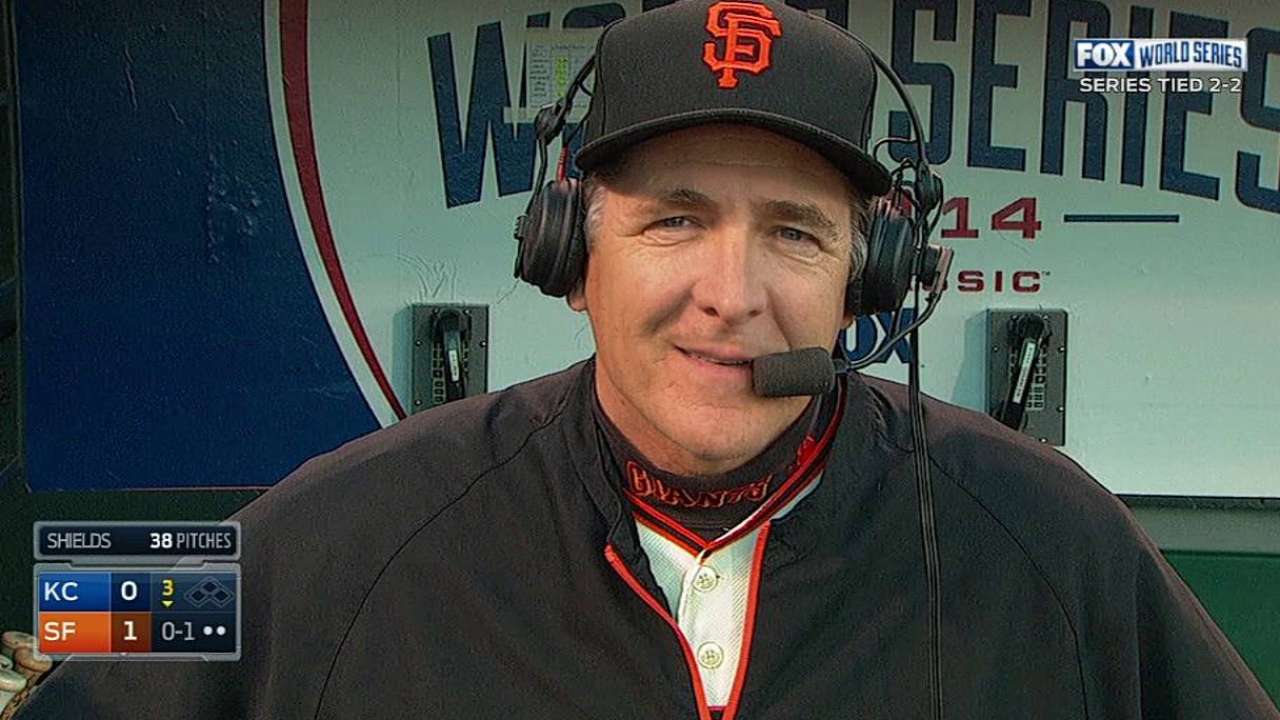 The Royals' bullpen has gotten plenty of attention this Series, especially after its outstanding performance in Games 2 and 3, but the Giants' relievers have combined for a 1.84 ERA with a 0.89 WHIP.
Catcher Buster Posey sees firsthand what the relievers go through, and he appreciates the workload they've had of late.
"Yeah, it's big," Posey said of Bumgarner going the distance. "[Sergio] Romo has worked a lot as of late. Affeldt has worked a lot, [Yusmeiro] Petit, with the three innings [Saturday]. So it's definitely nice that they were able to get a little break."
Jake Peavy will get the start for the Giants in Game 6 and Tim Hudson is scheduled to go Wednesday night if a Game 7 is necessary.
Peavy and Hudson took losses in Games 2 and 3, respectively, with neither able to get out of the sixth inning.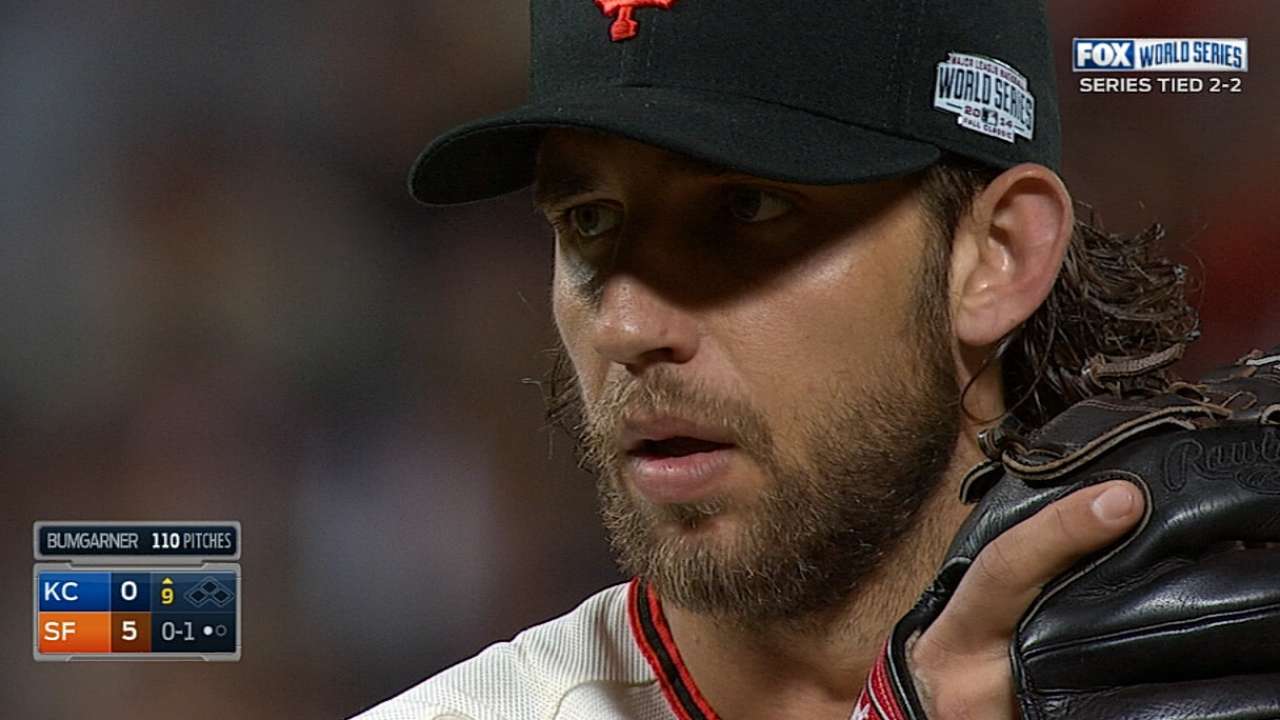 Bochy now has a full complement of arms at his disposal to try to get one more victory. Should either Peavy or Hudson get into early trouble, look for Bochy to have a quick hook.
Petit, who may have saved the Series for the Giants with his three shutout innings and a victory in Game 4, would likely be the first option, and Vogelsong will be available if needed.
Then there's this truly scary thought for the Royals: Bumgarner says he will be available in relief for Game 7.
Steve Gilbert is a reporter for MLB.com. Read his blog, Inside the D-backs, and follow him on Twitter @SteveGilbertMLB. This story was not subject to the approval of Major League Baseball or its clubs.