Oct. 26: Madison Bumgarner postgame interview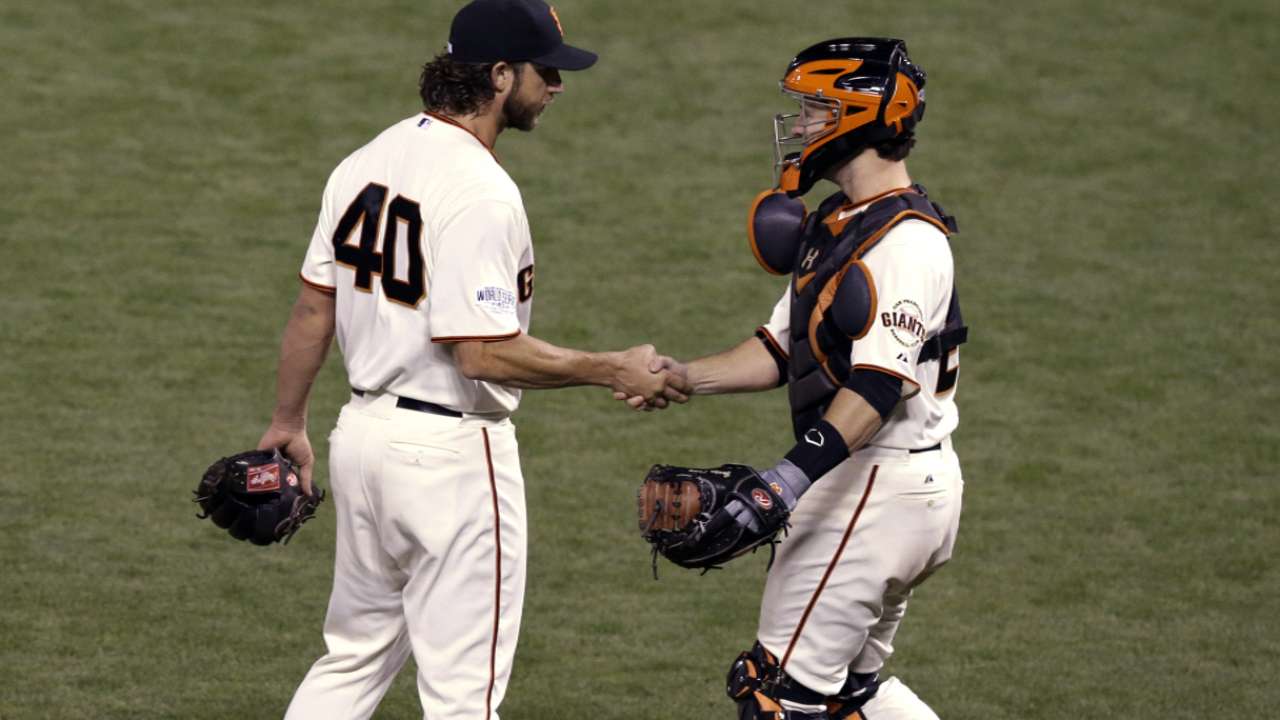 Q. Since the playoffs expanded in 1969 you're only the fourth pitcher to now throw multiple shutouts in same postseason. The others being Hershiser, Beckett and Randy Johnson. When you hear your name with those names, what's that mean to you?
MADISON BUMGARNER: Obviously, that's pretty special, and it's very humbling, and just blessed to have an opportunity to do that. But that's surprising. I wouldn't have thought that.
Q. There was some joking around that you had locked Bochy in the bathroom so that he wouldn't talk to you about whether you'd not pitch the 9th or not. Were you sure you were going to pitch the 9th? How did you feel in those last ten pitches that you threw?
MADISON BUMGARNER: I felt great. I felt great all night. Really this time of year it's not too hard to go out there and feel good. That's usually not the problem. When I come in after the 8th, with Gordon coming up and then Hosmer, I figured I would get a shot. And I told him I felt good, and he asked me, and I said that I was good to go.
And the three runs we got there, that really helped give a little bit of cushion.
Q. I know it just ended now, but how many pitches do you think realistically you could give if this thing went to Game 7?
MADISON BUMGARNER: I mean, it's hard to say, but I'm not a big pitch count guy. So as long as you keep getting outs and you feel good, you should stay out there.
Q. Did you hear the "MVP" chants when you were hitting in the 9th inning on the mound?
MADISON BUMGARNER: Yeah, I did. That was pretty cool, actually. It was really neat to hear.
Q. Going back to your Game 7 availability, what is your usual routine between starts? Like what will you do between now and Wednesday in terms of throwing and how many pitches?
MADISON BUMGARNER: It just depends on how you feel. I don't really have a set routine that I do. I just kind of go by feel and try to adjust for what we need. More often than not, that's usually ‑‑ actually, Game 6 would be a bullpen day, so it would be the third day, so you've got two days off. I usually throw bullpen on the second or third day, either one.
Q. So you plan to do that?
MADISON BUMGARNER: Do I plan to throw a bullpen? No.
Q. Madison, thinking back on some of those historical names that I mentioned like Johnson and Beckett. As you watched those guys as a kid growing up in the month of October, and you see these aces that don't just pitch great for 7 or 8, they finish games. Did you imagine those types of starts for yourself as you got to be a professional?
MADISON BUMGARNER: I mean, that's obviously tough to do, but it's something that ‑‑ it's what you set your sights for before you go out there. You want to finish the game. That is the ultimate goal is to go out and give them innings. And that's the most important thing is throw innings. I feel like if you throw a lot of innings, all the other stuff will take care of itself.
Q. I know sometimes the toughest thing is to talk about yourself after the game rather than what you do on the mound. Can you sort of take a step back and talk about what this meant to you as a pitcher, as a Giant in this stage at AT&T Park to come through with such a phenomenal performance?
MADISON BUMGARNER: I mean, you know, I feel like that's something that's tough to say right now. I'm just happy we won. That was a big game for us being tied it up 2‑2. So going back into Kansas City with two games, it's a whole lot better that we have to win one now instead of having to win two. That was a big game for us.
Q. And I tried to ask you this after Game 1, you sort of deferred. Did you feel that old cliché, were you in a zone tonight? Did you know you had this great stuff tonight? And what did it feel like to be in control on the mound?
MADISON BUMGARNER: I really felt like I did most of the postseason. I've been feeling pretty good and been able to work both sides of the plate. That is the key is being able to throw strikes on both sides and getting ahead of guys, moving the ball around, staying out of the hitter's counts and that's it.