Oct. 26 Bruce Bochy interview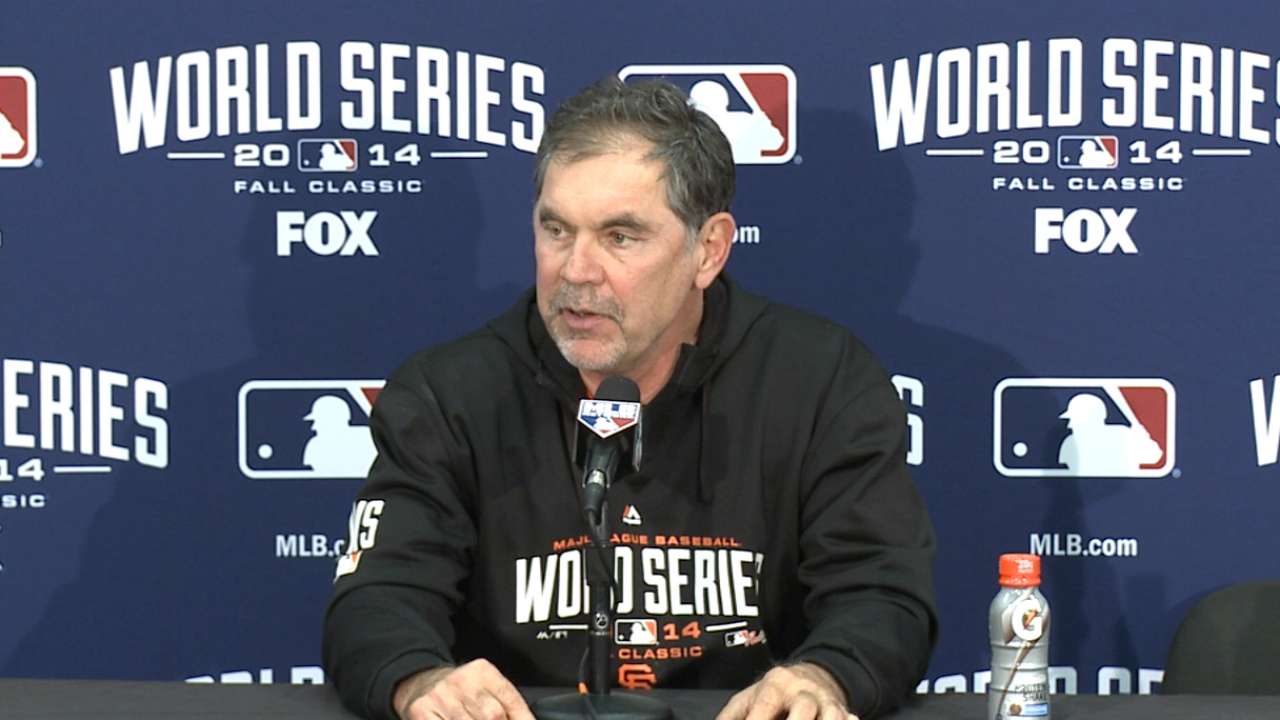 Q. Could you tell Madison had it going right away? And what was your thought process in the 8th and 9th when you had some guys up? Were you just deciding you were going to give this game to him and let him take it over in the 9th?
BRUCE BOCHY: You could tell he was on early in the game. He didn't have any stressful innings. Had great stuff in the 8th. We are going to cover him if he starts getting some long at‑bats, and the same thing in the 9th. He got two quick outs. He was facing his last hitter though. That's a long at‑bat there.
But this guy was right on tonight. He was strong all night. When this guy is on, it's fun to watch. He was hitting spots, had great stuff. I just felt like that's his game. This five‑run lead, sure, I thought about maybe taking him out, but he was throwing too good. Game's not over. So I would have felt worse if I had taken him out and something would have happened, when you've got a guy out there rolling the way he was.
Q. Belt's bunt in the second, did you call for that did he do that on his own?
BRUCE BOCHY: It's something we talked about. They put a shift on you, and they're going to give you the bunt, take it. He was working on it. It's the first one he's gotten down. He laid a beauty down there.
So he's a guy they shift on. The best way to beat that is lay a bunt down occasionally, and he did it tonight.
Q. Can you talk about Crawford's at‑bats tonight, and how important he's been for you in the 8th hole tonight and this postseason.
BRUCE BOCHY: Crawford had quite a game. He had a nice, productive out. Two strikes on him and he battled to get the ball in play and put a run across the board. Next at‑bat, two strikes, and he got the wood on the bat to get a big base hit there at the end of the game.
Back end of our order, what a great job they did. Ishi, he made a productive out and he swung it well and Perez, they did all the damage. Because their guy was throwing very well -- we needed Bum tonight on top of his game because Shields was throwing the ball very well, and it was a tight ballgame. We broke it open there a little bit late.
Q. You have a fully rested pen going into Kansas City. How much of a luxury is that? And just a little bit more on Bumgarner: Did he even exceed your expectations this postseason?
BRUCE BOCHY: It's good to rest some guys, especially Romo, Affeldt. I mean, we've been working them pretty hard, and we knew that Bum, he was on his normal rest, so we could let him go, and he did exactly what we were hoping.
Am I surprised? No. I mean, this guy is a special kid, talent. We saw this in 2010. He's pitched so many big games for us. In fact, I would have to say one of the biggest games was in Pittsburgh. He came through there for us. No, I'm not surprised at all what he does.
Q. How did you hear about Oscar Taveras? And what do you remember about him?
BRUCE BOCHY: You know, I just heard that. Man, just breaks your heart. Young kid, 22 years old, a great talent. I just heard it about ten minutes ago. Car accident. You know, it's a shame that this has happened. This kid had a great future ahead of him. He hit a big home run against us, and it's a loss for his family, the Cardinals, baseball because this kid looked like he was a special talent and was going to have a great career. My thoughts go out to his family and everybody that knew him.
I know Juan Perez was pretty close with him, and I guess he heard during the game.
Q. Two things: Would Bumgarner be available to you in Game 7 out of the pen, if you need him? And if so, did that at least pass through your mind at all, should I send him out in the 9th once the game gets blown open or should I save some pitches so he would be available then?
BRUCE BOCHY: He only threw ten more pitches in the last inning. Like I said, he wasn't laboring.
Would he be available if that situation came up? Yeah. He'd have two days off, and he's a strong kid. We wouldn't mind pushing him one time, but the talk about doing it twice, we did have some concern.
He's going to make himself available, I know. He's already done that the whole postseason after a day off, that he could help us in the bullpen.
Q. Just a quick follow‑up, is he possibly available for six then for a batter or two?
BRUCE BOCHY: I doubt I would do that. He's going to tell me he's fine. That's his bullpen day. But you never know. It's all hands on deck these next two games, but ideally, sure, you'd like to give him a couple days.
Q. And how do you approach these next two? Do you think the pressure is all on them? And do you just try to get that early lead and see what happens from there?
BRUCE BOCHY: Well, I think we play the same way we've been playing every game. That's go out there and do all we can to get some runs. You're not going to change your style of play because you have two more games left or maybe one more game. Hopefully your pitcher is on his game and we find a way to get some runs.
We'll see a very good pitcher or two good pitchers there. So there is a lot of baseball left. We know it's not over until you get that fourth game. These guys aren't going to change. They're going to go out there and grind it out.
Q. You've been to a bunch of World Series and you've seen a lot. Is he the best World Series pitcher you've ever seen?
BRUCE BOCHY: Well, for me, yeah, I think in my World Series he is. In the history of the game there have been some great efforts. Guys that have gone three games and things like that. But I haven't seen a better pitcher over the course of this postseason, it's been a pretty long one, and to do what he's done is pretty historic, I think.
Q. Do you stick with the plan and go with Peavy in Game 6, then Hudson Game 7?
BRUCE BOCHY: Yeah.
Q. You just mentioned Perez's friendship with Taveras. Did you check in with Perez?
BRUCE BOCHY: No, I didn't know during the game. I just found out, so I haven't talked to Juan.
Like I said, it just breaks your heart when something like this happens. I'm sure he's taking it hard, but I haven't had a chance to speak with him.
Q. In light of that, how impressed were you with Perez's performance given what had to be on his mind?
BRUCE BOCHY: I didn't know he knew because I didn't know. But I mean, what a game he gave us. That's a tough pitcher he was facing. Great at‑bat, and you're hoping to get a bigger cushion there, and he certainly gave us that. And Craw added on.
But this kid has just gotten better and better. With playing time he just seems more confident, and he's going to be a nice player. So he and Ishi, I think complement each other so well.
Q. As you mentioned, Madison will tell you he's ready to go no matter what, but can you give us insights on what you'll be looking at other than to say "he's ready" to make a decision of what might happen in Game 7 with him?
BRUCE BOCHY: Well, I can answer that better if we get to that point. But I have a pretty good feeling for Madison and all these starters. But if they get a couple days off, they're going to say they're available in a game like that.