Royals' winning formula scrambled in two straight losses
Bullpen doesn't get job done during Games 4 and 5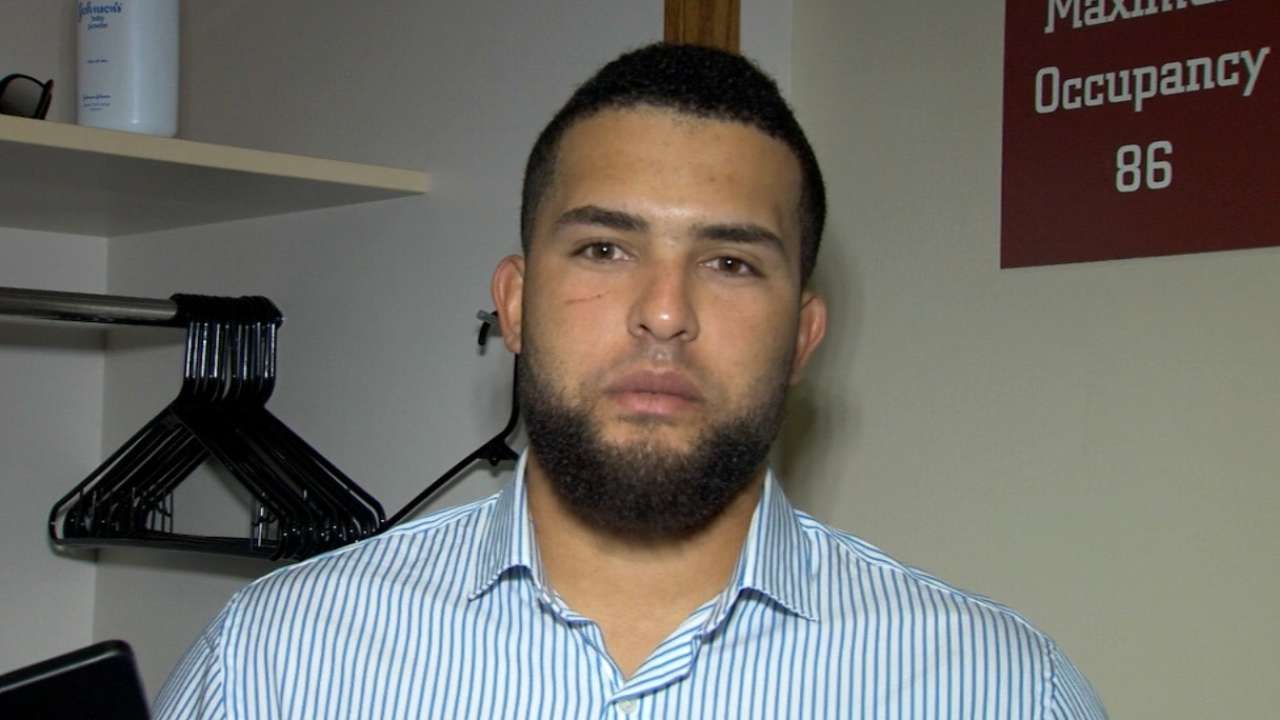 SAN FRANCISCO -- The Royals' well-documented blueprint to success this postseason has been simple: just enough from their starting pitchers combined with just enough offense before it is time to turn the game over to the bullpen, where a three-headed monster lives. A three-run homer or a starting pitcher completing the sixth inning are welcomed luxuries.
But cracks have started to form in that plan with back-to-back losses in the World Series, including dropping Game 5, 5-0, on Sunday night. The vaunted Kansas City bullpen that once seemed invincible has allowed 11 runs during the past two games. They had been charged with five runs during their first 11 postseason games.
Game 4 got out of reach before Kelvin Herrera, Wade Davis or Greg Holland ever got into the game and in their absence, the combined effort of Jason Frasor, Danny Duffy, Brandon Finnegan and Tim Collins yielded eight runs.
After James Shields exited Game 5 after six innings with the Royals trailing, 2-0, Herrera and Davis were unable to deliver their usual shutdown performance to give their offense a chance to rally, although it would have hardly mattered the way Madison Bumgarner was pitching.
The Giants scoring eight runs against the Royals' middle relievers is impressive, but three runs against Herrera and Davis on Sunday night was shocking.
"We know sometimes we're going to give up runs," Herrera said. "So it's not weird, we're just not doing our job. I gave up a couple runs today, but it doesn't change my mind. Tuesday, I'm going to go in with full confidence if they bring me in."
Herrera tossed a scoreless seventh inning before he was called on to pitch the eighth. After throwing two innings in Games 2 and 3, Royals manager Ned Yost seemed hesitant to allow him to pitch in Game 4, and would have certainly not used him for more than one inning. Yost, however, made a double-switch to ensure Herrera could throw an extra frame and would not have to be pinch-hit for.
Herrera said after the game that his arm was fine, but revealed he was battling a stomach flu and spent the day drinking water to combat the illness.
"But that's mental," he said. "My arm is OK."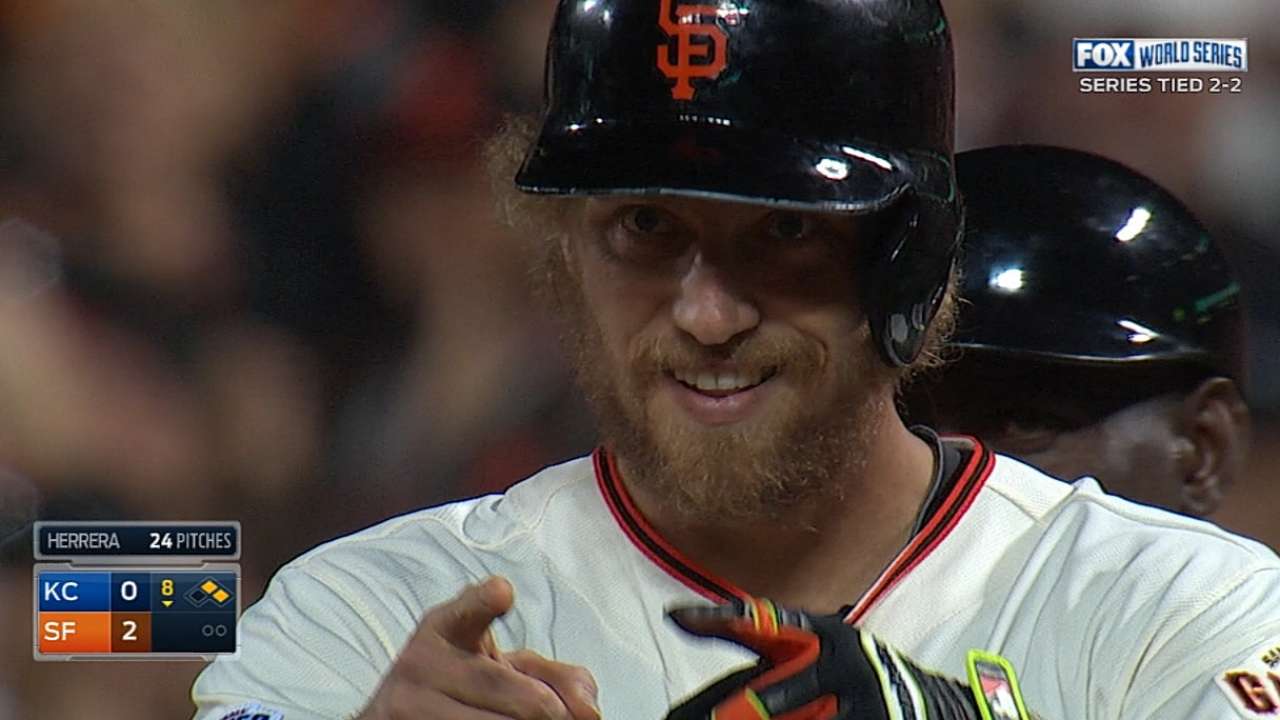 He was not sharp, however, in the eighth. Pablo Sandoval and Hunter Pence laced a pair of back-to-back singles before Davis was called on to help clean up the mess.
Davis promptly struck out Brandon Belt, before jumping ahead, 0-2, to the normally light-hitting Juan Perez. Perez battled back to gain a 3-2 advantage and Davis -- wanting to avoid a walk -- delivered a fastball over the plate that Perez rocked for a two-run double.
Davis allowing an extra-base hit is a rarity. He faced 279 batters and just five times was tagged for an extra-base hit during the regular season. And he came within inches of surrendering his first home run in the regular season or postseason.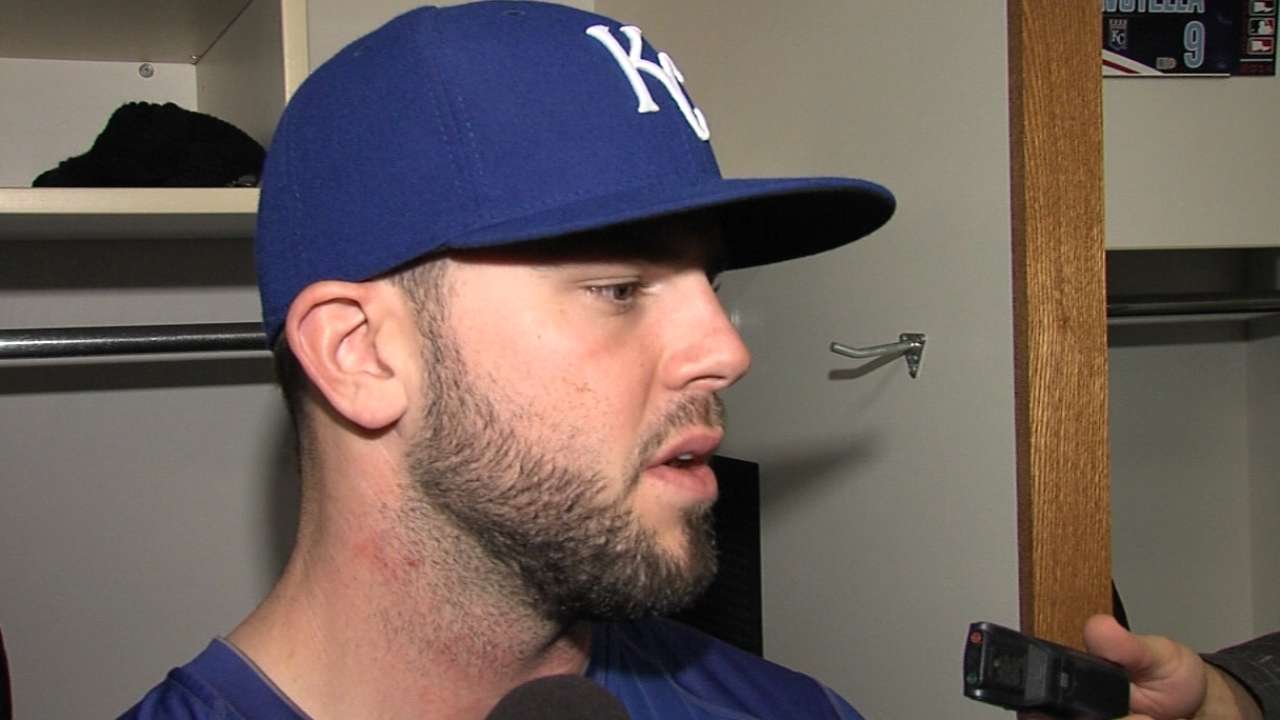 "I just put myself in a count that I had to throw a strike there," Davis said. "Made a bad pitch a little bit up and he put a good swing on it."
The last two games could be a blip on the radar: the Royals' bullpen is still yet to surrender a lead and Kansas City has yet to lose this postseason when leading after six innings.
The Royals' game plan played out to near perfection in Game 3 and they took a 2-1 lead in the Series. But after losing back-to-back games for the first time since Sept. 19-20, that plan does not seem so unstoppable.
"Somebody was going to come out of this game up one game, 3-2," Davis said. "They happened to get the nod on that one and we're going to have to go back and battle."
Jamal Collier is an associate reporter for MLB.com. . This story was not subject to the approval of Major League Baseball or its clubs.