Royals' defense vulnerable in loss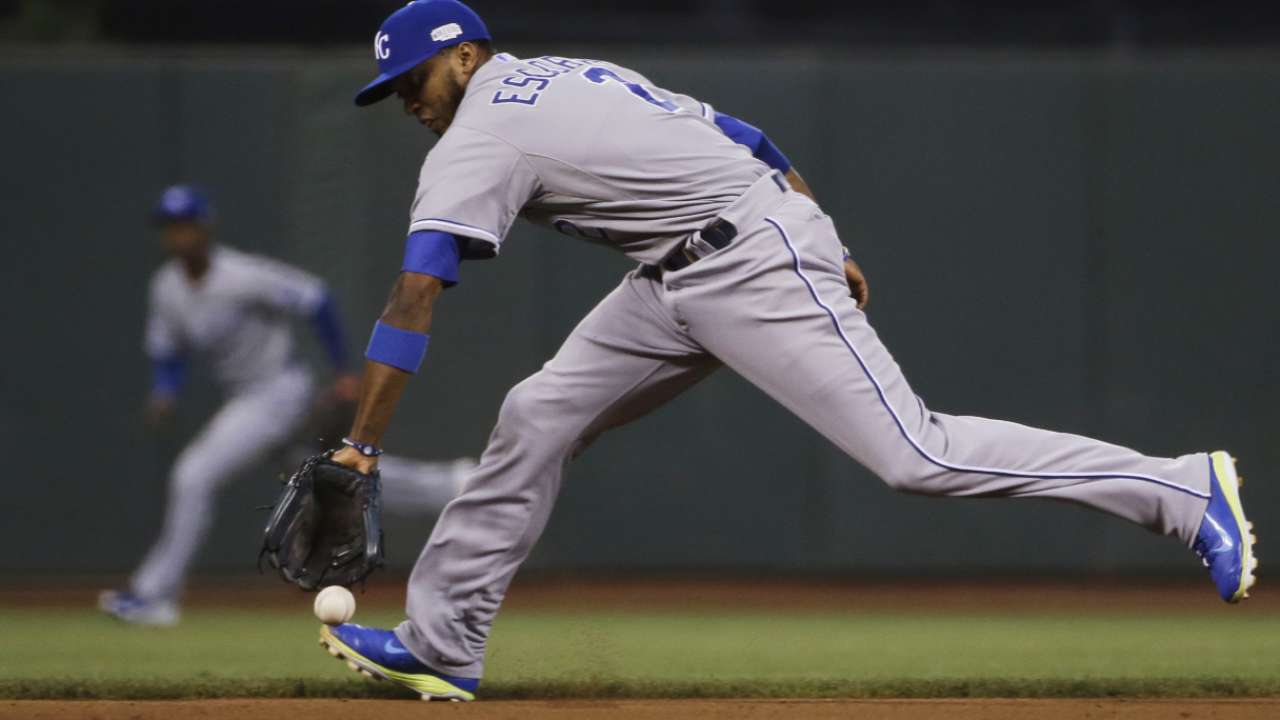 SAN FRANCISCO -- Repeatedly over the course of the postseason, defense has been a standout factor in setting the Royals apart from their opponents. But in a pivotal Game 5 of the World Series on Sunday night, the Royals' inability to come up with big plays at critical junctures quickly led to what proved to be an insurmountable deficit against the Giants and ace Madison Bumgarner.
Ground balls that got past shortstop Alcides Escobar -- a Gold Glove finalist -- in the second and fourth innings proved to be difference-makers as San Francisco manufactured runs against Royals starter James Shields. Meanwhile, the Royals couldn't get anything going against Bumgarner and those missed opportunities in the field loomed larger and larger until the Giants broke things open with three eighth-inning runs en route to a 5-0 victory at AT&T Park, a win that put San Francisco ahead 3-2 in the Series.
Until that point, ground-ball singles by Hunter Pence in the second inning and left fielder Travis Ishikawa in the fourth, both of which barely eluded the glove of Escobar, led directly to the game's only two runs. Escobar also made a throwing error in the eighth that led to an unearned run. Defense, which has been a Royals strength, let them down and hindered Shields in his attempt to match Bumgarner's performance.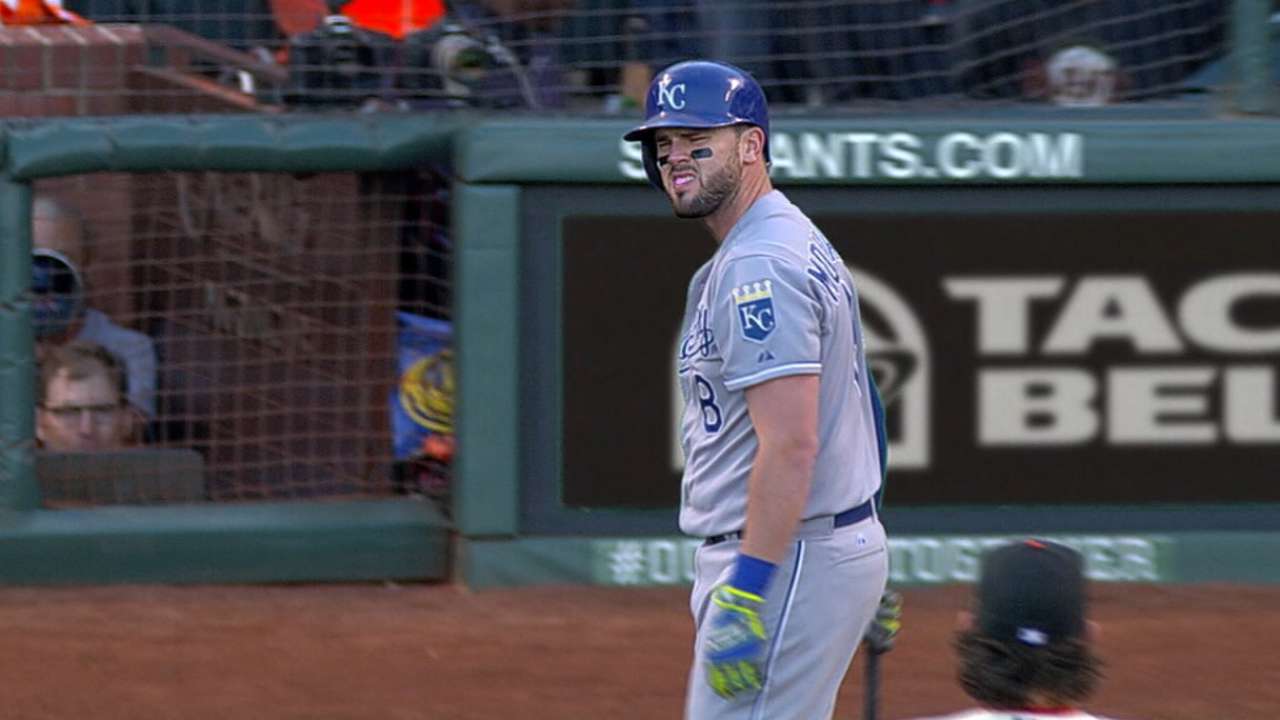 "If he catches those balls, it's probably 0-0 going into the eighth inning," said Royals manager Ned Yost. "We're used to seeing Escy make those plays."
Pence led off the second with a grounder into the hole against Royals starter James Shields. Escobar went to his right and reached down to backhand the ball, but it rolled just past his glove.
Escobar said he didn't think he had a realistic chance of gloving that ball.
"I was playing a little bit to the middle and that ball beat me," he said. "Maybe I could have gotten that one, but it's not easy. Every ground ball that guys hits is like a hundred miles an hour."
Added Yost: "That ball Pence hit, he hit it so hard it kind of skipped on him and shot by."
Pence was credited with a single and ended up scoring San Francisco's first run. First baseman Brandon Belt was up next and countered the defensive shift by pushing a bunt toward Escobar, surprising the shortstop enough to beat it out for a hit.
"That guy, he never bunts. But he's trying to bunt and any opportunity you can have, you take it," Escobar said, shrugging.
Ishikawa flied out deep to center, allowing both runners to advance, and Pence came home when shortstop Brandon Crawford grounded out to second.
The second play occurred in the fourth with Pablo Sandoval on first and two outs. Ishikawa hit a grounder up the middle that just snuck under Escobar's glove, keeping the inning alive, which turned out to be significant when Crawford followed with a single to drive Sandoval home.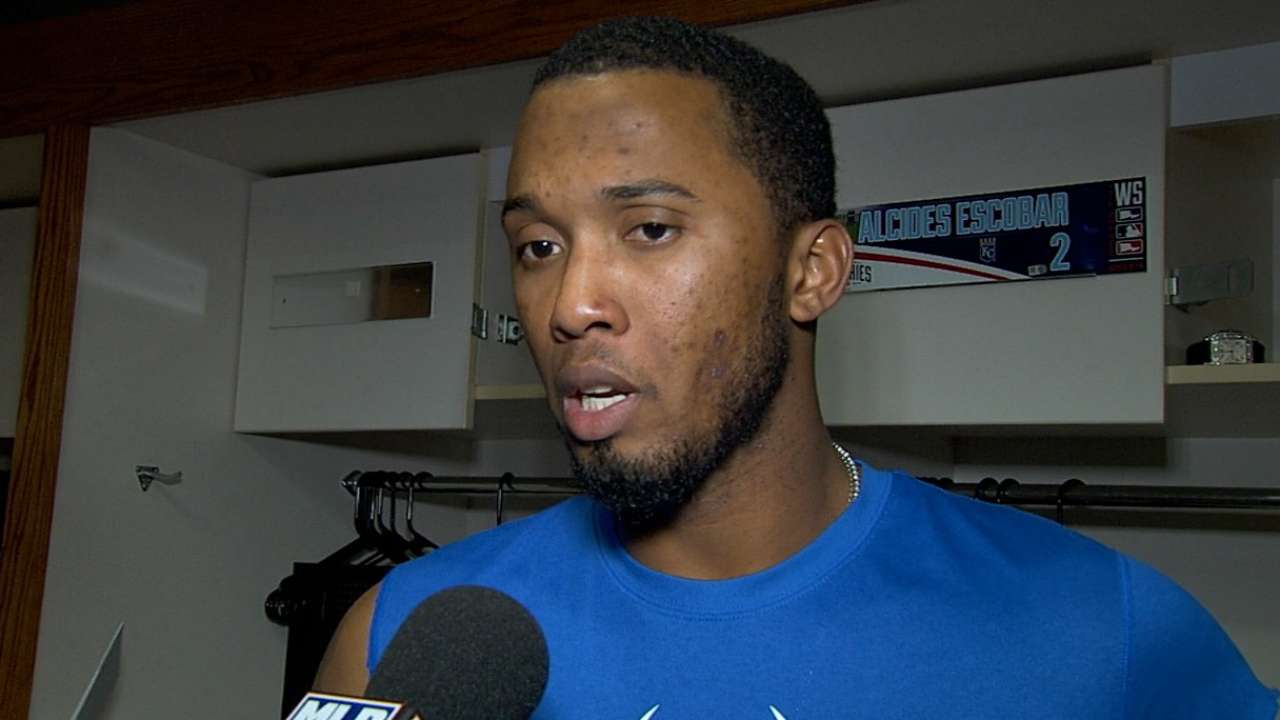 "I've made that play before. I don't know what happened," Escobar said.
Said Yost: "That kind of hit bounded up on him a little bit. Both were very, very difficult plays."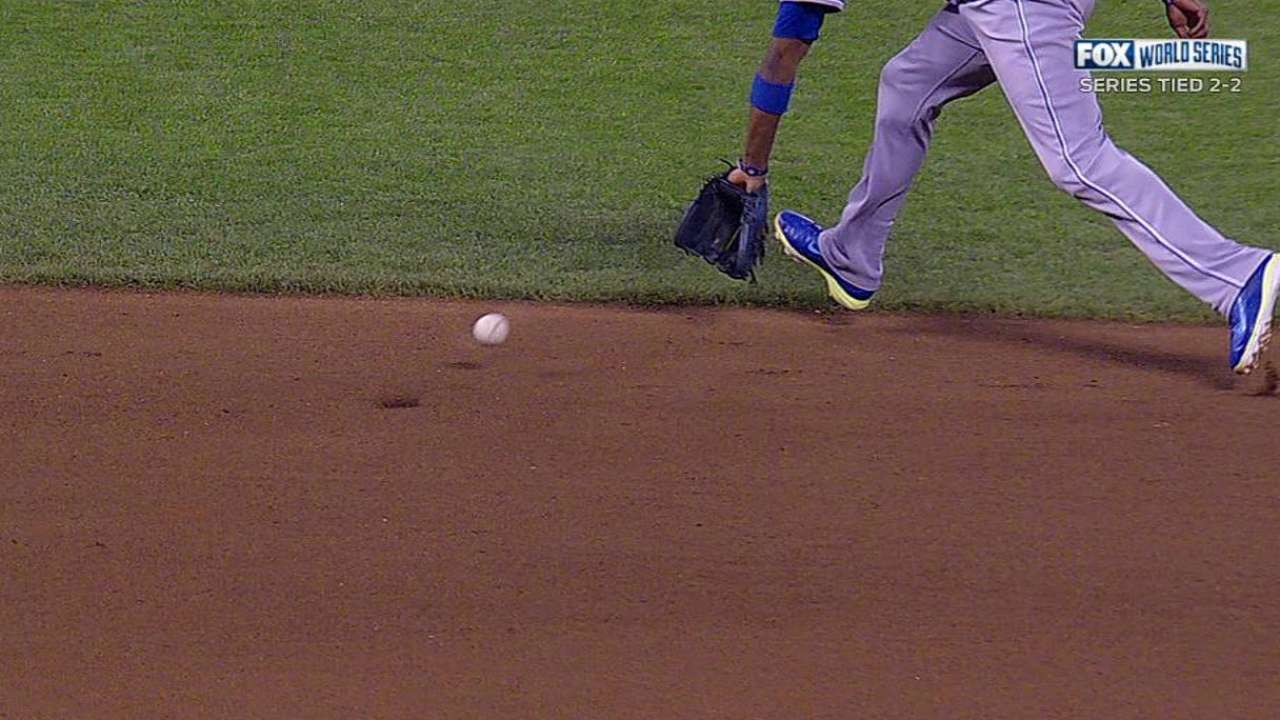 It also didn't help that center fielder Jarrod Dyson was unable to field Crawford's single cleanly after it dropped in front of him. Sandoval briefly started to hold up as he rounded third, then was waved home by coach Tim Flannery after the miscue. But Dyson was not charged with an error and Crawford was credited with an RBI.
With one out and runners on first and second in the eighth, Juan Perez doubled off the wall in center. Escobar's throw to the plate got past catcher Salvador Perez, allowing Perez to advance to third. He scored the unearned run when Crawford followed with a single to left.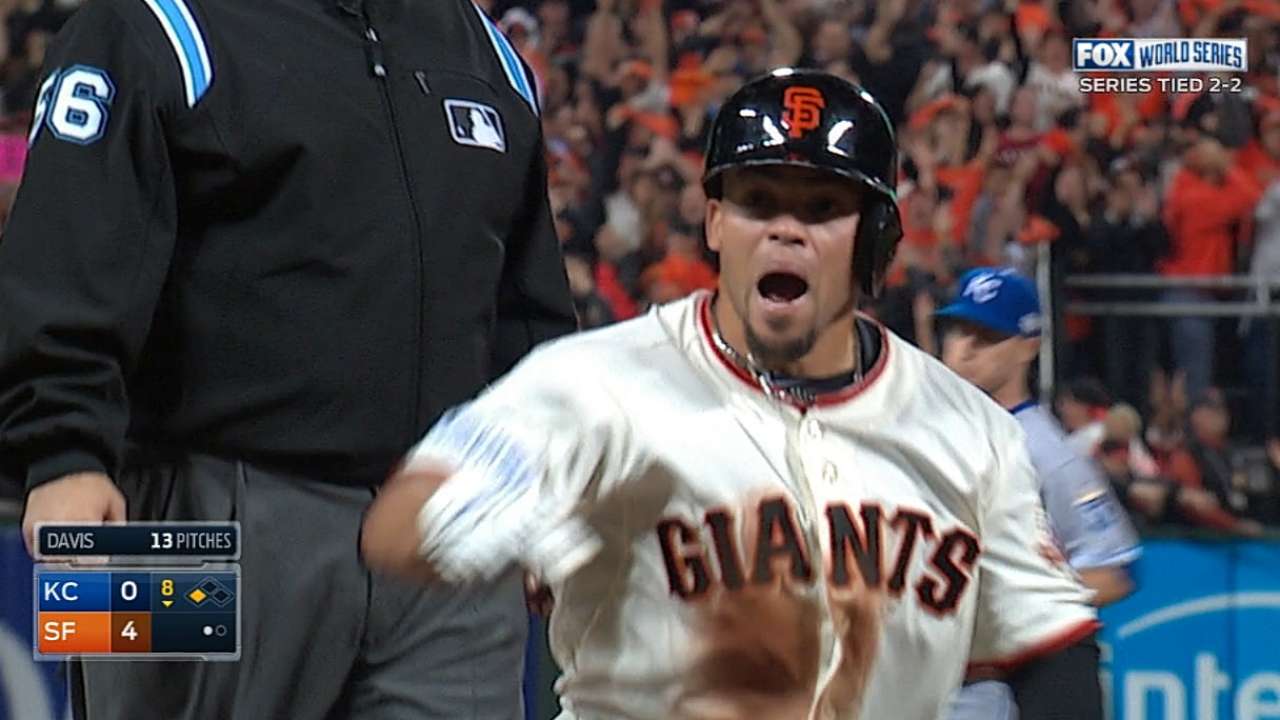 As unusual as it is to see Escobar involved in so many defensive lapses, the Royals were quick to chalk it up as just another chapter in what has so far been an unpredictable, topsy-turvy series.
"You can't predict anything in baseball," said third baseman Mike Moustakas. "This game's too crazy. There are too many things that happen that you can't explain."
Added left fielder Alex Gordon: "They were tough plays. You can't make every play. That's part of baseball. Sometimes you make the plays, sometimes you don't."
Escobar didn't make a couple plays on Sunday and said he'll put it all behind him and be ready when play resumes Tuesday night at Kauffman Stadium.
"That's baseball, man. That happens in baseball," he said. "We [were up] two and one and now it's three and two. It changes directions. You just have to continue to work hard. We're going back to Kansas City and that's great for us."
Paul Hagen is a reporter for MLB.com. This story was not subject to the approval of Major League Baseball or its clubs.