MLB.com Columnist
Richard Justice
Full of promise, Taveras gone way too soon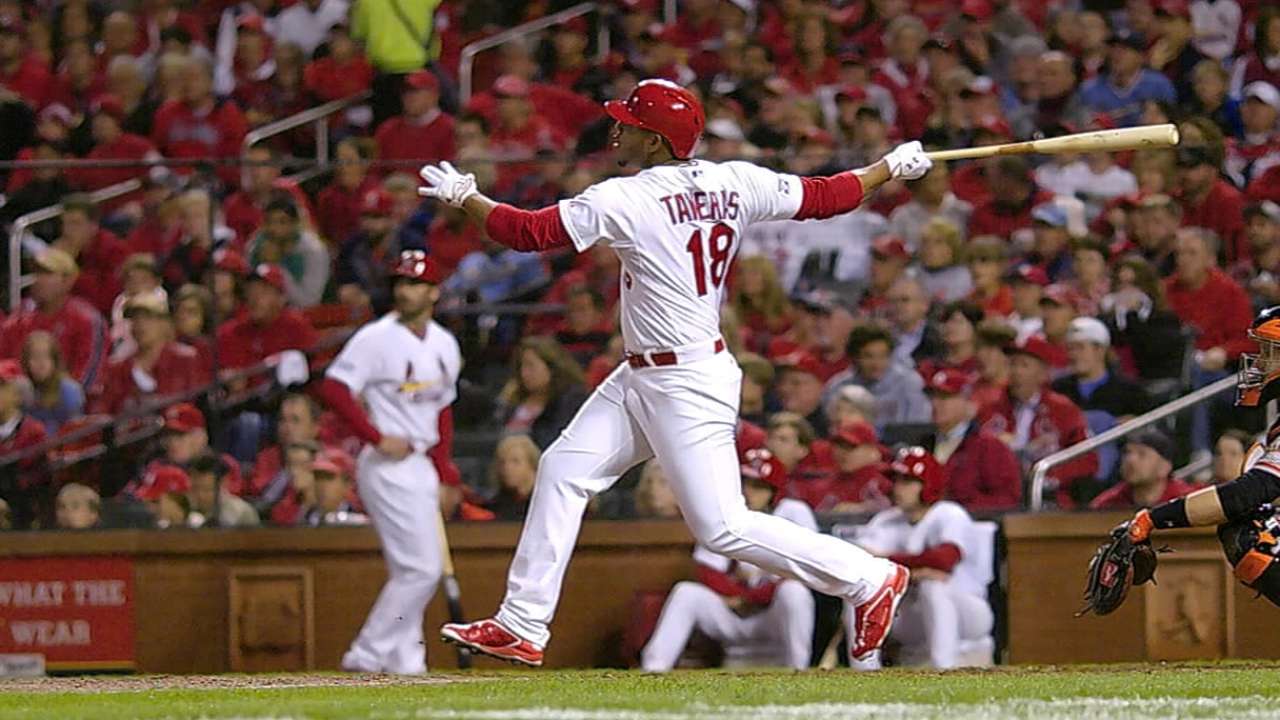 The Cardinals loved him from the moment they laid eyes on him. Oscar Taveras was just a teenager then. Already, though, the Cardinals thought he had a chance to be special. That's the incomprehensible sadness in all of this.
Taveras and his girlfriend were killed in a car accident near his home in the Dominican Republic on Sunday. He was 22.
Here's the thing to know about kids like this. Scouts see them, not for what they are, but what they can be. To look at a kid at 15 and 16 and try to envision him as a professional is a magical skill, an inexact science.
They thought he had a chance, that he might just have once-a-generation talent. He had so much to learn, but in terms of skills and instincts, he had so many skills.
One scout compared him to Albert Pujols, the highest possible compliment for a St. Louis Cardinal. Others saw a young Vladimir Guerrero, who may have hit the ball harder more consistently than any player ever has. Taveras had some of Guerrero's rocket throwing arm, too.
For these scouts, these men who've seen thousands and thousands of players, these men who can seemingly find flaws at 35,000 feet, for them to compare Taveras to two of the all-time greats tells you where they figured his career might have headed.
There was something else the Cardinals loved about Taveras. That was his heart, his playfulness, his decency. He was gifted beyond words, and everyone could see that.
But as the Cardinals got to know him and his family, as they learned more and more about him, they became convinced he was the kind of person they wanted in their organization.
Throughout baseball, the Cardinals stand for something. They win games. They're good citizens of their community. They also believe it's important to have the kinds of players who are easy to root for.
Players like Adam Wainwright and Matt Carpenter, players like Pujols and Chris Carpenter, they represent the Cardinals in a larger way. And the Cardinals believed that 17-year-old Oscar Taveras could be one of those guys.
There was a point in the negotiations when the Cardinals thought they'd gone as far as they could. They were confident that Taveras, then 17, would come around, that he understood this was an opportunity to fulfill a lifelong dream.
So the Cardinals told themselves they were going to hold firm for a few days. And then Jeff Luhnow, the man in charge of scouting for the Cardinals at the time, bolted awake in the middle of the night with a knot in his stomach.
He had these visions of Taveras playing for the Yankees or Red Sox or Braves, for him wearing any other uniform than the Cardinals. At that point, Luhnow decided the negotiations had gone on long enough.
"I picked up the phone and told our guy in the Dominican to get over to the the house first thing in the morning and give Oscar and his family what they wanted," Luhnow said. "I just couldn't risk losing Oscar."
It would be 7 1/2 years before Taveras, then 21, stepped into the batter's box at Busch Stadium. In that time, he pretty much fulfilled every promise the Cardinals had for him.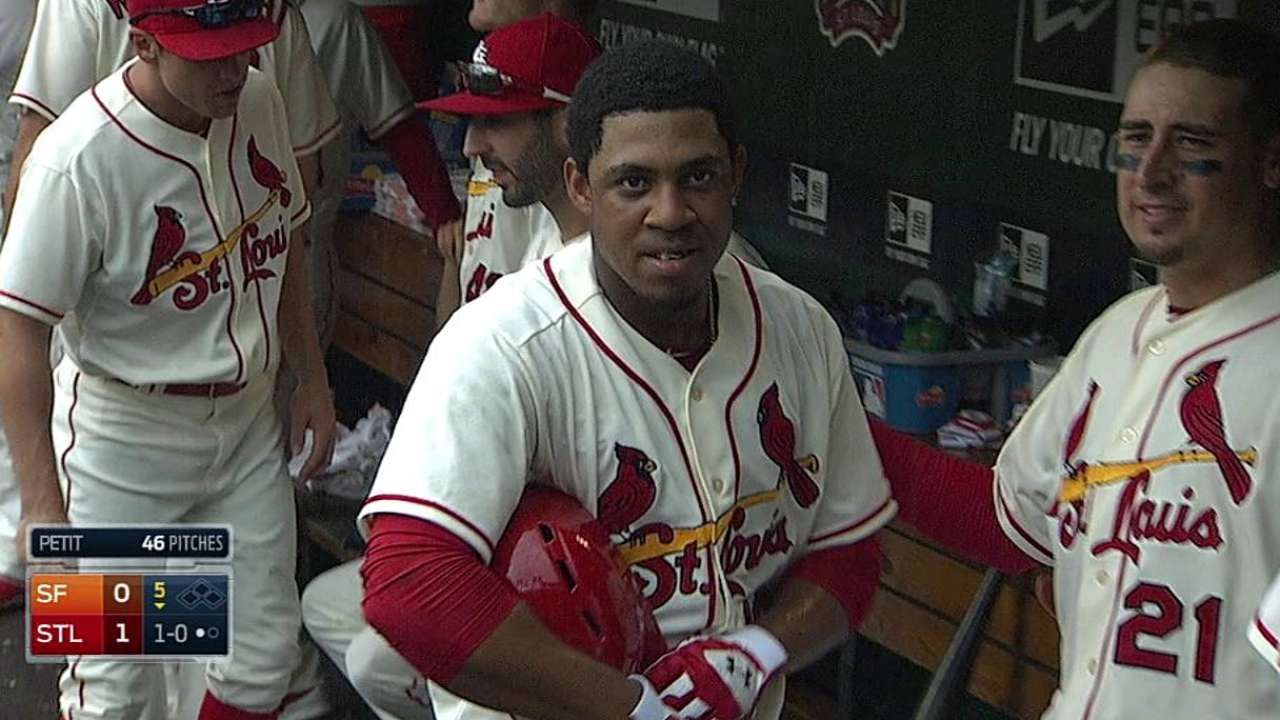 There were times he thrilled them. There were times he frustrated them. He reminded them that learning this astonishingly difficult game is difficult beyond words. In the end, though, they never wavered in their belief this was a special, special kid.
Taveras homered in his first big league game last May. He homered again during the postseason. He had so much to learn about the intricacies of the game, about conditioning and commitment and all the rest. But those original projections never really changed. He had greatness written all over him.
Now we'll never know.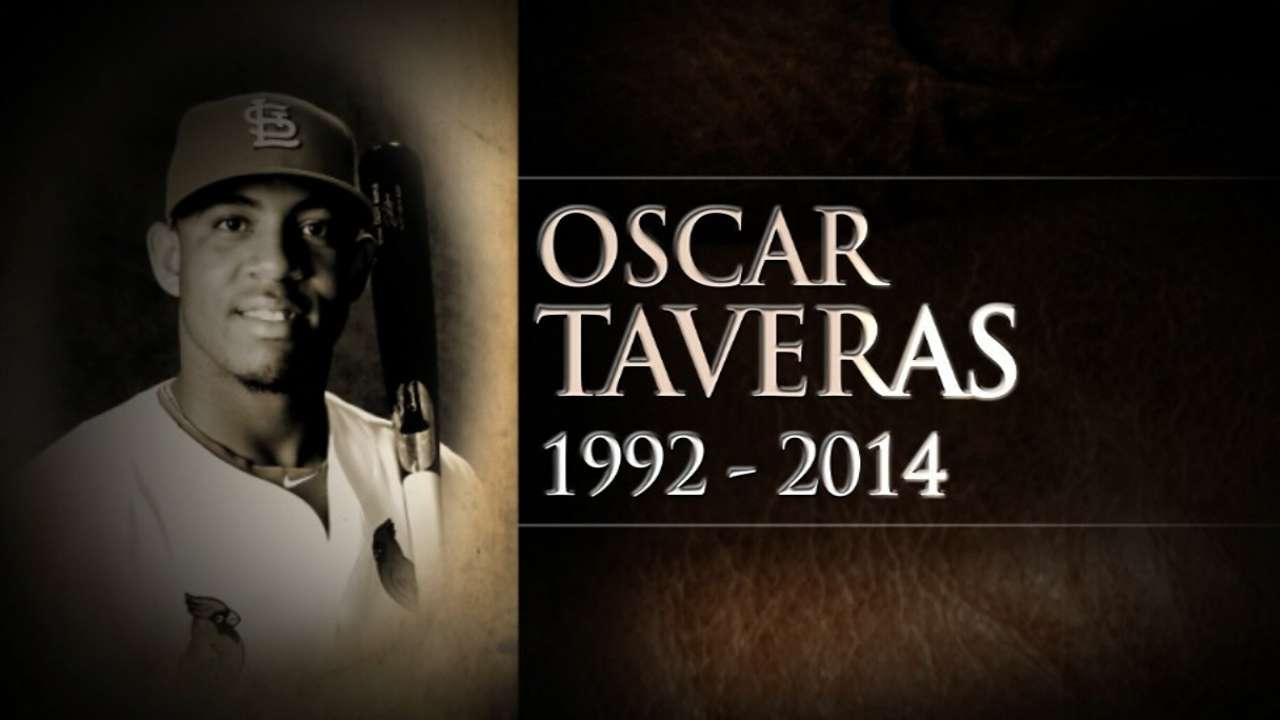 His death on Sunday in an auto accident is an unspeakably sad ending to a life of such promise.
The Cardinals were stunned and struggled to understand. They grieve for the loss of a family member, for a young life ended abruptly and cruelly.
They thought Taveras had a chance to do so much, that he would grow and mature and that he might figure out a way to contribute in some larger way.
His death sent shockwaves through an entire sport. Baseball is a small family in that way. Every team follows every other player.
Up and down the Minor Leagues, Taveras had caught the eye of players, managers and scouts. They'd seen him in those little ballparks, had marveled at him and made a mental note to keep on eye on him.
Someday, they guessed they would look back and say, "Yeah, I saw him in Johnson City. You could see he was special."
His short life is a reminder that it's all so fragile, that we are guaranteed nothing. He played just 80 regular-season games for the Cardinals.
Cardinals general manager John Mozeliak expressed disappointment about Taveras' conditioning and hoped he would pass on winter ball for the chance to work on getting in better shape.
He'd risen through the Minor Leagues on his raw skills. Now he was finding out that the highest levels of the game require the highest level of commitment.
The Cardinals wanted him to understand that Pujols had put together a Hall of Fame resume both with his breathtaking skill set and also his relentless, almost fanatical work ethic.
There was every reason to think a light eventually would go on with Taveras and that he'd end up being exactly the player the Cardinals thought he'd be. He simply had too much talent and too much heart to fail.
This we'll never know. This is an ending that should not have been written this soon. Here's hoping his family and friends find some small measure of peace in the people he touched and the friends he made. Rest in peace.
Richard Justice is a columnist for MLB.com. Read his blog, Justice4U. This story was not subject to the approval of Major League Baseball or its clubs.