MLB.com Columnist
Phil Rogers
Shields did his part in getting Royals to World Series
Righty's postseason struggles not likely to affect potential free agency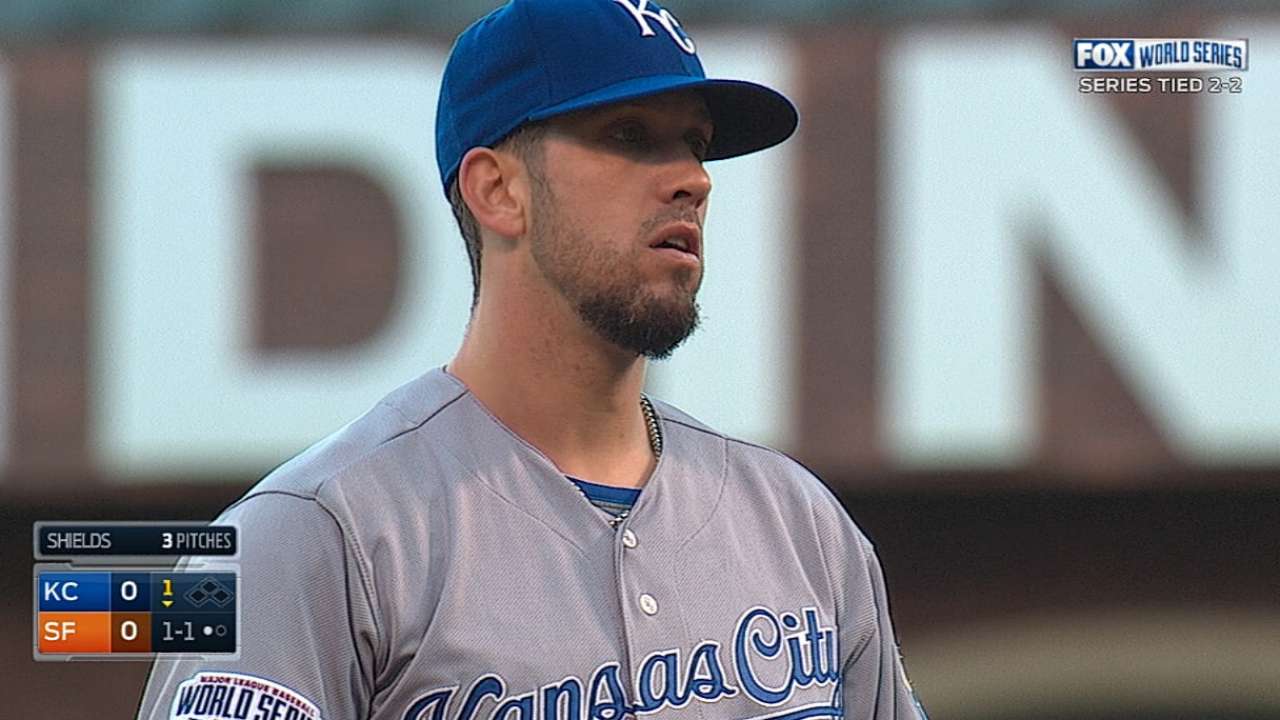 SAN FRANCISCO -- Another World Series start, another unfulfilled feeling for James Shields.
Somewhere inside the Royals' bearded ace, the disappointment must have been crushing. But if it was, Shields certainly hid it well. His stay in Kansas City may be ending, but the Royals live on after Sunday night's 5-0 loss to Madison Bumgarner.
They'll return to Kauffman Stadium with a chance to become champions by winning back-to-back games, something they did 45 times during the regular season. That was what Shields was focused on as he rolled his luggage out of the visiting clubhouse at AT&T Park, not the uncertainty that lies beyond this fall's final pitch.
"I think I like our matchups," Shields said. "I like having [Yordano] Ventura [in Game 6], [Jeremy] Guthrie going in Game 7. Both of those guys have been pitching well. They're competitors. I like our chances."
Shields came to Kansas City two years ago in the biggest of general manager Dayton Moore's trades, with marching orders to help a promising team learn to believe in itself and trust its talent. He has done that and more, and even if he leaves as a free agent after the season, there can no longer be debate about the deal that sent Wil Myers to Tampa Bay.
But for Shields personally, this wasn't the kind of October any pitcher dreams about.
The Royals won Shields' first three starts on their way to the World Series, but only in Game 3 of the American League Division Series against the Angels did he put together a quality start. He never worked past the sixth inning -- which he had done 22 times during the regular season, including six starts in a row from Aug. 25 through Sept. 20 -- and after losing twice to Bumgarner in the World Series, he figures to be stuck with a 1-2 record, a 6.12 ERA and a .333 opponents' batting average for his five postseason starts.
As a bonus, Shields passed a kidney stone along the way. No, it hasn't exactly been a magic carpet ride for the guy who did so much to get the Royals here.
Shields had been so uncharacteristically wobbly against the Orioles in the AL Championship Series and in the World Series opener that he and pitching coach Dave Eiland did some heavy work on his mechanics between starts. He felt he was moving too fast, forcing his left shoulder to open up and his body to shift too much from side to side.
Eiland gave Shields a fix that involved the position of his arms, and he took it to the mound on Sunday, when a victory over Bumgarner would have sent the Royals home leading the World Series, 3-2. He loved the change he made, which contributed to him giving up only two runs in six innings, but that was two runs too many.
"Yeah, I made my pitches tonight," Shields said. "Those guys just put the bat on the ball. … It was a tough matchup in Bumgarner, obviously, nine shutout innings. You can't beat that."
Shields had not missed many bats in his first four postseason starts, but he piled up 20 swinging strikes in his 94-pitch outing, with every San Francisco hitter swinging and missing at least once. He got nine swinging strikes in the fourth inning alone, striking out Hunter Pence, Brandon Belt and Bumgarner, but he was not able to stop the Giants from pecking away for a run.
"I was pounding the strike zone," Shields said. "I had a better angle on the ball. I was getting swing and misses today."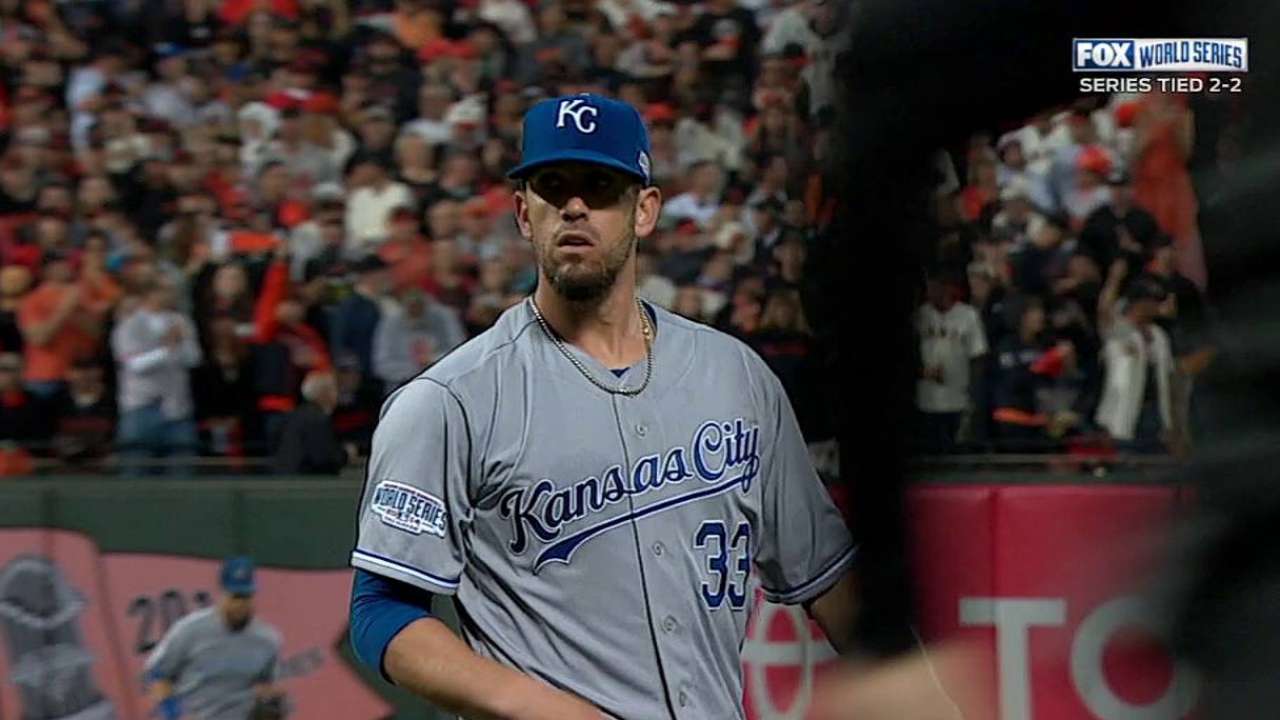 While spectacular fielding has been a big part of the Royals' arsenal -- and right fielder Lorenzo Cain ran forever to grab a drive by Pence and save two runs in the fifth inning -- Shields was hurt by a pair of sharply hit grounders that barely eluded shortstop Alcides Escobar.
One by Pence in the second inning started the rally that gave the Giants a 1-0 lead. Another by Travis Ishikawa contributed to the lead being pushed to 2-0 in the fourth.
"If he catches those balls, it's probably 0-0 going into the eighth inning," Royals manager Ned Yost said. "But we're used to seeing Esky make those plays. They're both very tough plays. The ball that Pence hit, he hit it so hard it kind of skipped on him and shot by. And one that Ishikawa hit kind of bounded up a little bit on him. Both were very, very difficult plays."
Shields appreciates Escobar saving him runs over the last two years, even if he didn't make the plays that would have helped him match Bumgarner.
"This guy's been unbelievable," Shields said. "As far as I'm concerned, he's a Gold Glove winner, whether he gets it or not. … I'd trust that guy any day."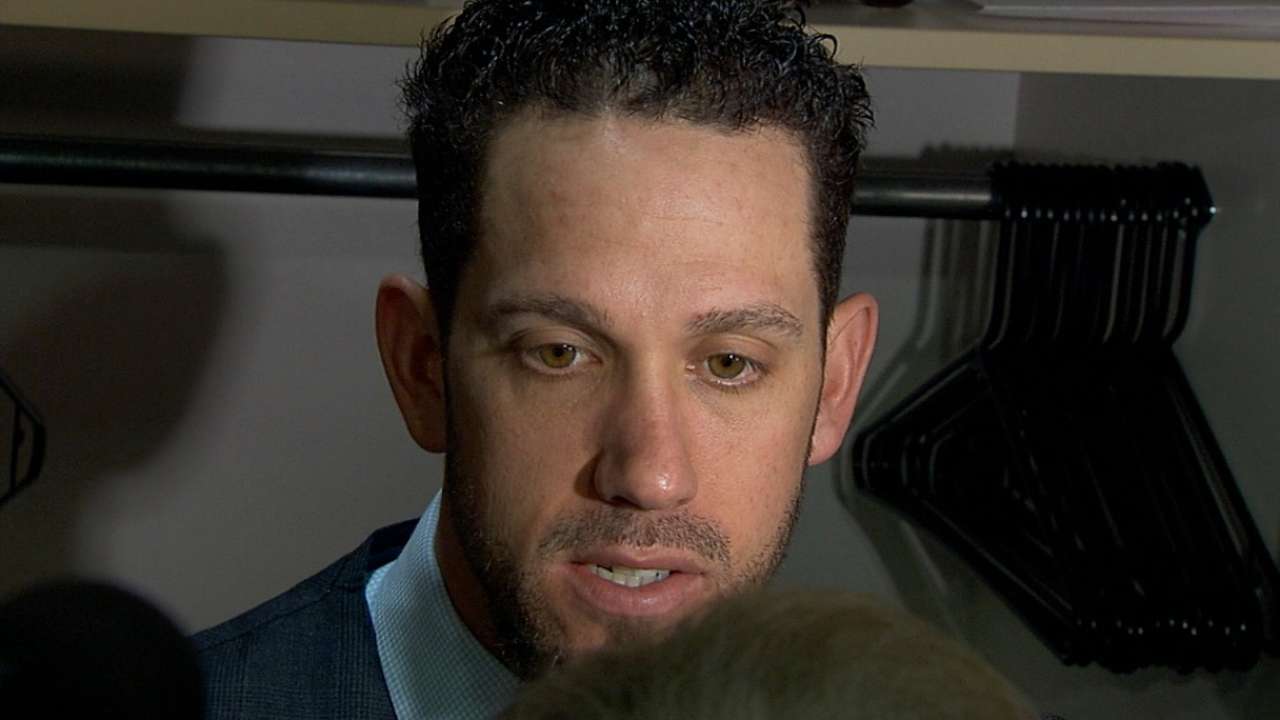 By being unable to showcase the skills that have allowed him to have eight consecutive 200-inning seasons, Shields probably hurt his market value a little, which might give the Royals a better chance to keep him in Kansas City. But history says not to read too much into his unsuccessful postseason.
While there's no question that money can be made in October for an impending free agent -- a prime example being the five-year, $120 million deal that Cliff Lee made with the Phillies after carrying the Rangers to the 2010 World Series -- there always seems to be a shortage of frontline pitchers on the market.
In free agency, it only takes one team to decide it has to have a certain player for that player to command a huge price. Witness the Giants signing Barry Zito to a seven-year, $126 million contract after he underwhelmed in the 2006 postseason for the A's, finishing with one strikeout, six walks and a 4.63 ERA in his 11 2/3 innings. Ditto the Angels giving C.J. Wilson a five-year, $77.5 million deal after he was 0-3 with 19 walks and a 5.79 ERA in 28 innings for the 2011 Rangers.
Will the market be as kind to a right-hander who will be 33 as it was to those younger left-handers? Shields will find out soon enough.
The only question on his mind at the moment is whether he'll get called on to get a few more outs in the World Series.
"I'm available any day now," Shields said.
It's hard to imagine Yost summoning him from the bullpen. The reality is that Shields' time on the mound for the Royals is done, but he'd love to stick around for a parade.
Phil Rogers is a columnist for MLB.com. This story was not subject to the approval of Major League Baseball or its clubs.