Oct. 26: Ned Yost postgame interview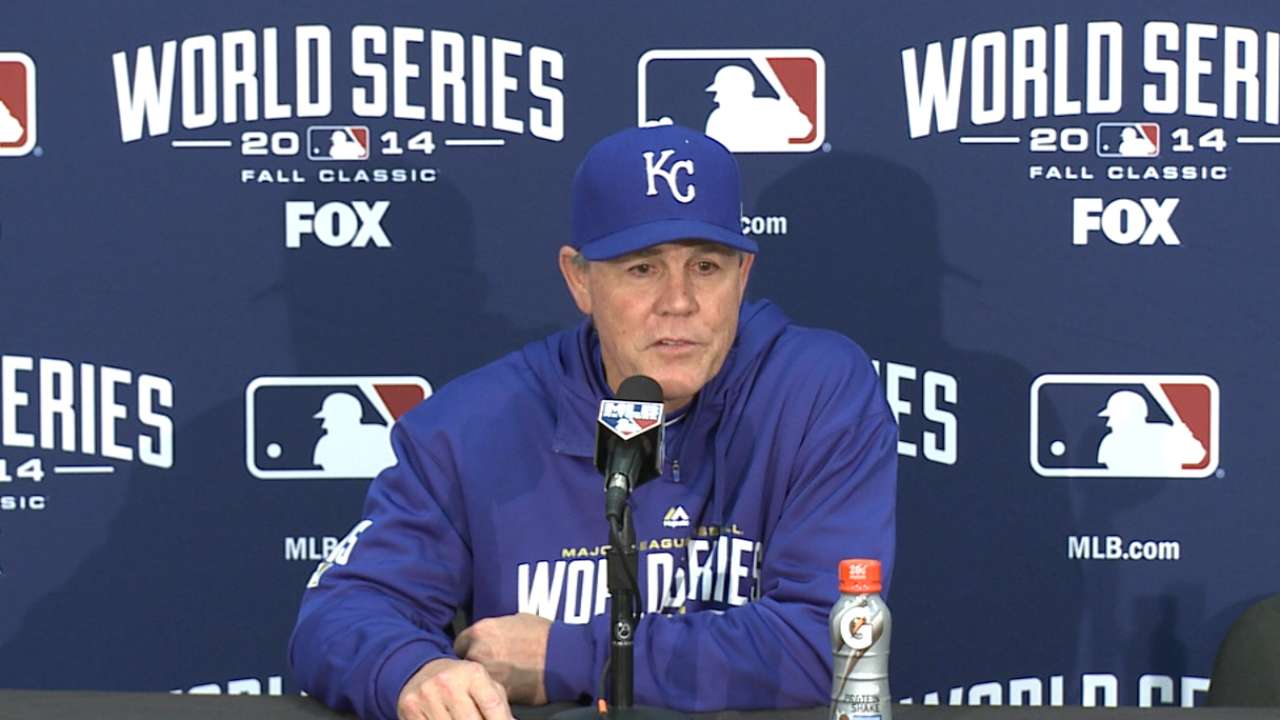 Q. Obviously Bumgarner dominated this game.
NED YOST: Sure did. No, he was fantastic again. I mean, nine innings, you know what he does so well and what he's so impressive doing, he commands his fastball in and out, up and down. He commands his breaking ball in and out, and really can command that pitch down and away in the dirt when he wants to to get a strike. A lot of guys have trouble commanding that pitch; they'll hang it. A lot of guys have trouble just hitting that right spot where it just barely bounces where they can get that swing and miss. But boy, he sure had command of that tonight, too.
Q. The two grounders that Escobar barely missed, how surprised were you that he didn't make those plays? And how crucial do you think that turned out to be?
NED YOST: If he catches those balls, it's probably 0‑0 going into the 8th inning. But we're used to seeing Esky make those plays. They're both very tough plays. The ball that Pence hit, he hit it so hard it kind of skipped on him and shot by. And one that Ishikawa hit kind of hit and bounded up a little bit on him. Both were very, very difficult plays.
Q. Does it mean anything that you're going back to Kansas City?
NED YOST: We get to, right (laughter)?
Q. I'm allowing you, too. I just want to know what it means.
NED YOST: Thank you. I just wanted to make sure we getting to back to Kansas City.
No, you know what, we're going back to our home crowd. The place is going to be absolutely crazy. We feel good about our matchups. We've got to walk the tightrope now without a net, but our guys aren't afraid of walking the tightrope without a net. We fall off and we're dead. But we win Tuesday, nobody's got a net. It's going to be winner take all.
So we think it's going to be fun. We're looking forward to getting back to our home crowd, where it's going to be absolutely wild and crazy.
Q. After Infante's double you got a runner in scoring position, for what ended up being the only time all night. Did you consider pinch‑hitting with Willingham and/or Butler in that situation?
NED YOST: It was too early right there. We were still looking to keep our defense in the game. We did come back around in, I want to say the 8th inning, and pinch‑hit Billy. We didn't want to leave our best hitter on the bench knowing that we were way back down after the double‑switch. We double‑switched to try to give Herrera an opportunity to go two innings, if we got back into that game. But, yeah, at that point I want to say it was the fourth or fifth inning. Still a little early for that.
Q. Is your plan still to stick with Ventura as your starter in Game 6?
NED YOST: Ventura?
Q. Yeah, in Game 6.
NED YOST: Yeah. There is not another guy right now that I'd want not pitching that game. So he's absolutely going to pitch Game 6 for us.
Q. Bumgarner's ability to hit, did that factor into your decision to pitch to Crawford a couple times when he came up with runners on base?
NED YOST: Not really. If you look at the splits, he really hits lefties really, really well, and righties, he's okay. He's a threat, if you make a mistake. But I felt comfortable facing him, especially the way James Shields was throwing.
Q. Did you think Cain had a chance to catch that ball that Pence hit?
NED YOST: I'm trying to think ‑‑ oh, man, no, that was a great play. That was a phenomenal play. That ball kept going. The ball was really carrying tonight. The ball that Perez hit I didn't think was going near that far. I mean, that missed going out by maybe less than a foot. But that ball kept carrying and Cain just kept getting after it and made another phenomenal play.
Q. Because you have four important players who bat left‑handed that you don't like to take out of the lineup unless you have to, does that make it particularly tough matchup against a great lefty?
NED YOST: It does, but our lefties do a pretty good job hitting against lefties. So that eases the pain, if you will, a little bit about having to worry about it. Alex traditionally has been very strong against left‑handed pitching. Hoz has always been really good with it. Moose has really gotten good here the last month swinging the bat well. So the splits on Bumgarner are about even between left and right. So it doesn't ‑‑ I have confidence in those guys against lefties.