Royals return home confident despite facing 3-2 deficit
AL champs upbeat about playing at The K facing elimination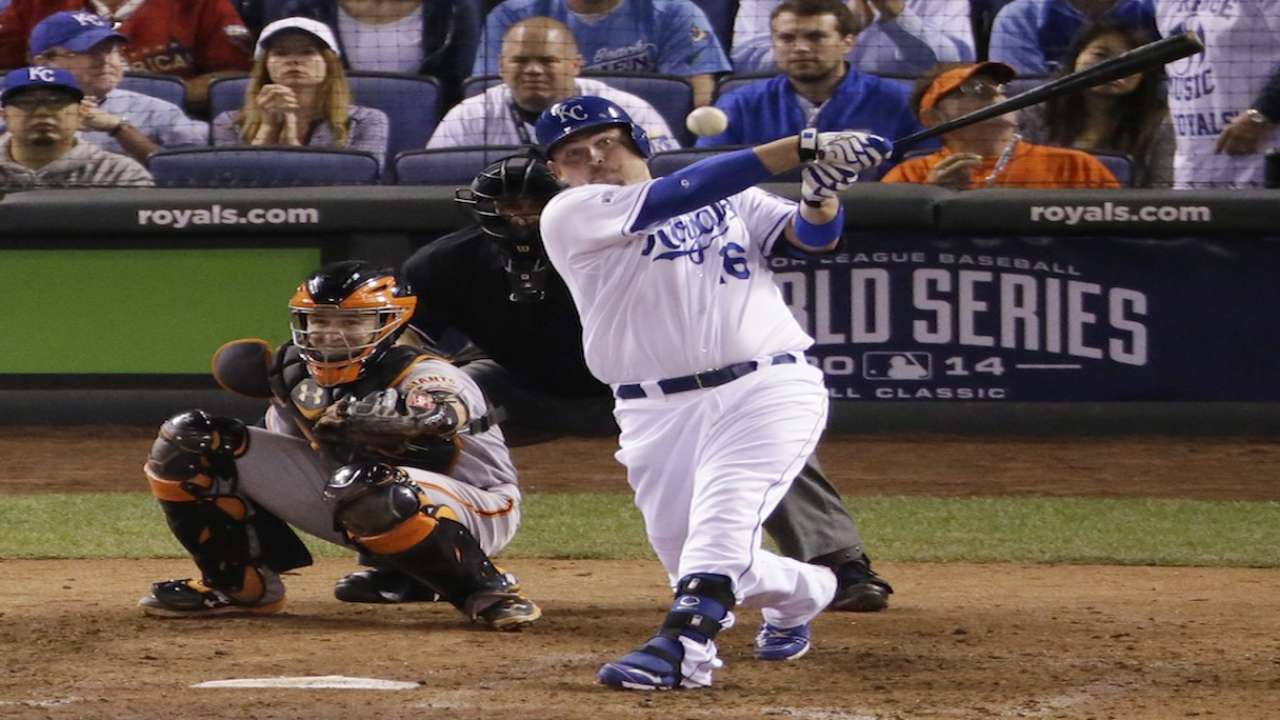 SAN FRANCISCO -- The visiting clubhouse at AT&T Park, momentarily home to a Royals team that had just put itself on the brink of elimination with a 5-0 defeat, felt both somber and upbeat late Sunday night. Palpable disappointment was to be expected for a team that now faces a 3-2 deficit in the World Series, but there were realistic reasons for encouragement -- some of it historical, some of it logistical and some of it for the obvious point made by Jarrod Dyson in the postgame scrum.
"Guess we ain't gotta worry about [Madison] Bumgarner no more," the Royals' brash center fielder said. "We've got guys that we can handle, and we can look forward to getting the job done."
Bumgarner can still be made available out of the bullpen if this Series pushes to a Game 7, Giants manager Bruce Bochy reaffirmed after Game 5, but the Royals no longer have to worry about getting flummoxed through nine scoreless innings again.
Instead, they can look forward -- to back-to-back games in front of a rowdy home crowd at Kauffman Stadium, to the re-insertion of their designated hitter and to the return of the American League formation that made them so successful this October.
"It's nice to go home," Royals left fielder Alex Gordon said. "Obviously, it was tough to play here. Great crowd, good atmosphere for them. Hopefully when we go back home, we can make it uncomfortable for them."
Teams that go home down 3-2 in a best-of-seven World Series -- in 2-3-2 formats only -- are 13-16 all-time. But they've won it all in eight of the last 10 instances. That list includes an example as recent as the 2011 Cardinals, who won back-to-back games against the Rangers at Busch Stadium, and includes the 1985 Royals team that took three in a row over St. Louis to win it all.
No road team has won Game 7 of the World Series since the 1979 Pirates, and only four road teams have won a Game 6 since 1980 -- the 2003 Marlins, 1997 Indians, '92 Blue Jays and '81 Dodgers.
"Going back to The K, with those fans and that electricity, we're excited," third baseman Mike Moustakas said. "We didn't get what we wanted to get done out here, and we have another game the day after tomorrow. That's what we're focused on. We put this game behind us already."
For Game 6, they'll have Yordano Ventura going up against Jake Peavy.
For Game 7, they'll have Jeremy Guthrie toeing the rubber against Tim Hudson.
"But we can't think that far ahead," first baseman Eric Hosmer said. "We're focused on Tuesday."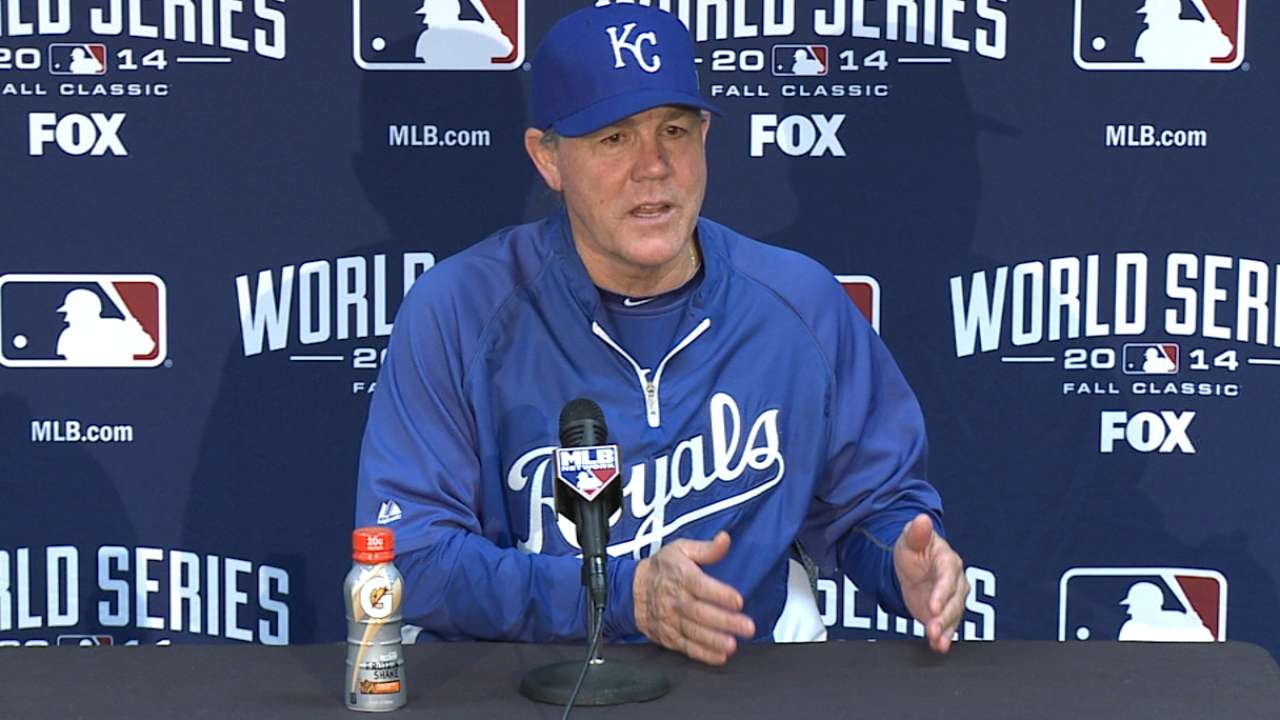 And Tuesday will mark the return of Billy Butler, the right-handed-hitting DH who got only one plate appearance over the three-game stretch in San Francisco -- a caught-looking strikeout on a filthy Bumgarner breaking ball in Sunday's eighth inning.
"It's tough," Butler said of sitting idly on the bench. "I know what I'm capable of offensively and I've done it for a lot of years. I felt good coming into this Series and I've had a couple of good games at home."
And he's had several of them against Peavy, a prior American League Central foe while accumulating four seasons with the White Sox. Butler, expected to return to his customary No. 5 spot on Tuesday, is a career .429/.487/.714 hitter with three home runs in 39 career plate appearances against Peavy, notching an RBI single against him in Game 2.
"It's very big," Hosmer said of getting Butler back, "especially against Peavy. His numbers off Peavy over his career have been very good, so any time you get a bat like Billy back in your lineup, it's huge. He's been a proven hitter in this league for a lot of years."
The Royals had a 2-1 Series lead after Game 3. Then Brandon Finnegan and Tim Collins combined to give up six runs in the sixth and seventh innings, blowing Game 4 open before the Royals' vaunted bullpen trio could even factor into it. Then Bumgarner dominated in Game 5, becoming the first pitcher in World Series history to throw a shutout with no walks and at least eight strikeouts.
The Royals have been here before, though. They trailed the AL Wild Card Game against the A's by four runs in the eighth, one run in the ninth and one run in the 10th. Then they lost the first game of this Series, ending an eight-game postseason winning streak, and came back with back-to-back victories.
They need two more, and they'll need their anxious home crowd more than ever.
"The place is going to be absolutely crazy," Royals manager Ned Yost asserted. "We feel good about our matchups. We've got to walk the tightrope now without a net, but our guys aren't afraid of walking the tightrope without a net. We fall off and we're dead. But [if] we win Tuesday, nobody's got a net. It's going to be winner-take-all. So we think it's going to be fun."
Alden Gonzalez is a reporter for MLB.com. Read his blog, Gonzo and "The Show", and follow him on Twitter @Alden_Gonzalez. This story was not subject to the approval of Major League Baseball or its clubs.