Cardinals teammates remember Taveras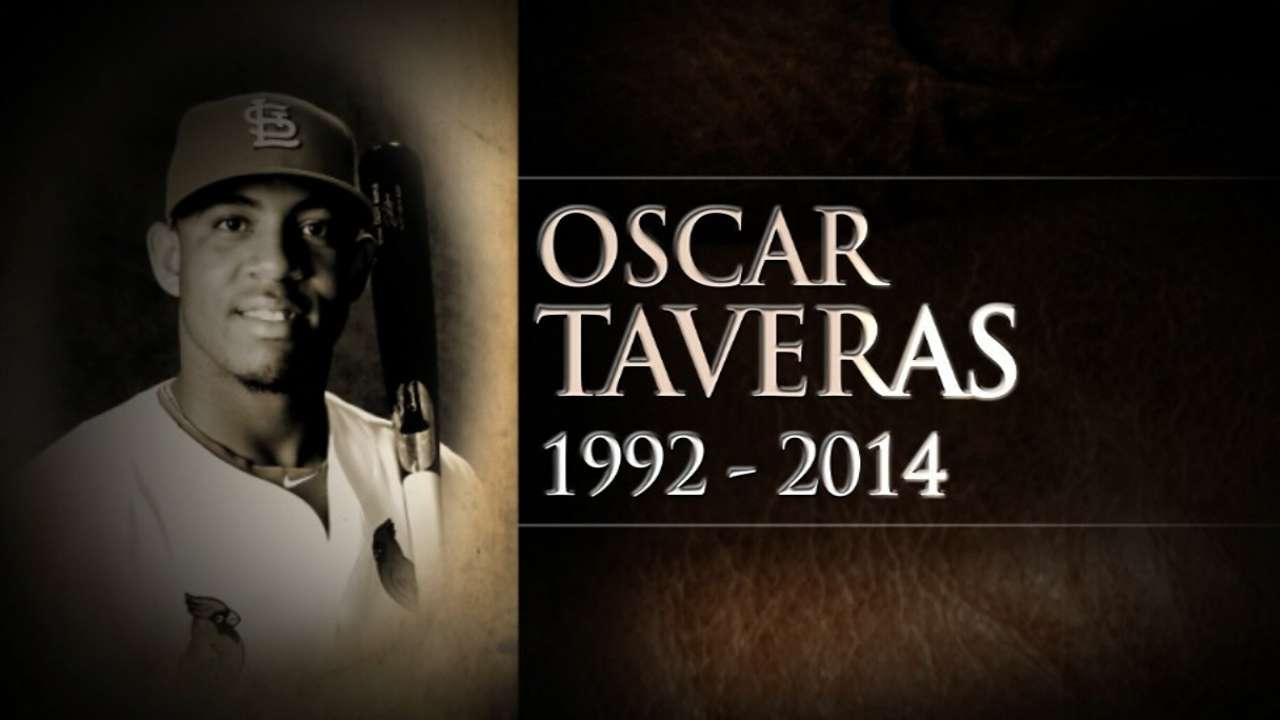 Without prompting, they all talked about his smile.
As news of Oscar Taveras' tragic death in a Sunday car accident reached the Cardinals, those who knew him best spoke of how they'll remember Taveras for the passion with which he played the game and the youthful smile that could rarely be erased. They shared stories about an outfielder who had such high on-field promise, but also of one who was a beloved teammate, a jokester and, at heart, still a kid.
"Baseball, at moments like this, seems so far from being important," Matt Carpenter said. "He had a really good personality and was really eager to be a good player. He was very friendly and approachable. It's one of those things that it's going to leave a hole. It's going be a hard thing to get over. You could envision him as a guy who was going to be around for a while and a big part of your future. The excitement and the joy that he brought, it's something I will remember."
Taveras and his girlfriend, identified as Edilia Arvelo by ESPNDeportes.com, were killed in his home country of the Dominican Republic on Sunday afternoon, just days after he returned home after finishing his first season in the Majors. He was 22; she was 18.
"I think, for me, I'll always just think of him as a young kid who was excited to be in the Majors and who was excited every day to be at the park and excited every day to live his dream," Daniel Descalso said. "He played the game and had fun doing it. You always knew he loved what he did."
"We are all stunned and deeply saddened by the tragic loss of one of the youngest members of the Cardinals family," said Cardinals chairman Bill DeWitt Jr. "Oscar was an amazing talent with a bright future who was taken from us well before his time. Our thoughts and prayers are with his family and friends tonight."
Taveras made his Major League debut on May 31 -- announcing his arrival with a home run in his second at-bat, no less -- but he had been a part of the Cardinals family for much longer. Signed out of the Dominican Republic in 2008, Taveras climbed through the Cardinals' system with many of his eventual Major League teammates and got to know others through his years as a participant in Major League Spring Training.
Having asked his players and staff to buy into the idea of being a family, manager Mike Matheny was devastated by the news. Unable to gather himself to speak publically on Sunday, he released a statement on Monday that, in part, touched on how deeply the Cardinals cared for Taveras:
"In my opinion, the word 'love' is the most misused, and misunderstood word in the English language. It is not popular for men to use this word, and even less popular for athletes. But, there is not a more accurate word for how a group of men share a deep and genuine concern for each other. We loved Oscar, and he loved us. That is what a team does, that is what a family does. You will be missed, Oscar."
Jon Jay was among those who grew closest to Taveras, spending countless hours working with him in the outfield as he befriended a player whose language he spoke and whose journey he could appreciate.
"I am going to always remember how much he really did love the game," Jay said. "You would see his expressions out there, the smile. It's just sad to see someone who had so much potential leave us so soon.
"But more than that, I'm going to remember a kid that had to battle to get to the big leagues. My family came from Cuba, and I know how hard it was for me to get here and have this opportunity. For him, it was a really hard path. Coming from the Dominican Republic, to make it from where he came from, was really special. It was something that I understood."
Others had their own personal stories.
Shelby Miller spoke of the days in which he'd sit alongside Taveras in the dugout. Taveras would try to teach the Texan some baseball phrases in Spanish, while Miller would help Taveras improve his English.
"I didn't know Oscar too well until he came up to the big leagues, but he was always someone who had a smile on his face," Miller said. "And I just loved the guy. He clearly had a rare talent and was an amazing player. He was an even better person."
As he tried to sift through the emotions on Sunday, Jason Motte found the ability to laugh about the times when Taveras would razz fellow rookie Kolten Wong. It happened at the end of the regular season after Taveras learned that Wong wouldn't play into one of the bullpen's silly gags of trying to get a teammate to throw them the ball after catching the final out of an inning.
Taveras obliged, but when he found out that Wong didn't, the young outfielder, as Motte recalled, walked over to Wong and joked, "You change. You change. You're in the big leagues, and you change."
"That was just one of the stories," Motte said. "He was always smiling. He definitely had a lot more ahead. It'll be tough. We'll see how we do moving forward. But it's going to be tough. It's going to be tough."
Among those Cardinals who knew Taveras best was longtime Minor League teammate Xavier Scruggs, who learned of the death of his friend while in the Dominican Republic, where he is playing winter ball. Both made their Major League debuts in 2014.
"I can't believe I was even blessed to play with someone with such great talent," Scruggs wrote in an email to MLB.com, published in full at http://langosch.mlblogs.com/. "His ability on the baseball field was unreal. There are so many times when I couldn't help but think that this game was too easy for him. His fluidity as a hitter was unmatchable. His love for the game was remarkable. As a teammate I would marvel at the fact that he would be so sincerely disappointed when he was not perfect. For we all know that it is impossible to be perfect in this game, however he found a way to make it seem tangible."
Teammates also had vivid memories of how Taveras bookended a career cut tragically short. With rain starting to come down, Taveras blasted a home run in his Major League debut -- "He literally opened up the clouds," as Motte described it. The fourth and final home run he'd hit would come in his final game at Busch Stadium. It tied Game 2 of the National League Championship Series.
"He's was a 22-year-old in the big leagues, and we saw some glimpses of some great things," Descalso said. "He was the type of guy that his smile was infectious. You could tell he had a good time on the field and playing. I think we'll all remember his first hit being that home run. What a special moment that was for him. I think everyone was excited to see what the future had in store for him. It's heartbreaking that we're not going to be able to see that."
This is the third player tragedy to hit the Cardinals in 13 years, with Darryl Kile (2002) and Josh Hancock (2007) also dying tragically while still playing for the organization.
"I simply can't believe it," Cardinals general manager John Mozeliak said. "I first met Oscar when he was 16 years old and will forever remember him as a wonderful young man who was a gifted athlete with an infectious love for life who lived every day to the fullest."
His smile gave that away.
Jenifer Langosch is a reporter for MLB.com. Read her blog, By Gosh, It's Langosch, and follow her on Twitter @LangoschMLB. This story was not subject to the approval of Major League Baseball or its clubs.