Baseball Tomorrow Fund celebrates 15 years
MLB, MLBPA present annual $2.5M check to youth-league initiative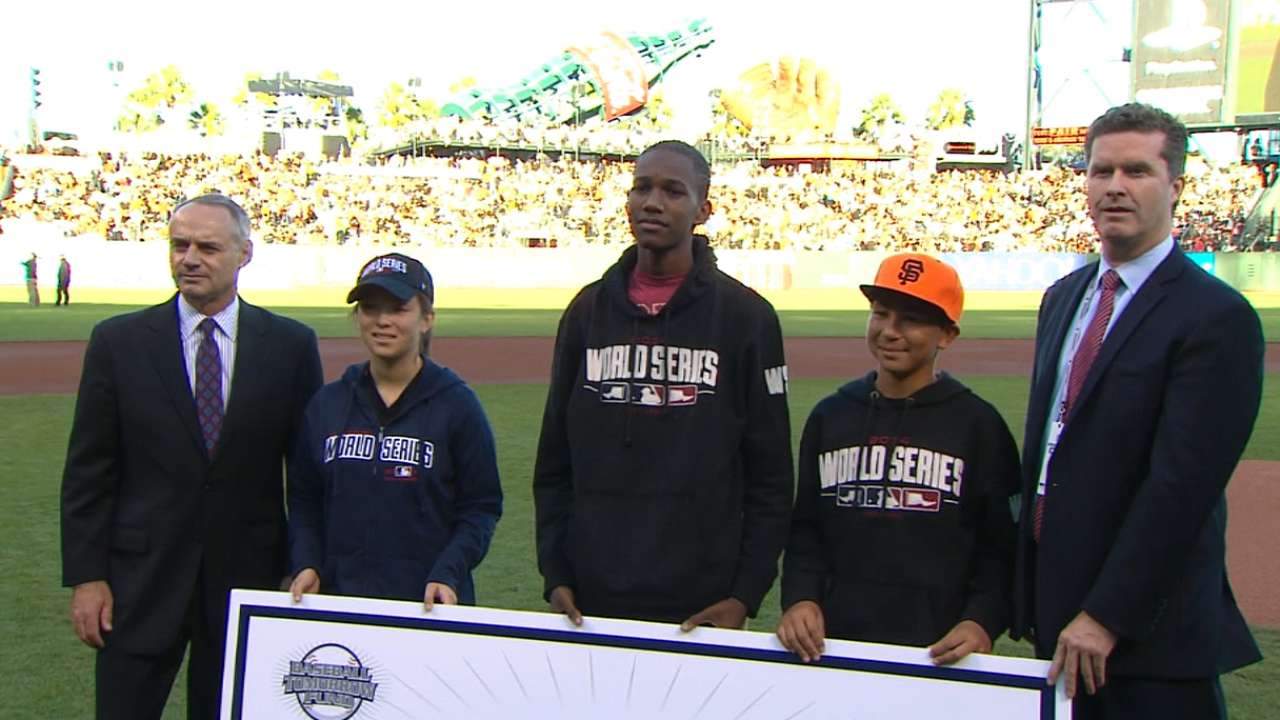 SAN FRANCISCO -- Before Game 3 of the 1999 World Series between the Yankees and Braves, Major League Baseball Commissioner Bud Selig and then-MLB Players Association executive director Don Fehr announced the formation of a new initiative called the Baseball Tomorrow Fund and started it with a joint $10 million donation. The program's goal was to promote the growth of youth baseball and softball throughout the world by awarding grants to support field projects and other programs.
On Sunday night at AT&T Park -- exactly 15 years to the day -- the Baseball Tomorrow Fund celebrated an important anniversary with a similar check presentation before Game 5 of the World Series between the Royals and Giants. Rob Manfred, MLB's chief operating officer and Commissioner-elect, and Tim Slavin, senior counsel of business at the MLBPA, presented an annual $2.5 million check to the initiative.
Since its formation, BTF has awarded more than 800 grants totaling more than $27 million to non-profit and tax-exempt organizations in the U.S., Canada, Latin America, the Caribbean, Europe, Africa and Asia. BTF also facilitates league-wide initiatives, including the collection and distribution of new and gently used equipment to organizations in need as well as field-maintenance-education clinics.
"It's a great time for us," said Cathy Bradley, executive director of the Baseball Tomorrow Fund. "Every year they have been contributing very generously $2.5 million to the Fund so that we can continue to give grants for youth baseball and softball programs and facilities around the world. It's a nice moment for us and I'm really proud that Rob Manfred and Tim Slavin from the MLB Players Association are on hand to present us this check."
Participating in the ceremony were kids from the Willie Mays Clubhouse as part of the Boys & Girls Clubs of San Francisco. The Bay Area is among many locations around the world that have received help from the Baseball Tomorrow Fund.
"We've given several grants, especially through our Equipment Day program through the Boys & Girls Club, and the Willie Mays Clubhouse has been a beneficiary," Bradley said.
One great example of how the Baseball Tomorrow Fund helps communities came this past May when the Staten Island Little League was able to reopen a brand-new facility thanks in large part to a $235,000 grant from BTF. Former Staten Island Little Leaguer Jason Marquis participated in the grand reopening ceremony. The facility had been submerged and sustained $1.5 million in damage by Superstorm Sandy in 2012. Partners like Musco Lighting, which provided the lighting for the reopening, helped BTF get project resources in place.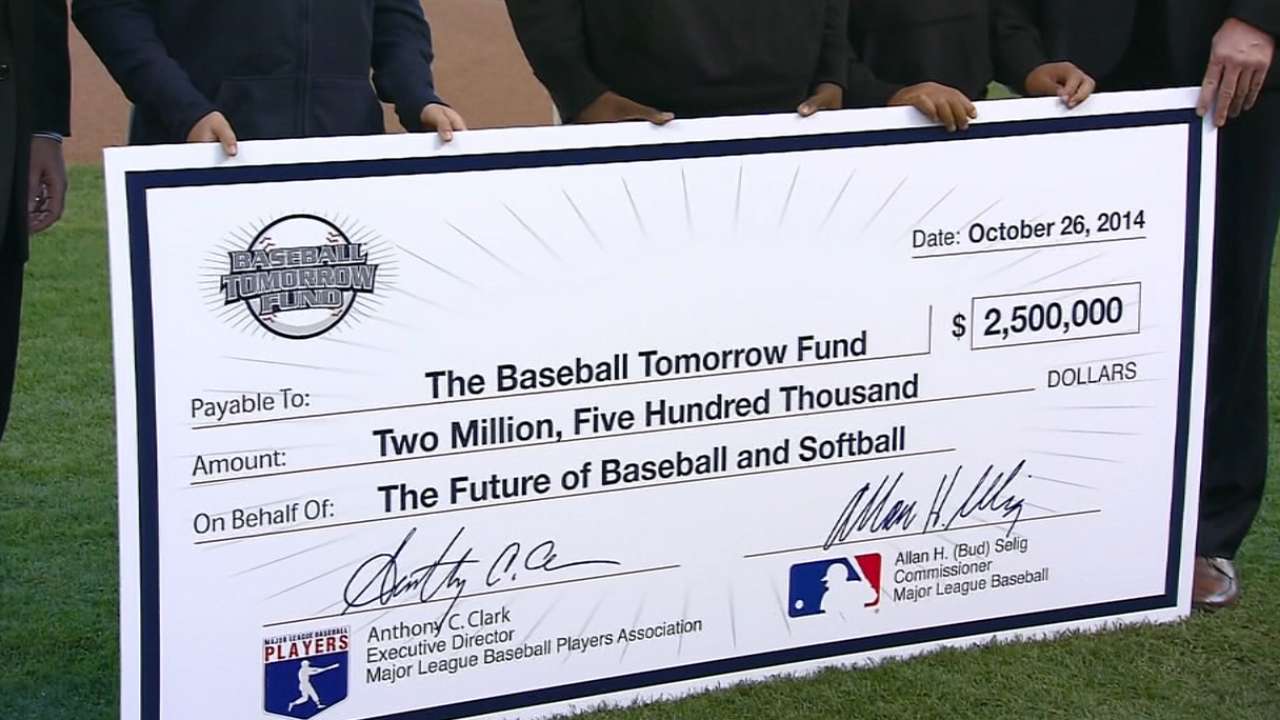 "We just finished our 15th year of grant-making, and I've already started on next year," Bradley said. "It's been a great experience. We've seen a lot of success, learned a lot about youth baseball and softball facilities and the needs of all the organizations that are providing such great quality programming for kids all over. It's been a terrific experience."
Bradley will never forget her first day on the job, after the joint announcement at the World Series.
"I distinctly remember starting on my first day, coming into an office with a stack of envelopes with requests. I mean hundreds and hundreds of envelopes," she said. "As soon as Major League Baseball and the Players Association announced the creation of the Fund, word spread very quickly that funding was available and we had a lot of great projects to choose from. It was an overwhelming experience, but over the years we fine-tuned our process. Even the organizations that are applying are learning how to put together a good proposal and a good project, and have been thinking about what they need for their programs and facilities, so it's really come a long way since the beginning."
For qualifying organizations that wish to apply for a Baseball Tomorrow Fund grant, Bradley encourages them to step forward and offers this advice on how to approach it.
"We manage a quarterly application process," she said. "Everything's done online now, so any organization that is tax-exempt or a non-profit organization that's involved in youth baseball and softball can apply. So they come to us with their projects to tell us what they need to grow or improve their program.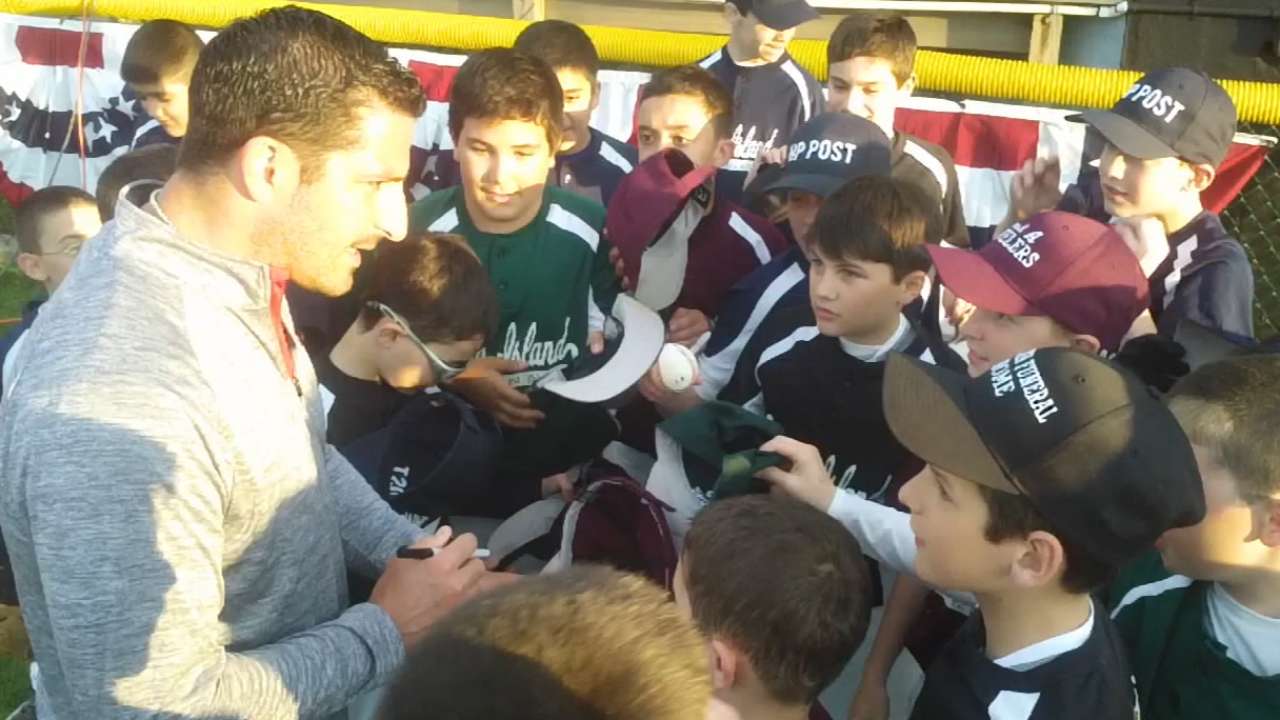 "We average about 400 requests a year, and we give about 40 every year through our application process. We also give another 30 to 35 through our Baseball Tomorrow Fund and Major League Baseball Equipment Day program, and our field maintenance education clinics that are conducted all over the league."
It will be another important part of Selig's legacy, as he retires from his position this offseason. It is also an important part of Fehr's legacy from his term as union chief.
"We're thrilled that baseball and its players have joined together to provide support and encouragement for boys and girls of diverse backgrounds to enjoy the great game of baseball," Selig said 15 years ago. "The children of today are the future fans of baseball tomorrow."
Fifteen years later, they no doubt are.
For more information, visit baseballtomorrowfund.com and follow BTF on Facebook, @BTFToday on Twitter and the BTF Today blog.
Mark Newman is enterprise editor of MLB.com. Read and join other baseball fans on his MLB.com community blog. This story was not subject to the approval of Major League Baseball or its clubs.