In tribute to Williams, late actor's children throw first pitch
Good friend, fellow comedian Crystal catches toss from Zak as Zelda, Cody look on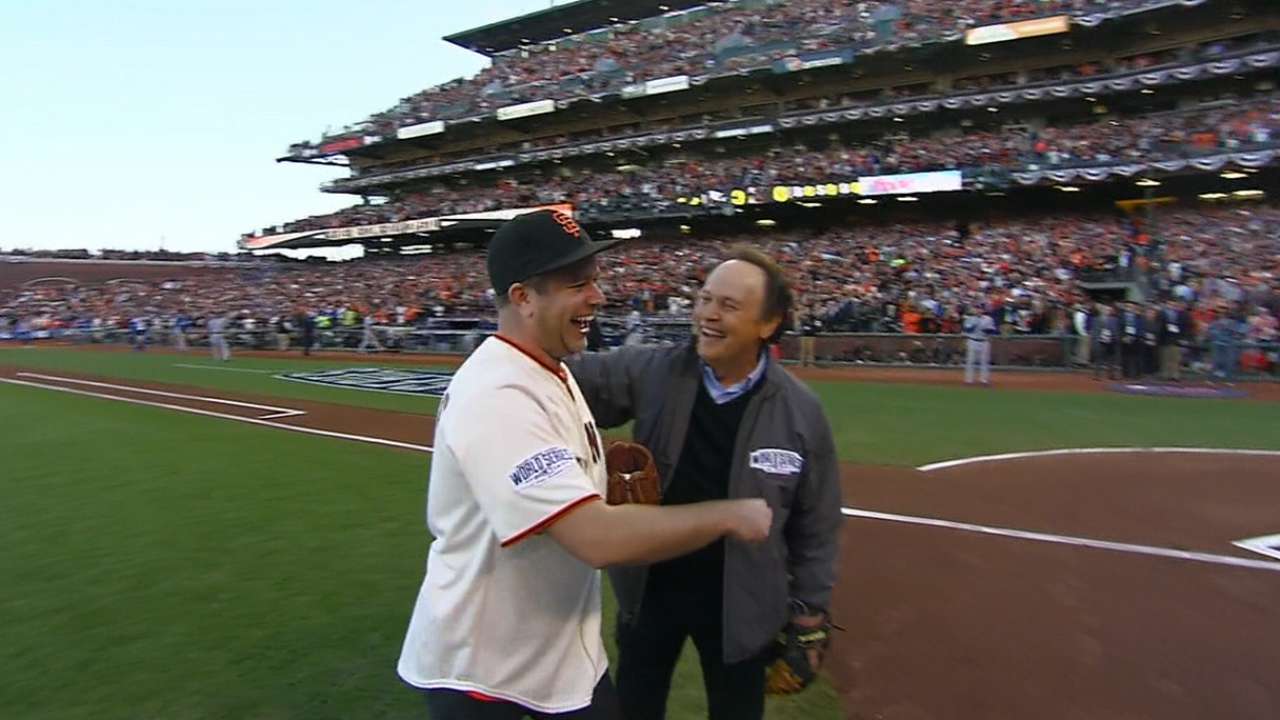 SAN FRANCISCO -- The focus of a World Series game at AT&T Park is centered firmly on the Giants, but the pregame ceremony prior to Game 5 on Sunday was all about one of its most loyal, and famous, fans.
Actor and comedian Robin Williams, who passed away in August, was a loud and proud Giants fan who was a frequent visitor to the club's gem of a ballpark. He was remembered by the Giants in a touching and tasteful tribute that included many video clips of Williams doing what he did best -- make people laugh.
Williams' children -- Zelda, Zak and Cody -- were on hand for the Giants' tribute to their father. Billy Crystal, the Tony Award and Emmy Award-winning entertainer who was among Williams' closest friends, also was there, and he embraced the family warmly as they waited for the tribute to begin.
The video tribute opened with Williams, a longtime Bay Area resident, bellowing his most famous movie line -- "Good Morning Vietnam!" -- followed by several clips of his appearances in the dozens of movies he starred in. There were also clips of Williams and Crystal doing their comedy routines together.
Zelda, Zak and Cody then walked to the mound together, and Zak threw out the first pitch to Crystal, who held the ball high in the air and waved to the crowd.
At first, it appeared that Crystal was going to do the honors of bellowing "Play Ball," as is tradition at AT&T Park, but after he said "Let's get this thing started" into the mic, he threw it back to the scoreboard, which played a video clip from Williams doing those honors prior to a playoff game in 2010.
Back then, Williams yelled into the mic, "Good evening, San Francisco!" and saluted the "2010 National League West champion San Francisco Giants." The final image of Williams showed him yelling "Let's Go Giants," and hugging the team's mascot, Lou Seal.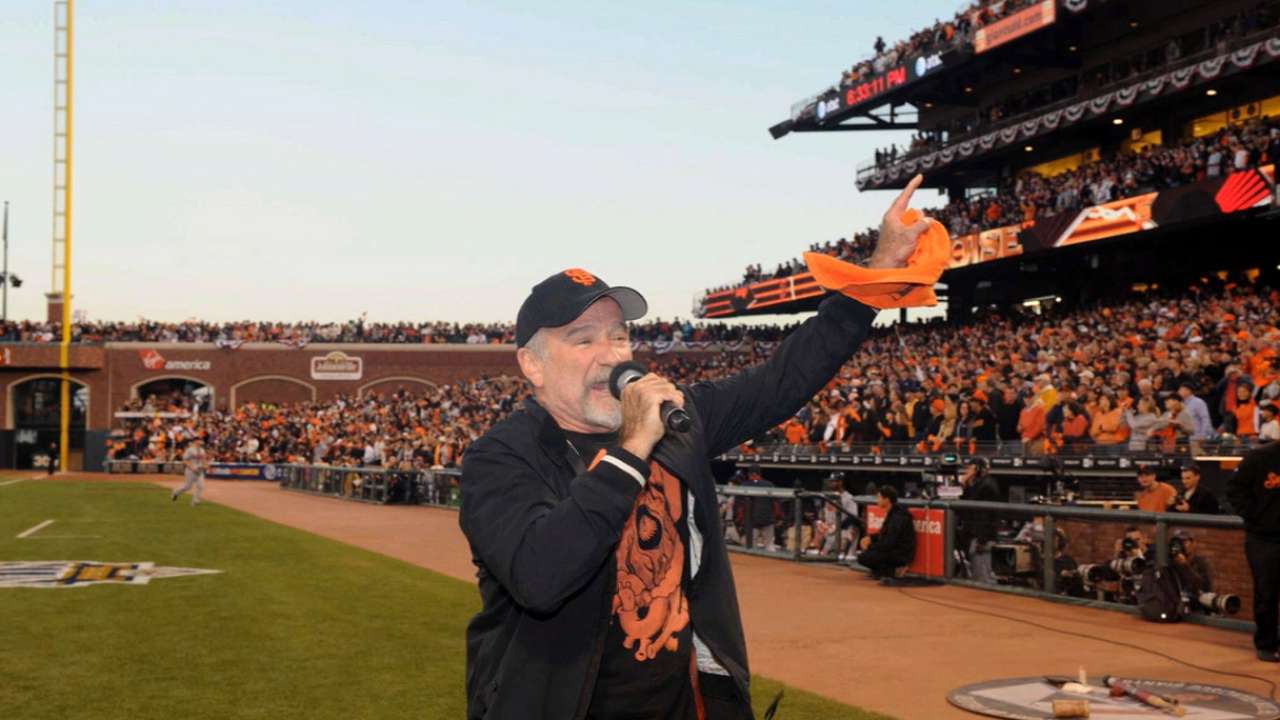 After the game, Darren's dad, Dusty, spent most of his postgame session with the media addressing the situation. Dusty said at the time he was dreading hearing from his own mother, whom he was certain was furious. Baker also had to contend with Major League Baseball, which soon put a new rule in place that forbade kids under 14 serving as batboys.
Darren Baker, now 15, doesn't need Snow to pull him out of the line of danger anymore. He's almost as big as the former first baseman.
In other in-game performance news, U.S. Air Force Airman 1st Class Michelle Doolittle was scheduled to sing "God Bless America" before the bottom of the seventh inning.
Alyson Footer is a national correspondent for MLB.com. Follow her on Twitter @alysonfooter. This story was not subject to the approval of Major League Baseball or its clubs.