Peavy had no doubts about Game 6 start
Righty expected Giants to bounce back from loss in second contest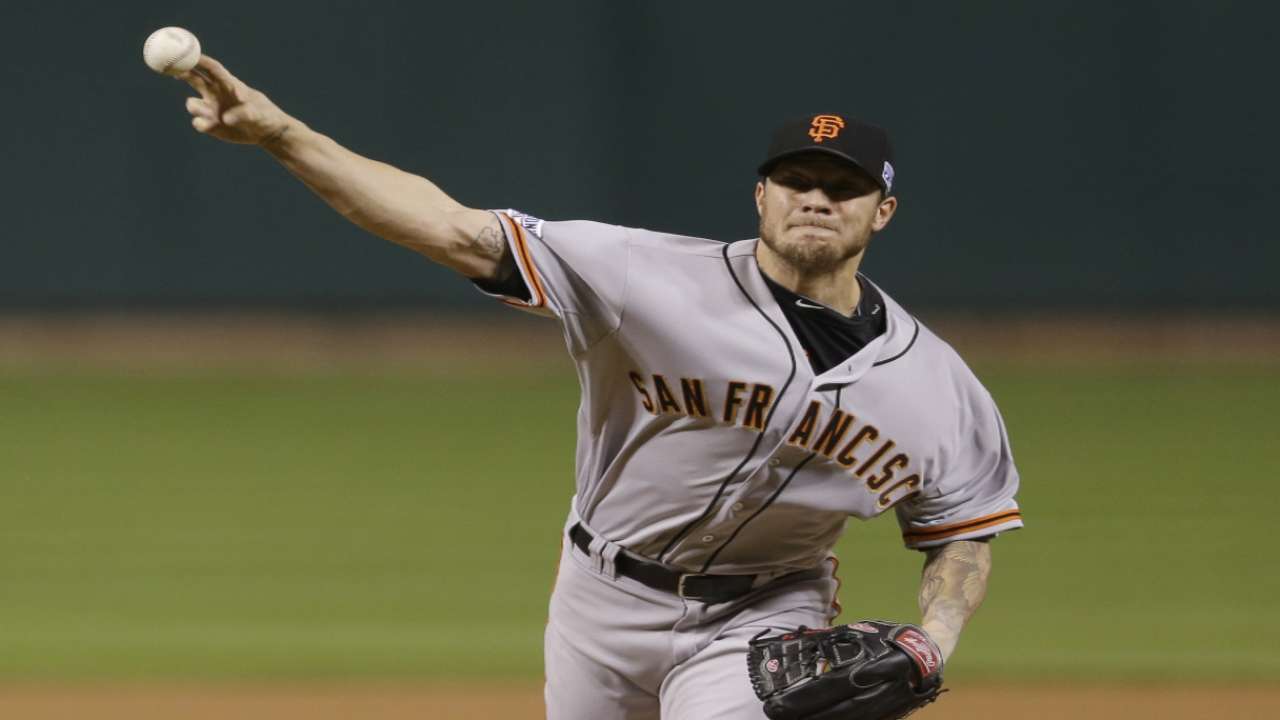 SAN FRANCISCO -- As it turns out, veteran right-hander Jake Peavy will take the mound for Game 6 of the World Series against Royals right-hander Yordano Ventura today (4:30 p.m. PT air time on FOX, 5:07 p.m. first pitch) at Kauffman Stadium with the opportunity of a lifetime.
After San Francisco's 5-0 victory at AT&T Park on Sunday for a 3-2 lead in the best-of-seven Series, Peavy will have a chance to help the Giants clinch their third World Series title in five seasons. And this is the first time he will have to shoulder that responsibility.
"I can't imagine anything being any sweeter than that," Peavy said on Monday as both squads performed light workouts for the last time in a postseason that began on the final day of September. "That's what you play for -- to be in the World Series and to win it. To be the guy who gets the ball with that opportunity. It's a special opportunity, I understand that. I just have to do all I can do to be in the moment, to think about executing pitches, to find any way, any how for the San Francisco Giants to win this game.
"And I promise you, I'm going to exhaust every option." For his career in the postseason, Peavy is 1-4 with a 7.05 ERA in eight starts dating back to the playoffs of 2005-06, when he and Giants manager Bruce Bochy were together with the Padres. His Game 1 victory in this year's National League Division Series against the Nationals is his only postseason win.
Game 6 will mark Peavy's third World Series start in the past two postseasons. He lost Game 2 here to the Royals last Wednesday night and was removed two batters into the sixth inning after allowing four runs on six hits.
Last year, pitching for the Red Sox against the Cardinals in Game 3 at Busch Stadium, Peavy was yanked after just four innings after allowing two runs on six hits. The Red Sox lost that game but won the Series in six. Peavy was the projected starter for Game 7 at Fenway Park had the Series advanced that far, although Red Sox manager John Farrell never completely committed to Peavy, as Bochy has done this year.
Last year it was Peavy's good friend John Lackey on the mound in Game 6 for the Red Sox, and the result was decisive. By the fourth inning, the Red Sox had run out to a six-run lead against Michael Wacha in what turned out to be a 6-1 victory.
Peavy knew early that night that he wasn't going to pitch Game 7. This year, when the Giants came back from an early three-run deficit against the Royals to win Game 4, 11-4, on Saturday in San Francisco, Peavy knew that Game 6 was certainly his.
"I'm really excited about the opportunity, I really am," he said that night. "I never thought it would happen any other way. That's not who I am. I never thought we'd get swept in the three games [at home]. The thought that I might not pitch again never really entered my mind. I prepared and I expected to pitch again, I really did."
Last Oct. 30, Lackey pitched into the seventh inning and allowed only the single run on nine hits to get the win as the Red Sox clinched their third World Series title in 10 years. Giants fans will remember that it was Lackey who started Game 7 of the 2002 World Series for the Angels and pitched five innings of one-run, four-hit ball to earn the 4-1 win as the Angels clinched the title.
Lackey, now with the Cardinals, made the most of those two significant opportunities 11 years apart, playing for different teams. Peavy, at 33 and with free agency pending, understands that this chance might not come again -- for himself or the team.
"We're focused on trying to find a way to win one more game," Peavy said on Monday. "We know that's not going to be easy. We obviously saw how rowdy this place was. This place was rocking last time I was out on the mound. They're a very, very good team. We had some success last night. That being said, we've got our work cut out for us, but the boys are focused, and we believe."
Game 2 of this year's World Series was a tale of three games for Peavy, who allowed single runs in the first two innings and then settled down to retire 10 consecutive Royals until Lorenzo Cain singled and Eric Hosmer walked to open the sixth.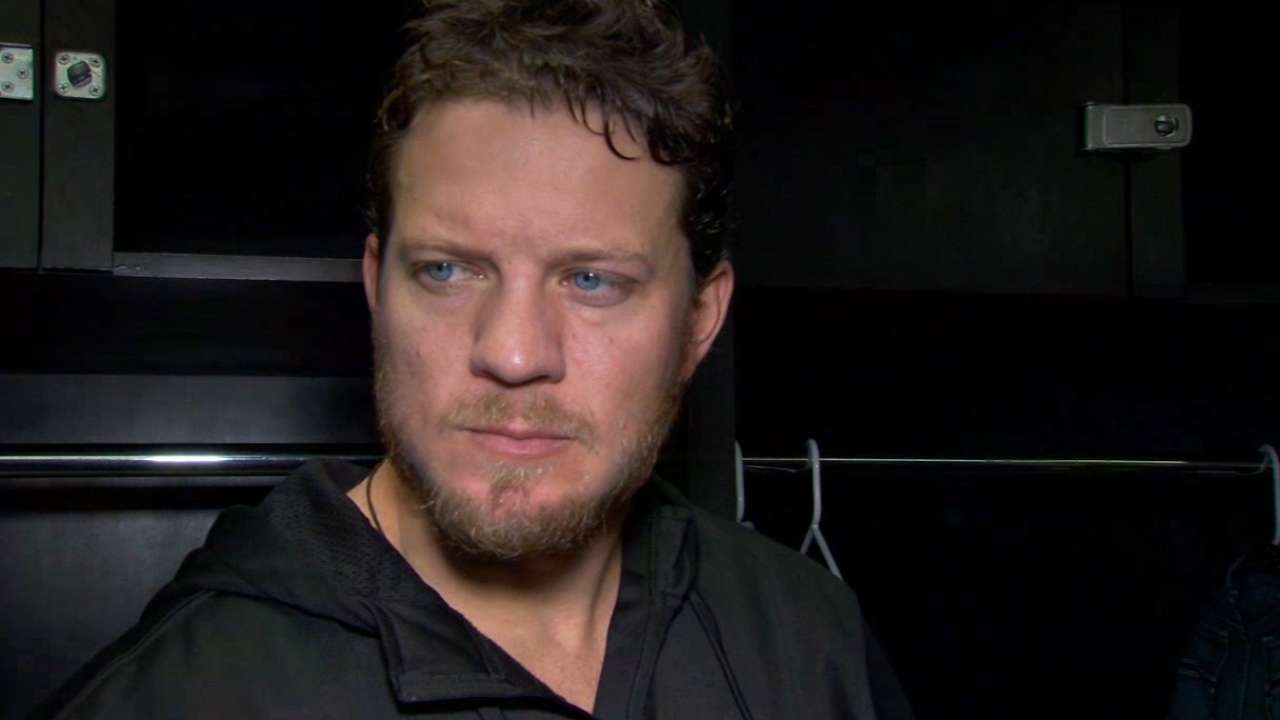 With the score tied at 2 at that juncture, Bochy decided to lift Peavy at only 66 pitches. The bullpen let the game get away, with five runs scoring in the inning. The result was a 7-2 loss.
Bochy said on Monday that he isn't worried about recent history repeating itself. What does Peavy have to do?
"Well, just to go out and be himself," Bochy said. "If he does that, he'll keep us in the game. He'll give us a chance to win. Since he's come over here, he's done such a terrific job. And I've said this: We wouldn't be here without him. We lost Matt Cain and we needed some help, and Jake really stepped up and filled that void. So we don't want Jake to try to do any more than what he normally does, especially since he's been over here with us, because he's thrown the ball very well. Hopefully, he's on top of his game and has all his pitches working and he's hitting spots."
Peavy was acquired in a trade with the Red Sox on July 26. He won six out of his last seven decisions and was a key reason why the Giants clinched a berth in the NL Wild Card Game, which they won at Pittsburgh on Oct. 1 to move on. Considering the season-ending elbow injury sustained by Cain and Tim Lincecum's demotion to middle-inning relief, the Giants couldn't have done it without Peavy, Bochy reiterated.
"Obviously, what the Giants have put together -- being in three of five World Series and winning two of them -- speaks to the people in place, who put the team together," Peavy said. "You've got to give credit where credit is due, from ownership down through the front-office staff to the coaching staff. You've got to give those guys credit for putting the personnel on the field and being able to build a team that can win a World Series. It's not easy to do, as you guys know. I'm happy to be a part of it, and I'm going to try to be a significant part of bringing home the third."
Barry M. Bloom is a national reporter for MLB.com and writes an MLBlog, Boomskie on Baseball. This story was not subject to the approval of Major League Baseball or its clubs.