Yordano ready to set aside heavy heart in Game 6
Royals rookie inscribes glove and spikes to honor late countryman Taveras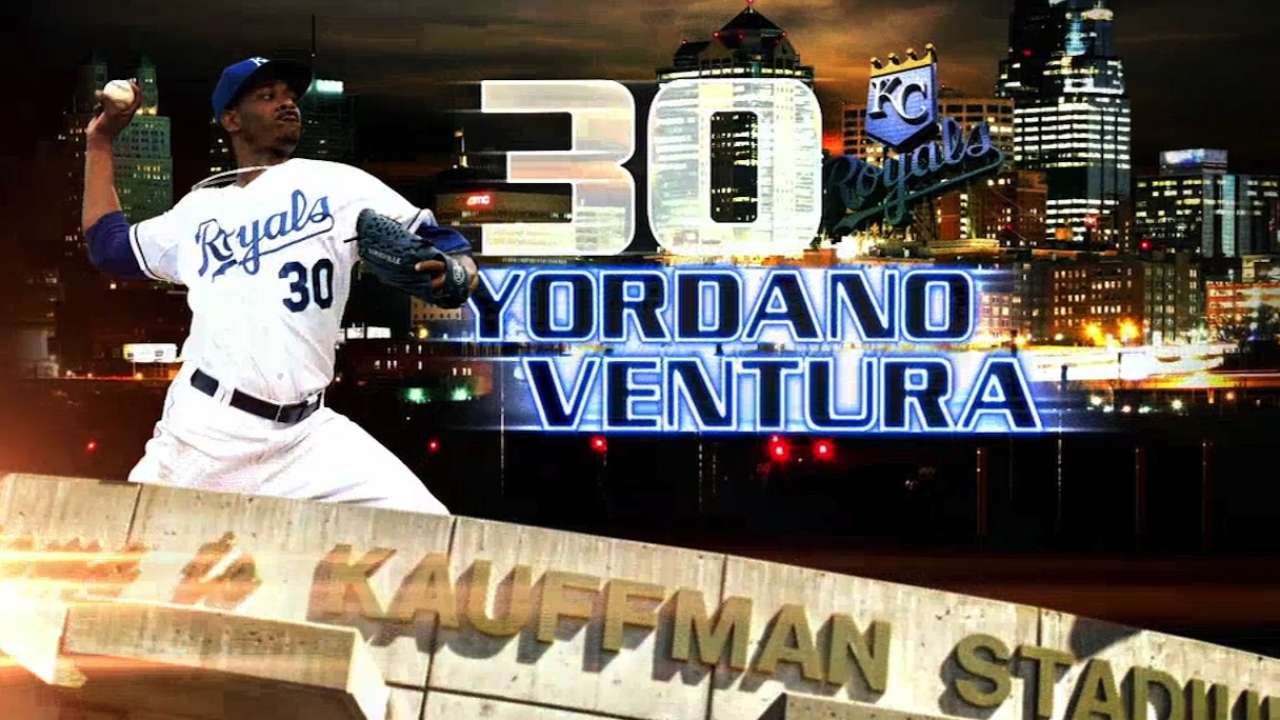 KANSAS CITY -- Yordano Ventura will take the mound from Kauffman Stadium tonight "without a net," as Royals manager Ned Yost put it, a reference to his team facing elimination entering Game 6 of the World Series.
Ventura will also be pitching with a broken heart, and a few extra reminders.
Scrawled on his spikes and on his glove will be the No. 18 and the initials "R.I.P." in memory of countryman
Oscar Taveras
, the 22-year-old Cardinals outfielder who died in a car accident in the Dominican Republic on Sunday.
"It's going to be hard to put that aside," Ventura said in Spanish on the eve of the most important start of his life, "but I'm going to throw everything I have out there. I'm dedicating that game to him."
Ventura, one year and 16 days older, barely knew Taveras when the two were growing up in the Dominican, 140 miles apart along the coast. But they became very close while playing in the Texas League a couple of years ago. Every time the Royals' Double-A affiliate visited the Cardinals' affiliate in Springfield, Mo., Ventura slept in Taveras' apartment, also home to the Cardinals' Carlos Martinez and Audry Perez.
Often, they spent the entire night talking about their families back home and about someday living out their big league dreams. This winter, Taveras was going to spend a lot of his time at Ventura's home in their native country.
"But I guess not," Ventura said, solemnly. "God had a different plan."
Putting Taveras' death aside and focusing on a must-win game against the Giants won't be easy, Ventura admitted, but he's shown plenty of resolve before.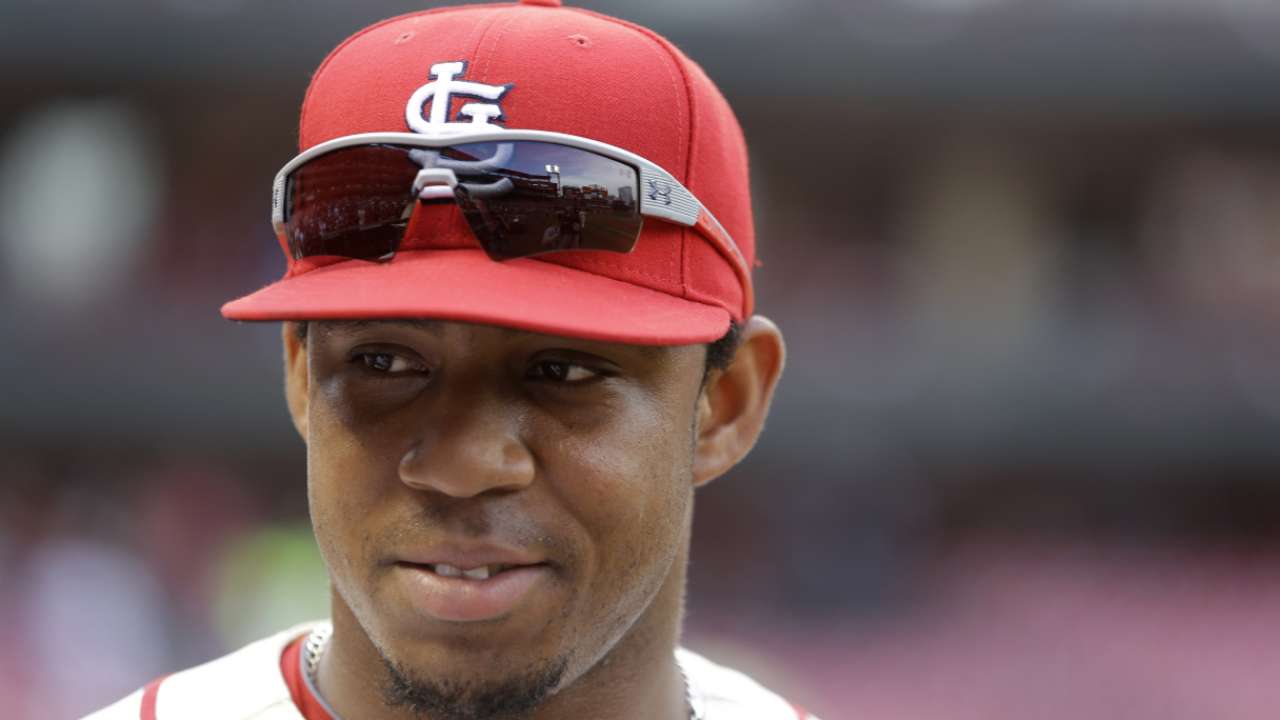 It was evident -- for far different reasons -- in Game 2 of the World Series, with the Royals coming off a loss and unable to afford back-to-back defeats at home, when Ventura gave up a leadoff homer to Gregor Blanco. It was enough to shake the confidence of even the most hardened of veterans, let alone a 23-year-old rookie.
But then Ventura kept right on pitching, retiring nine of the next 11 batters to keep his team in the game. And in the process, he showed the world something -- something his teammates learned a long time ago.
"That kid has no fear," Royals reliever Kelvin Herrera said of Ventura. "You either hit him or he hits you, but he's not going to be scared."
Despite the Blanco homer, Ventura gave up only two runs in 5 1/3 innings of his first Fall Classic start, leaving with two on and one out in the sixth inning of an eventual Royals win. He scattered eight hits and didn't have his strikeout stuff, but Ventura didn't shy away from contact, either, throwing 63 percent of his pitches for strikes and issuing zero walks.
That resolve will be important in his matchup against a battle-tested Jake Peavy -- air time is 6:30 CT tonight, with first pitch at 7:07 on FOX -- because the Royals face a 3-2 deficit and zero margin for error.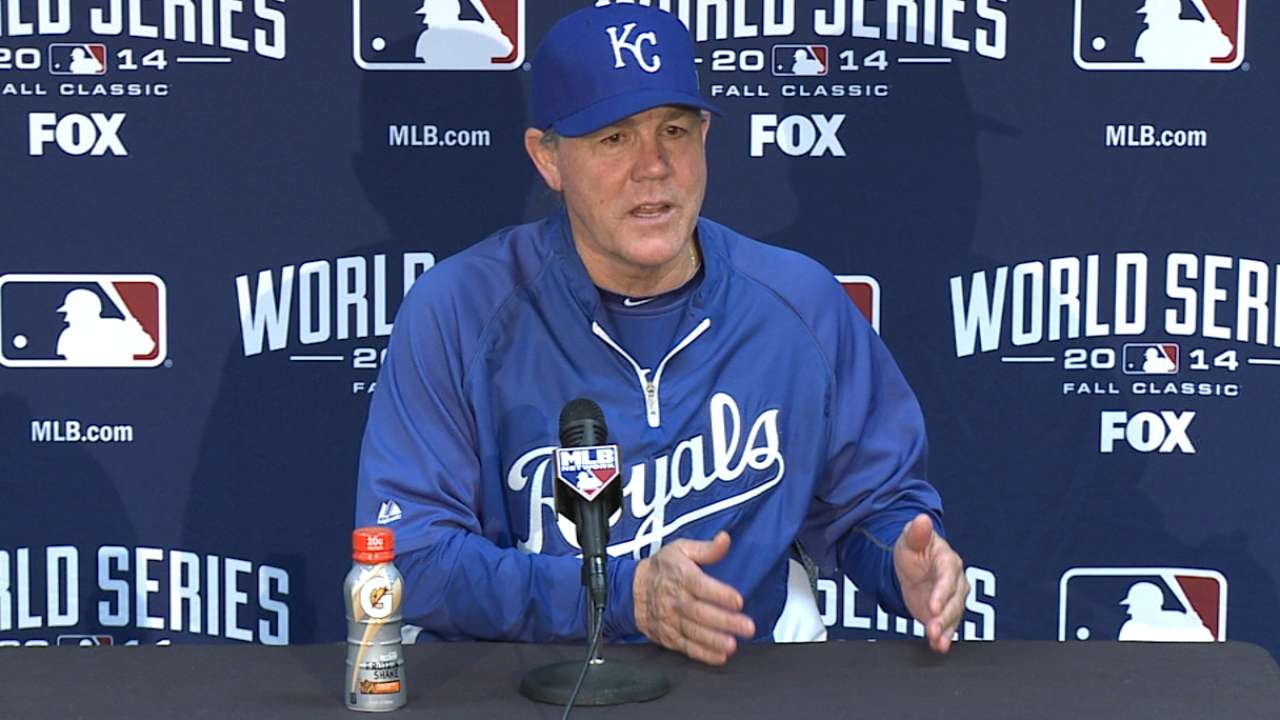 Going back to 1982, home teams that win Game 6 -- in either the League Championship Series or the World Series -- are 14-1 in Game 7.
But first, Ventura needs to get them there.
"We have a lot of confidence in Ventura," Royals first baseman Eric Hosmer said. "Anytime he takes the mound, we feel like we're going to win the game."
Ventura can appear small and unassuming, but he's supremely confident and occasionally brash. He showed up to the Royals' academy in the Dominican Republic in 2008, as a 143-pound 17-year-old with a below-90s fastball, and all he kept talking about was how he would throw 100 mph one day, until he finally did it more often than anybody else.
After locking down the Royals' final rotation spot in Spring Training this year, Ventura navigated through his first full season with the highest average fastball velocity (97 mph) among Major League starters. He went 14-10, posted a 3.20 ERA in 183 innings, had a 1.30 WHIP while striking out 7.8 batters per nine innings and would've been a favorite for the American League Rookie of the Year Award if not for the exploits of White Sox slugger Jose Abreu.
Then Yost used Ventura out of his comfort zone in the AL Wild Card Game, bringing him in for the sixth inning and watching him give up what could've been a season-ending three-run homer to A's slugger Brandon Moss.
That game was supposed to rattle Ventura.
Instead, as Royals pitching coach Dave Eiland said, "It was almost a blessing in disguise, because when he got the start three days later, he was ready for redemption. It doesn't surprise me."
Ventura went on to post a 3.50 ERA in his next three postseason starts, all Royals victories. He gave up seven runs on 18 hits in 18 innings, walking four and striking out 10. Some nights he's throwing that 12-to-6 curveball and dynamic changeup for strikes, virtually making him unhittable. Other nights he has trouble commanding those secondary pitches, making him vulnerable.
But the Royals never worry about his mental state.
"His confidence is just staggering," Yost said. "I mean, you walk in that clubhouse, and he looks you square in the eye with that glint that says, 'I'm ready for this.' … With him, there is zero nervousness. I know he's going to go out and compete and do his best, and we'll take whatever comes with that."
Alden Gonzalez is a reporter for MLB.com. Read his blog, Gonzo and "The Show", and follow him on Twitter @Alden_Gonzalez. This story was not subject to the approval of Major League Baseball or its clubs.